All aboard the real Polar Express train
Children of all ages huddle together on a cold December Michigan evening, eagerly anticipating the arrival of a train they'd been waiting months to board. Some have driven several hours just to reach the station, and then they stand in line for another 45 minutes—not to get a better seat, since seating is assigned, but to pick up their tickets… only to wait some more.
Now standing mere feet from the tracks, the crowd continues to grow despite a light winter breeze and temperatures that hover in the mid-20s. Few seem to care, although a man who has brought neither hat nor gloves scolds himself for his poor judgment. Others drink hot cocoa or mug for photos, occasionally glancing toward the thick smoke rising just beyond the bend, indicating that Pere Marquette 1225—also known as The Polar Express—is near. Just not near enough.
What in the world is taking so long?
Suddenly, a ripple goes through the crowd, with shoulder taps and pointing fingers accelerating the head turns. No, the train hasn't arrived. There, standing atop an old freight car, is a shabbily dressed man holding a steaming tin mug, warming himself by a fire and doffing his cap to the folks below. Hey, it's the The Hobo! As in, capital T, capital H.
The guy is a dead-ringer for one of Tom Hanks' multiple characters in the classic Christmas movie The Polar Express, and he greets the crowd with a wave and a "Merry Christmas!" Make no mistake, if you haven't read the highly acclaimed children's book or seen the 2004 computer-animated film adaptation, you should before you arrive at the Steam Railroading Institute. Located in Owosso, Michigan, it serves as home base for PM 1225 and the North Pole Express Christmas excursions that are held over five consecutive weekends in late November and December.
The magical journey includes an hour-long train ride to nearby Ashley, which hosts a two-hour Christmas celebration before the passengers climb back aboard the train for the return trip to the station.
First things first, however. Tickets go fast—we ordered ours in April—and they generally sell out long before the holidays, so plan ahead. While the wait can be difficult—especially for the little ones in those final few minutes before the train arrives—it's also worth it, especially for kids.
Where it all began
PM 1225 is the only large steam locomotive in Michigan still running and one of only a half-dozen last-generation steam locomotives still operating nationwide. The Type 2-8-4 was built in 1941 and operated by Van Sweringen Railroad of Cleveland between Toledo, Detroit, Flint, Saginaw, Grand Rapids, and Chicago. Weighing 440 tons, the 2979-horsepower beast has a coal capacity of 22 tons and a water capacity of 22,000 gallons, and it consumes one ton of coal and 150 gallons of water per mile.
After being taken out of service in 1951, PM 1225 was placed on display at Michigan State University six years later, and in 1969 a group of MSU students decided to resurrect it. Work was slow until a non-profit was formed in 1979, and four years later it moved to Owosso, where it was fully restored by the Steam Railroading Institute. Work was completed in 1988, and it had operated on and off for nearly two decades when Castle Rock Entertainment asked if it could serve as the model for The Polar Express. Actually, it had to be the model for the movie since the book's author, Chris Van Allsburg, says that's where it all started. Van Allsburg, a Grand Rapids native, played on the engine as a child, and he says 1225 meant one thing to him: 12-25, Christmas Day.
All aboard!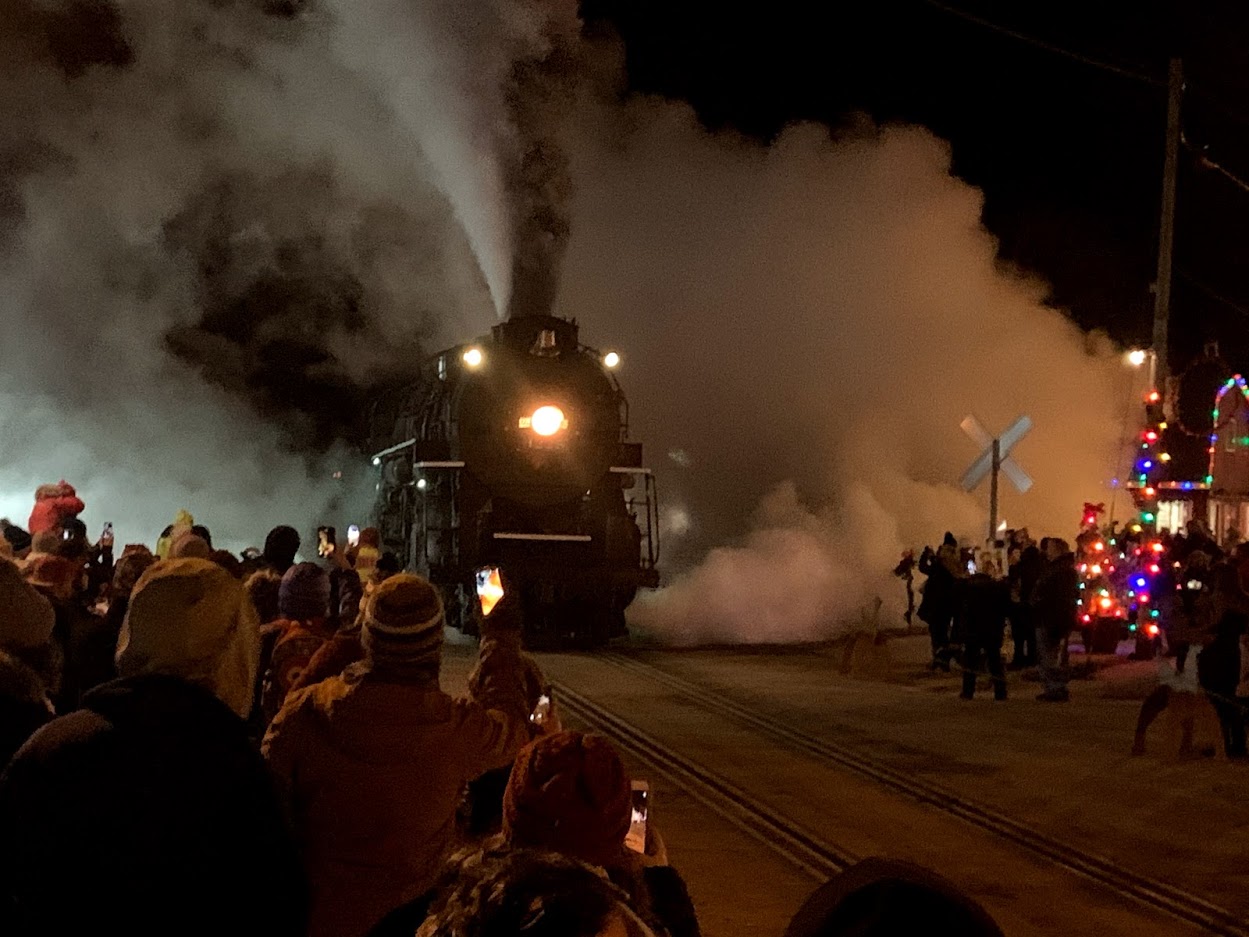 People abruptly stop checking their watches and sipping their cocoa. With a cheer and a sudden scramble for their cell-phone cameras, their attention turns to the south as Pere Marquette 1225 makes its grand entrance. Smoke, steam, and the train's deafening whistle all seem to blow at once, and moments later we're told, "All aboard!"
Sixteen cars line up behind mighty RM 1225, all with names like Holly and Frosty and Mistletoe, but those double-decker cars make for a tight fit in the upper level. That's a little disappointing at $59 per ticket, but the blow is softened a bit, knowing that it goes to a great cause. Since the dozens of people working aboard the train are volunteers, the proceeds will keep PM 1225 and the SRI museum in operation.
Two pieces of advice: The seats you definitely want (and we would buy, if we could do it over) are those that have reindeer names—they're larger, more comfortable, and also cost a little more, but they're well worth it. Also, we thought (incorrectly) that taking the evening train would be more festive, mostly because of the Christmas lights at night, but you can't see out the windows when it's dark outside, so you can't enjoy the scenery anyway. Go for the earlier train.
Once the train is finally underway, The Polar Express theme is inescapable. A bespectacled, uniformed attendant asks for tickets. He meticulously punches each one, leaving a distinctive "1225" across the image of the Pere Marquette. He also stops to empty the leftover "magic tabs" into passengers' hands for luck. There is hot chocolate, of course, although the distribution isn't as theatrical as in the movie. And The Hobo suddenly appears, wailing a tune on his harmonica and mugging for photos. For those with wanderlust, there is a souvenir car, in case you want something else to drink or eat, or perhaps a hat, shirt, or a dozen other things printed with "1225" or the Steam Railroading Institute logo.
Stop, shop, and celebrate
Another attendant announces that we're "10 minutes from the North Pole," and advises us to put on our warm clothes. I'm told that this is the seventh season the train has partnered with the little town of Ashley; previous North Pole runs stopped in Chesaning. The gentleman at the post office who's accepting letters for Santa tells me that Ashley's population is about 600, and 900 folks exit the train.
We are greeted by a community that is clearly "all in." Christmas lights are everywhere. There are bonfires for warming cold hands and crafts for sale as far as the eye can see. There is a Ferris wheel and carousel, an indoor carnival with games for kids, face painting, pony rides, a magic show, even a guy who's carving log statues with a chainsaw. And there's food of all kinds, from carnival favorites to the Hobo Kitchen at the firehouse, which serves soup, bread, and a beverage for five bucks.
"It's a commitment every year, but it doesn't feel like work," one friendly resident says. "It's a lot of fun, especially when we see the faces of the kids. We're pretty fortunate to be a part of this."
Clearly, however, the star of the show is PM 1225. For two long hours, families get their photograph taken in front of the locomotive, and the line seems never-ending. Finally, Santa Claus awards one lucky child "the first gift of Christmas," and it is time to say goodbye to Ashley. As we arrive back at our seats, there is a bell waiting for each of us—one that only true believers can hear, just like in the movie.
Heading home
The ride back to Owosso is less festive, mostly because most of the passengers seem content to simply relax in their seats, discuss their adventures, and tell Christmas stories. A few younger passengers doze off, exhausted. A mom across the aisle holds her two daughters, while another mother—much older—helps her grandchild color a picture.
Before we know it, we're back at the station. As we slowly exit 1225, we spy a pile of coal nearby, and we're inspired to pick up a souvenir, wrap it in a napkin, and slide it into a pocket. This lump of coal feels different somehow. It certainly has a different connotation than those we all hoped to avoid when we were kids.
No, this lump of coal will be treasured, just like our trip aboard the real Polar Express.