Your 2018 Concours d'LeMons Monterey Winners
The Concours d'Lemons now spans three continents–there are annual hooptie celebrations in Europe and Australia in addition to the few sprinkled throughout the U.S. But the O.G. show is the Monterey event, which has been held the day before the ritzy Pebble Beach Concours d'Elegance for nearly a decade. This year dozens of terrible cars, trucks, and transportation-like objects gathered on the lawn of City Hall in Seaside, California in a search to find the bottom of the automotive barrel. Read on for this year's Concours d'LeMons Monterey winners, and check out the gallery for some "choice" entrants from the field, too.
Worst in Show: 1977 AMC Gremlin
James Callahan of El Paso, Texas, scoured Craigslist for months in search of a guaranteed LeMons Worst in Show winner and he definitely hit the jackpot when this glorious beast popped up in Minot, North Dakota. And, yes, it used to be an AMC Gremlin; if you ignore the insanity up front, you can still sort of make out its origins. Clearly its creator (an unknown soul at this point) sought the class of a Clénet or a Zimmer but thought them far too common, and with all the time a North Dakotan winter can provide, created a vision in cream and red. It features chicken wire on the engine compartment for extra cooling, super-elegant porch-lamp brake lights, pinstriping for days (weeks even) and triple rear opera windows created by arranging chrome strips in ovals and simply painting the window around them. If you dig it, and you definitely should, it's likely going to be for sale in order to fund the search for another Worst in Show contender. This one's going to be hard to top.
Der Selfsatisfiedkrautenwagen: 1960 Volkswagen Beetle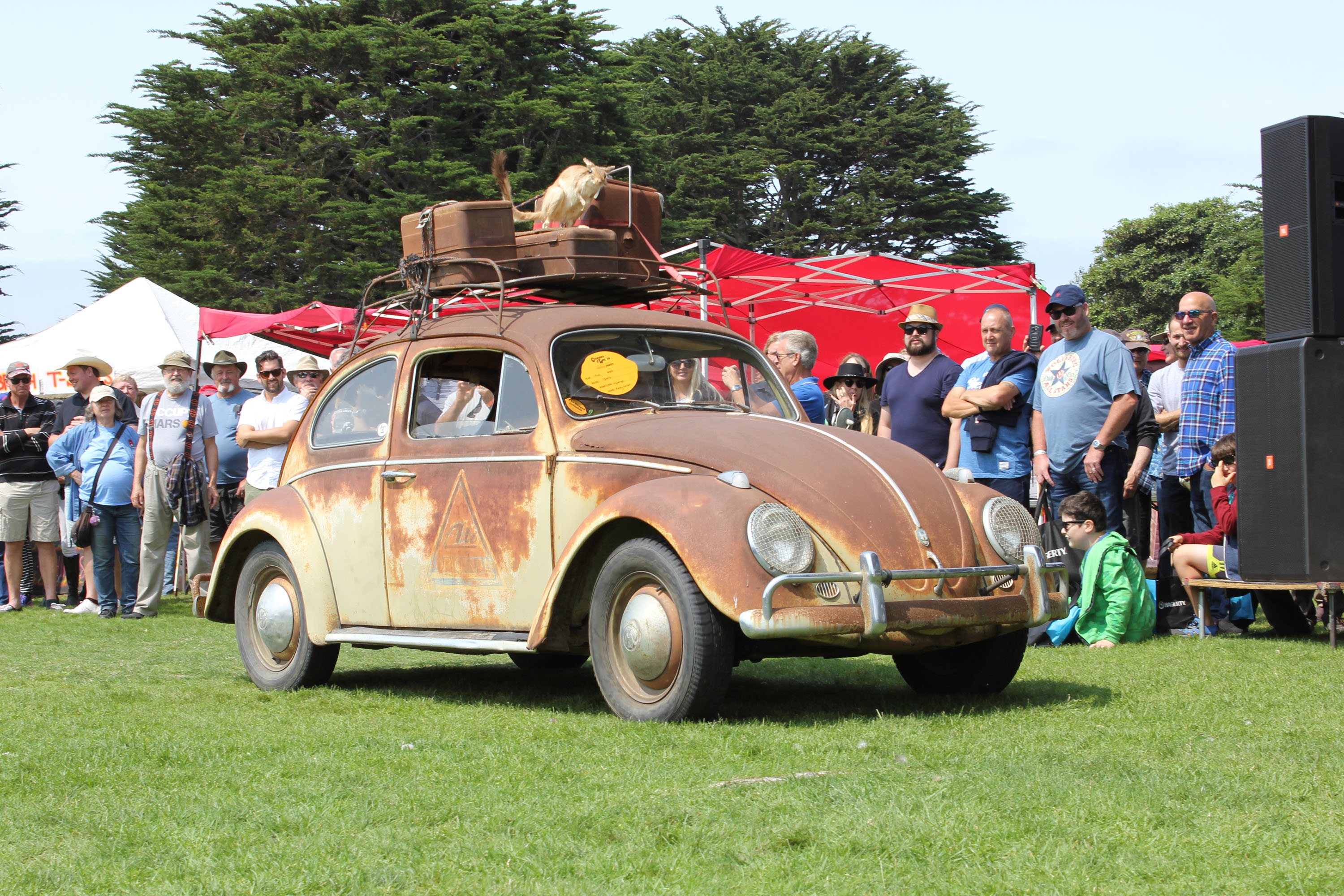 Fully original and unrestored–as the owner says, "can you believe it?"–this '60 Bug was spotted all over the Monterey Peninsula during Car Week, so we weren't too surprised to see it in the LeMons field. Crusty, crumbling, and generally decrepit, it nevertheless is said to drive well. While everyone's eyes were drawn to the stuffed South African springhare guarding the pile of old-ass luggage on the roof, we were enamored with the weathered "Ate Original" livery on the doors that signaled a previous life as a company car for the German brake supplier.
Needlessly Complex Italian: 1984 Fiat Ritmo (Strada) Cabrio
A conversion of Fiat's three-door economy hatchback by Bertone, this Ritmo (which was sold as the Strada in this market) cabriolet showed just 102,000 miles but looked even funky-fresher than that. Our favorite details: the plaid upholstery, the goofy roll hoop–which we're sure restored no more than the barest minimum of the rigidity lost in the conversion–and warning lights displayed via outlines of the car and its drivetrain.
Swedish Meatball: 1962 Volvo PV544
As a 1962 model, this PV544 has Volvo's B18 1.8-liter four-cylinder and a four-speed manual. A modern stereo and speakers look a little out of place, but we dig the racing stripes and can't argue with the bottle of Absolut jammed in the fuel filler.
Rust Belt American Junk – Ford: 1925 Ford T-Bucket
A homebrewed conglomeration of kitchy decorations and found parts, this rod does have a 1925 Model T frame but power comes from a small-block 350 from a Camaro mated to a GM 700R4 transmission. The turn signals were landscaping lanterns, the carb riser is a chunk of scrap 4×4 square pipe, the gas tank was swiped from a VW Bus, the seats came from a dune buggy, and the intake uses a mailbox and an HVAC filter from a rental house. If it was laying around, it probably got used for this car.
Rust Belt American Junk – GM: 1951 Cadillac Coupe de Ville
A pile of decay that at least sort of still resembles a 67-year-old Cadillac, this car has been owned by Dave McCabe of Saratoga, California, for five years. It might be a crusty hulk, but there's no denying it still has class even with one of the hubcaps in the rear seat, along with plenty of unidentifiable funk. With Cadillac's 331 V-8 under the hood, it's the perfect sort of thing to go hit trash cans with.
Rust Belt American Junk – Mopar: 1974 Plymouth Satellite
Owned and shown by the California Automobile Museum in Sacramento, this Satellite may look totally innocuous–okay, it is totally innocuous–but one of its previous owners is current (and former) California governor Jerry Brown. He's said to have plucked two identical workaday Satellites from the government motor pool in a bid to play up focus on eliminating wasteful spending and to appear more a man of the people. This one was kept in San Francisco and the other in Southern California, and each was equipped with a 318 V-8 and a three-speed automatic. We're not sure if his ploy actually worked–listen to some Bay Area punk music of the era for a taste of what the people thought of Brown during his first stint as governor–but it is a damn sweet Satellite.
Kommunist Kar: 1953 IFA F9 Limousine
We had never heard of this car. The Lemons judges had never heard of this car. We're not even sure its engineers had heard of this car. It turns out perfectly cromulent automobile hails from East Germany, and was essentially the Commie version of the West German Auto Union DKW. It's powered by a two-stroke three-cylinder that exhausts through a tailpipe the size of a single piece of uncooked spaghetti. The car was rotting away in a barn in California for 30 years before reaching its current owners. The name IFA stands for Industrieverbandes Fahzeugbau, or "Industrial Association of Vehicle Construction." How wonderfully communist-sounding.
Sight for Sour Eyes: 1976 Chevrolet Vega Kammback Wagon
Vegas are both awesome and awful, which makes them a kind of patron saint of the Concours D'Lemons. In fact, this year's California show had not one, not two, but three really nice Cosworth Vegas on display. But this 2.3-liter Kammback wagon's weirdness, rarity, and general undesirability makes it way, way more worthy of a trophy. It ran the 2017 Lemons Rally in California, but what probably put it over the top was the super awesome vintage mobile phone displayed on its roof, complete with a bound set of maps showing the coverage areas in Southern California.
Drivin' on a Prayer: 1987 Jaguar XJS
This car was built for the Gambler 500, a crap-car on- and off-road rally where seemingly unworthy vehicles are turned into fearsome battle wagons can be forced to endure ridiculously brutal challenges. Acquired for free and with about $900 invested, this Jag is largely original except for the livery, the tube bumper, and the ground-pounding mud tires.
Royal Order of MOT Failure: 1971 MGB GT
Drew Barker's 1971 MGB GT replaced an '83 XJ6 in his garage, so he's a glutton for British punishment. Still, this plucky little heap has managed to haul him 14,000 miles over the 18 months he's owned it. While the rally gauges inside won't help at all (they're a sticker), it definitely looks ready for the finest rally 1984 has to offer.
Soul-Sucking Japanese Appliance: 1995 Nissan Altima
This Altima competed in the Japanese car category, but it seems less soul-sucking and more soul-stealing. The owner drives it daily in the Monterey area and refers to it as the Road Warrior, because obviously. A gas pump neck has been stabbed through one of the fenders, it only runs on three cylinders, the interior is barely there, and there's enough extra metal and weaponry screwed to its outside to seemingly make another Altima. A lot of cars get dressed up like they're in a Mad Max movie; this car is a Mad Max movie.
Best Back Seat: 1996 Toyota RAV4
This a cute-as-a-button two-door first-gen RAV4 is owned by Milton and Mimi Seaton from right in Seaside, and it features a trick rear seat that origamis to enhance cargo room and also can be configured for maximum legroom to allow folks to nap–or whatever their desires dictate–in the back. Once the judges (and Hagerty CEO McKeel Hagerty) reclined in the RAV4's splendor, including its twin sunroof panels, this award was in the bag. That an actual Japanese appliance won Lemons's most unimaginatively named trophy seems perfectly fitting.
Chronic Dick Teague: 1974 AMC Gremlin
This award is named for longtime AMC design chief Dick Teague, whose many credits include the Pacer, Hornet, Eagle, and, yes, the Gremlin. (He also designed the iconic XJ Jeep Cherokee.) This one actually presented fairly well in a shade of yellow that was positively Gremlin-esque despite not being the factory color.
Slightly Better than a Go-Kart: 1979 Volvo 244DL
Turbocharged and looking ready to party as it squatted on black steelies, this DL–for "De Luxe"!–actually looked like a pretty good alternative to a go-kart.
Unmitigated Gaul: 1966 Citroën 2CV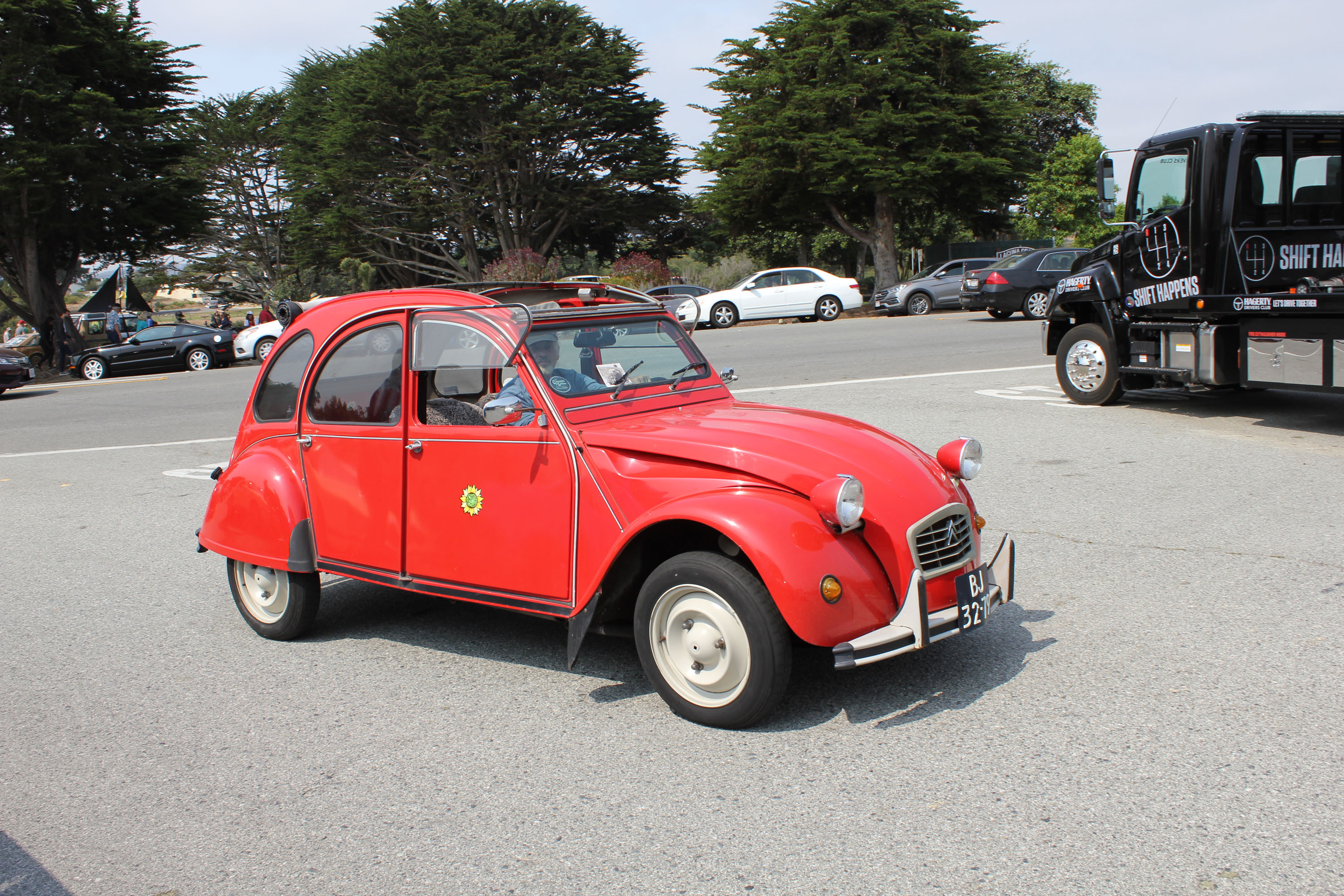 A lack of much French stuff on site meant that this 2CV was immediately a front-runner for this award, so it was little surprise that it grabbed the plaque and a bag of prizes that included French dressing, a bottle of horrible wine, some french fries, and a huge banner advertising the Monterey area's many spectacular vineyards. We spotted it on the street going nowhere fast, which of course makes sense, as the wee tiny two-cylinder engine makes fewer than 20 horsepower.
Exxon Valdez Memorial Environmental DIsaster: 1978 Volvo 242DL
This car leaks oil, is roughly fifteen seconds from turning back into its constituent elements, and is on at least its second diesel engine. Oh, and it's filled with rat turds. It's a rolling Swedish Superfund site.
Dedication to the Cause: 1919 Franklin Series 9b Touring
If you've followed Concours d'Lemons happenings over the past few months, you know this Florida-based Franklin well: It won Worst in Show at the Georgia event in April. But that was just the first lemony stop on the car's circumnavigation of the U.S., as owner James Eby and his wife next pointed themselves north and made it into the field at the LeMons concours in Detroit in July. The Franklin then chugged across North Dakota, Montana, and Washington before turning south and becoming the first car to ever appear at all three U.S. LeMons concours in the same year.
Originally purchased new in South Bend, Indiana, by Eby's grandfather, it was passed to his father and daily driven until 1948 or so; this year marked its second appearance on the West Coast, a staggering 90 years after the first. What's more, the car tops out at about 40 mph, is air cooled, and the driver needs to remove the six-cylinder's valve cover every 100 miles or so to oil the engine's top end. All told, Eby and the car can cover about 250 miles a day. That indeed is dedication, and it earned the Franklin another well-deserved LeMons plaque. The car is heading back to Florida via the Southwest, Texas, and the Gulf Coast, and the entire adventure can be followed onthe Concours d'Lemons Facebook page.
More questionable automotive decisions