These 15 cars illustrate 47 years of Porsche's racing history
Racing is everything to Porsche. Yes, the German automaker builds road vehicles, many of which are celebrated in their own right. But the driving force behind Porsche is motorsport competition. Those road cars, especially the ones that had more connection to the racers, evolved on the circuit. If you want to know what mattered to the company, look at Porsche's accomplishments in the pursuit of speed.
That's exactly what we're doing here by taking a closer look at the 15 cars on display at the 2018 Concours of America at the Inn at St. John's in Plymouth, Michigan. The special class for this year's concours, Porsche Werks, is part of Porsche's 70th Anniversary celebration.
1952 Porsche American Roadster
Porsche's first purpose-built racer was constructed by Glaser with a 1500cc rear-mounted flat four engine and aluminum drum brakes. Phil Walters, driving for Briggs Cunningham, scored the first victory for any German-made car in the U.S. at the Devil's Despair hillclimb near Brynfan Tyddyn, Pennsylvania. Cunningham placed third overall later in 1952 in a road race at Thompson, Connecticut. Rev. Ronald Roland is the current owner of this Porsche.
1955 Porsche 550 Spyder
Reutter constructed 90 open two-seaters for Porsche with dual street and track capabilities. One earned overall victory at the 1956 Targa Florio. Zora Arkus-Duntov drove at Le Mans for the factory. Hollywood heart-throb James Dean perished in a road accident on his way to race in another 550 Spyder. This pristine example is owned by the Brumos Collection.
1959 Porsche RSK 718
Building on the success of the mid-engined 550As, Porsche created lower-profile RSK versions. This 1959 718 edition weighed only 1260 pounds and was powered by a 1.5-liter four-cam engine delivering 142 horsepower. Umberto Maglioli and Edgar Barth crashed out of competition at LeMans in 1957 but Barth and Wolfgang Seidel were victorious later that year at the Targa Florio. Graham Hill, Stirling Moss, Dan Gurney, Wolfgang von Trips, and Gerhard Miller also enjoyed 718 seat time. Rick Grant of Moraine, Ohio, now owns this Porsche.
1963 Porsche 356 B Carrera Coupe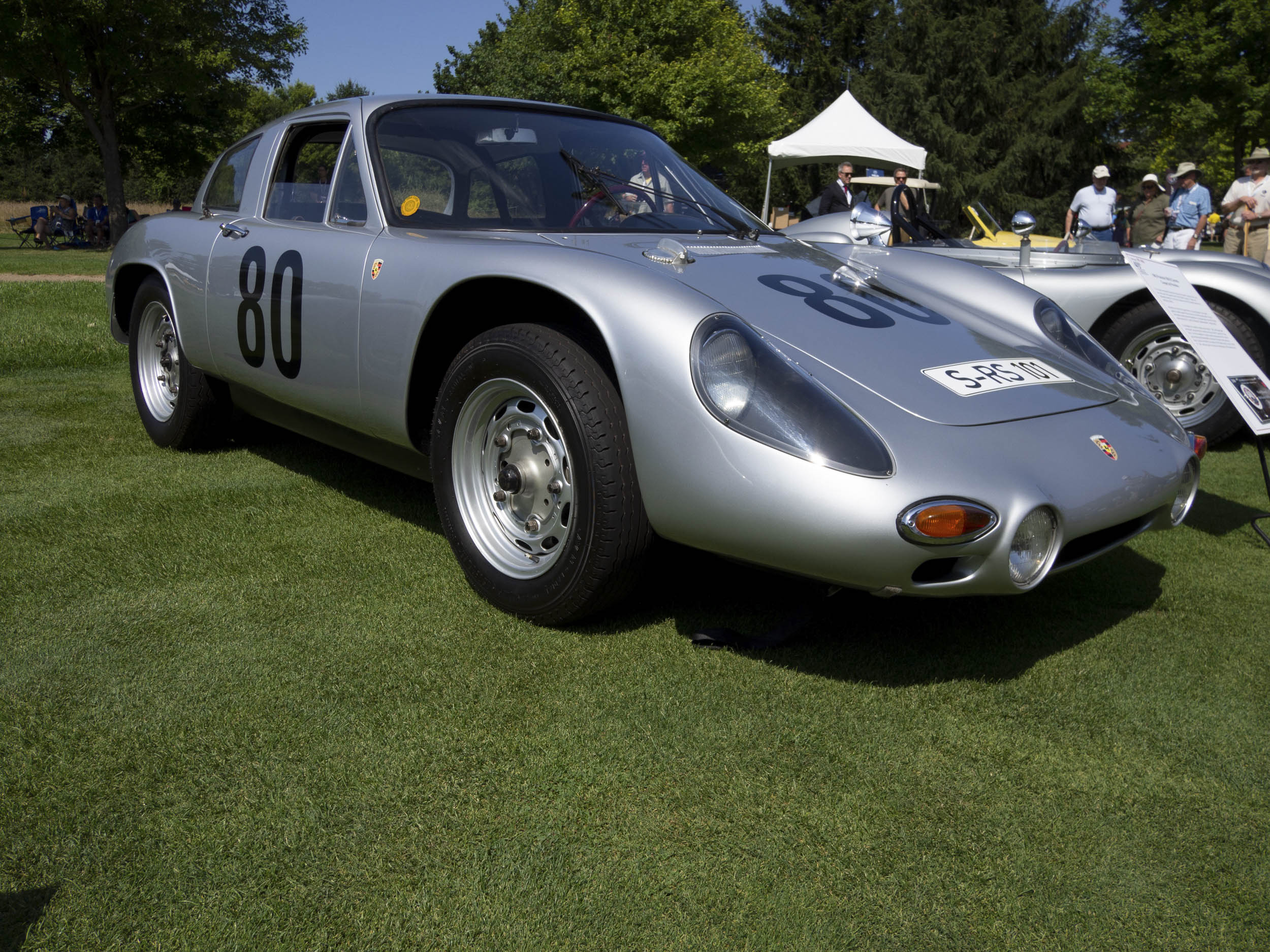 Edgar Barth and Herbert Linge won the Targa Florio's GT class in the first ever outing for this rear-engined sports racer. The special "wedge blade" body work was tuned for low drag. The 356B was the first to lap the Nurburgring in less than 10 minutes and its competition history also included 1964 LeMans, Daytona, and Sebring events. The Porsche museum is the current owner.
1964 Porsche 904 Carrera GT
Exploiting the 718 racer's mid-engine layout, Porsche's 904 achieved production status with 106 examples built and sold for $7245 apiece to select customers. The ladder frame was cloaked in fiberglass boasting an 0.34 drag coefficient. The 2.0-liter flat-four engine produced 198 hp, good for a 160 mph top speed. The first outing for this car, now owned by Alexander Pollock, of Chelsea, Michigan, was the Daytona Continental race in 1964.
1966 Porsche 906/10 Carrera
The 1966 24-hours of LeMans was an epic fight between Ford GT40s, Ferrari prototypes, and Dino 206Ps. This factory Porsche prototype was in over its head though similar racers did finish 1-2-3 at the 1000 kilometer Nurburgring event later in the year. This example is owned by Florida's Brumos Collection.
1967 Porsche 911
After scoring second overall in its 10th race at Riverside in 1967 in the hands of Bernd Leckow and campaigning the 1969 Trans Am series, this car endured 40 years of hibernation. In 2011, Jim and Huizenga brought it back to life with a fastidious 24-month restoration.
1969 Porsche 917
The sports prototype flat-12 917 Porsche launched in 1969 earned the factory's first outright victories at LeMans in 1970 and '71. The air-cooled engine started at 4.5 liters and grew to 5.0 liters before a pair of turbos were added for 1972 Can Am racing. Chris McAllister owns this example in Gulf Racing livery.
1971 Porsche 917K (Short Tail)
Gijs van Lennop and Helmut Marko drove this short-tailed 917 in Martini Livery to first overall at the 1971 24 hours of LeMans and also set a lap record. The 138 mph average speed they clocked over 3315 racing miles stood as a record for 39 years. They also won the index of efficiency. The air-cooled flat-12 engine produced 600 hp and was supported by a magnesium tube frame. Following its one and only race, this highly significant car has enjoyed the safe confines of the Porsche museum.
1971 Porsche 908/03
One of the most versatile and successful Porsche racers was powered by an engine created by adding two cylinders to the production 911 flat six, yielding a 3.0-liter 907 with 26 percent more power. Disparaged as "not really a racing engine," this design's crankcase was cast magnesium to trim weight while the valvetrain matched the SOHC 911 format. The 350-hp peak occurred at 8500 rpm. In 1970 and '71, 908/03 cars won three of the four races they contested. This example in period Gulf livery is part of the Miles Collier collection.
1973 Porsche 911 RSR
A factory-built RSR racer won Sebring in 1973 but was inexplicably parted out by Porsche after that feat. Ron Thomas owns this exact replica, which was created in a remarkable 90 days by the venerable Aase brothers in 2013.
1974 Porsche 911 Carrera RSR
Team Penske maintained possession of this RSR driven by the brilliant engineer/strategist/pilot Mark Donohue in the 1970s.
1977 Porsche 934.5
The second of 10 factory-built 934.5s intended for Jim Busby to drive in IMSA's Group K was unceremoniously banned before the first 1977 event. Peter Gregg instead drove this 500-hp demon in the SCCA's Trans Am series, winning six out of 10 races. Unfortunately, a protest by driver Ludwig Heimrath denied Gregg the overall championship. The current owners are Bob Weber and David Hankes.
1979 Porsche 924 D Production Coupe (933)
Only 16 Porsche 924s were shipped from the factory for SCCA D-Production completion under the internal code 933. Vasek Polak assembled this car from three shipping crates of parts sold by importer Al Holbert. This 933 earned the series championship in 1980 and '81 and is owned by Jim and Kathy Huizenga.
1989 March 89P Indy car
Porsche's stab at Indy car racing was less than its finest hour. Hans Mezger's single-turbo 2.6-liter V-8, the most powerful engine in the series, was stymied by an uncompetitive chassis. It qualified 15th for the 1989 Indianapolis 500 and finished 30th due to ignition issues. This car, in Quaker State livery, is owned by Ron Thomas of Galena, Ohio.