10 race cars that soared at the Hawk
With more than 400 vintage cars on a 640-acre plot of land, racing around a four-mile circuit at Road America, the "Hawk"—as the locals call it—is an event like no other. Officially called the WeatherTech International Challenge with Brian Redman presented by HAWK at Road America, the event gives spectators the opportunity to interact with the race cars from unloading on Thursday morning to the moment the cars roll back onto the trailer on Sunday evening.
Everyone is welcome everywhere, both in the paddock and in the stands. During the day you can watch contenders white knuckle it through the Kink or careen through Canada corner. Then, on Friday night, you can gawk at your favorite racers as they slow roll the avenues of neighboring Elkhart Lake, Wisconsin, which closes down the streets for a Concours d'Elegance. The numerous opportunities to get intimate with the cars, paired with some classic Midwest hospitality, make this a can't-miss event for any casual fan or motor racing enthusiast.
After four full days of vintage racing, and copious amounts of melted cheese and rubber, here are some of our 10 favorite race cars from the Hawk.
1974 Shadow DN4-1A
The Shadow DN4-1A was piloted by legendary British driver Jackie Oliver during the 1974 Can-Am season. Oliver took home four out of the five races held that season. Coincidentally, Road America was the only track the DN4 failed to win at in '74, with an expired engine absorbing the blame. The car turned into a display piece when Can-Am series folded. After getting damaged during shipping, it was bought by Jim Bartel and restored by RM Motorsports. This year at the Hawk, the car turned a 2:01.13 lap time that was faster than Oliver ever recorded at Road America during the car's Can-Am dominance.
Devin E Roadster
Devin Enterprises sold roadster kits in various flavors and sizes. You could actually order a kit from the back of a magazine and provide some of you own internals (depending on the specific offer) to make your very own cruiser. Devin even went so far as to claim "NO WELDING… NO CUTTING" was needed to craft a roadster in some of the ads. Jim Melton built the black Devin E that raced this year at the Hawk. Devins were a family affair for the Melvins, so it was logical that a father-son duo were first in line to purchase the roadster a couple years ago.
1965 Genie MK-10B
This retired Can-Am racer sticks out like a yellow dandelion from a crack in the pavement. Meticulously crafted by Joe Huffaker, a pioneer in road race car building, the body hints at aero research and development. A sprouting spoiler and budding valence likely provide less downforce than a hand stuck out of the cockpit. But who needs aero when you have sheer power to make the car rocket down the straight? Powered by a Chevrolet small-block V-8 from the iconic TRACO Engineering—the same outfit that supplied engines to the likes of Gurney, Foyt, and Penske—there was immense promise for the car. However, due to a series of unfortunate part failures and the creation of the Lola T70, the Genie went back into the lamp.
Owner Steve Lisa has raced everything under the sun and his rides all attract great amounts of fanfare. However, Lisa notes, whether he's in an exotic road racer or truck at Baja, none of his vehicles draw a crowd quite like his old Ford Stock Car. Why? It's massive, and it's a nonconformist in the road racing landscape (though similar Galaxies took rivals' lunch money on road courses during the '60s). A 351-cubic-inch Ford Windsor provides 410 horsepower to power this steel sofa. Certain sanctioning bodies are unsure of where to place this car amongst its competitors. After watching it on the track this weekend, it might be in search of a class but will always have a place in our hearts.
1967 McLaren M6A Can-Am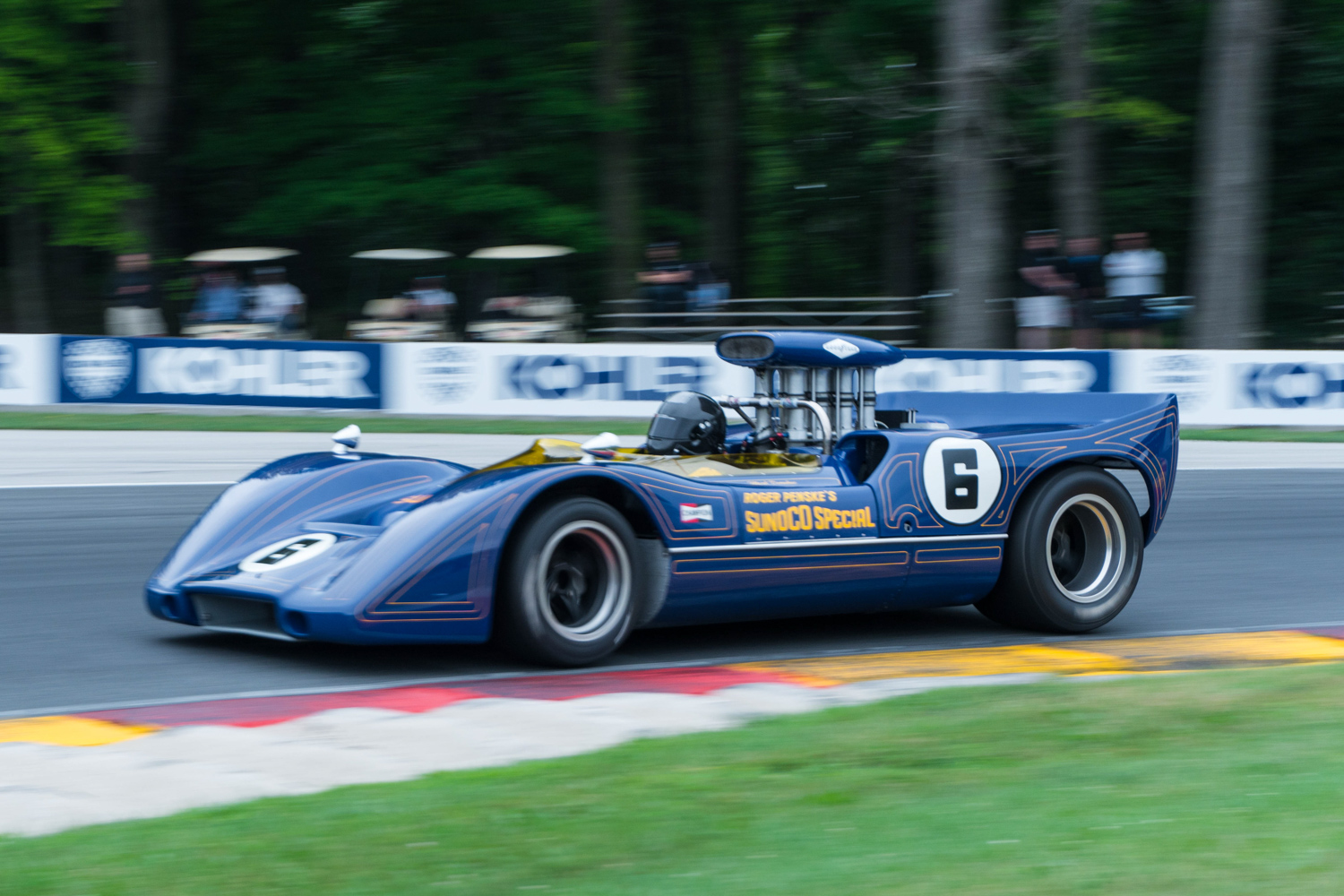 In 1967, McLaren Cars built three M6As—one for Bruce McLaren, one for teammate Denny Hulme, and a back-up car. After Bruce McLaren won the Can-Am championship that year, they sold his car and the back-up to rising team owner, Roger Penske. Penske put racer/engineer Mark Donohue in the seat of the M6A. Donohue's ability behind the wheel was matched by his exceptional ability to engineer more performance from a race car. With the input from Donohue, Penske's M6As swelled. Improvements included wider tires, taller spoiler, a broader overall stance, and a 427-cu-in Chevy V-8 crammed just off the driver's shoulder.
Accumoto is a proven authority when it comes to building stunning air-cooled machines. Its Motorsport division is a force to be reckoned with at the track. Owner Mark White is a busy man, whether he's supporting his crew in the development of clients' road course mastery, or taking a moment to dominate his competition on the course. One of Accumoto's trademarks is its original liveries, which give reverence to iconic brands while utilizing modern design cues. This race weekend, White was piloting a 1987 911 donned with a H. Upmann cigar-themed livery. Make no mistake though, this car is as fierce as it is fanciful.
1970 Datsun 1200
Jeff Jagusch Jr.'s Datsun is a head-turner. This year at the Hawk he found himself parked next to a duo of retired Formula 1 cars in the garage for the duration of the weekend. His unique Datsun still commanded attention, and often spectators would brush past the open wheel cars to get a look at his sedan. The Datsun also catches the eye of competitors, noting how well it hustles through the course. Jagusch agrees. "It's a cornering car," he says.
1990 Oldsmobile Cutlass TA
Father-son duo Ray and William Bonthron specialize in building period correct road racers. Their latest example is arguably the most impressive. William found the car online in a pile and meticulously restored the race car from a backwoods patch job. The 1990 Olds Cutlass raced in the Trans Am series during its zenith in the early '90s. Beneath the Budweiser-liveried fiberglass body, a 358-cu-in small-block Chevy V-8 puts the power to the pavement through a set of beefy Goodyear slicks. This built-to-spec beauty is no trailer queen, and owner Karman Cusack runs the car hard.
There were several Corvettes on hand, although none were as fast as Kirk Blaha's 1969 Chevy Corvette Roadster. When surveying the field, all competitors pointed at Kirk and his father, Rick. Rightfully so. The duo is a force to be reckoned with at any vintage gathering, taking home the checkered at events like the Indy Pro-Am. But this is no ordinary street-car-turned-breakneck-brawler. Blaha's Corvette never saw life as a street car, instead was purpose built in 1969. The fiberglass roadster has a 350-cu-in small-block V-8 stuffed under the hood and puts out more than 640 hp. According to Kirk, "It's a handful." Based on the 'Vette's performance at the Hawk, the competition likely agrees.
In a vintage road race field dominated by 911s, Tom Taff's 914 is a welcome breath of fresh air. The car is a German hot rod—chrome wheels, Hugger orange paint job, and a six-cylinder two-liter air-cooled engine. Taff describes the racer as a "low budget, mid-engine car."