Why Willys Jeepster values aren't keeping pace with its undeniable charm
How do you turn a Jeep into a cute civilian vehicle? Ask Brooks Stevens to design it and then add four letters. Yes, there's something endearing about the 1948–51 Willys Jeepster. However, not endearing enough for today's market at large.
Much like its initial offering, the Jeepster is not a hot commodity these days. Its values slipped 4 percent in our latest pricing update in May, essentially missing out on the recent growth of other Jeep offerings.
Set for success
Born shortly after the end of WWII, the VJ2 Jeepster was an attempt by Willys-Overland to capitalize on Americans' desire for new, inexpensive passenger vehicles. Willys (pronounced Will-iss) was now armed with a modern production facility, upgraded for the war effort, and its Toledo plant had the ability to produce goods faster than ever before. Combined with the newfound popularity of the military jeep, the Jeepster seemed poised for stardom.
There was just one small problem, however: No body manufacturer was willing to take on the Jeepster project.
Undaunted, company president Charles "Cast-Iron Charlie" Sorensen found a manufacturer that produced sheet-metal panels for the appliance industry. Without proper machinery to stamp anything complicated—like curved fenders—the Jeepster's design would be severely limited. That's where Stevens came in. The talented young designer imagined a sporty two-door "car" based on the same chassis as a CJ. To offset the Jeepster's limited curves, Stevens envisioned a bold, two-toned paint job—"a yellow and black color scheme that just screamed at you for attention."
Before the Jeepster went into production, Sorensen was kicked upstairs, and former GM exec James Mooney became president and chairman of the board. In December 1947, Mooney called the Jeepster "a dashing four-cylinder sports phaeton which has captured much of the elusive quality of Continental models." He claimed the vehicle had "aroused keen interest and enthusiasm in test samplings of opinion."
Roll out
According to kaiserwillys.com, the RWD 1948 Willys Jeepster was unveiled in April 1948. Power came from the Jeep "Go-Devil" engine, a 134.2-cubic-inch L-head four-cylinder that produced 63 horsepower and was mated to a three-speed manual transmission with column shifter. The 2468-pound Jeepster received a 4:88:1 rear-axle ratio, which offered decent acceleration, cruising speed, and gas mileage, and the convertible's laminated top had plastic side curtains for "all-weather protection."
Base price was $1765—about $18,950 today—and included whitewall tires, hubcaps with trim rings, front bumper guards, dual horns, deluxe steering wheel, locking glovebox, cigar lighter, and continental spare tire with fabric cover. The interior was fairly spartan, although the doors and kick panels were finished in leather-grain Masonite. And the Jeepster's exterior featured an attractive T-shaped grille and chrome bumper with overriders.
A proud Stevens bought the first one off the line, and the automotive media liked it, offering strong reviews. Still, the Jeepster wasn't a big seller. First, the public wanted roll-up windows like other American convertibles. Plus, the number of Willys dealerships decreased with the outbreak of WWII, and many of them hadn't returned. Finally, although the Jeepster's $1765 price tag seems reasonable today, it actually cost more than similar vehicles with more power, like the Ford V-8 Super Deluxe ($1740) and the six-cylinder Chevrolet Fleetmaster ($1750).
Problem solving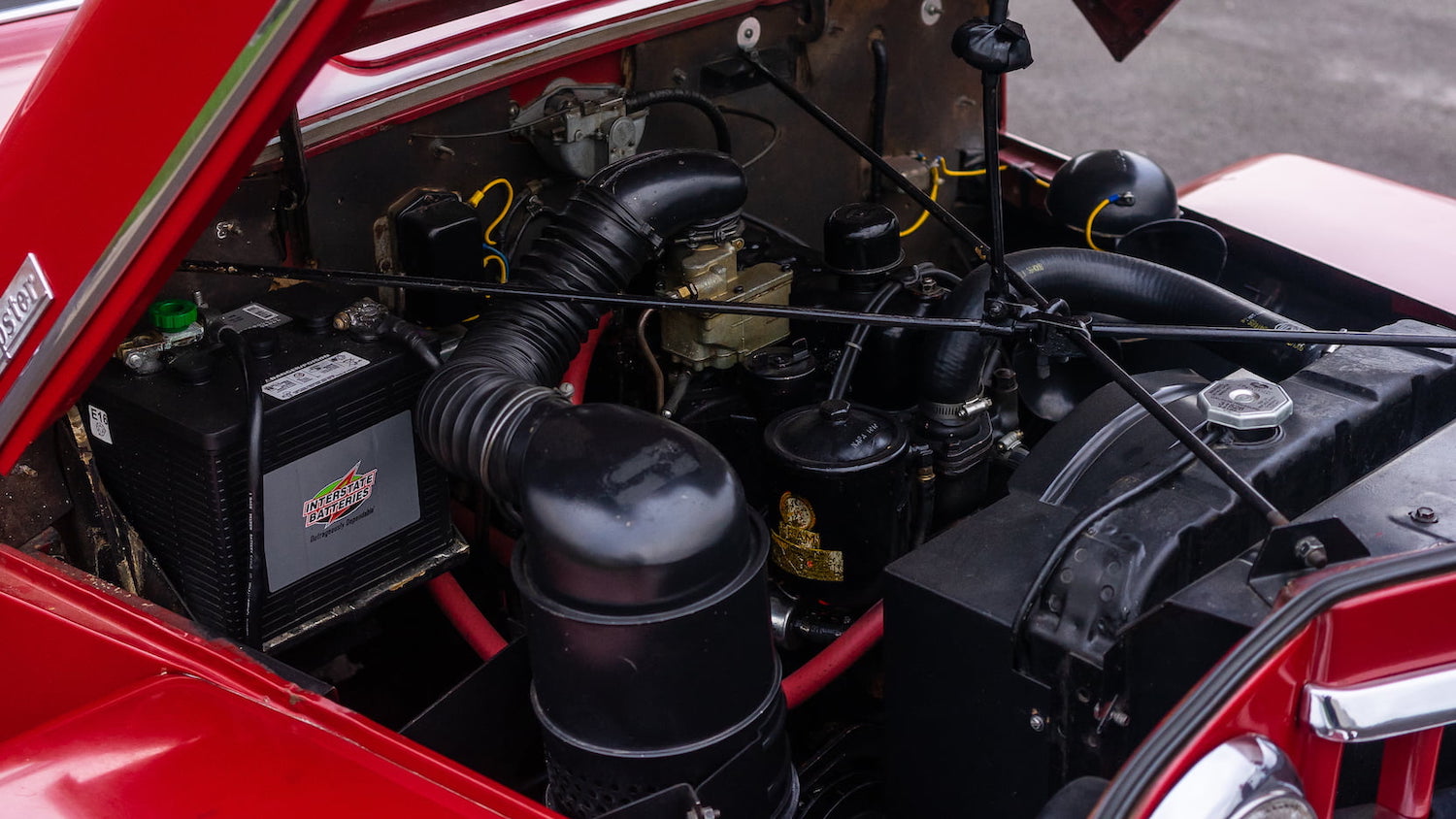 The next edition of the Jeepster answered some of those concerns. For 1949, the price of a four-cylinder model was dropped to $1495, and a 72-hp, 148.5-cu-in Lightning six-cylinder version was added for $1530. Many of the standard features were now options. Despite the lower cost and the availability of a six, sales slipped again.
Willys offered more improvements in 1950, including a more powerful Hurricane four-cylinder engine, which inspired this marketing cry: "There's magic under the hood of Willys' smart new Jeepster: Hurricane power!" In addition, the six was bored to 161 cubic inches, which boosted its output to 75 hp. The '50 Jeepsters, which arrived midyear, also received a distinctive V-shaped grille with five horizontal chrome bars. Sales went up, although not considerably—certainly not enough to keep the model alive.
Willys shut down Jeepster production before the end of the year, and 1950 leftovers were sold as '51 models. The Jeepster's "four-year" production total was 19,131.
Market analysis
The Willys Jeepster's biggest problem is much like that of the Mini Moke and Volkswagen Thing: Its utility and practicality is limited. The Jeepster looks rugged and off-road capable, but it isn't. Plus, it has basic construction, poor all-weather equipment, and its original engine struggles to keep pace with modern highway traffic. To compensate on the street, many Jeepsters were upgraded with small-block Ford or GM V-8 engines, which can make solid stock examples difficult to find.
Hagerty valuation editor Andrew Newton says values for Jeepsters in #1 (Concours), #2 (Excellent), and #3 (Good) conditions have slipped in recent years after seeing a 16-percent jump in 2016. Current median value is $27,000, "which is about $4000 more than 10 years ago," Newton says, "but the average price at auction over the past five years is $22,400."
Top sales—none of which occurred in the last 19 months—include a 1949 model that went for $46,200 at Mecum's 2018 Kissimmee auction, a 1950 that sold for $44,000 at Barrett-Jackson's 2018 Scottsdale auction, and a 1949 edition purchased for $40,150 at RM Sotheby's 2016 Fall Auburn auction.
"The Jeepster has undeniable charm and its owners are a pretty enthusiastic group," Newton admits. "But much like when they were new, their appeal isn't wide enough to drastically push values or demand."
No doubt, Jeepster enthusiasts will keep on enjoying these fun-loving vehicles as Willys intended. Just don't get into the game hoping to come out on the other side with more cash in your pocket than when you entered.