Tiny Lotus Elan has a lot going for it, including an uptick in values
If you've ever driven an first-generation Miata and enjoyed yourself (and why wouldn't you?), then picture this. Take that driving experience and make everything smaller, tighter, louder. Oh, and lighter too—as in over 600 pounds off the Miata's curb weight. The only thing bigger is the price, but we'll get to that later. The car in question? The 1962–73 Lotus Elan.
And it's a gem. Not a gem of reliability or build quality (the Miata, largely inspired by the original Elan, will give you that), but a gem in terms of pure excitement behind the wheel. Car and Driver summed it up perfectly in a 1964 test: "It fits like a Sprite, goes like a Corvette, and handles like a Formula Junior." It's an absolutely tiny car. No version ever weighed more than 1600 pounds and it is just 56 inches wide, so it makes the most of that 105–126 horsepower to keep up with or even outrun plenty of way more powerful sports or muscle cars in a straight line. And that's before getting to the twisty bits, where Elans really shine.
Anybody who enjoys driving should want to at least have a go in one before they die, but Elans are no secret, and unfortunately, they're not the performance bargain they used to be. While they're steady at the moment, prices for Elans are significantly higher than they were a few years ago. And thanks to their reputation, fun factor, premium badge, and influence on Mazda's own wildly popular sports car, they're likely to stay collectible.
Before introducing the Elan, though, Lotus had a serious problem. Colin Chapman's sports cars and single seaters were winning on track, and the Seven was a popular kit car, but his breakout sports car, the Elite, was losing the company money. A very ambitious design with a fiberglass monocoque, sophisticated suspension, disc brakes, and a Coventry Climax engine, it was difficult and therefore expensive to produce. It wasn't all that durable, either. But as the Elite soldiered on, designer Ron Hickman was at work on a model that would be simpler and profitable but still carry all the Lotus virtues.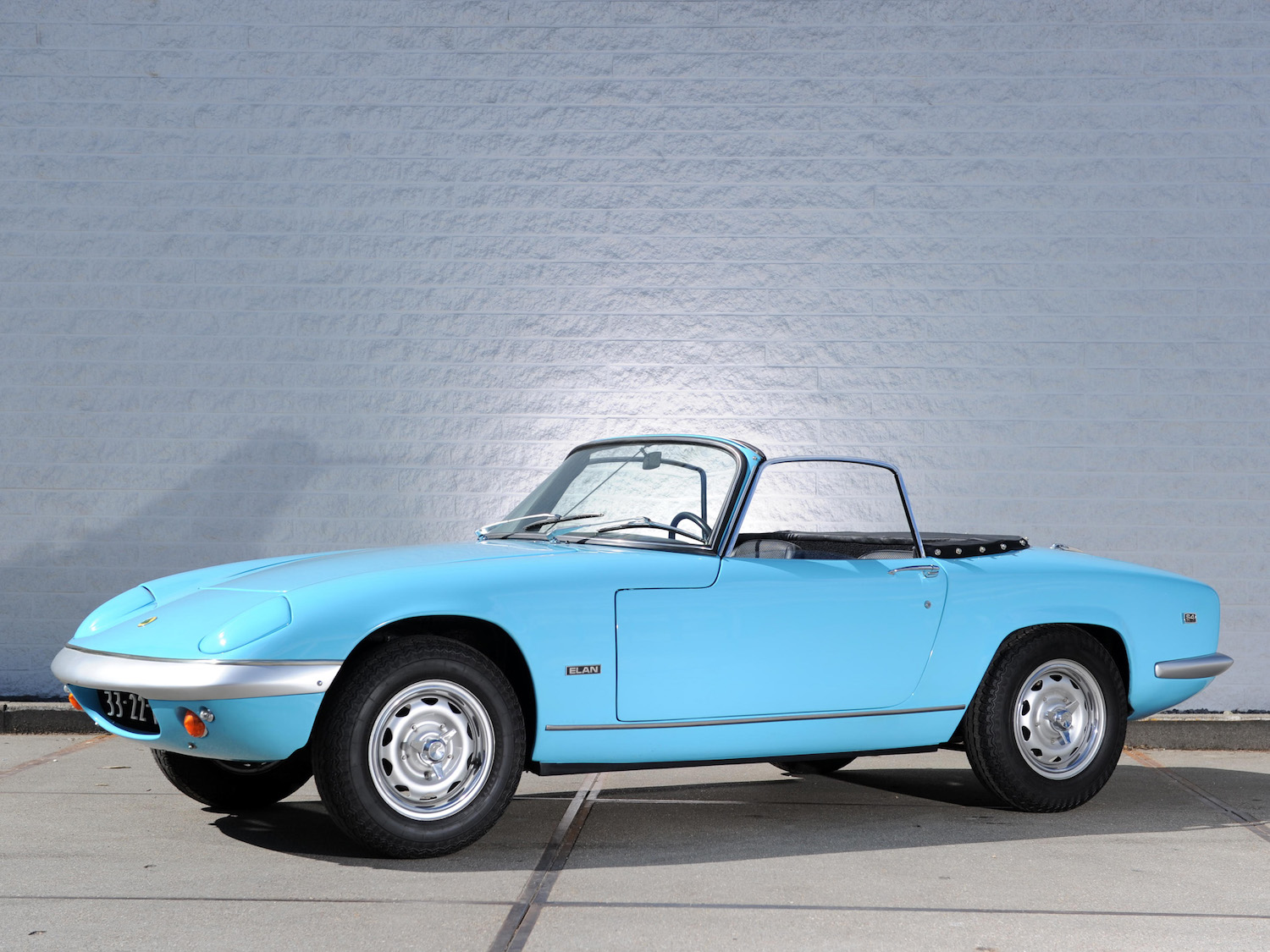 The Elan recipe started with a simple and easy-to-produce but very rigid steel backbone chassis underneath a fiberglass roadster body shell. For the engine, Lotus ditched the Climax engine from the Elite and used a new four based on the durable, tunable English Ford Kent engine, but with an alloy twin-cam head. The first of these Lotus Twin Cams were 1498 cc, but they quickly grew to 1558 cc. Double wishbone front suspension and steering rack came from Triumph, and rear suspension was by Chapman struts and lower wishbones. Rotoflex, which are circular rubber couplings at each end of the driveshaft, cushioned the driveline. Vacuum-operated pop-up headlights and a simple (but not sparse) interior completed the package, which used fewer bespoke components than the Elite and was much cheaper to build.
The Elan debuted at the Earls Court Motor Show in October 1962, and it was an immediate hit. Early ones cost £1499 fully built—that's £31,779 (or $40,900) today—while the old Elite had cost hundreds more. As was common practice, Lotus also offered the Elan as a kit, which allowed buyers to avoid a UK tax on assembled vehicles. For £1095, Elan kit buyers had to fit the engine, transmission, exhaust, and some suspension pieces, while Lotus offered a free service at the factory where it would check the car over to see if you did everything right. Most Elans originally sold as component cars.
The first cars, called the S1, can be distinguished by two circular taillights on each side. The S2, introduced for 1965, added a better interior with full-width wood veneer dash and locking glove box, larger front brake calipers, and optional power windows. A newly available Special Equipment (SE) package also added knock-on wheels, leather-rimmed steering wheel, and a boost from 105–115 horsepower. The S2 quickly gave way to the S3, which added an available fixed head coupe plus some more minor running changes. Meanwhile, as Elans delighted owners on the street, Lotus single-seaters were taking the world's racetracks by storm, winning Formula One championships and bringing the mid-engine revolution to Indy. Lotus only felt it appropriate a little bit, and stuck nifty little "World Champion Car Constructors" badges on each Elan.
In 1967, Lotus brought out the Plus 2, which was a lengthened Elan with different bodywork and two back seats that could at least theoretically fit people. A straightforward brochure for the car makes the ambitious claim that "children should be comfortable."
The S4 of 1968 brought slightly flared wheel arches, allowing for wider tires, as well as Jaguar E-Type taillights and Stromberg carburetors (most used Webers and a few also used Dell'Ortos), which necessitated a bulge in the hood. The last series of Elan was the Sprint, which featured a redesigned cylinder head and larger valves. Called the Big Valve engine, it brought the Twin Cam to 126 hp. Sprint buyers could opt for a two-tone paint scheme that mirrored Lotus's Gold Leaf cigarette-sponsored F1 cars, and from late 1972 could also opt for a five-speed gearbox.
By 1973, however, the Elan had been around for more than a decade and couldn't keep up with changing U.S. safety and emissions rules. A change in UK tax law also ended the tax advantages of buying a car as a kit. The Elan bowed out with a little over 12,000 built, making it Lotus's most popular car up to that time.
Now that Elans are collectible classic cars and have been for some time, the pecking order starts with the later, faster Sprints with their Big Valve engines and flashier paint schemes. The old adage of the price going up when the top goes down rings true for Lotuses as well, and a Sprint Drophead carries a #2 value of $43,300–$45,200, depending on the year, while a Coupe carries a value of $30,700. The relatively rare S1–S3 Dropheads and Roadsters carry #2 values in the low-$40,000 range, while S4 Dropheads are worth $34,400 and S4 Coupes $28,300. The SE (Special Equipment) package can carry a premium of about 10–15 percent over a standard car.
Elan prices started to get noticeably higher in 2012, when classic cars of all shapes and sizes started to get more expensive. In the seven years since, average condition #2 prices are up 67 percent, with the Sprint model seeing the most growth. Over the past two years, Elan prices are up 4 percent, but for most of 2019 they have been relatively flat. Even so, this contrasts with the less-expensive, more-basic classic British sports cars that for the most part have remained flat or even seen their values dip over the past few years. A Mk I MGB, for example, is worth almost exactly the same as it was five years ago.
Over the past five years, the median price for Elans sold at auction has been $31,000, and some of the most expensive were a rare, freshly restored 1965 S2 with factory hardtop for $60,500 at Amelia Island 2016 and a restored 1969 S4 SE Drophead for $55,000 in Scottsdale 2016. Big sales have also gone through Bring a Trailer more recently, with an early 1963 S1 selling for $44,250 and a 1971 Sprint for $55,000.
Naturally, the cars that bring the highest prices are in the best condition, but that doesn't necessarily mean the most original or the most factory correct. Those commonly suffered from backbone chassis rust, so many have had a replacement frame installed by now. An original backbone isn't always prized, and many people prefer the newer galvanized chassis available straight from Lotus or the aftermarket units available from a company called Spydercars. Other common upgrades include aluminum radiators, electric pop-up headlight conversions, and swapping out the Rotoflex rear for CV joints.
It's also worth looking for a car with a clean body. Stress cracks in the paint are common, and fiberglass repair can be expensive. Don't worry about uneven panel gaps. Those were standard issue. Brand-new body shells are available and might be a more realistic choice than restoring a too-far-gone original shell. It's also better to buy one that someone else has already sorted rather than deal with the headaches yourself. All the better to get out and reach the driving nirvana that only a sorted Elan can take you to.
At the moment, Elans are disproportionately popular among older buyers, with Baby Boomers making up 65 percent of insurance quotes for Elans, even though Boomers make up just 39 percent of quotes across the rest of the market. While that normally isn't a great sign for longer-term collectability, the Elan's recent value growth, reputation as one of the all-time great driver's cars, impressive performance even by modern standards, and the cachet of the Lotus badge will likely keep the Elan relevant and valuable going forward into younger generations of buyers who may not be able to afford one yet.