Sowing confusion in the Zagato Perana Z-One
Looking for a way to stump your car friends on Facebook? You can't do much better than posting a pic of the Zagato Perana Z-One, a gorgeously oddball exotic that came and went so fast that you're unlikely to meet anyone who has ever even heard of it, much less seen one before. If confusion is your favorite emotion, then buying one of the seven ever made—another four were built as the AC 378GT Zagato—would be your chance to meet perplexed people wherever you go.
An Italian-South African mashup (you don't see those words together too often), the Perana Z-One was a styling exercise by Zagato for the 2009 Geneva Motor Show that, despite a world economy going kablooey, turned into a very limited-production car from Africa. However, instead of the planned run of 999 copies priced around $100,000, fewer than a dozen made it out of the Hi-Tech Automotive facility near Port Elizabeth, South Africa, coming to the U.S. not as finished cars but as painted and trimmed bodies over a steel tube-frame chassis, sans engine. Thus were standard car regulations sidestepped, and the engine option was up to the buyer, most of whom chose some form of the Chevy small-block LS3 aluminum V-8.
Amazingly, two of these rarities live in the same car collection in Torrance, California, that belongs to Hiram Bond and Paul Marcelino, fans of the Perana since first laying eyes on it years ago at the Concorso Italiano, the big Italian car show during the Pebble Beach weekend every August. Both cars in the collection have custom-built 7.3-liter Chevy engines, said to make north of 500 horsepower and hooked to six-speed manual transmissions, but each with different oiling (one is a dry sump, the other wet) and different exhaust systems. The blue Perana is the relatively quiet daily driver, while the red one barks alarmingly on startup and, Bond says, annoys the neighbors so much with its blazing aural rips that it can only be driven sparingly.
One of the few remaining survivors of the great bespoke Italian coachbuilding industry that once included Bertone, Touring, and Ghia, the firm founded by Ugo Zagato in 1919 continues to operate as an independent design house and body maker. If you've followed the company's more recent fascination with "neoclassical" designs, you know that the Perana fits right into the Zagato mold of long hood that leads to a low, set-back cockpit with a double-bubble roof that tapers to a high, rounded rump. The body is slashed through with grille screens and ducts and exudes a ton of masculine visual verve befitting a buyer who definitely does not want to move in stealth.
The name Perana was an ode to an obscure footnote of South African racing history: starting in the late 1960s, Basil Green Motors, a racing team and tuning house near Johannesburg, for a time became Ford of South Africa's local quasi-in-house tuner—like Tickford in Australia, Cosworth in the UK, and Shelby in the U.S. But if you want to be quick, you can just say that the conventional spelling for the man-eating fish (Piranha) was already trademarked out the wazoo, so "Perana" it is.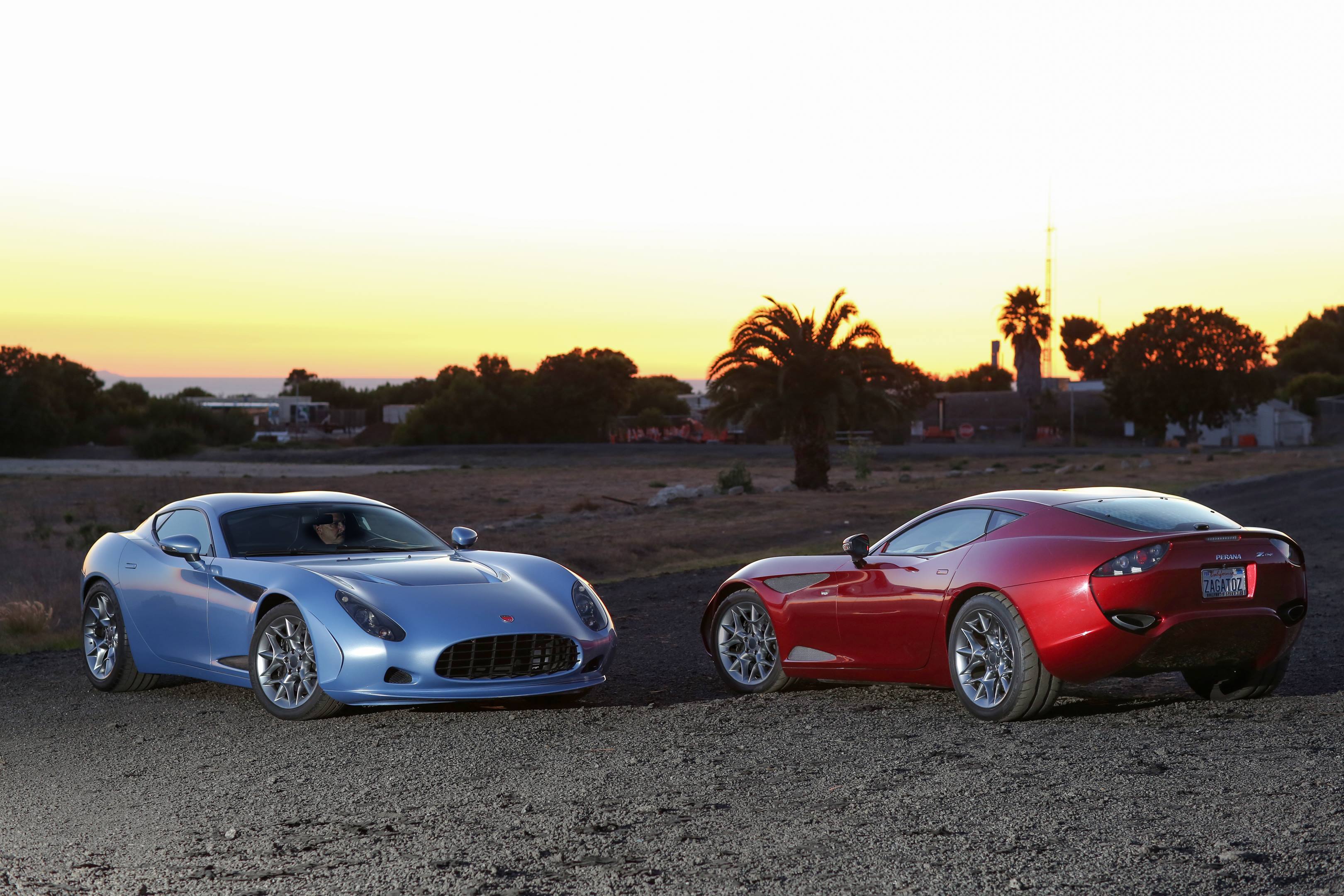 Though it looks like an Italian Corvette—and certainly sounds like one—the Perana's surprisingly low floor and upright seating position means sitting in it feels more like sitting in an Impala. The controls are straightforward and the tilt and telescoping wheel, the pedals, and the shifter are in harmonious relation to each other. With each Perana being more or less a prototype, exacting fit and finish is perhaps too much to hope for. The occasional jiggly interior bit, a waviness to the French stitching in the leather upholstery, a fuel gauge that never reads higher than one-quarter full, or the way the side glass doesn't perfectly fit into the seals are, frankly, to be expected.
Even so, the two examples here were perfectly drivable, with backup cameras to help the limited outward visibility, comfortable accommodation, and easy to read gauges. The blue one is a relative pussycat while the red one suffered from a hair-trigger throttle and some driveline snatch which makes it yo-yo at low speed unless you're exceedingly skilled with the gas and clutch. Drive either car hard, however, and they are a burly delight, with quick steering, stout brakes, and a meaty shove of Yankee big-bore torque as the Perana roars past bedazzled onlookers in ordinary cars.
With so few Peranas/AC 378GTs in existence, values are wildly speculative, although an exotics dealer in Los Angeles tried unsuccessfully to unload an especially handsome two-tone example on eBay last year for $125,000. Lots more is spent on cars that are much less exclusive (though definitely a bit more finished). The feeling you get driving one is probably akin to how Mark Hamill felt tooling around in that wildly customized Vette from the movie Corvette Summer—the sights and sounds are familiar, but the wrapper is so crazy that only the most dedicated show-offs need apply. And unless they have a private gas pump at home, owners also need to like interacting with a curious public, as there is no putting fuel in one of these without getting questions.
Which is one of the appeals to owners Bond and Marcelino. "In this city," Bond says of Los Angeles, "it is so hard to have something that nobody else has." The Perana definitely qualifies.