The ultimate Camaro: Dan and RJ Gottlieb's Big Red
At 50, the Camaro has fought its way into our hearts to become as much an American icon as its chief rival, the Ford Mustang. Camaros blitzed the dragstrip, hammered through the corners in Trans-Am racing, and were even reborn in 1/64th scale as the very first Hot Wheels ever made.
Over the years, many hero Camaros have risen to the top, from the dark blue 1968 Z/28 lightweight fielded by Penske racing in the late 1960s to the yellow-and-black movie magic of Transformers. So what if there was one Camaro that could do it all?
Some 30 years ago, Dan and Richard "RJ" Gottlieb, a father and son duo from Southern California, embarked on quest to create just such a machine. When RJ turned 16, as a birthday gift he enrolled in Bob Bondurant's High Performance Driving School. Oh, if only we could have all had such an intro to Driver's Ed.
RJ took to driving fast the way a Hoosier sticks to hot tarmac. Soon he was involved in NHRA pro-stock drag-racing, hitting mid-sevens in the quarter-mile. However, drag racing was only part of the plan; the real challenge would be found at the track, and in road racing.
In preparation for the second running of La Carrera Classica, held in Mexico in 1987, the Gottliebs got to work on what would be the genesis of the "Big Red" legend. The basis was a stock 1969 Camaro Z/28, modified for safety with a roll cage and other upgrades, and fitted with an absolutely enormous John Lingenfelter-built 540-cubic-inch V-8.
Nearly 800 horsepower meant that Big Red was capable of hitting serious speeds. Regrettably, this being the era before pro-street chassis tuning really existed, some parts of the factory Camaro suspension weren't up to the strain. During a long sweeper, at an estimated 150 mph, a steering component failed and Big Red went into a rock wall. Thankfully, RJ and co-driver Chris Kaufman were unharmed, but the car was a wreck.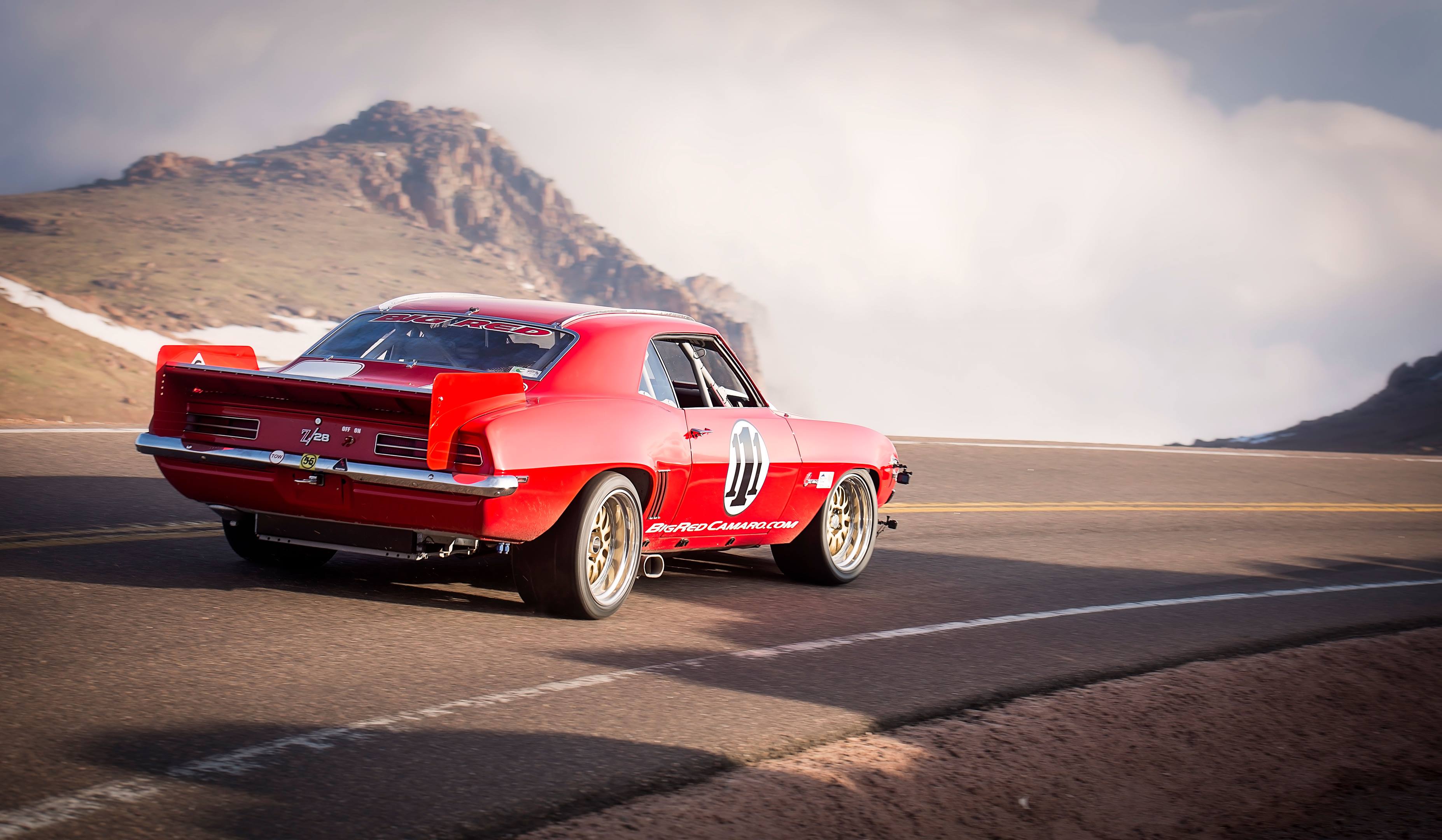 From the ashes, a crimson phoenix was born. Recognizing the limitations of the Camaro's underpinnings, Big Red was rebuilt with a NASCAR-style tube-frame chassis, and full racing setup (the 540-cu-in heart was rebuilt and retained). Rather than return as some fibreglass pretender, Big Red retained its original steel body, along with factory components like windshield, dashboard, and working windows. Think of the tube-frame racing components the same way you would about Wolverine's adamantium skeleton.
The reborn Red was instantly triumphant, winning the next running of La Carrera Classica and setting the course record. It did so with such emphatic speed, that it would only be allowed to return and race once more.
It didn't matter. Big Red had other fish to fry. At the second Silver State Classic Challenge, a 94-mile road-race challenge held in Nevada, Red took on everything from Ferraris to Corvettes. It laid down a beating, completing the course in 27 minutes, 54 seconds—good enough for an average speed of just under 198 mph. That's an average, mind you. Its top speed was verified by radar at 222 mph.
Red next went on to further embarrass the cream of Europe in a 24-car top-speed shootout, hosted by Road & Track magazine, at the Nissan-owned banked oval in Arizona. Red hit 203 mph, the only car to crack 200 mph. It would return again the following year to repeat its victory in the Silver State and also compete in the Nevada Open Road Challenge, a sister event.
Its legend firmly established, the Camaro would spend the next eight years stored away in a museum. But in 2004, it was time to blow the cobwebs out. A mild refresh turned into a full restoration, and suddenly Big Red was back on the prowl.
Things started gently, sort of, with an entry into the 0-100-0 mph challenge at the 2005 running of the Nevada Open Road Challenge. Big Red now had three engines in its arsenal: an 850-hp development of the 560-cu-in V-8, a new 598-cu-in single-carb engine making 975 hp, and a dual-carb monster putting out 1,050 hp. All three engines require different hoods for clearance, with the largest unsuitable for more than straight-line events.
Now equipped with six-piston Baer brakes, Big Red made short work of the 0-100-0 contest, and the Gottliebs began making plans to return to road racing. At the 2006 running of the Silver State, RJ fought off an early fuelling issue to place first in the unlimited class, but he failed to hit Red's earlier record-setting pace.
Even so, Big Red was back, and it began notching up wins. It soon caught Hollywood's eye and was featured in the fourth installment of the Fast and Furious franchise. Hill climbs, Texas Mile racing, and top speed runs on dry lake beds in California all fell in the Camaro's rearview mirror. There was always another race, another mountain to climb.
Last year, the decision was made to take Big Red to Pikes Peak and let it loose on one of the most dangerous and challenging courses in the world: 12.42 miles, 156 turns, and a 14,115-foot summit. It would be, perhaps, Big Red's most difficult challenge yet.
Another surprise challenge came first. During shakedown testing at Buttonwillow Raceways in California, a fuel system fitting came loose, and Big Red became, well, Big Really Red. Fire damaged the car so severely that many speculated it would never run again.
If rocks couldn't kill it, what chance did fire have? In March of this year, the rebuilt Big Red ran a scarcely believable 253.6 mph at the Mojave mile, and then followed it up with a credible fourth-place finish in class at Pikes Peak. Given that Red's road-race setup relies on naturally-aspirated displacement rather than the forced induction that most Pikes racers use due to its effectiveness as altitude, the finish was even more impressive.
Over a 30-year period, Big Red made a name for itself as the fastest '69 Camaro in the world. It's practically unkillable, can take on virtually any kind of motorsport competition, is a fan favorite, and has movie-star chops. Is it the ultimate Camaro? Likely. Exactly as father and son imagined it would be.