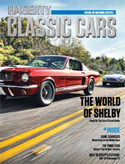 When I was about 10, my father took me to my first old car auction and it was nothing like today. It was in back of a gas station and only had about 20 cars. Dad was trying to buy an Oldsmobile that had come through his body shop. It was wild, like a cattle auction. The auctioneer sat on a folding chair in the back of a pickup truck. They'd stop in front of each car and he'd call the auction through a megaphone. Dad didn't get the Olds, but I did get my first taste of an auction.
Years later, in 1971 or 1972, I remember stopping in Scottsdale when driving across the country. It was back when Kruse had an auction out there. Everybody sat on a fence while the cars were auctioned. Back then cars weren't presented the way they are today. Auctions were pretty basic and communications were limited. Most sales didn't even have catalogs, though you might see an ad in Hemmings Motor News. Usually you wouldn't know what was being sold until you showed up.
The first car I recall selling at auction was a customer's Mercedes-Benz 300SC cabriolet in the mid-1980s at a sale along the New York/Connecticut border. We made out really well, selling it for about $125,000, which was big money. I also consigned a 427 Corvette, but that fell flat on its face, so you never really know.
Auctions are very different today. There's so much information available, with glossy catalogs and slick websites. And with cell phones, email and a pre-purchase inspection, you can bid confidently long-distance.
My year used to be defined by concours, but now it's based on the auction cycle. Most of my business used to be repairing and selling cars. Now it's dominated by buying and selling, and for that I need the auctions. So I go to the big events like Monterey, Scottsdale and Amelia Island because they have multiple auctions.
Last January I had a few cars at Mecum's Kissimmee auction. I had a reserve on a Chevy, but once I lifted it the bidding took off, which was really exciting. Unlike my first auctions, I watched in Kissimmee from the comfort of a well-appointed tent. But despite all the modern conveniences of today's auction experience, at the end of the day it was still about buying and selling cars. Just like when I was 10.