The new Ford Edge ST will be a bellwether for Ford Performance
If you want a new ST, it can only be an SUV. With the cancellation of all Ford passenger cars except the Mustang, the Ford Performance Team is placing its focus—pun intended—on bigger things.
The all-wheel-drive 2019 Ford Edge ST is the Blue Oval's first performance SUV; it's also the first ST with automatic transmission. Powered by a 335-horse, twin-turbo 2.7-liter EcoBoost V-6, it tips the scale at nearly 4500 pounds, making it the heaviest ST ever. No surprise there, considering the previous ST models offered in the U.S. were hot hatches—the Focus (in 2012) and Fiesta (in 2014).
And therein lies the rub among unhappy ST enthusiasts, who have decried the obvious shift away from small, nimble hot hatches that are perfect for autocross, to larger, luxury crossovers they wouldn't consider taking on a precision course. Ford isn't ready to concede, however.
Among the features on the 2019 Edge ST is an updated version of Ford's stability control system, and while previous ST models offered three drive modes, but the Edge ST has four with the addition of a Sport Mode, designed to help increase stopping power, improve traction and responsive handling, and provide added stability in sporty, closed-course driving conditions. Ford says this is accomplished by relaxing yaw and understeer controls.
Ed Krentz, Ford Performance Chief Functional Engineer, insists ST's heritage is unmistakable in the new Edge version.
"ST has always stood for performance," Krentz said in a video release. "It brings together a significant number of criteria that we look for… much more than just power and speed. It includes driving dynamics, braking capability, cooling, the seats, the transmission and shift quality. Exhaust sound quality is another thing. It's everything you experience in the vehicle. It touches everything that you see, what you hear. We call it our DNA."
That DNA traces back two decades to the 1996 Mondeo ST24 and ST24 Wagon, available only in Europe. Ford Performance offered eight additional ST models before North Americans could finally get their hands on one with the release of the 2012 Focus ST and its 252-hp 2.0-liter, four-cylinder EcoBoost engine. Although during those early years we did get our own version of Ford front-drive performance with the Focus SVT and Contour SVT.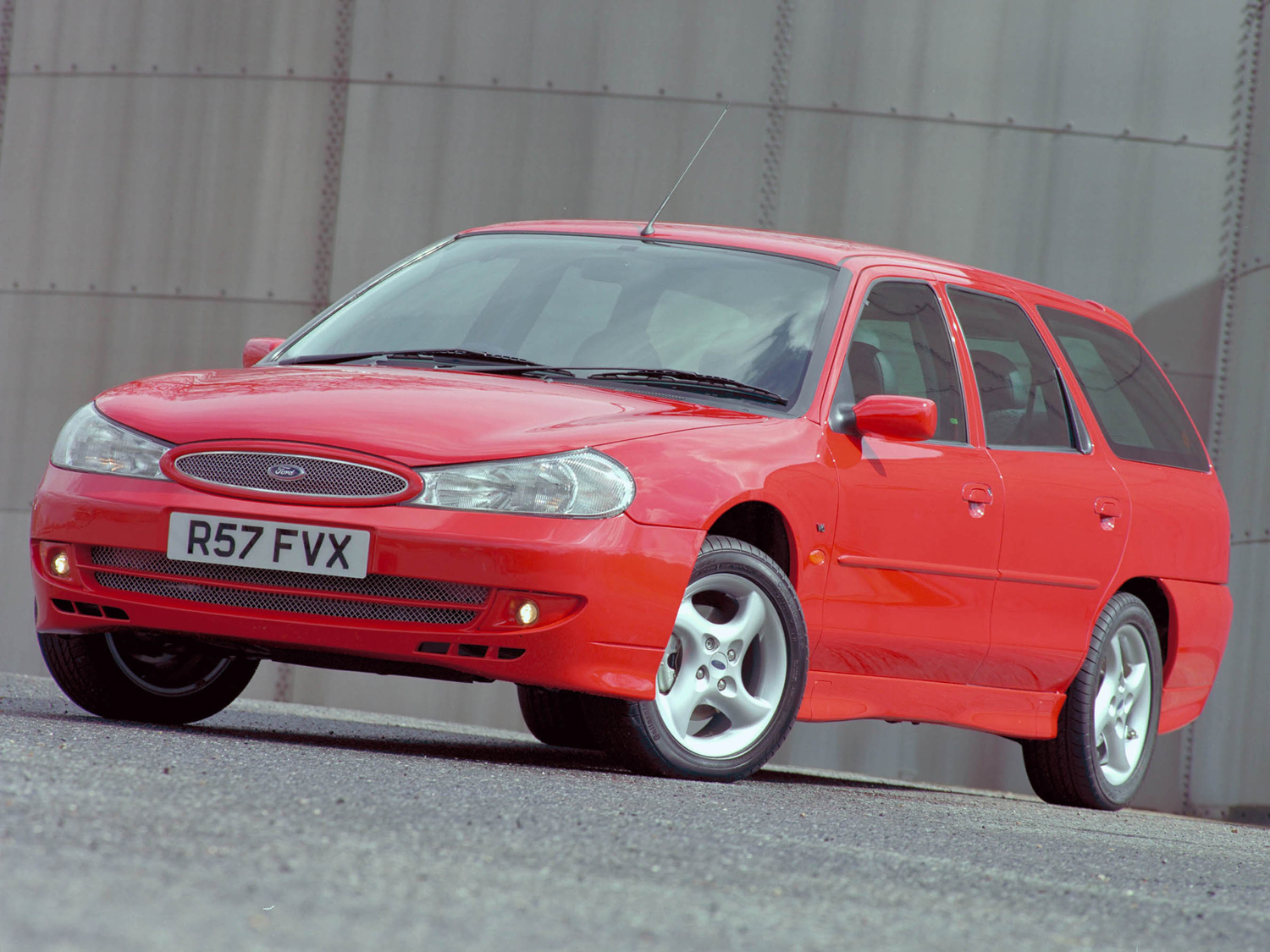 The 2019 Ford Edge ST starts at around $42,000 and includes leather-trimmed seats with cloth inserts, 20-inch wheels, hands-free liftgate, lane-keep assist, infotainment system, Class II Trailer Tow package, and a choice of black, blue, silver, and Magnetic (gray) paint.
But you can add more than $10K to the bottom line, depending on the options you choose. For $2695, the ST Performance Brake package adds 13.6-inch front brake rotors, performance brake pads, and extra cooling for the radiator, as well as 21-inch glass back aluminum wheels with summer performance tires. But you can't get the brake package without also opting for the 401A package, which will cost you $5585. That comes with additional safety features like evasive steering and parking assist, heated and cooled seats throughout, voice-activated navigation, and 180-degree camera.
Tack on a dual-headrest rear seat entertainment system ($1995), Ruby Red ($395) or White Platinum ($595) paint, the Cargo Accessory Package ($290 for a cargo mat, rear bumper protector, and retractable cargo area cover), and Cold Weather Package ($495 for floor liners, heated steering wheel, and windshield wiper de-icer), and you have a $53,000 vehicle—more fodder for fans of the affordable Focus ST and Fiesta ST.
Hau Thai-Tang, Ford Global Head of Product Development and Purchasing, contends the ST goes behind the size of the vehicle and to the heart of performance.
"ST is much more than a badge. Clearly, it's a differentiated series—it has all the right appointments—but it's an experience. It's something that gives our enthusiast customers what they want, which is the joy of driving."
It'll be a tall order for the tallest ST yet.