Owning a Porsche 928 isn't as intimidating, or costly, as you think
When you've wanted something for more than 35 years, you tend to do your research. You follow market values, trends, and more importantly, the ownership experience of others until ultimately, you make a decision.
As a muscle car guy, I like V-8 engines. I like the rumpety-rump noise they make at idle and the sound of a bald eagles getting shot out of a cannon when you hit the throttle. That's why when it came to Porsche, there was only one model that ever appealed to me—the 928, Porsche's grand touring super coupe that was built from 1977–95.
Now let's get one thing straight. I have never wanted nor aspired to get a 911. Are they nice? Sure. But they never put the sauerkraut on my sausage, if you catch my drift. The 928 is another story. And nine months ago, after a year of searching, I pulled the trigger and purchased a stunning Prussian Blue 1986 Porsche 928s. The '86 model is the last year of the first-generation body style. The shark-like contours are stunning and when combined with those subtle spoilers (both front and rear) along with the 16-inch manhole-styled wheels, it's just about perfect.
Under the hood is a 32-valve DOHC 5.0-liter V-8 that utilizes an aluminum block and heads, and makes 288 horsepower and 302 lb-ft of torque. It's also mated to a transaxle, which helps the 928 achieve a perfect 50/50 weight balance. My car is a five-speed manual in a dogleg configuration that's been upgraded to 1986.5 specs, which means larger brakes and an updated suspension. (You can read more about the differences between the 1986 and 1986.5 here.)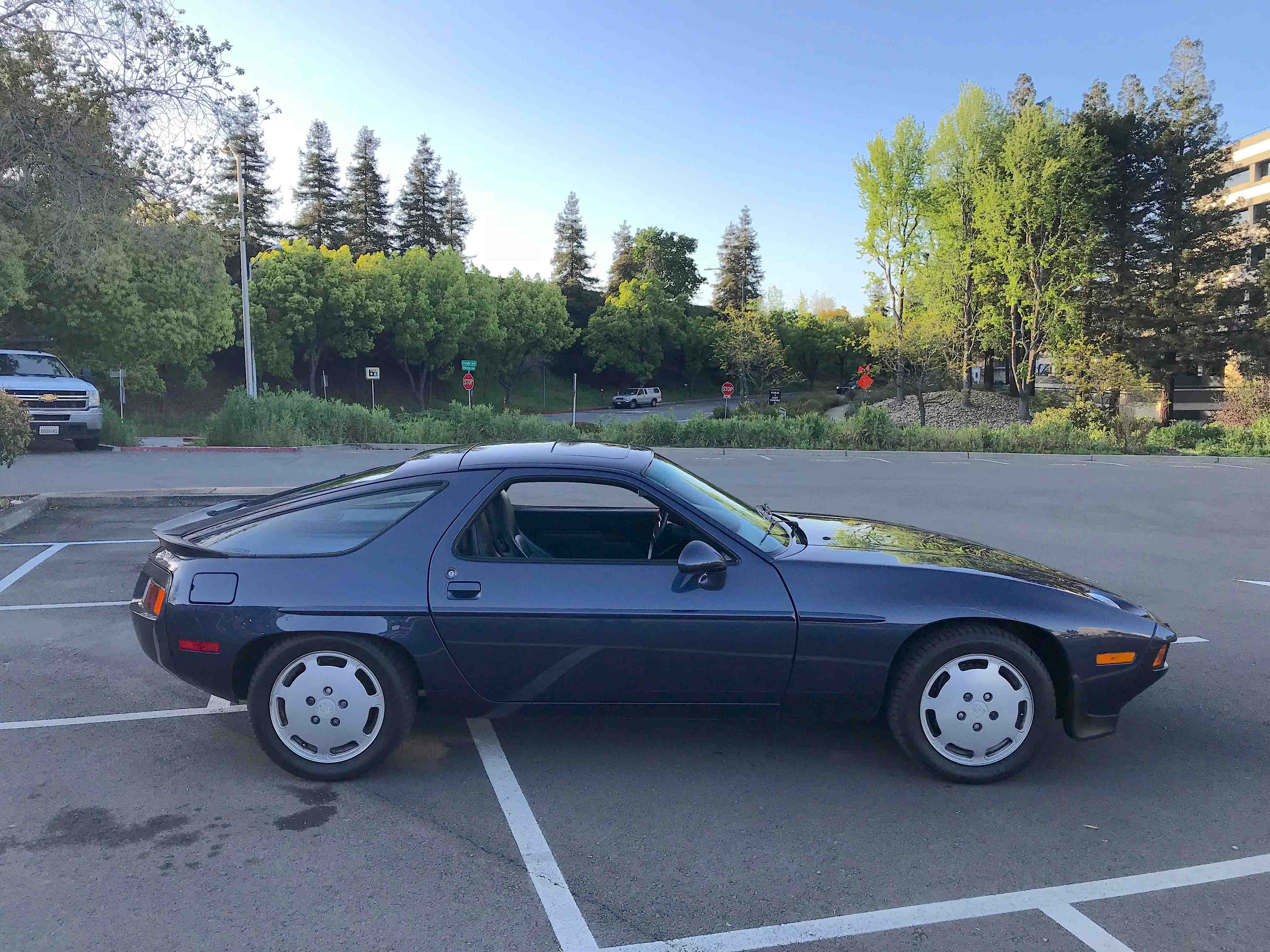 Now it's time to share a few things about my expectations and where I set the bar for myself prior to buying the car, and what my impressions of the car are now.
Realistic expectations
I think this is where a lot of owners, both potential and current, lose sight when it comes to ownership, which is why I went into this purchase with the understanding that Porsche 928 ownership is a commitment; not a passing want. As the owner of classic cars (both foreign and domestic) I knew what I was getting into when I made the decision to purchase a 32-year-old German grand touring car and, more importantly, one that was more complex than any other of its day. It is not cheap, but if done right it is rewarding, as I truly believe this is an automobile that you develop a relationship with over time—no one-night stands here.
Understanding what the car is and, more importantly, what it was designed to do, is also key. This is a Grand Touring car, NOT a full-on sports car. Is it capable? Sure, but within reason. Don't go thinking you're going to be chasing down new 911s, AMGs, or even a new Mustang GT with a stock 928, as it simply won't happen. Get it on a wonderful set of flowing sweepers, however—or on a beautiful open stretch of tarmac—and be prepared to bask in the 928's glory. It's quiet and composed with great handling manners, and if you want to open the taps, simply drop a gear and let the 32v 5.0L sing all the way up to the 6000-rpm redline.
Why a manual?
This is one of the biggest debates when it comes to the 928, and to be honest there is no wrong choice, only personal preference. For instance, if I were going to drive a 928 as a daily driver I would have almost 100-percent opted for an automatic. They're smooth with beautiful shift points and serve the car well on the open road, during performance driving, and in stop-and-go traffic. If you do choose this route, however, be mindful that the early cars (1977–82 in North America) came equipped with three gears, whereby 1983–95 models had the four-speed automatic.
My car is not being used as a daily, so I went the manual route. In my opinion, the dogleg five-speed, combined with the torque of the 32v V-8 simply transforms the car into one that's more rewarding to drive at a spirited pace. Combine that with the fact that I live in northern California, home to some of the best roads on the planet, and a manual fit the bill perfectly.
Money and maintenance
As a guy with an affinity for old MOPARS, I can tell you that the financial rabbit hole on the 928 can be deep, dark, and something that you MUST prepare for ahead of time. Thus a general rule of thumb is to figure out what your budget is and then triple it. Not only is that not a misprint, it also holds true for both a fresh build and preventive, scheduled maintenance. Thankfully I applied this principle to my car, and let's just say that it didn't disappoint. Going in I bought the best car I could afford. It had great paint and a fabulous interior, and 98 percent of everything functioned properly. And while the previous owner took care of the car to the best of his ability, there were still items that were either done incorrectly or that languished due to a lack of both skill and/or funds.
The fact is, much of what was done wasn't done to 928 expert standards. There were quite a few used parts, along with some cut corners that had to be remedied in order to bring the car up to daily driver status. That means it had be up to sitting in traffic all day with the A/C on. All the lights, switches, and electronics had to be in 100-percent working order. It had to be free of squeaks and rattles, and it had to be dead-nuts reliable while also being able to be used to its full performance potential.
On a car like the 928 there are items that even the best PPI (pre-purchase inspection) will not pick up. More so than that, many of those issues may not come to light until you really start driving the car, and I'm not talking about a 10-mile jaunt to Cars and Coffee once a month. Every old car needs to be sorted, and this takes miles—thousands upon thousands of miles. For those who disagree, it simply means you've never built and/or restored a car before. (A suggestion: Hagerty Plus Roadside Assistance is a good thing to have during this period. Wink-wink.)
Porsche 928s, regardless of the year, need certain items addressed. Remember that even the youngest 928 is still more than two decades old, with the oldest pushing 40. Items like the timing belt and water pump must be replaced every five years or 60,000 miles. Then you have a slew of vacuum lines, unobtainium cam pulleys, tensioners, gaskets, switches, and those finicky wire harnesses that simply get crispy with age. That's not to say these items can't be sourced; it's just that as a potential owner, you've got to understand that rebuilding and/or maintaining a 928 isn't as simple as going down to your local NAPA for parts. Remember, this is a German grand touring car, and you'll be dealing with prices on some items that may reflect this. In regards to buying one, paperwork with a documented service history is key, so if it doesn't have it, you don't want to buy it—period.
Driving experience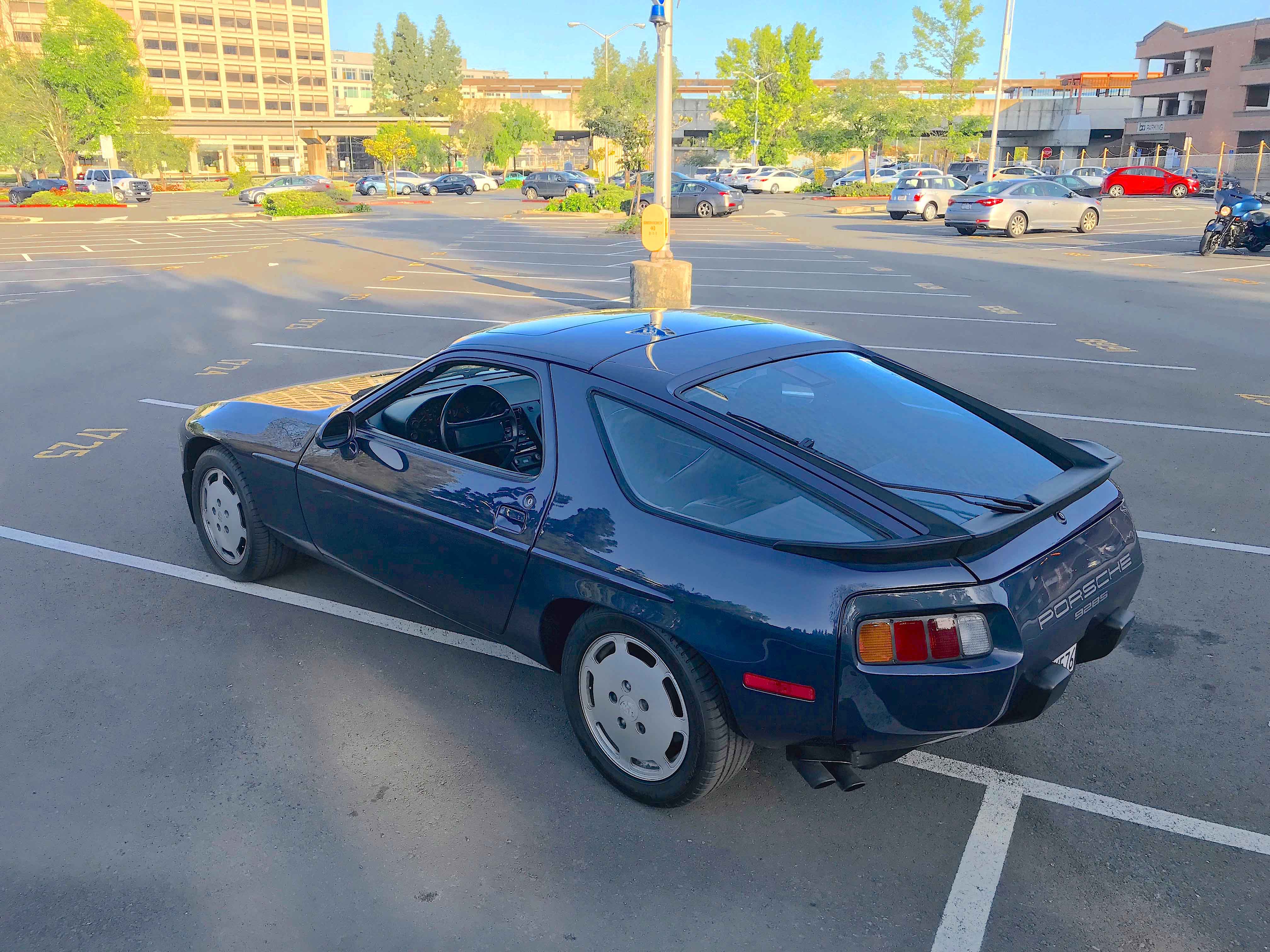 This is it. This is the point when you realize that all the time, effort, and money you've spent on your dream car was actually worth it. Open the door, slide into the electronically adjustable high-backed leather seats, position the gauge cluster/steering wheel combo, and then wait—just for a moment—and take in how wonderful the interior of the 928 actually is. We're talking about a cabin that debuted in 1977 and one that, from a driver's perspective, has better ergonomics and visibility than most sports cars built today.
The cluster itself is full of Porsche goodness. Fuel and oil pressure gauges flank a large 160-mph speedometer and 6000-rpm tachometer, along with an amp gauge and some ancillary warning lights. The four-spoke, leather-covered steering wheel, narrow by today's standards, feels oddly right in your hands. And that shifter, with its dogleg pattern, is wonderfully unique, as are the round cluster knobs that look as though they came off a spacecraft in a Stanley Kubrick flick. For those with small children, the 928 does possess rear seats, along with its own separate A/C unit (if equipped) and rear visors (don't want the back of your necks getting burned). Technically this is a 2+2, but if you're taller than 5-foot-3, then good luck to you in regards to finding a comfortable seating position back there.
A twist of the key sparks the big V-8 to life and immediately makes you understand why the 928 is so special. This is no ordinary Porsche, but a German experiment that managed to harness the essence of an American V-8 with the styling and grace of one of the best auto manufacturers on the planet. Running through the dogleg shift pattern at speed takes some getting used to, but once mastered, it is hilariously fun.
Then there's the handling. There's no worrying about lift throttle oversteer here, ala the 911, but instead the 928 rewards the driver with balance and confidence to the point where I find myself pushing it harder through the corners then I would with most modern day sports cars. In short, it's a riot to drive briskly.
Those looking at these cars need to remember that they were designed in an age when the suspension talked to you through your seat. With double wishbones all around and passive rear wheel steering (thank you Weissach rear axle), along with zero in the way of traction control, there is body roll and movement, but the 928 communicates this in an engaging way that makes the driver feel one with the car. It's brilliant, actually.
Get it out on the highway and things just get better as the 928 is a tarmac gobbler of the highest order. Turn on the A/C, dump the shifter into fifth, and go. I've found 110–115 mph to be the sweet spot, and while I don't condone speeding, my God, is this thing good at it. I love this car more than I thought I would, and it is exceeded every expectation I've had. Not only is it unique, but it sparks conversation everywhere it's driven and simply makes you feel good as an owner.
Oh, and one last thing. We always hear about people sinking huge sums of money into old muscle cars and vintage sheetmetal from far and wide, and no one blinks an eye. Yet when the same is said about the Porsche 928, regardless of the year, folks seemed perplexed and almost offended. To that, I say: buy these cars. Restore and maintain them if necessary, then go out and enjoy them. Do not listen to the naysayers who have little-to-no experience with what I believe to be one of the greatest and most overlooked GT cars of all time. If you who do will be missing out on one of motoring's best-kept secrets. Seriously, these things are really that good.