Why you should take a Porsche 911 off road
There are two ways to purchase a Porsche with off-road capability. One is to visit your local dealership and order a Macan or Cayenne, preferably with the optional air-suspension. That's the easy way, and with all due respect to Stuttgart's modern engineering prowess, it is for wimps.
Instead, what you really need is to build yourself a Safari 911. Or, rather, if your pockets are deep enough, have someone like racing driver Leh Keen build one for you. These are custom orders, bespoke in the original meaning of the word before marketing types ruined it, but the recipe is roughly the same: one rugged air-cooled Porsche, one lifted suspension, lots of belly-plating and auxiliary lighting, resulting in as much hooning about in the dirt as humanly possible.
Putting a price tag on a Safari 911 is a bit tricky. It's an altered classic, a modern take on an old idea. Assessing the value of a modified Porsche, be it a lifted 911 or an outlaw 356 build, falls outside the rules of vintage car collecting.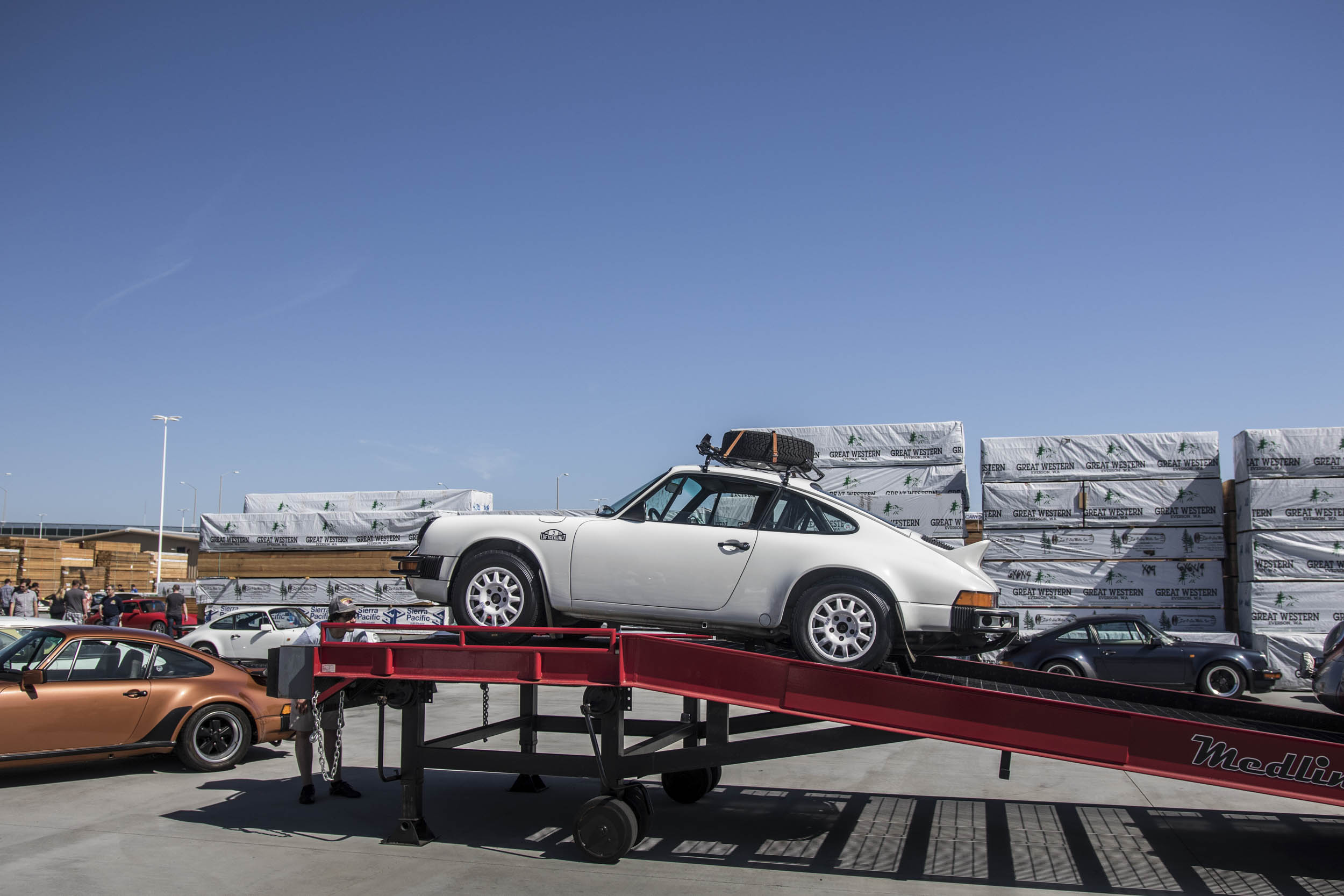 There is more going on here, however, than just Porsche people setting fire to large amounts of money. The Safari 911 is more than a fad; it's a tribute to Porsche's heritage, a great way to enjoy life beyond the tarmac, and potentially a jumping off point for a whole new facet of the classic motoring hobby.
An East African Sunrise
Visit Porsche's museum in Stuttgart, and a docent will happily trot you around to a carefully-preserved 911 SC 3.0 rally car wearing Martini livery and a front push bar like the guard of an enormous football helmet. This car, one of two that competed in the 1978 Safari Rally, wasn't an outright winner, but it did at least survive a gruelling 3000-mile race through the brutal and varied terrain of Kenya.
Porsche's first efforts did not fare so well. The original works team was a pair of 2.7RS 911s, painted in the same yellow Bosch livery as a 917/10 running in the Interserie championship, a European race run similar to Can-Am rules. With a pair of wins at the 24 Hours of Le Mans in 1970 and '71, Porsche was eager to show its prowess at all kinds of endurance racing. Africa ate the cars alive.
The Safari Rally began as a celebration of the crowning of Elizabeth II and was originally called the East Africa Coronation Safari (1953–60). It was subsequently named the East African Safari Rally until 1974, and then simplified to Safari Rally. Until 2002, it was part of the World Rally Championship series, with victory generally considered to be as difficult as winning three other rallies. The inaugural event in 1953 was won by a Volkswagen Beetle, which is probably why Porsche thought a lightly prepared 911 would do well.
In addition to the brutal heat, blinding dust, sharp stones, sticky mud, and unexpected flooding, the Safari rally organizers didn't bother to close the roads to normal traffic. Drivers therefore had to contend with the occasional unexpected bus, as well as lions and vast herds of herbivores.
The next year, Porsche was better prepared and brought a pair of more rugged 911s fitted with softened suspensions, and all kinds of armor, an 10 extra centimeters of ride height. Even so, one of the cars got so bogged down in the mud that its engine choked. Porsche couldn't be bothered to recover it and sold it to a local on the cheap. It's now restored and in private hands.
The 1978 effort comprised two teams in the 3.0-liter-equipped 911s: Björn Waldegård and Hans Thorszelius in one car, Vic Preston Jr. and John Lyal in the other. Leading the race, Waldegård hit a submerged rock and bent part of the suspension, causing a long delay for repairs. Still, the Porsche team managed second (Preston and Lyal), and fourth, and called that good enough.
Luftgekühlt following
Thousands of miles away from those harsh African savannas, a lumberyard in SoCal was also the perfect place to spot a rally-prepped 911. This year's Luftgekühlt was lousy with Safari builds, but then it would be. Luft founders Patrick Long and Howie Idelson built a Safari car out of a 1985 G-model Porsche 911, dragooning in the likes of outlaw Porsche hod-rodder Rod Emory, and the needs-no-introduction Jeff Zwart. They then auctioned it off for charity.
Because Safari 911s don't require a great deal of modification to the bodywork, they aren't as insulting to the purist community as, say, the outrageous wide-body Rault-Welt Begriff Porsches built by Akira Nakai. On the other hand, most of these cars are built to be used in the dirt, and are anything but trailer queens.
Building a Safari is usually not cheap. The 911 survival rates ensure plentiful supply, but the market remains strong for values. Even if you managed to secure a donor car at reasonable cost, putting the right amount of quality effort into a build will drive the cost towards or beyond the six-figure mark. The comparison between buying an old school rally tribute or a brand-new Porsche extends to the pricetag.
However, that Safari'd 911 is a golden ticket both to thousands of miles of gravel roads that spread like capillaries across America, and to the rarified air of the universally appreciated car. Raptor owners like Safari 911s. So do Ferrari guys, Jeep clubs, 356 collectors, Mopar nuts, drag racers, drift junkies, and even the incomprehensible youths of the stance movement. The appeal of a Safari'd car translates immediately across all of car culture, and beyond. Even a commuter in a Camry might get it.
Safari other things
If you realize that the popularity of the Porsche market is driving prices beyond the grasp of the average enthusiast, note that a rising tide lifts all boats. If a 964-chassis 911 is too pricey, then buyers start looking for less obvious choices, and those start getting preserved and restored too.
And where Safari builds are concerned, remember that Porsche poured a great deal of time and effort into making the 911 into a rallying machine, yet it was never an overall champion in the African stages. In fact, the most-winning Safari driver of all time, Ugandan-born Shekhar Mehta, won all five of his races at the wheel of a Datsun/Nissan.
As such, if a Porsche is out of the question, just Safari something else (like John Rood did with his Toyota Celica). Every bit as cool as a 911, a Datsun 240Z built to rallying specs pays homage to its ancestors (a 240Z won the Safari rally in '72, and they competed at Monte Carlo). Rally versions of the Datsun 510—Bluebird in some markets—were also very popular, to the point that rally springs were available from some dealers.
Then there are all the Baja-style runners from the same period, monsters like James Garner's 1972 Cutlass Banshee. A tube-frame racer might be pushing it a little far, but there's no reason why you couldn't put together something like Garner's 1969 AIR SC/Rambler, with its 450-horsepower AMC V-8 and stock Jeep underpinnings. Or, speaking of AMC, perhaps there's something to be said for the Eagle SX-4 coupe, which is basically a Safari'd car right from the factory.
All these and more, just waiting for their chance to hit the gravel and shine. This modern age is filled with crossovers built to take the rugged roads they'll never see. Never mind the shiny new stuff, go get a forest service road map, a couple of jerry cans, and get out there on safari.