The press launch of the DeLorean presaged John Z's rise and fall
Set the way-back machine for Spring 1981. That's when I was whisked to Northern Ireland as one of John Z. DeLorean's guest for a taste of The Future. John Cleese sat across the aisle on the Mach 2 ride in the Concorde to London. John Z. rode up front with his son Zachary. Following a night to decompress at the London Ritz hotel, we journeyed sub-sonically to the DeLorean manufacturing plant in Dunmurry, near Belfast, Northern Ireland, for the first test drives of this fabled sports car.
These were high times for any writer-slash-car-enthusiast. Week-long junkets to exotic destinations were standard operating procedures. First or business classic accommodations were typical for international flights, making a ride on the Concorde a notable treat.
The beautiful SST cruised at 1350 mph, just over twice the speed of sound, at 50,000 feet. The odd 747 jetliner I spotted far below looked like it was moving backwards. The Concorde's extra speed, visible on a Mach meter mounted to a forward cabin wall, trimmed the journey across the Atlantic from eight to 3.5 hours. A one-way ticket cost around $6000, roughly 30 times the cheapest sub-sonic fare. The dart-shaped fuselage narrowed the cabin to only four seats per row for around 100 passengers. Those seating toward the rear were entertained by the fuselage gently flexing in the vertical plane. Seating was comfortable though no backrest adjustment was provided.
In the 1980s, legendary automotive editors such as David E. Davis, Jr. ruled car magazines staffed by accomplished artists and wordsmiths. What we lacked in four-color pages, we made up with crisp black and white pics supported by imaginative adventure tales.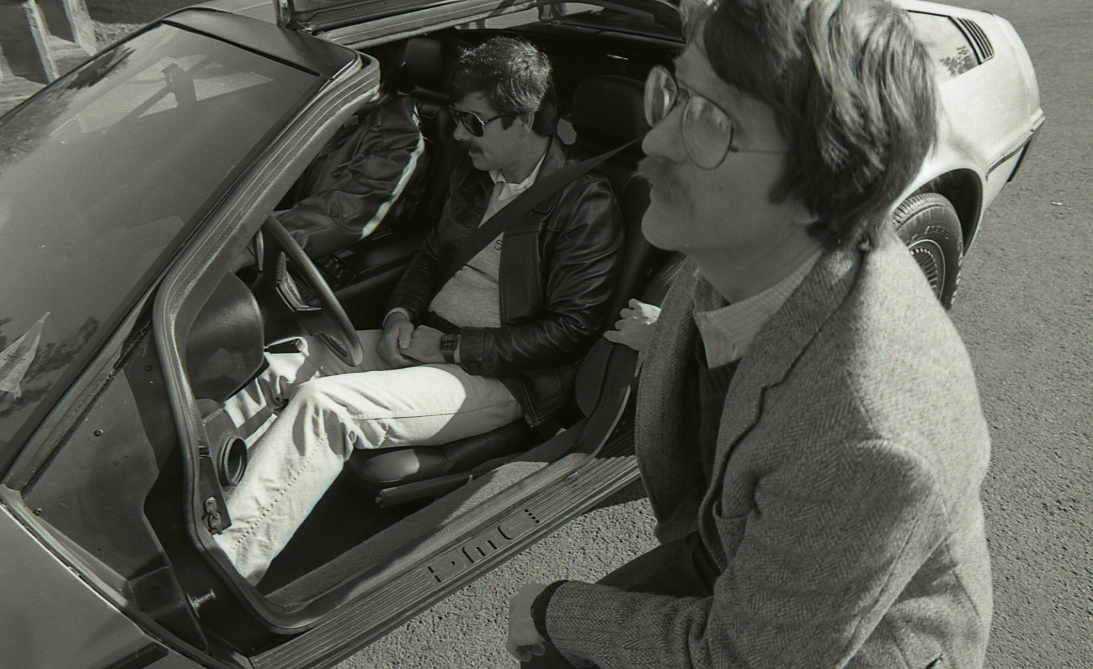 I was tapped to represent Car and Driver on the DeLorean launch because the relationship between DED and John Z was strained by their days in Detroit when Mr. Z treated him as his personal puppet. DeLorean headed Chevrolet on his ascent up the GM ladder; DED's task was to move the metal as the creative director at Chevy's advertising agency.
Between GM board meetings, DeLorean conceived what he called his "ethical" sports car with unprecedented safety and efficiency attributes, none of which were ever realized when he set out on his own to build the thing. Instead of the rotary-powered plastic-chassis two-seat $12,000 Corvette killer he first imagined, it went into production with a rear-mounted, European-sourced, 130-horsepower odd-firing V-6 driving a Lotus-designed steel backbone chassis with a fiberglass body clad in stainless steel skin. To his credit, DeLorean did tap the world-renowned Giorgetto Giugiaro to craft a spectacular exterior. Production commenced years late with an initial price upped to $25,000. To help pay the freight, a special gold-plated American Express edition was offered for $85,000. Three such DeLoreans were actually built.
One evening, during a leisure moment in Northern Ireland, we journos stood dumbfounded in a bar when the joint emptied in moments for no apparent reason. The occasion happened to be St. Pat's eve and we were the witless victims of an IRA bomb scare. A side trip to the Bushmills Irish Whiskey distillery was less stressful. To supplement on-the-spot tasting, every attendee received a take-home fifth for later enjoyment.
During the requisite visit to a Dunmurry government official's office, we spotted a sword hung prominently on the wall. After politely seeking permission to handle this historically significant object, we journos put it to use in mock knighting ceremonies.
The day we spent driving the new DeLorean was more enjoyable than anyone deserved or expected. Our U.S.-based host was Mike Knepper who had spent a long career as a magazine writer and editor—including a stint as C/D's executive editor—before becoming head of DeLorean's public relations operation.
Following a couple hundred miles of chaperoned driving, I reported many positive observations: mellow notes from the engine, safe and predictable handling, a comfy interior. There were undeniable hints of fun-to-drive mixed in with a few notable issues.
As with most gull-winged sports cars, entry involves tumbling over the sill followed by a long reach to close the door for travel. Outward visibility was frustrated by wide A-pillars. The biggest flaw was door latches not ready for prime time. Failing to swing the wing home assertively resulted in just one latch engaging; the door was then jammed with the only means of escape via the passenger side. Several journos suffered this indignity. Oh, the humanity!
Fixing the doors on the final ramp up to production stretched the launch process but, to their everlasting credit, the diligent DeLorean engineers did resolve the door fit and latching issues. The lavish press trip, however, didn't stop reviewers from highlighting the car's flaws, which were obvious in the first road test back home.
Since U.S. customers had been waiting years for their cars to arrive, they were rightfully given preferential treatment over magazine testers anxious to measure the DeLorean's mettle in the U.S. C/D operatives sidestepped that annoying delay by inviting one of the Detroit area's first owners to bring his new DeLorean to our comparison test at a local race track. The tactical error that followed was allowing this fellow to lap a Porsche 911 SC we had on hand for our comparison test. Inevitably, he dropped a wheel, mis-corrected, and flipped our $34,000 (in early '80s money) Porsche onto its roof. Thankfully, the fool didn't get his meat hooks into our $56,000 Ferrari.
The best news is that crushed pride was our hapless cling-on's only injury. After brushing away the broken glass and beating a hasty exit, the DeLorean owner left his car in our hands for the remainder of the day. The bad news is that we hadn't yet shot C/D's Sports-Car Showdown cover. Our solution was pressing technical editor Csaba Csere's smoke-spewing, reluctant-starting 1974 Porsche 911 into emergency service. Without further ado we hustled our fleet to the Chrysler Proving Grounds and knocked off a brilliant five-car cover shot.
The caption on our contents page under a photo of the wadded 911 read "getting wrecked." Unfortunately, our DeLorean test results were also a bit of a wreck. The run to 60 lasted 9.5 seconds (versus 7.2 for a $19,000, 190-horsepower Corvette). While the DeLorean was commendably quiet and fuel-efficient, it ran behind every competitor in handling, directional stability, braking, and top speed. It did, however, tie the Corvette in the fun-to-drive category and it finished a close second to the Ferrari 308 GTSi in sex appeal.
A twin-turbo version intended to boost performance never ventured beyond the experimental stage. The larger issue was poor sales partly attributable to one of the worst U.S. recessions since the Great Depression. By early 1982, there were 3500 unsold cars in inventory, an unbearable financial burden. DeLorean's alleged scheme to save his sinking ship with profits accrued from drug distribution didn't pan out. But, thanks to his attorneys, he did beat conviction by convincing the court of entrapment.
Approximately 9200 DeLorean cars were built during 1981 and 1982. After the enterprise sank into receivership, body panel stamping dies were put to good use anchoring fishing nets in the Irish Sea. A Texas entrepreneur bought the parts inventory and continues to service DeLoreans still on the road. One man even built a hovercraft tribute to the car.
While few cars achieve immortality, that was in fact the DeLorean's fate. Starring in Universal Studios 1985-90 Back to the Future trilogy and the 1991-92 animated television series of the same name made this gull wing capable of bounding from one generation to the next with utmost ease.
Following his legal entanglements, DeLorean became a born-again Christian though that didn't help him skirt a rash of lawsuits and, ultimately, bankruptcy. His lavish New Jersey estate became a lavish Trump golf course.
While it's true that John Z's schemes seem suspicious in hindsight, only a handful of men have ever successfully attached their names to a memorable automobile. In the alleged con artist hall of fame, DeLorean's bust sits right next to another hero of mine, Carroll Shelby.
I saved three keepsakes from my DeLorean days: an emergency instruction card for Concorde passengers, a set of Concorde playing cards, and the stylish SWAG jacket made of the same silver leather used to upholster the sports car's bucket seats. All things considered, this may have been the most memorable car launch in my career. The DeLorean was clearly the Concorde of its era: flashy but flawed. Neither the car nor the plane made financial sense, dooming both to a short, albeit brilliant life.
DeLorean fans will soon be able to enjoy two celebrations of his life and times on the silver screen. One is the docudrama Framing John DeLorean starring Alec Baldwin (with yours truly providing a few background snippets). The other is the epic Driven filmed in Puerto Rico in the teeth of Hurricane Maria. That wide-eyed front-row show goer in the DeLorean jacket will be me.