The Revology Shelby GT350 modernizes muscle
The next time you're inclined to complain that the government never does anything worth a damn, consider H.R. 22, also known as the Fixing America's Surface Transportation Act. Enacted by the 114th Congress and signed by President Obama on December 4, 2015, this 662-page, 218,953-word desk-thumper of a law addresses everything from bridge construction to railroad regulation to the management of roads on tribal lands. Tucked into one small corner of it is Section 24405, titled "Treatment of Low-Volume Manufacturers."
The Revology Shelby GT350, as well as Revology Cars LLC, the Orlando, Florida, company that built this exquisitely modernized Shelby replica, exists entirely because of this relatively tiny, 2076-word addendum. How so? Section 24405 basically lets cottage makers of replica vehicles off the federal crash-test hook, as long as U.S. sales remain under 325 cars per year and the cars meet all current emissions standards. How did they come up with the number 325? Probably the same way old Shel himself came up with the number 350 (the distance in feet from his office to the workshop, so legend has it).
Either way, with a base price of $190,000 (or $205,000 as pictured here with the full-zoot leather interior package and optional close-ratio transmission), the Revology Shelby GT350 is unlikely to have too many more customers than that per year. This car is definitely a boutique luxury item, what you buy to stand out when all your neighbors already have Bentleys and Ferraris.
As such, the Revology Shelby features major improvements over its 51-year-old namesake, starting with the 435-horsepower, four-cam, 32-valve Coyote crate V-8 and Tremec T-56 six-speed transmission, more or less a stock current Mustang GT powertrain. Opting for a Tremec TKO five-speed saves you $2500, while going for the Ford 4R70W four-speed automatic adds $5000. Examining the engine compartment, the Coyote seems to slide in almost as if it was born to be there, with no unsightly hood bulges or obvious sledge-hammering to the firewall, there to make twice the power of the original Hi-Po 289.
The floppy vintage body gets substantial structural reinforcements—notably rocker-box stiffeners, plus an underbody X-frame that connects the front and rear subframes—all to reduce twisting and bending. That's important, because the suspension no longer resembles its soft, grandfatherly forebear. Up front, double A-arms are backed up by rebound-adjustable coil-overs, while in back the old leaf-sprung stick axle gets broomed for one located by three trailing links plus a Panhard rod and housing a Ford nine-inch 3.89 with a limited-slip differential.
"The car we start with is riddled with flaws," former Ford SVT manager and Revology founder Tom Scarpello says of the original 1966 Mustang. "It's so obsolete from a functional standpoint, so our goal is to keep the character and fix the flaws." You may think the Revology car is expensive, but Hagerty currently values a top-notch '66 GT350 at $255,000, flaws and all. And you wouldn't want to drive that car to work every day, as you can this replica Shelby.
Open the doors with two fingers—they feel brand new, no sagging here—and the interior looks entirely vintage at first glance, with the spread of chrome-ringed gauges right where they should be, and a spaghetti-thin wood rim that asks for hands sheathed in string-back gloves. However, it doesn't smell vintage, as Revology uses the same Italian leather supplier as Porsche to line the cockpit in optional perfumed hide, with an Alcantara headliner overhead to complete the $5000 upgrade.
Your hand reaches for the mechanical window winder only to discover that if you pull the handle back slightly, the window drops electrically. Push forward to raise it. The fact that the car has a host of such modern conveniences, including air conditioning, power locks, keyless entry, a tilt steering wheel, power steering, and an electronic parking brake, are all carefully disguised or subtly integrated into the panel so as not to break the vintage mood.
"There's 10- to 12-times the amount of wiring in this car compared to the original," Scarpello says. Plexiglas quarter windows and a fiberglass hood help hold down the curb-weight swell from all this modernizing stiffening, Revology claiming the GT350 weighs 3225 pounds.
Push the start button—it comes courtesy of the Ford ECU required to operate the engine—and the V-8 barks loudly, as if it runs on lit dynamite. The company offers two types of exhaust systems, this Borla setup being the louder of the two. If you chose this one, prepare to get hate notes from your neighbors pinned to your front door with kitchen knives. Slide the shifter into first and the Shelby moves off with heavy clutch pedal pressure but the take-up of a 2017 Mustang.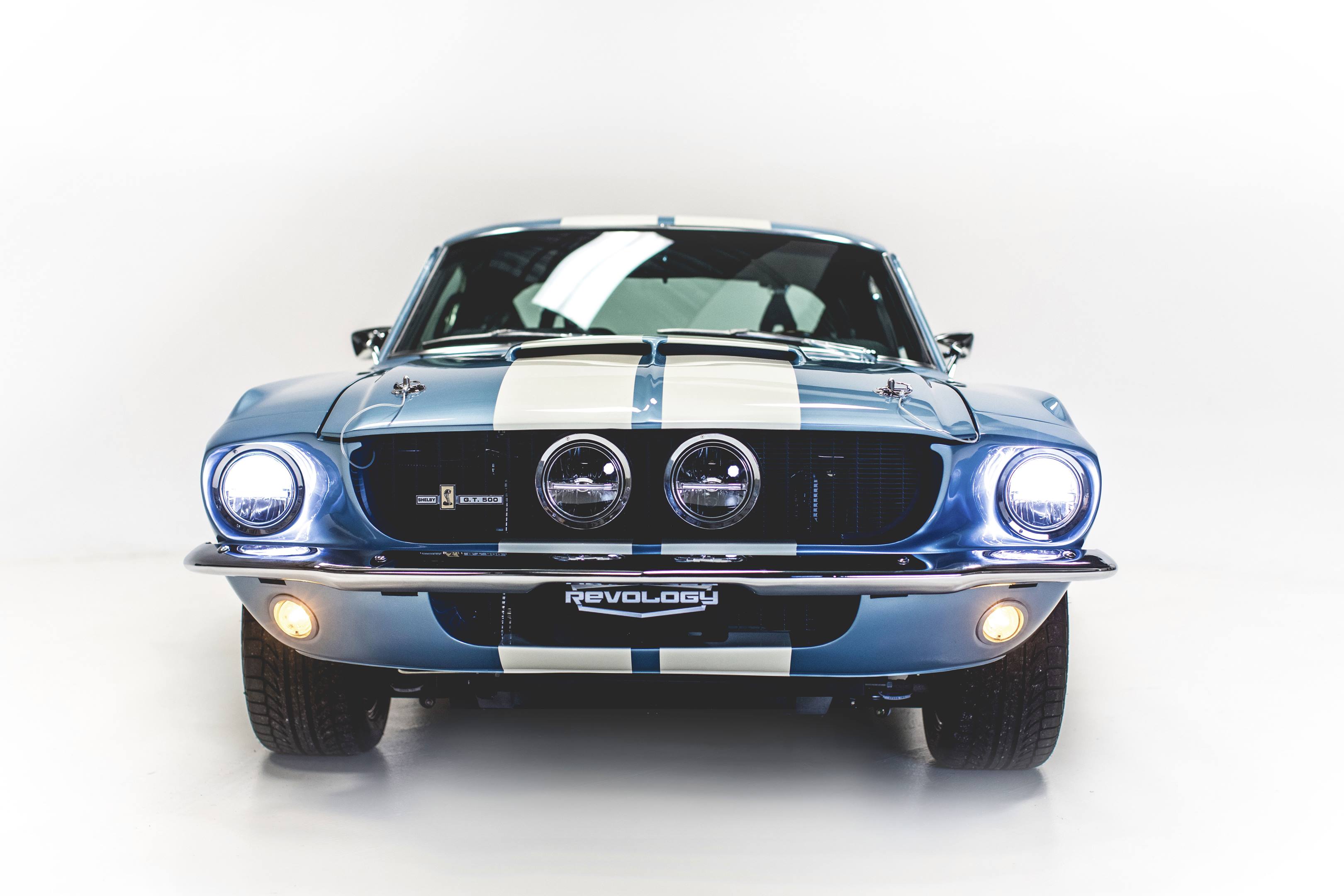 With Scarpello riding shotgun, we headed straight up Angeles Crest, a twisty mountain road just north of downtown Los Angeles. There the reborn Shelby showed an appetite for corners that the original never had. Between bawling bursts from the V-8 that blur the greenery, followed by right-now response from the six-piston calipers on the front pair of power disc brakes, the body roll is greatly suppressed as the car noses into corners. The steering answers immediately, with none of the delay found in true vintage cars caused by squishing springs, flexing sheetmetal, and deforming tires. The new suspension digests the road undulations with measured movements, the body motions carefully controlled and the bumps swallowed whole, with none of the hunting that the old-school suspensions do as everything wiggles and waggles. The steering wheel rests firmly in your palms, the column feeling as anchored as rebar poking out of concrete. This part of the Shelby is thoroughly modern.
The exhaust may be obnoxiously loud, but dance on the pedals during downshifts and you're suddenly living the Bullitt soundtrack. Everybody in your neighborhood may have a Ferrari, but after they catch a few decibels of this tune, they're going to want a reborn Shelby of their own.
While this particular car did indeed start life in 1966 as a fastback Mustang, Revology has also built a few of the 21 cars it has produced thus far from Dynacorn replica bodies, though with equally extensive modifications to improve structural rigidity. Scarpello says the company plans to eventually build its own bodies under Ford license, a substantial investment in machinery and tooling.
None of this would have been possible if Congress hadn't given small repli-car makers a break. Revology already advertises four cars on its website, including a '66 Mustang convertible, a '67 GT500, and a '68 GT 2+2. All will be expensive, sure, but a time machine can't be had for any old price. And with possibly more modernized and vastly improved versions of our favorite muscle cars coming down the pike, who wouldn't want one?