Reviving a long-stored Porsche takes more than blowing off cobwebs
There has been a lot of attention lately on barn finds—or otherwise long-disused collector cars—and I'll admit to being a fan of these sometimes-legendary discoveries. But can an average collector really take a car that's been off the road for a while and make it usable again without running into a whole lot of trouble? I decided to put that question to the test with my latest project car, a 1987 Porsche 911 Carrera that I bought in April.
First time seeing the car, I noted its Guards Red paint and black leather interior. Both were faded, but presentable. So far so good. The 1987 model year was the first for the improved G50 gearbox, a big plus for me. A cloud of smoke billowed from the exhaust upon first startup of the 3.2-liter flat-six engine, but that's not atypical for a 911 that has been sitting a long time. A tendency for oil to weep into the cylinders causes the smokeshow, but often clears up shortly after. Mileage was about 106K—not really a concern with these engines, plus I was looking for a car to put a lot of miles on.
The sunroof, air conditioning, and passenger window were all non-operational, but everything else seemed fine. A brake-pad sensor warning light was lit, but that's to tell you when the pads are thin—unless the sensors have failed. Some more investigation was needed, but 911 brakes are an easy job, so I wasn't worried. With the engine smoke mostly cleared, the seller and I struck a deal, and onto the trailer it went.
Once home, I put together a plan of attack to make the car a reliable tool for road trips, one that I could even loan to other car friends to share the experience if necessary. Tires and brakes, obviously a big safety concern, were the first things to look into. I didn't even need to decipher the DOT codes on the brick-hard Comp T/As—they obviously had to go. Fortunately, a Carrera of this era is fitted with a tire size that's not too hard to find, so a new set of 195-65R15s went onto the front and 215/60R15s on the back, per factory specs. As for the brakes, it was obvious that once the wheels were off the pads were indeed done for, so fresh front and rear pads were fitted.
With my fingers crossed, I turned the key. The brake pad warning light stayed dark—the sensors still worked. One thing about '80s cars is that you start to see a lot more electronics, and troubleshooting these kinds of issues can be maddening. I'd also purchased a replacement window switch for the passenger door, which made it operational again. With tires and brakes on the car, I was finally able to get plate tags so that I could take it for a drive and see what else it needed.
Now that it was driveable, the real fun began. First I had to sort the air conditioning and engine. The car had limited use for the past decade, and as far as I could tell it had been in storage for a good chunk of that time—not exactly entombed on a desert island, but it still required some work. I installed a new A/C receiver/drier and expansion valve as a precaution against junk in the system, and took it to a local place to see if it would take a charge of R134a. There was a note on the air box that it had been converted to run this refrigerant in 2004, so there was no need to find a stash of R12.
It worked! Well, it works in a stock-1980s 911 sort of way, which is to say that it doesn't feel meat-locker cool, but it's better than nothing. I live on the East Coast, and heat and humidity is a real thing here, so any A/C helps. I investigated the sunroof and decided I could live without tearing into that for a while—with any car project you need to figure out your priorities.
With the Carrera road legal and operational, it was time to put some miles on it to see how the engine and transmission felt. It still smoked more than I liked at startup, but it did seem to clear out once things warmed up. I've only had 2.0-liter 911s in the past, and right away I loved having more torque—this thing has plenty of power for whatever situation you find yourself in. The stock 3.2-liter six makes just 217 horsepower and 195 lb-ft of torque, but the car is pretty light at less than 2900 pounds. It feels plenty fast, and will actually do 0–60 in about six seconds, with a top speed of 150 mph if you happen to live near an autobahn. (I don't, so this is theoretical at this point… at least that's the story I'm sticking to). I went ahead and gave it a normal 12-quart oil change and began plotting my first road trip.
I already love the family aspect of this car—I've really wanted to get my kids (age 14 and 12) into a project car, and they love the 911. My son helped me bleed the brakes (we've all done the push-push-puuuusshhhh bit) and my daughter helped sort out the installation of new hood shocks, thanks to her tiny and adept fingers. My wife is contributing to the effort by taking the car for a drive whenever I leave the keys unattended, and I'm getting nothing but thumbs up from her.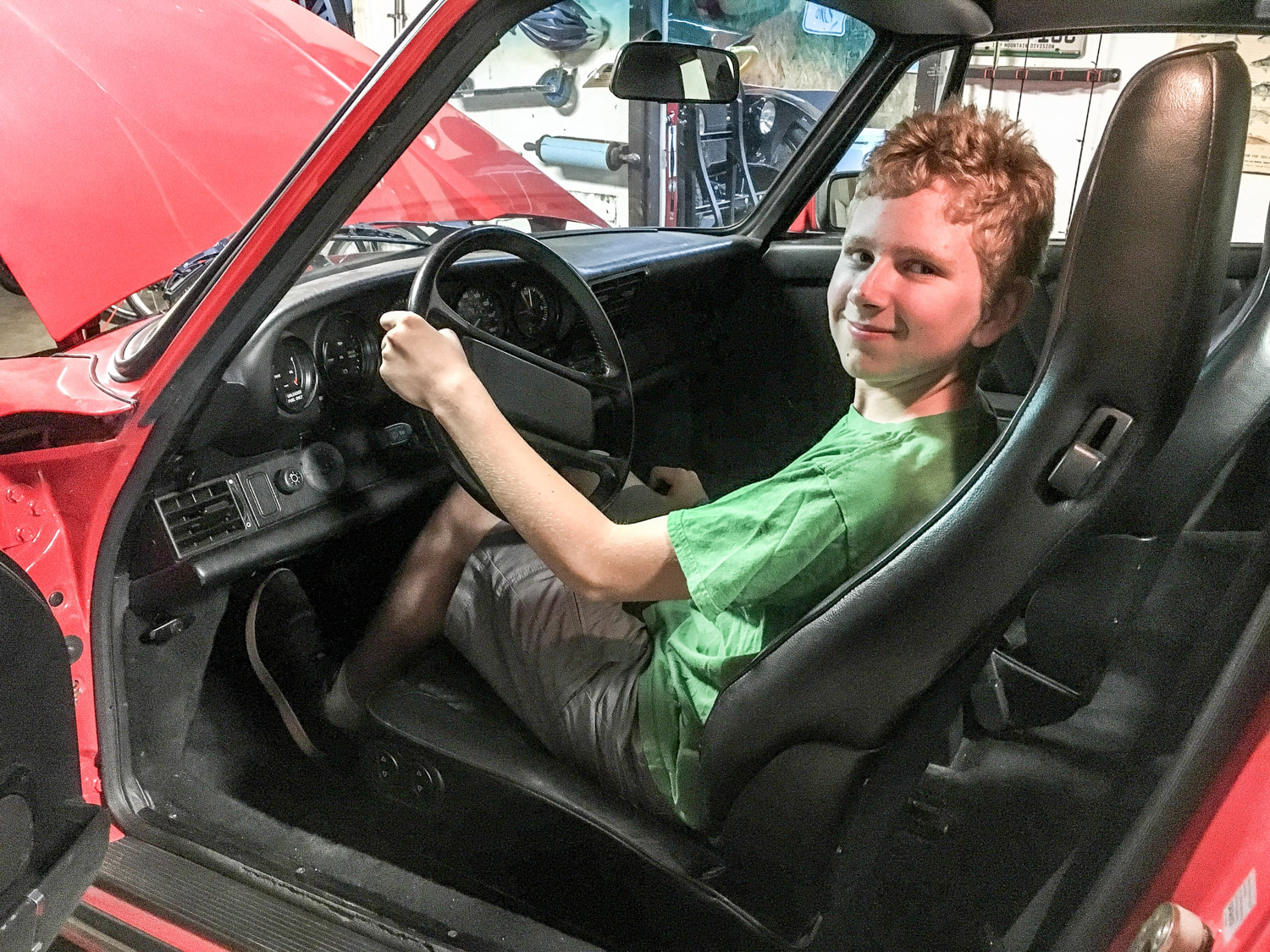 The 911 was driving just fine around town, but I had some concerns with the motor. Smoke at startup can point to worn valve guides or even a failed drain-back valve in the oil system, and either would allow the oil to seep into the cylinders causing the smokeshow. The smoke did clear out, telling me it wasn't something chronic like bad rings, so I wasn't in too much of a panic yet. There were also electronics to look into and other items like simply changing the spark plugs and wires, cap and rotor, and so forth. I want to drive it more before I continue to throw parts at it. Any weak links, I hope, will announce themselves along the way.
So far, the car has been pretty easy on me. Basic maintenance, hood and deck lid shocks, tires and brakes haven't cost too much, and Porsches are great for a DIY guy. It was great to reactivate my personal activity with the Porsche Club of America, too—being surrounded by a healthy car club is a wonderful thing, and nobody supports a marque like PCA.
What's next? A big road trip has been identified—the Smoky Mountain Tour with our friends at Classic Motorsports magazine, one of our Hagerty Touring Series events. The drive, including South Carolina and back, would put almost 2000 miles on the car. We'll see what breaks!