Rarest of all Yenko Camaros: The 1981 Turbo Z
When the Camaro Z28 returned from a two-year year hiatus in 1977, as a standalone model rather than an option package, it no longer shared the Corvette's L-82 350-cubic-inch small-block V-8. With its tamer LM-1 350 four-barrel, used through 1981, a mid-16-second quarter-mile was about as fast as it got.
Despite the Z28's softened performance and mid-year introduction, sales moved a bit higher than in 1974, and would soar higher still after a 1978 refresh that added sleek body-color bumpers. Available luxuries like power windows, quality stereo, T-tops, and even a CB radio completed the Z28's new cruiser persona, and sales reached 85,000 in 1979.
For those seeking a true high-performance Camaro, there was still Don Yenko and his famous Chevrolet dealership in McMurray, Pennsylvania. The 1967–69 Yenko Supercar Camaros with 427 big blocks (factory-installed in 1969) and 1970 Nova Deuces with LT-1 350 small blocks were muscle car royalty. Yenko, a road racer, had also left his mark in the sports car realm with the Stinger, a high-performance Corvair offered in the 1960s. A Vega-based 1971–72 Stinger became Yenko's best-selling model.
In the Z28, Yenko and Kim Mason, his Chevy dealership general manager, saw the potential for an American GT that combined muscle car acceleration with sports car handling. Their vision crystallized in the 1981 Camaro Turbo Z, the rarest of all Yenko Camaros with just 19 made.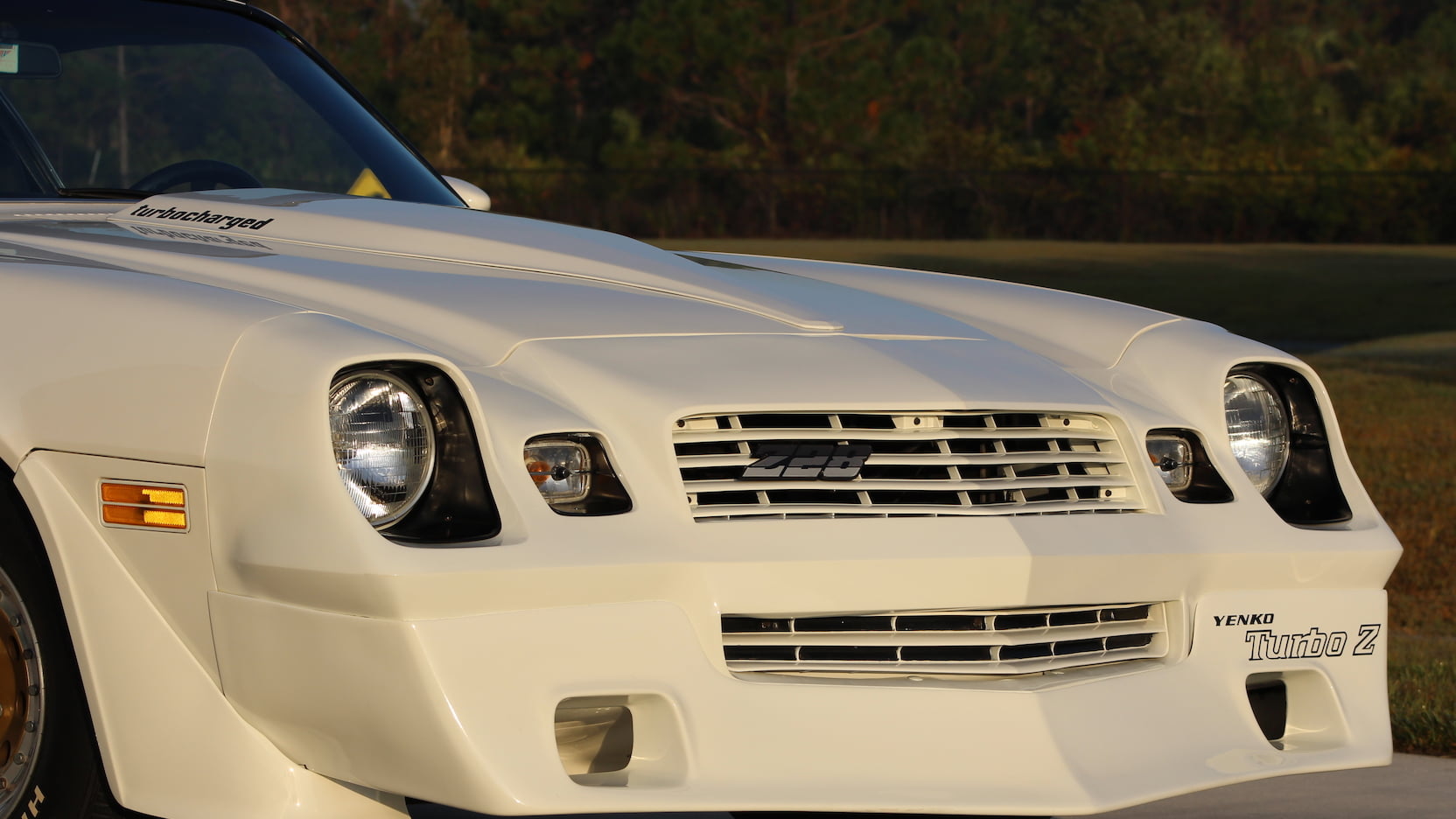 Turbo, but not COPO
There was no asking Chevrolet to give the Z28 a hotter engine via the Central Office Production Order (COPO) system, as in 1969. Instead, Yenko installed a turbocharger kit from Turbo International, adding some of his own tweaks.
Turbocharging, which GM had first used with the 1962 Chevy Corvair Monza Spyder and Oldsmobile Jetfire, was back in the spotlight in the 1970s, thanks to the Porsche 911 Turbo, Saab 99 Turbo, and Buick's turbocharged 3.8-liter V-6. For 1980, Pontiac turbocharged its 301 V-8 for the Firebird Trans Am and Formula. A turbo Trans Am could match a Z28's performance, but with lots of detonation. The Buick was much more successful, evolving with fuel injection, electronic controls, and intercooler for the later Grand National and GNX.
Yenko's "blow-through" turbo setup for the Camaro put compressed air through the stock carburetor. In contrast, Pontiac's "draw-through" design pulled the air and atomized fuel through the compressor. Yenko's turbo made a maximum of 7 psi and did not use a wastegate. A compressor bypass valve, also known as a "priority valve," was claimed to reduce turbo lag by allowing intake air to go around the turbo under vacuum. Water injection controlled detonation, and a fuel heater under the carburetor was said to prevent stumbling and help keep 50-state EPA compliance.
In other respects, the Z28's LM-1 350 with 8.2:1-compression and two-bolt main bearing caps remained stock. Yenko did not publish a horsepower figure for the Turbo Z. An estimate of about 240–250 seems reasonable, given the 14.51-second quarter-mile at 97.81 mph performance recorded by Hot Rod magazine.
In the cabin, a boost gauge took the cigarette lighter's place, and a water level warning system triggered Safe, Add, and Danger lights in a dash-mounted panel. A block-off plate covered the deleted factory radio, and Yenko's dealership offered aftermarket stereos.
In 1981, if you wanted a four-speed Z28, you were stuck with a 165-horsepower 305. The 175-hp 350 was teamed only with the three-speed automatic that year, so that's what Yenko's Turbo Z got. The 3.08 axle ratio with Positraction, F41 suspension, and 15 x 7-inch painted steel wheels with 225/70-15 tires carried over from the Z28.
The standard Turbo Z, called Stage I, cost $10,500 (about $30,000 today) and included air conditioning, cruise control, tilt steering wheel, and other Camaro upgrades. "Turbo Z" door graphics were actually less garish than the Z28's own decals. Yenko also added a jutting front air dam modeled after the one used on the Camaro IROC race cars.
A Stage II option beefed up the Euro-GT persona with chassis tweaks, including Koni shocks, Guldstrand polyurethane bushings, and Weld two-piece 15 x 7-inch wheels with Goodyear Wingfoot radials (245/60-15 up front and slightly wider 255/60-15 in back). Cabin upgrades included Kamp leather seats and a Racemark steering wheel. The Stage II's $17,300 tally (nearly $50,000 today) was $1,000 more than a base Corvette.
Yenko planned 200 Turbo Z Camaros but built only 19, three of those with the Stage II upgrade. At Mecum's Kissimmee auction this past January, a 38,000-mile Stage II from Mark Pieloch's American Muscle Car Museum in in Melbourne, Florida, sold for $68,200. It is so far the only Stage II certified by Yenko/COPO guru Ed Cunneen. Pieloch is hanging onto a fully restored Turbo Z Stage I, which was the last Yenko-built Camaro. A silver Turbo Z spotted in a New Jersey classified ad two years ago was described as a prototype featured in Super Chevy magazine, but its whereabouts were unknown at the time of publishing.
Editor's note: The recently introduced Yenko/SC® 1000-horsepower supercharged Camaro built by Specialty Vehicle Engineering in Toms River, New Jersey, uses the Yenko trademarks under license from General Marketing Capital Incorporated.