Ranking the IROC cars from best to worst
The International Race of Champions was as close as international motorsports competition ever got to the all-star extravaganzas seen in most other popular professional leagues. In many ways, it was also much better than the defense-free, high-scoring snoozers that typically result when a bunch of highly-paid athletes get together to play a meaningless, uncompensated game.
Racing legends, of which the IROC series was exclusively composed, tend not to "turn it down" in each other's company, particularly when bragging rights and personal pride are on the line. Almost each and every race would feature bumpin' and bangin' as drivers pushed their way to the front of the pack with the same level of aggression seen in their respective home series.
IROC was also unique in that it was a "spec" series, in which each pilot was handed the same car with an identical setup under the watchful eye of stewards who were experienced racers themselves. Run between 1974–2006 (with a few scattered years spent on hiatus), IROC would put drivers behind the wheel of a fairly wide range of automobiles.
Some of these track stars would spin-off street-going legends, while others would give birth to duds only tangentially related to their competition cousins. Which IROC cars were the best, and which are best forgotten? Read on to find out.
1984–89 Chevrolet Camaro IROC-Z
Ask any racer—any real racer—and they'll tell you that for a brief, shining moment in the 1980s, the Chevrolet Camaro IROC-Z represented everything that was both good and bad about high performance car culture in America. Featuring not the mightiest V-8 in the GM stable (215 horses when equipped with optional TBI fuel injection) but looking the business with its race-inspired ground effects kit and sharp, low Gen III lines, the IROC-Z would terrorize boulevards and drag strips alike long after it disappeared from Chevy showrooms. It was easily the most accessible rung of the high school parking lot social ladder, and it's the car Wooderson from Dazed and Confused would have saved up for while working for the city—perfect for hunting down Mustang drivers and Friday night dates.
On the track, the IROC Camaro represented the first time an automaker officially associated itself with the series, joining in 1984 (the year before the street model would make its appearance). Unlike previous IROC Camaros, this one would feature a full tube frame (built by the inexplicably-named Banjo Matthews), with a fiberglass body that was remarkably similar to the road car. Powered by a 355-cubic-inch V-8, the coupe would deliver 470 horsepower and 400 lb-ft of torque, backed by a Richmond four-speed manual gearbox, which was more than enough for a vehicle that weighed just over 3300 pounds. In a rare modern instance of on-track prestige mirroring retail sales figures, Chevrolet's IROC Camaro would become an icon in both arenas.
1996–2006 Pontiac Firebird Trans Am
It's definitely odd that Pontiac never attempted to duplicate Chevrolet's success with the IROC brand in its showrooms, with only aftermarket upfitters SLP making any direct reference to the vehicle's tenure as the longest-running IROC competitor. Perhaps the idea of appending the name of yet another racing series to the Firebird Trans Am's nomenclature felt too confusing for the marketing wizards in Detroit to embrace.
Nevertheless, the competition-driven Pontiac Firebird Trans Ams slide in at #2 for several reasons. First, they were the most advanced, and the fastest, vehicles ever to take the field under the International Race of Champions banner, featuring a Busch Series stock car platform motivated by a 500-hp, 350-cu-in V-8. Also good for 445 lb-ft of torque, the cars were barely heavier than their '80s Camaro predecessors and were a perfect fit for the wide-open ovals to which the IROC had transitioned just before this period (after spending most of its previous existence plying road courses).
The second reason for the Trans Am love is that after both the Camaro and Firebird were pulled from the market in 2002—and hence, cut off from any support from the General Motors mothership in the racing series—they continued on for another four years as zombie cars, stripped of any identifying script that could link them to Pontiac (which was no longer an official sponsor). Despite this satisfy-the-lawyers ploy, it's not like anyone was fooled, because let's face it, a fourth-gen Trans Am without a badge is about as incognito as Zorro in his little black mask.
1975–80 Chevrolet Camaro
Sliding into third is the original Chevrolet Camaros that were used from the second IROC season until competition was put on ice for a few years after 1980 due to want of a sponsor. What makes these cars so cool? Simply put, the first three years featured full steel bodies and were as close to showroom stock as the series was ever going to get. Well, if you consider Camaros built with 355-cu-in V-8s producing 440 hp (in an era where the Camaro struggled to eclipse the 150-horse mark) to be "stock."
Still, the Penske-sourced cars added a sheen of every-person accessibility to IROC's early years, and although tube frames would debut for the 1977 speed trials (along with a shift to 450-hp, 350-cu-in motors), IROC would continue to use as many stock Chevrolet parts as possible in assembling the fiberglass-wrapped, Banjo Matthews-built hybrids.
1990–93 Dodge Daytona IROC
Would you believe that the only other IROC-branded street car to have emerged from the entire series was a front-wheel-drive hatchback? When GM opted out of its licensing agreement after 1989, Dodge would step in as the title sponsor and rebrand the vehicles used in the initial four years of racing as Daytona IROC models.
It was a tenuous link at best and represented the first serious deviation from the on-track metal to the product sitting on dealer lots. Truth be told, the Daytonas that appeared on ABC's Wide World of Sports were little more than rebodied versions of the Camaros that had preceded them, albeit with Mopar-built 355-hp V-8s in place of the GM units.
Two things save the Daytona's drivetrain-trick heresy from plunging to last place. It's undeniable that the slippery shape of the Daytona's race package helped the cars to achieve faster speeds and lap times than the older Camaros. Then there's the existence of the street-going Daytona IROC (also sometimes dubbed a Shelby), which offered a choice between either a turbocharged four-cylinder engine or a V-6, was produced in very limited numbers, and had the chutzpah to be priced at several thousand more than a comparable Camaro Z/28 at the time. At the very least, Dodge made the effort.
1974 Porsche 911 RSR
The Porsche 911 RSR was the very first car to be driven in IROC competition before series organizers decided that an America-oriented field would resonate better with television viewers. Essentially the RS edition of the 911 coupe featuring a 320-hp version of its 3.0-liter six-cylinder motor and an ultra-lightweight, whaletail-festooned shell, there's nothing wrong with the Porsche. It's just that this car is a footnote in the history of the decades-long IROC story and made no impact beyond that initial kick-off. Nice, but… next!
1994–95 Dodge Avenger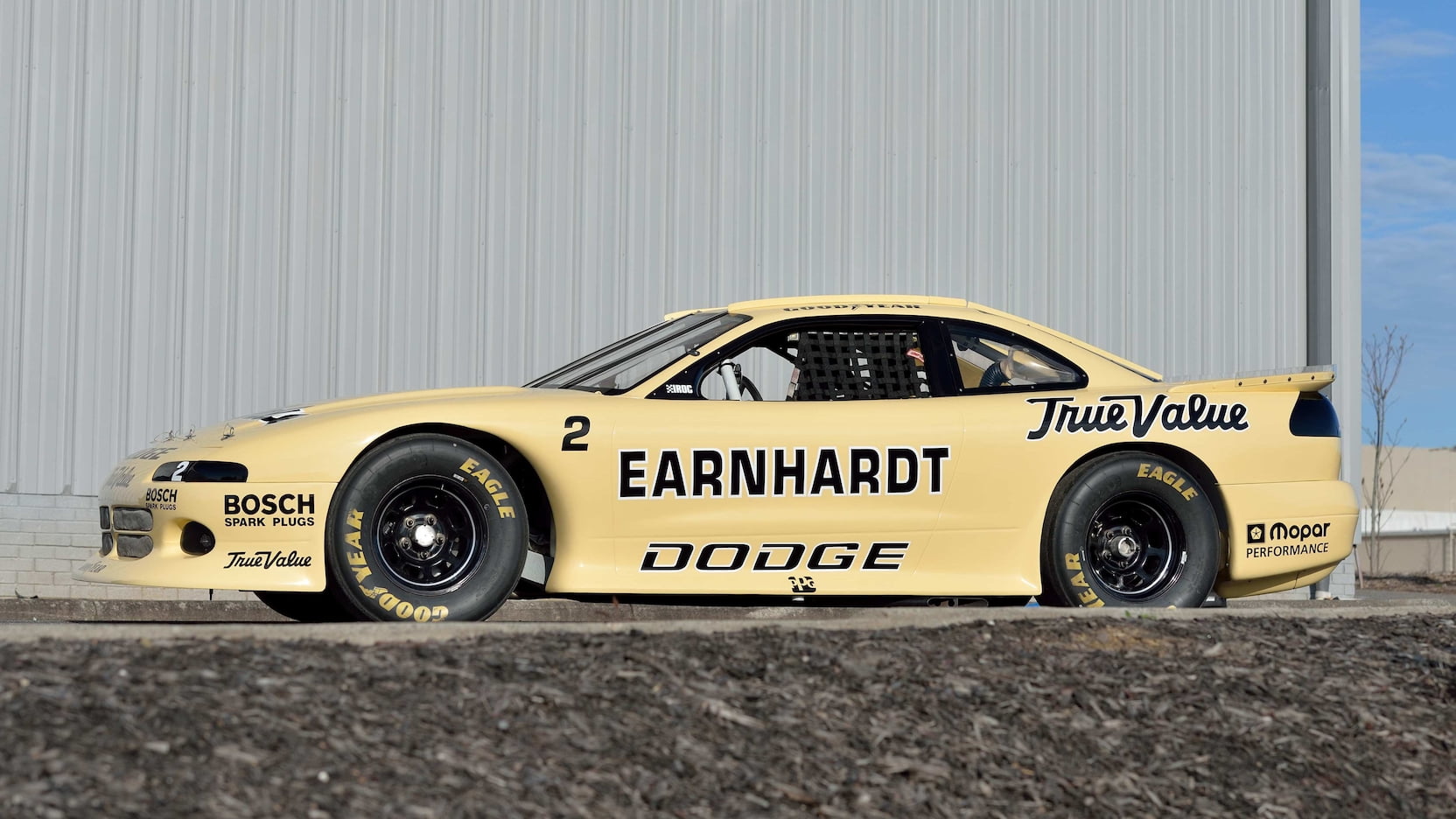 Then there's the Dodge Avenger. Mopar tried hard to get the lowly Avenger (itself a badge-engineered coupe based on the same platform as the Mitsubishi Eclipse) involved in any type of racing that it could but had little luck finding any takers. Grafting the Avenger body onto the Daytona platform (which itself dated back to the '80s) bought the company a couple of years of publicity for the forgettable model before Pontiac took over IROC sponsorship. Chrysler never even attempted an IROC version of the production Avenger, and for that we are eternally grateful.
There you have it—the IROC cars, ranked from best to worst. Would you swap the order? Let us know below.