The mechanic keeping the forgotten Oldsmobile Jetfire alive
Of the 9,617 examples of the Oldsmobile Jetfire, Jim Noel estimates there might only be 150 left with potential for restoration. Noel, founder of oldsjetfire.com, is a critical supplier to the small Jetfire community; he rebuilds the car's complex and much-maligned turbocharger system out of his garage in Bloomington, Minn.
"I talk with Jetfire owners every month, and more of them are considering restoration," Noel says. "I can think of 20-25 that are in some state of being worked on." Noel bought his first Jetfire in 1980 and currently owns two, including one he built by installing the turbocharged V-8 engine in a Cutlass convertible. (The Jetfire was available only as a hardtop coupe.)
The 1962 Oldsmobile Jetfire, announced in April of that year, was one of the world's first two turbocharged production cars, the other being Chevrolet's 1962 Corvair Monza Spyder. Each of these General Motors models, which debuted more than a decade before the BMW 2002 Turbo and Porsche 911 Turbo, met very different fates. The Jetfire's troublesome turbo setup caused much grief for owners, and Oldsmobile canceled the model after 1963. Chevy built some 50,000 turbo Corvairs through 1966, and its simpler turbo setup, though not problem-free, was more reliable.
"Turbo Rocket"
Turbochargers, used on WWII aircraft, became ideal torque boosters for diesel trucks. So, why not cars, too? Oldsmobile was already using its own version of the Buick-designed 215-cubic-inch (3.5-liter) aluminum V-8 for the F-85 compact. By adding a Garrett AiResearch turbocharger, a special Rochester one-barrel side-draft carburetor and other modifications, it created the Jetfire's "Turbo Rocket" V8. Internal changes included stronger main and connecting rod bearings and aluminized valve heads and seats.
The setup raised output to 215 hp and 300 lb-ft of torque from 185 hp and 230 lb-ft in the high-compression, four-barrel carburetor 215. Four-speed manual and Roto-Hydramatic transmissions were offered, with most customers choosing the latter. Zero-to-60 mph took 8 to 9 seconds, which was quite brisk for the class. At $3,045, the Jetfire cost $350 more than an F-85 Cutlass coupe.
The Jetfire hardtop body style was unique, made by welding a Buick Skylark roof onto an F-85 convertible body. The bucket-seat interior's center console featured a vacuum gauge—Olds called it a Turbo Charger gauge—with a green band (vacuum) for "economy" and a red band (boost) for "power."
Problem Child
The Jetfire promised jet-age technology, but the car was fraught with problems from the start. Making things worse, Olds had kept the Jetfire's introduction secret from dealers.
"Early on, there was no service manual, and techs didn't know how to fix them," Noel says.
It didn't take long for those techs to be swamped with warranty work, as Oldsmobile's approach to combining turbocharging with a high-compression ratio (10.75:1) would prove problematic. That combination, once a recipe for detonation, is possible in today's turbocharged engines thanks to use of direct fuel injection, intercoolers, and sophisticated engine management systems.
Prior to such technology, carmakers would mitigate knock in turbocharged engines by using lower compression, giving up some low-end response. Olds engineers, not wanting to make that compromise, employed an array of five safety systems to prevent overboost and detonation, including a wastegate that limited boost to under about 7 psi.
It was Oldsmobile's "Fluid Injection," also derived from aircraft use, that caused many a Jetfire owner to curse at the car. By spraying a water/alcohol solution into the throttle body whenever the engine was running in boost, the system cooled the compressed intake charge. The brew, which Olds called "Turbo Rocket Fluid," was 50 percent methanol and 50 percent distilled water, spiked with a water-soluble pump lubricant. The latter was needed to mitigate the alcohol's propensity for breaking down the system's rubber seals. (Bosch recently developed a water injection system for turbocharged engines with a similar purpose: The water cools the intake charge to prevent detonation. BMW used it on the M4 GTS, now out of production.)
The fluid tank holds five quarts, enough for 500 to 2,000 miles, depending on driving habits. If fluid does not reach the metering valve, manifold pressure closes a secondary butterfly in the throttle body to limit the air/fuel supply to the engine. If boost pressure should exceed the limit, a pop-off valve depressurizes the fluid tank, also triggering shut-down of the secondary butterfly.
"All the systems to administer Turbo Rocket Fluid and control boost are mechanical, activated by pressure or vacuum from the intake manifold," said Noel, who made himself a Jetfire expert out of necessity. "The system worked, but it also failed easily and was leak-prone. I was rebuilding my own for a long time. Other shops wouldn't touch them."
In 1981, Noel visited Oldsmobile headquarters in Lansing, Mich., and gleaned information from engineers who had developed the car. Also, by dissecting the turbo system, he found ways to prevent its problems.
The standard oil pump generated insufficient pressure (20 psi) to properly lubricate and cool the turbocharger's bearings. Installing a higher-pressure pump (45-50 psi) corrects that issue, Noel explained.
Designed to protect the engine, the Fluid Injection system could do the opposite. If a Jetfire was driven under boost before the owner parked it, the reservoir would remain pressurized, with potentially disastrous consequences.
"If there was a leak in the metering system, not uncommon, it would allow most of the fluid to leak down the intake manifold and into any cylinders with open valves," Noel says. "The next time you started the car, you'd hydrolock the engine."
The factory service fix—issued the year after Jetfire production ended—was a pressure relief valve. In 1965, Oldsmobile began allowing disgruntled Jetfire owners to have dealers remove the turbo setup and replace it with a four-barrel carburetor intake and new exhaust manifolds, free of charge. "I was told at Oldsmobile that dealers had converted about 80 percent of Jetfires by 1970," Noel says.
When dealers converted Jetfires, the turbo units did not need to be returned to Oldsmobile, and some mechanics kept them. Noel has purchased and restored such systems, and in the 1980s and '90s he also bought all the NOS (new old stock) Jetfire parts he could find. He had some parts, including the pressure relief valve, reproduced by original suppliers—enough to rebuild 40 turbos. So far, he has rebuilt 30. A car that sold for $42,100 on eBay in 2014 had one.
"The majority of the turbo systems that I restore are dealer or owner four-barrel converted cars," Noel says. "Most Jetfire owners find old turbo units on eBay or swap meets, and I restore those for them."
He adds that Jetfire owners also need the special intake manifold, Turbo Rocket Fluid tank, special air cleaner, exhaust manifolds, pressure relief valve, and carburetor linkage. "It's not easy to obtain all the parts."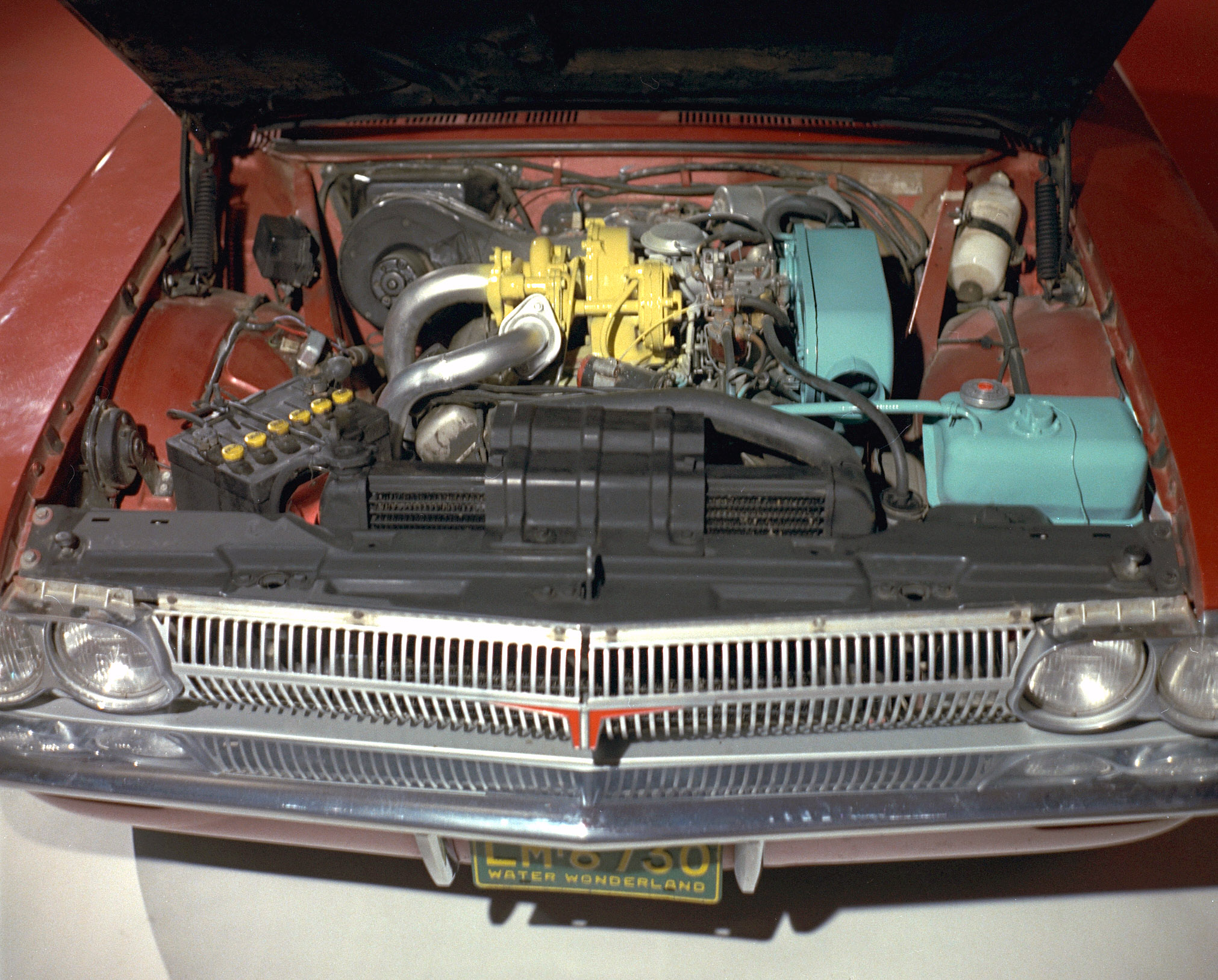 As an indicator of the effectiveness of Noel's turbo fixes, he has driven his convertible for more than 25 years without problems. A few years ago, he bought an all-original 1962 Jetfire coupe, installed a rebuilt turbo unit, and now drives that car, too.
Even if it had worked well, the Jetfire was destined for a short life; the aluminum V-8 was dropped after 1963 in favor of more powerful and cheaper-to-build iron V-8s. In 1965, Britain's Rover bought the tooling from GM, and the little V-8 lived for another four decades in a variety of sedans, SUVs, and sports cars.
But the low survival rate is catching up with Jetfire values today. In a case of "It's about time collectors discovered this car," a buyer paid $50,000 for a restored 1963 Oldsmobile Jetfire at Mecum's Indy auction in May 2017. Will that sale, and the eBay example from 2014, inspire other owners of the landmark model to forge ahead with restorations? For anyone who does, Noel is the first person to ask.
***
For those wanting even more in-depth description of the Jetfire's boost-control and detonation-prevention systems, Noel has posted this technical article.