Is any hatch hotter than the mid-engined Renault R5 Turbo2?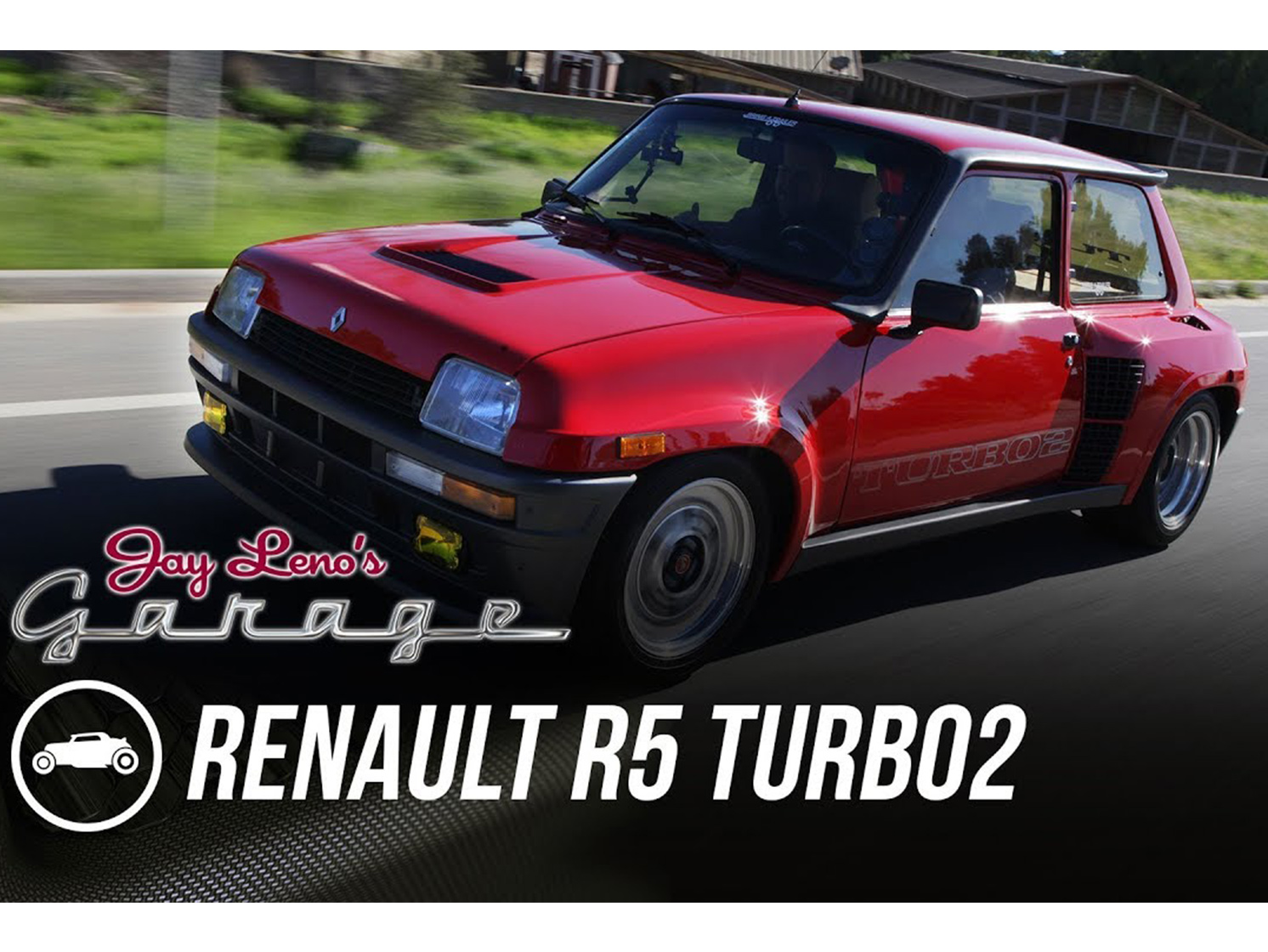 The idea of a hot hatch is a no-brainer today—take a lightweight economy car, upgrade the suspension, bump up the power, and call it a day. Back in the 1980s, however, the formula was still being perfected, resulting in some pretty insane creations. Jay Leno explores what could be the craziest example in Renault's bonkers, mid-engined R5 Turbo2 hatchback on the latest episode of Jay Leno's Garage.
This bright red Renault, a 1985 model owned by Bring a Trailer co-founder Randy Nonnenberg, is a race-bred product of '80s rally car homologation efforts. Just over 3100 Turbo2s were made, with Nonnenberg's car being one of about 200 equipped with a lightweight aluminum roof. Other changes from the base Renault 5 include Gotti wheels, composite hood, massively flared fenders, and a beastly turbocharged four-cylinder located just behind the driver.
Open the rear hatch and the engine is nestled beneath a carpeted box, requiring the removal of a handful of fasteners with a special tool. The 1.4-liter four-banger puts out 158 horsepower, good for a 6.9-second sprint to 60 mph—virtually dead even with a 1985 Ferrari 308 GTS. A five-speed gearbox transmits power to the rear tires (instead of the front as in the base car) and provides the car with a top speed of 120 mph.
The car's bolstered cloth seats, simple gauges, and intuitive audio controls are admirable qualities, according to Leno. "Actually, I prefer that. Just press a button and go to your station," Leno says, lamenting the fact that new cars require additional complication in even the simplest tasks.
On road, Leno finds the driving experience equally appealing, noting the era-specific turbo lag as a charming feature. Compared to modern turbocharged engines that are imperceptibly boosted, the upper rpm thrust of an old-school boosted engine is a welcome callback to a more analog age. Save for his own 1989 Ford Festiva-based Shogun, this just might just be Leno's favorite hot hatch.
Do you think the Renault R5 Turbo 2 is the hot-hatch king, or does a different car wear that crown? Let us know your pick in the Hagerty Forum below.