Everything you need to know about the most underrated generation of Mercedes-Benz S-Class
For decades, Mercedes-Benz built an enduring reputation for cost-no-object engineering, reliability, and tank-like build quality. Ask any diehard Silver Arrow enthusiast which model most epitomizes these philosophies, and fingers often point to the cultish W126 generation S-Class. Some even go as far as nominating the W123, the precursor to the current E-Class.
But the S-Class' street cred didn't begin with either of those. It all started with the W116 generation built from 1972–80. Overshadowed by the iconic 1980s W126, the prodigious W140 of the 1990s, and even the vintage allure of the "stacked headlight" W108 vehicles from the 1960s, the W116 is often overlooked, unloved, and underappreciated. To those adjectives, add "unfair," because the W116 is way more deserving of recognition.
As a global automobile with over 473,000 made and production that spanned across the world, many W116s still prowl the roads today. And if not for its authoritative looks, its bespoke character and road-going mannerisms make it one of the most unique S-Class generations to own.
This is the first big-bodied Benz to formally receive the S-Class name, in 1972, and demonstrated Mercedes-Benz' innovation on a global scale. It helped pioneer technologies like electronic anti-lock brakes and a reinforced passenger cell with impact-absorbing crumple zones. From an engineering and design standpoint, the W116's refinement and avant-garde style set standards that we take for granted in modern cars.
"It's interesting to me that the W126 is so revered by so many enthusiasts today, and rightly so for a number of things. Yet they don't realize that the W126 was not this breakthrough, that the W116 was," says Dave Klink, a current Mercedes-Benz master technician who has spent his life around these cars since the '70s. "They don't realize that the W126 was a massive refinement of the W116. It's incorrect that the W116 is left in the W126's shadow, when [the W116] made it all possible, laying the foundation for the W126."
Unfortunately, the W116 is often maligned for its intricacies and expensive running costs. It arrived during complicated times, with the 1973 oil crisis catching automakers off guard. Engineers of the era began frantically experimenting to meet new emissions and safety regulations, compromising the reliability of some automobiles. Thus, many W116s were left to rot in fields and barns as owners (often mistakenly) thought the cars weren't worth keeping on the road.
But during their heyday, W116s were some of the most dependable cars in an era when reliability was a hit or miss for many other automakers. They were also designed for easy servicing. Wrenching on and tackling one as a restoration project isn't any more difficult than other cars of equal vintage.
"The W116s were always nicely made like the W108s and simpler than the W126s," says Jim B., a former master Mercedes-Benz technician. "There's just less to go wrong and W116s always had a reputation for being solid and reliable."
The Flavors of W116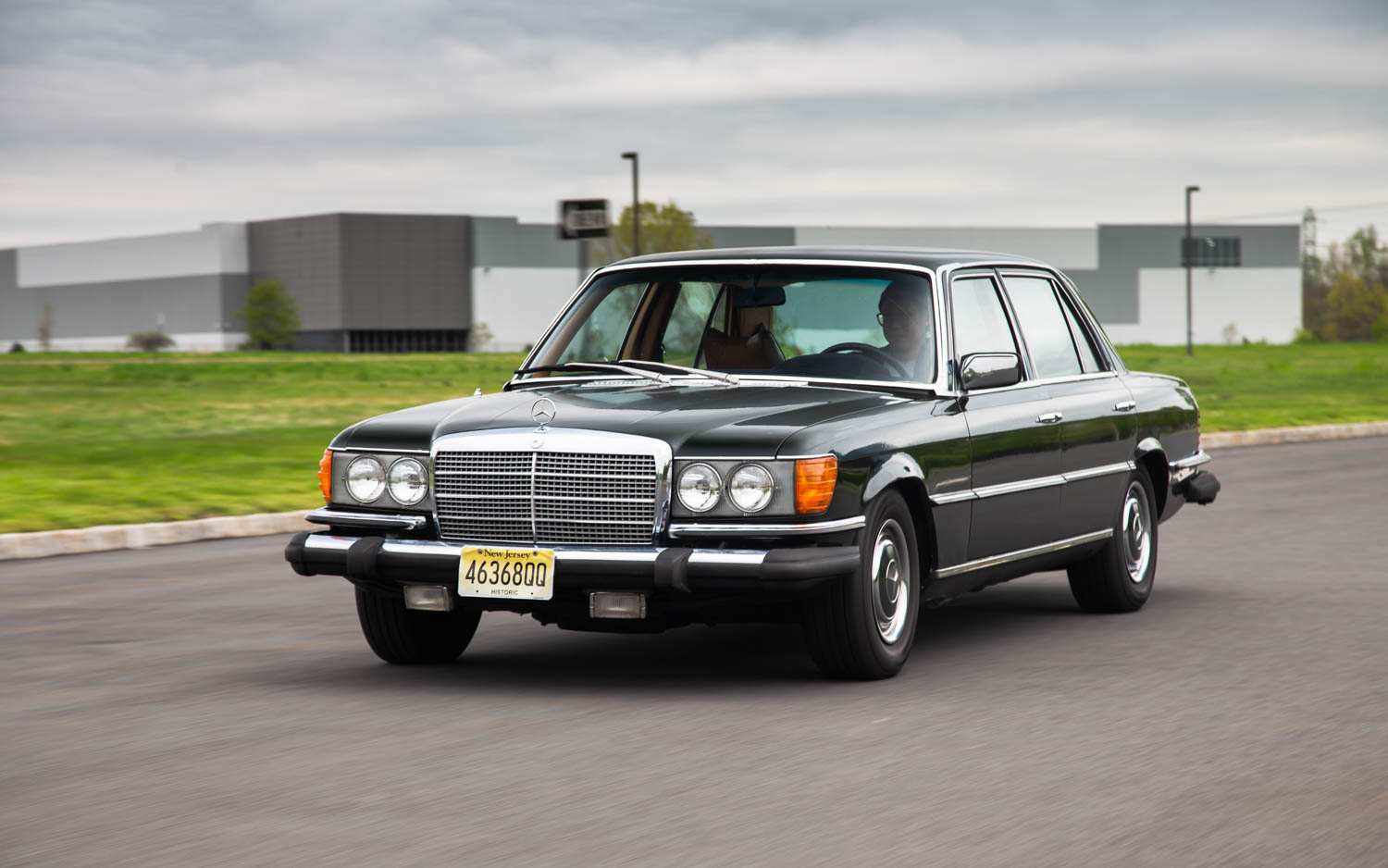 Back when nomenclature accurately portrayed specification, the three digits depicted engine displacement, followed by "S," or "sonderklasse," which means "special class." Then it was appended with either an E for "einspritzung," or "fuel injection" in German, and an "L" for "lang," if it was a long-wheelbase model.
280S/280SE (1975–76/1977–80)
The base 280S and 280SE models have the highest global production numbers, but are uncommon in the U.S. market today because most North American buyers originally opted for the more powerful V-8 or efficient diesel model.
The 280 number designated the use of the company's new-at-the-time, high-revving 2.8-liter dual-overhead-camshaft (DOHC) M110 straight-six. The ultra-minimal carbureted 280S model only sold in the U.S. between 1975 and '76, before dying out in favor of the fuel-injected 280SE in 1977. Hastily fitted with exhaust manifold-integrated barrel catalytic converters, the U.S.-specification 280S conjured up only 120 asthmatic horses to motivate nearly two tons of German steel, versus the European version's 160 hp. The 280SE offers a better 142-horsepower rating, but still pales to Europe's rating of 180 and is still lethargic in modern traffic.
Although slower than molasses, the 280S is the most honest workhorse of the range next to the 300SD. Known to rack up mileage distances equal to the moon and back with minimal maintenance, they tend to be slightly easier to keep on the road than the 280SE, due to its simpler fuel system and relative lack of external emissions control.
450SE/450SEL (1973–77/1974–80)
The small-block single-overhead-camshaft (SOHC) V-8-powered 450SE and SEL are by far the most common models in the U.S. market. The 450SE launched in 1973 and 1974 saw the addition of the long-wheelbase 450SEL. The 450SE and SEL sold side by side, and by 1977 all 450s sold in America were long-wheelbase SELs.
Because of its 180-horsepower 4.5-liter V-8 power, the 450 models are slowly regaining appreciation for their daily drivability. Euro-spec versions produced 222 horsepower. But with 240 pound-feet of torque, the U.S. models are still totally usable in modern traffic, offering a 0–60 time just short of 10 seconds. Fuel economy of 15 miles per gallon is achievable with a car in good operating condition.
450SEL 6.9 (1977–80)
Destroying nearly every standard for power, sophistication, and technology for the era, the 450SEL 6.9 launched in Europe in 1975, featuring the largest engine ever fitted to any of Mercedes' post-war passenger vehicles. With a bored version of the company's flagship M100 V-8 lifted straight from the 300SEL "Red Pig" race car—dry sump lubrication system and all—the 450SEL 6.9 was a precursor for pretty much every high-performance AMG sedan today.
It succeeded the W108 300SEL 6.3 to become the world's fastest production vehicle during its heyday, with its top speed of 146 mph. The 6.9 featured Citroën-inspired hydropneumatic self-leveling suspension, which provided impeccable balance between body control and ride quality never seen before in a vehicle of its size.
The 450SEL 6.9 didn't arrive on our shores until 1977. But with plenty of cameo placement throughout Hollywood and nothing but praise from the automotive press, the 6.9 is the greatest of all the W116s. David E. Davis, Jr. called the 6.9 "the greatest Mercedes-Benz ever built," in a Car and Driver review.
When new, marked-up prices of the 6.9 at the dealers often came close to matching the $40,000-plus invoices of some Rolls-Royces and Bentleys—an incredible sum of money then and even now (about $170,000 in today's dollars). The most expensive Cadillac at the time, the full-size Fleetwood Series 75, stickered at just $16,000.
300SD (1978–80)
The last addition to the W116 lineup was the short-wheelbase 300SD in 1977. Oddly, this was a North America-only special. Despite the stereotype that Europeans are the diesel lovers, the 300SD was the world's first turbocharged diesel passenger vehicle. It offered more than 20 mpg in an era when others in its class struggled to break 12 mpg.
The 3.0-liter turbocharged diesel inline-five made famous in the C111 test vehicle produced a modest 110–120 horsepower with around 170 pound-feet of torque. Like the 280 models, acceleration is quite lethargic compared to the V-8. But the bountiful torque is enough to just keep up with traffic.
Forbidden Fruit
A couple models weren't offered here: the smaller V-8-equipped, short-wheelbase 350SE and the long-wheelbase six-cylinder 280SEL. Any examples that made it to the United States are likely gray market imports. Today, it's not unusual for prospective buyers to ambitiously import European-specification cars since they qualify for the 25-year statute.
What to Expect to Pay
According to our pricing data, values for W116s have remained stagnant from low demand. Clean, daily driven Condition 4 280S models still ring in at $12,600 due to their rarity, while 280SE models drop to $5300, presumably from the added complexity of the EFI fuel system. Mint-condition cars can easily exceed $15,000-$30,000. The 450SE and SEL cars can be found as low as the $5500 Condition 4 value. Condition 1 cars sometimes, but rarely exceed our $20,000 rating if they are turn-key one-owner examples with low mileage and a full stack of comprehensive service records since new.
The only increase in value we've observed involved good examples of the 300SD and the top-spec 6.9. Condition 2 and above examples of the 300SD typically exceed the $10,000 Hagerty Guide value, even going as high as $14,000, in part due to their mechanical resilience and relatively low running costs.
A good 6.9 can exceed the $20,000 mark and values are climbing significantly. The highest we've seen was for a very low mileage 6.9 that sold through Gooding & Company at $156,750. But a cheap 6.9 can easily exceed its value, because of parts rarity, depending on the level of restoration required.
European Specification vs. U.S. Specification
Like many imports of its time, Euro-spec W116s have distinct differences from U.S.-spec vehicles due to different regulatory standards. U.S.-spec W116s came with the extended, 5-mph bumpers, often referred to as "diving boards," whereas European W116s came with short bumpers. One exception is the early 1973 450SE, which came with European short bumpers.
U.S.-spec cars also came with a quad-headlight arrangement and separate bumper-mounted fog lights whereas European cars received more modern single-unit headlights with integrated fog lights and large glass lenses. Beyond that, the differences also came down to options and equipment availability.
What to Look Out For
The only real Achilles heel for these vehicles—aside from the obvious concern for rust—is the expiration of a lot of rubber components. Suspension and steering parts, fuel and brake lines, door and window seals, and auxiliary pumps will see a lot of age-related wear, especially if original. However, W116s are very robust vehicles with higher metal and alloy tolerances and parts are affordably replaceable or rebuildable.
Like many European cars of its vintage, sagging headliners and seats, cracked wood or broken wood trim, worn leather, and brittle carpeting can make for an ugly interior. But these parts, as well, are all restorable and rebuildable.
As long as you're not eyeing a 6.9, upkeep isn't as expensive as you might think. A lot of parts are shared with other models of the era and are still readily available from reputable parts brands and even from Mercedes-Benz directly. Always try and spring for genuine or OEM-equivalent parts for the best reliability and performance. Adding to the ease of ownership, there is plenty of information on these cars available online.
Under the hood, be wary of the engine's top end. "All of the gas motors didn't have very robust valvetrains. It was very common for the V-8s to have worn or loose valve guides in the cylinder head," says Klink. "The newer version valve guides remediate the issue altogether. It's not a death sentence, but you don't want to see a bunch of smoke during deceleration while road-testing a V-8 W116, and if you do, there's a valve guide issue."
Diagnosing the fuel systems for the gas models can get a little bit tricky. But troubleshooting and repair isn't particularly gut-wrenching nor any more expensive than any other classic. Early gasoline cars, 1974–75, came with Bosch D-Jetronic electronic fuel injection. From 1976 onward, they came with a different Bosch K-Jetronic electromechanical fuel injection, which eventually became CIS.
Leaky fuel pumps on both D-Jetronic and K-Jetronic are common, as are rebuilds of the K-Jet throttle bodies with the integrated fuel distributor units. Pumps are affordable ($150-$200 for a Bosch pump) and fuel distributor rebuild kits are widely available. It's also best to ensure the engine control units are in good order. They are no longer available new and although used units and rebuilders are out there, reliability can be a spotty and expensive gamble at best.
"My favorites were always the '74 and the '79 450SELs—the '74 because the early EFI V-8s didn't come with complicated emissions control and the addition of long bumpers. By 1979, they had finally straightened out the CIS fuel system and it became more reliable than the already reliable EFI system from '74," Jim B. says. "There are virtually no issues with the '79s because they made the fuel distributor out of aluminum, versus cast iron on the older engines. Classic injection trigger points were long gone at that point."
Jim B. says 1980 is the year to avoid. "They sort of wrecked it when they added the three-way catalytic converters and the O2 sensor—for one year only," he says. "They also dropped the differential ratio from 3.07 to 2.65 and dropped the lift and duration of the camshafts, reducing throttle response but improving high-end power. That sort of made the 1980 450SELs feel like slugs in comparison to the older models."
The standard 450 V-8 models have timing chain service intervals every 100,000 miles that often go overlooked by negligent owners, but engines can be refurbished today since full overhaul kits are available.
"The blocks of the V-8s are hyper durable," Klink says. "I've never seen a worn out M116 or M117 V-8, I've only seen them damaged—either run without coolant or without oil—they were made from cast iron. They are astoundingly long enduring motors, even motors with 600,000 or 700,000 miles, the cross-hatch is still in the bores, and last way longer than M100 motors in the 6.9."
For the 300SD, diesel fuel injection pumps and glow plugs are the most common maintenance items that are crucial to a properly functioning vehicle. Plastic and rubber vacuum lines can develop leaks if original, leading to running and functionality issues. For example, engine fuel cut-off is vacuum driven and won't work properly if there are leaks.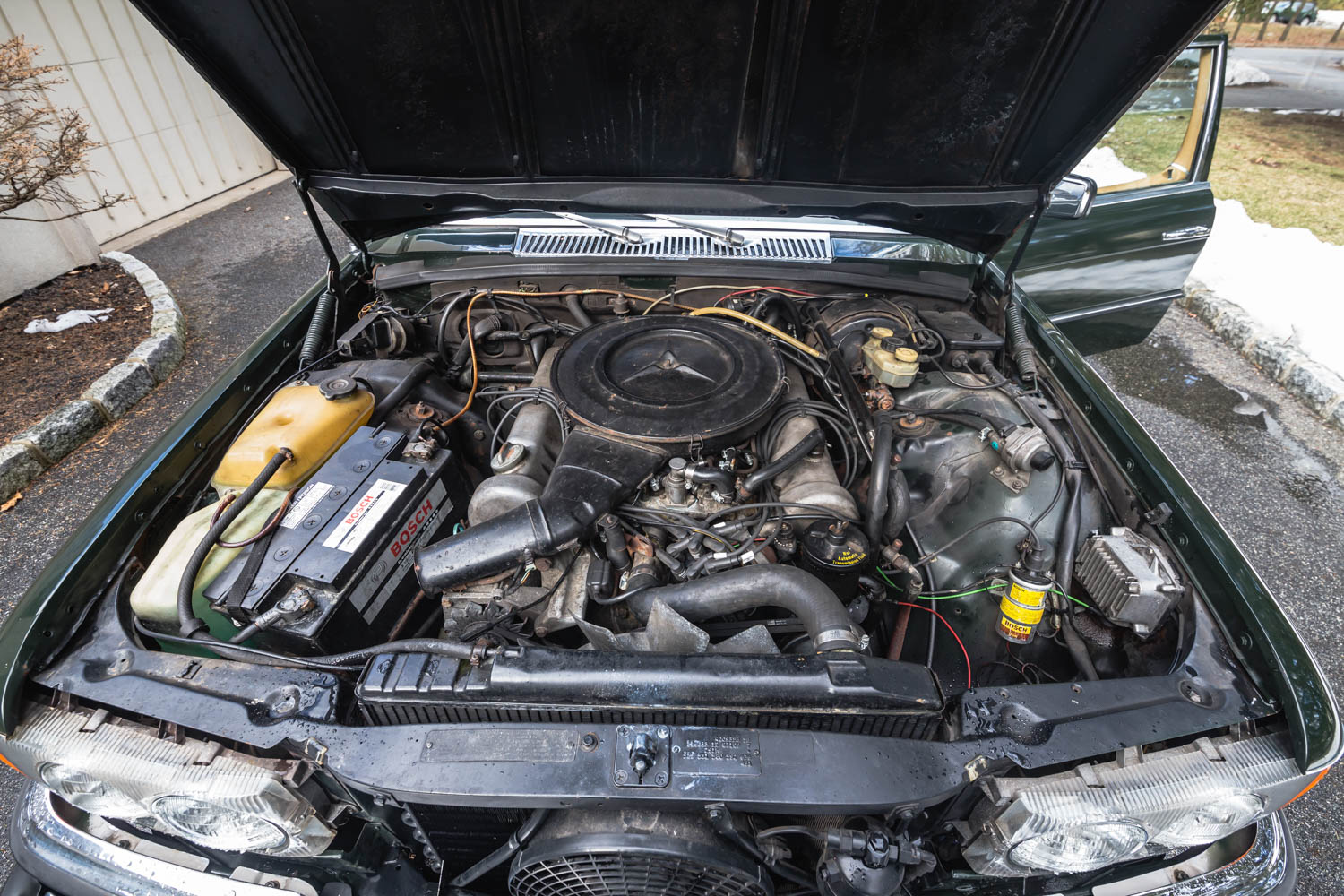 Interested in a 450SEL 6.9? Better have deep cash reserves available, as these are not for the faint-hearted restorer. Rebuilding its hydropneumatic self-leveling suspension can be a wallet-nuking experience. Specialists are few and far between, and the struts alone can cost $2000 per corner. Hydraulic pump rebuilds and accumulator spheres—the rubber bladders that manage fluid pressure differences for the struts—can also get costly. But once sorted, the system can last for a very long time.
And with the 6.9's dry-sump lubrication system, a basic oil change requires more than 12 quarts of oil at 12,500-mile intervals.
Can't afford a 6.9? Don't worry. Standard 450SEs and 450SELs are aplenty and deliver nearly as much of the experience as the 6.9.
All W116s came with transmissions made in-house, which are all "very durable and rebuildable," Klink says. The six-cylinder and diesel cars came with four-speed autos, while all V-8 cars came with a three-speed automatic in the U.S. The European cars had optional four-speed manuals, depending on the model.
Also be wary of the early automatic climate control systems, which have a poor design that reroutes coolant flow through the heater core. "From 1976 on, they introduced automatic climate control servo, which had a reputation for splitting open and spewing coolant everywhere, causing the cars to overheat in the first few model years it was available," says Klink.
"Steering boxes can form leaks, front end bits can wear, but there's no real craziness about fixing it all, it's all pretty basic," Jim B. notes. "W116s are by far the easiest S-Classes to work on. They are bulletproof and don't have any issues that aren't easily repairable."
Helpful Links
Online Communities:
W116.org – The premier online community strictly for the W116 S-Class with strong reach across the globe.
BenzWorld.org – A popular online forum for Benz owners, old and new.
MBWorld.org – Another online forum similar to BenzWorld.
PeachParts.com – The official forum of parts retailer PelicanParts.com, PeachParts is a forum oriented more towards mechanical, technical, and DIY work for vintage Mercedes-Benz models.
Oldtimer.tips – A German-based online community, resource, and forum strictly centered around Bosch's D-Jetronic and K-Jetronic fuel injection systems that apply not only to the fuel-injected S-Class models, but other vehicles with the same system. This is for the serious engineer, mechanic, and troubleshooter.
Parts Retailers:
Your local Mercedes-Benz dealer – Many parts are still new and available.
AutohausAZ.com – Retailer for OEM, genuine, and quality aftermarket Mercedes parts (and other brands as well).
FCPEuro.com – Retailer for OEM, genuine, and quality aftermarket Mercedes parts.
PelicanParts.com – Retailer for OEM, genuine, and quality aftermarket Mercedes parts.
PPEmbzparts.com – Formerly Ecklers Mercedes-Benz Parts Specialists, a reputed retailer for OEM and genuine Mercedes-Benz parts.