The unlikely American origin of the Mazda Miata
Mazda often reminds us that the MX-5 Miata is the world's favorite two-seat roadster, with more than a million sales since 1989. While total Corvette production is higher—one million by 1992, over 1.6 million to date—coupes outnumber convertibles in 'Vette land by a wide margin.
What Mazda is less vociferous to share is exactly how the Miata came to be. Why did the company add a second "zoom" to its lineup when the rotary-powered RX-7 already existed in coupe and convertible form? While it rarely happens in the car biz, the Miata is the brainchild of one person: Bob Hall, a fine-threaded car nut. The yarn that follows is our shrine to this creative soul.
Bob and his twin brother, Jim, were born in 1953 and grew up enjoying Southern California's sun, sand, and surf (before the traffic become oppressive). Their father developed a passion for British sports cars during his service flying B-25 bombers. The MGs, Triumphs, and Austin-Healeys he owned over the years mesmerized the Hall boys, especially after their indulgent pop let them enjoy the feel of a responsive steering wheel at a premature age. While their peers tossed baseballs or pedaled bicycles, the Hall brothers polished their driving techniques in the Rose Bowl parking lots near their home.
After high school graduation, Bob enjoyed a six-week visit to Japan as an exchange student, resulting in the second twist in his psyche. Fascinated by Asian culture, he learned Japanese by listening to movie dialogue and by reading Japanese comic books with a dictionary in hand. On subsequent returns to the Land of the Rising Sun, Hall polished his second language and absorbed the nuances of Japanese culture.
During a break from college studies, Hall convinced Motor Trend's editor that he knew more about Japanese cars than anyone currently on staff and proved his point by submitting an unsolicited manuscript. The insights contained therein earned him a position at the magazine at age 20.
Visiting Japan while representing that publication, Hall enjoyed an audience with Kenichi Yamamoto, Mazda's head of R&D, and their frank dialogue was the beginning of a long professional friendship. Shortly after Hall hopped from Motor Trend to AutoWeek in 1978, Yamamoto asked Hall what kind of cars Mazda should consider for the future. This was exactly the opening this animated enthusiast needed to bombard the Mazda product planner with his brainstorm.
"I shifted into overdrive," Hall recalls. "While Mazda's RX-7 [launched in 1978] is an A-plus sports car, the bugs-in-teeth, wind-in-hair classically British sportsters were expiring. My idea was to revive that category by recasting Mazda's 323 rear-drive econobox as a two-seat roadster. Unfortunately, Yamamoto put on his poker face, so I had no idea what he thought of my idea. After a brief discussion, we moved on to other subjects."
Mazda's RX-7 was essentially a half-priced Porsche 924. What Hall had in mind was a more rudimentary two-seater to replace the British and Italian models fading from the U.S. market. While the notion of Mazda offering two sports cars wasn't preposterous, that strategy was unlikely to be seriously considered in-house. Nor was it something your average auto journo might propose.
To fertilize the seed he'd planted, Hall espoused the need for more sports cars in AutoWeek and convinced a Car and Driver writer—me—to support his cause on the editorial front. After three years as AutoWeek's West Coast editor, Hall joined Mazda's California R&D organization as a product planner. In 1981, he was shocked when Yamamoto turned to him during a visit to say, "Hey Bob, what about your lightweight sports car? Why don't you study that?"
Without hesitating, he did. An early '82 position paper Hall submitted to Mazda's planning department proposed recycling existing components—a four-cylinder engine, manual transmission, rear axle, possibly even an existing floorpan—to minimize cost. A year later, his idea became an off-line project not slated for production. While the Japanese favored either a front-engine/front-drive or mid-engine/rear-drive coupe, the U.S. team held firm on a front-engine/rear-drive roadster or nothing. This is when the obsessive Hall earned his Ikigai nickname, a Japanese word meaning the reason why one is put on earth.
The wheels that would result in the Miata began turning slowly but steadily. Designer Mark Jordan sketched the exterior as a junior Ferrari. The British consulting firm IAD built a running mule using the Mazda 323's engine and an RX-7's solid rear axle.  Hall did his part by nudging his colleagues to stay on the case. Japanese designer Masao Yagi shifted the exterior in the Lotus Elan direction, from classic Italian to classic British. The project's status advanced to the unapproved production model stage.
In late 1985, Yamamoto climbed the corporate ladder to become Mazda's president. One of his first acts was recommending the lightweight sports car to his board of directors for production approval. His request was granted and Toshihiko Hirai became the chief engineer responsible for the Miata's development. Hall had mixed emotions—excitement that his baby was final kicking, fear that Hirai might take the car in an unsavory direction.
Fortunately, the original inspiration survived the gestation process. The Miata name came from a German word meaning "reward."  Only a few components were recycled from existing models. The body was tidy and the chassis featured front and rear independent control arm suspensions, a first for Mazda. The 1.6-liter 16-valve four-cylinder engine produced 115 horsepower, enough to move this 2150-pound roadster with sufficient pep.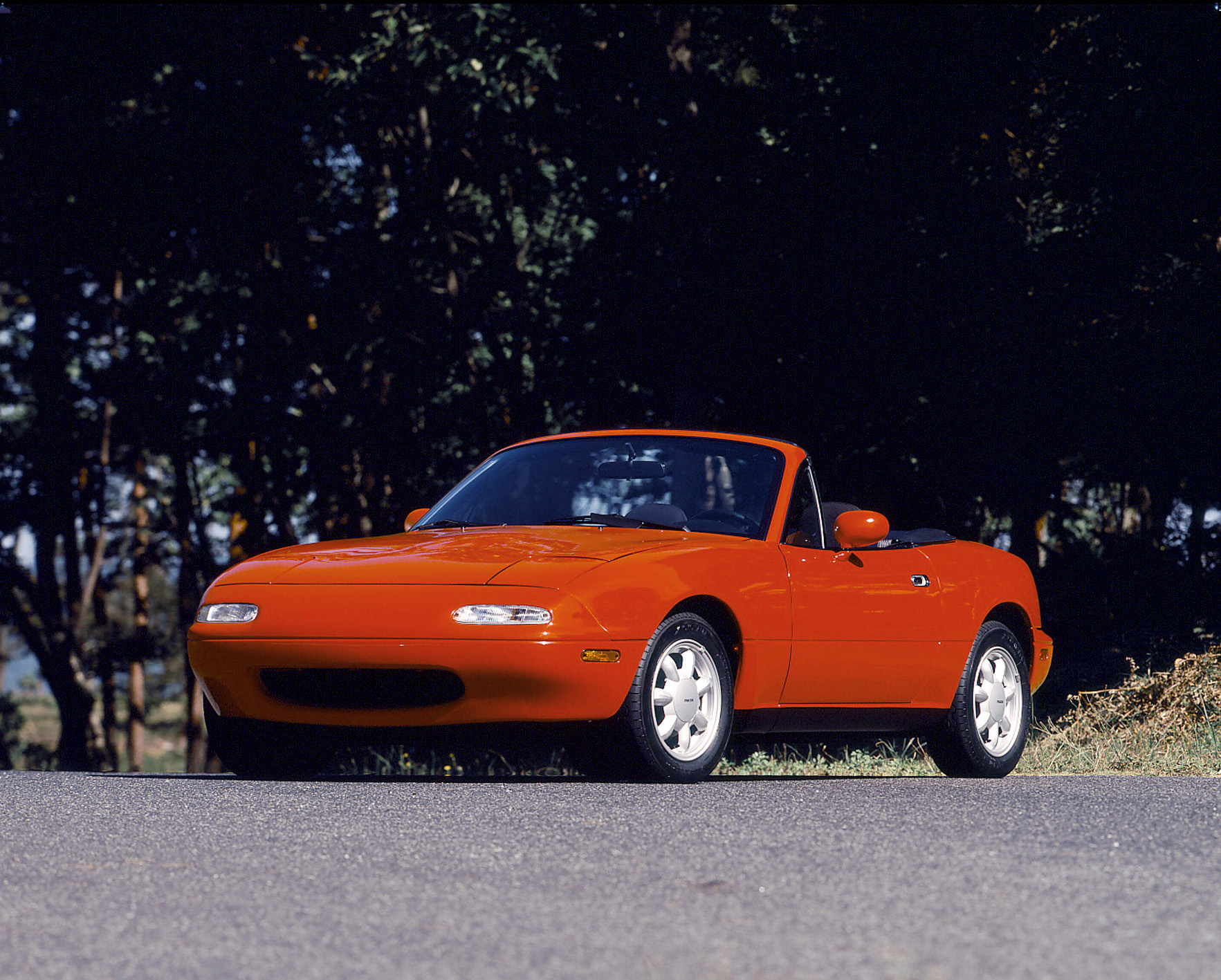 At the first hands-on driving opportunity in early 1989, journalists appreciated the special attention paid to cockpit ergonomics, the short-throw shifter, nicely tuned control efforts, and astute steering calibrations. The new Miata was light on its feet, tossable, and easily controlled beyond the adhesion limit. In other words, it embodied every essential sports car characteristic and more. The top could be raised or lowered from the driver's seat during a stop-light pause. The exterior gave a respectful nod to the Lotus Elan without wallowing in retro. The $14,000 base price—less than a four-cylinder Ford Mustang convertible—was irresistible. Car and Driver's succinct assessment: delightful.
While the second- and third-generation cars lost some of the original verve, an aggressive diet and tidier dimensions for the fourth generation introduced three years ago brought this Mazda back on track. Current U.S. sales total a thousand or so Miatas per month.
A dozen years at Mazda were enough for Hall.  He departed the U.S. in 2000 to become an independent consultant in Australia before serving as Malaysian car maker Proton's product development director for seven years. Significantly, Proton held controlling interest in Lotus until recently. Five years ago, Hall returned to Southern California and is currently the acting design director at the South Pasadena-based design facility of Geely, owner of Volvo and, in a full-circle coincidence, future majority stakeholder of Lotus. You can bet your bottom dollar he's itching to get in on the Lotus planning as soon as the ink dries on that deal.
***
Check out the Hagerty Media homepage so you don't miss a single story, or better yet, bookmark it. To get our best stories delivered right to your inbox, subscribe to our newsletters.