The Jeep Grand Wagoneer led the way, despite vinyl wood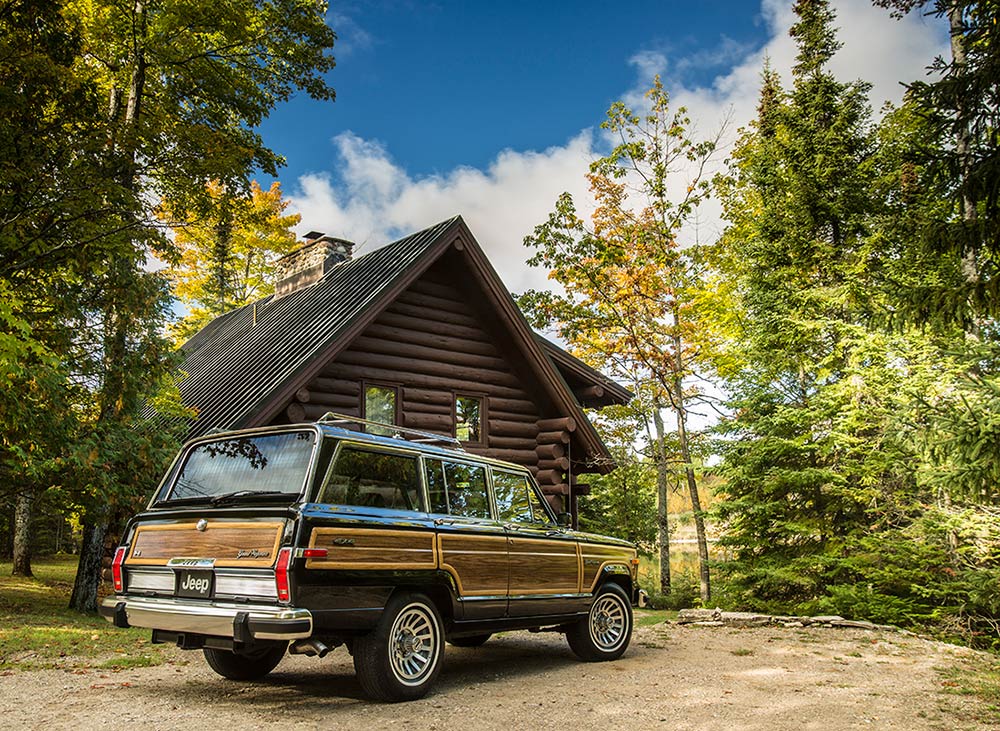 Yes, it's true: the woody wagon your mom drove; the one that embarrassed you so much as a kid; the one your parents used to haul you to baseball practice and to bring you to your first boy-girl party… is a future classic. In fact, it's hardly even a "future" classic. This one is basically a classic already.
Here's the lowdown on the Grand Wagoneer: as aging SUVs have become increasingly popular as collectibles, enthusiasts are seeking out models with a particular character; a particular attitude; a particular style. Sure, an old Nissan Pathfinder or a Dodge Ramcharger is cool. But those were no-frills tools for a job. The Grand Wagoneer had class. The Grand Wagoneer had luxury. The Grand Wagoneer had… vinyl wood paneling.
The Grand Wagoneer is essentially a luxury version of the Jeep Wagoneer, which started production in the early 1960s. (Fun fact: the Wagoneer was sold in Iran for a few years as the Jeep Ahoo. Truly.) By the mid-1980s, Jeep realized – incredibly prophetically, as it turned out – that many people wanted a little luxury to go along with their SUV. And so the Grand Wagoneer, with wood paneling, leather seats, and 15-inch alloy wheels, was born.
Although the Grand Wagoneer was made for about a decade, it's the later ones you really want. By 1989, the SUV had luxuries like map lights, improved woodgrain trim, and generally upscale interior materials. Although it might be hard to believe this now, in a world where Jeep makes the Patriot and offers 15-year financing at zero percent, the Grand Wagoneer was one of the most luxurious SUVs of its day: a true competitor to the Range Rover, and far ahead of the Toyota Land Cruiser, which wouldn't get its own luxury updates for a few more years.
Of course, by modern luxury standards, the Grand Wagoneer isn't exactly going toe-to-toe with the Bentley Bentayga. There was no point where the Grand Wagoneer was ever manufactured with rear headrests. However, the SUV offered – this is completely true – corduroy seats. Under the hood was a carbureted 5.9-liter V8 that made all of 160 horsepower… through its entire production run, which ended in 1991. Yes, that's right: Jeep was selling a carbureted V8 until 1991. The luxury SUV sure has come a long way in 25 years.
And yet, none of that seems to matter when you look at it. One glimpse of that classic boxy, functional design, and you can hardly help but imagine rows of them sitting in the line for the Nantucket ferry, sporting those old Connecticut blue license plates registered in Greenwich, carrying a couple of kids and enough fishing rods for the whole family. They're the picture of suburban American wealth, back when that was still acceptable.
Amazingly, the Grand Wagoneer went away right when things were getting good. The 1991 model year was the end of the line, just three years before the Land Rover Discovery made its debut, just five years before Acura's first SUV, seven years before the first Mercedes M-Class, and eight years before the Lexus RX. In essence, the Grand Wagoneer died before it ever got to see the segment it created.
Although one can scold Jeep for its horrible timing, the brand probably didn't mourn the loss: the Grand Wagoneer disappeared to make room for the new Grand Cherokee, which sold in much higher numbers and helped to firmly establish Jeep as a major player in the rapidly exploding world of the family SUV. But if you want a high-class Jeep SUV that hails from the days before navigation systems and airbags, before ventilated seats and forward collision warning systems, it exists. And it appears to be wearing a tree on its body panels.
Interested in a Grand Wagoneer? You might be surprised to find just how wildly prices can fluctuate on the used market. There will be some on your local Craigslist, treated as used cars, with price tags in the mid-four figures, while some specialist retailers are asking $50,000 or more for restored, low-mileage, rust-free examples.
No matter what you spend, you'll want a good pre-purchase inspection from someone with Grand Wagoneer experience. Sure, these are simple vehicles, but they hail from an era when "quality control" meant kicking the doors as they rolled off the assembly line to make sure they didn't fall off – and "a little rust never hurt anybody" is the kind of thing they were saying at the factory in Toledo.
Pick the right Grand Wagoneer, though, and you can drive around thumbing your nose at people in X5s and Q7s. They wouldn't be here if it wasn't for your wood paneling. Your carbureted V8. Your corduroy seats.