Iron Man's supercharged 1970 Mustang caught in action
If you've been following along the Marvel Cinematic Universe, you know that Tony Stark is a bit of a car guy. In the very same basement workshop/garage where he cooked up the Mark 2 suit in 2008's Iron Man, there's a row of cars, including an Audi R8, Shelby Cobra, Saleen S7, and a pair of roadsters: a Tesla and a flamed '32 Ford. For 2018's Infinity War, we'll hopefully see an addition to the Stark stable, this one an actual car the actor owns in real life. It turns out that Robert Downey Jr., Iron Man in the flesh, is a car guy, too. He worked with Speedkore Performance Group to build a sweet-looking 1970 Mustang Sportsroof.
Downey Jr. approached Speedkore owner Dave Salvaggio to talk about his plans for a modernized Mustang and was involved with much of the design, including selecting the subdued color palette used inside and out. When the build was finished the car debuted at the 2017 SEMA show, where we we met up with Salvaggio and the car shortly after to see it in action.
Speedkore is known for its carbon-fiber body panels for classic and late-model Mopar muscle cars, as well as for several high-profile builds executed using those parts. Like those previous cars, Downey Jr.'s Mustang makes extensive use of carbon fiber, which it uses for the hood, fenders, bumpers, side mirrors, and decklid.
Likewise, under the hood, the Speedkore Mustang sheds a whole lot of cast iron, instead using a 5.0-liter Aluminator engine from Ford Performance topped with a Roush Stage II supercharger. The DOHC V-8 takes in boost and expels it though custom-bent headers and exhaust. Bowler Transmissions prepped a T56 Magnum six-speed manual for the car and it harnesses the Coyote's power to a Ford nine-inch rear axle.
To modernize the Mustang's suspension, Speedkore turns to a Detroit Speed and Engineering (DSE) Aluma-frame setup in front and a Quadralink in the rear with DSE mini-tubs making room for some sizable performance rubber: 345/30ZR19s Michelin Pilot Super Sport tires out back and 275/35ZR18 up front. The Aluma-Frame is made of two robust aluminum castings that sandwich the factory subframe and add rack-and-pinion steering along with taller spindles and entirely new suspension geometry, complete with coilovers. It also eliminates the need for the factory shock towers, paving the way for that massive Coyote engine and its wide cylinder heads.
The new paint color is a custom mix from PPG. It looks perfect in the southern California desert—an understated, non-metallic wheat tone that's complemented by clear-coated carbon fiber stripes and trim. The custom interior uses a similar palette, chosen by Downey Jr. and applied by Gabe's Custom Interiors in San Bernardino, California. Gabe's took the bare interior and the dash, modified by Speedkore, and wrapped it in leather and an interesting synthetic fabric with a coarse weave and variegated coloring that perfectly matches the tans and browns used throughout the car. Gabe's co-owner Jesus Lopez explained, "It's not made for automotive use, it's an industrial floor covering." Our initial take was that it looked like it would be a nightmare to work with, but Jesus told us that its bonded as its woven, so it doesn't fray. And it's virtually bulletproof—this is for Iron Man, after all.
The team at Gabe's worked with Speedkore's interior sketches and modified it just a bit. The stock 1970 Mustang door panel uses a molded armrest, but it juts out by itself. Speedkore sculpted that into the rest of the panel and added a French seam along its length. The seats are from Recaro and feature a reshaped headrest. They too use the same leather and woven fabric. The final touch by Gabe's is the rear seat delete. It covers the car's wide rear wheel tubs using a flowing panel with speaker grilles along with metal trim and hardware finished in the same lightly textured steel gray Cerakote used on the steering wheel.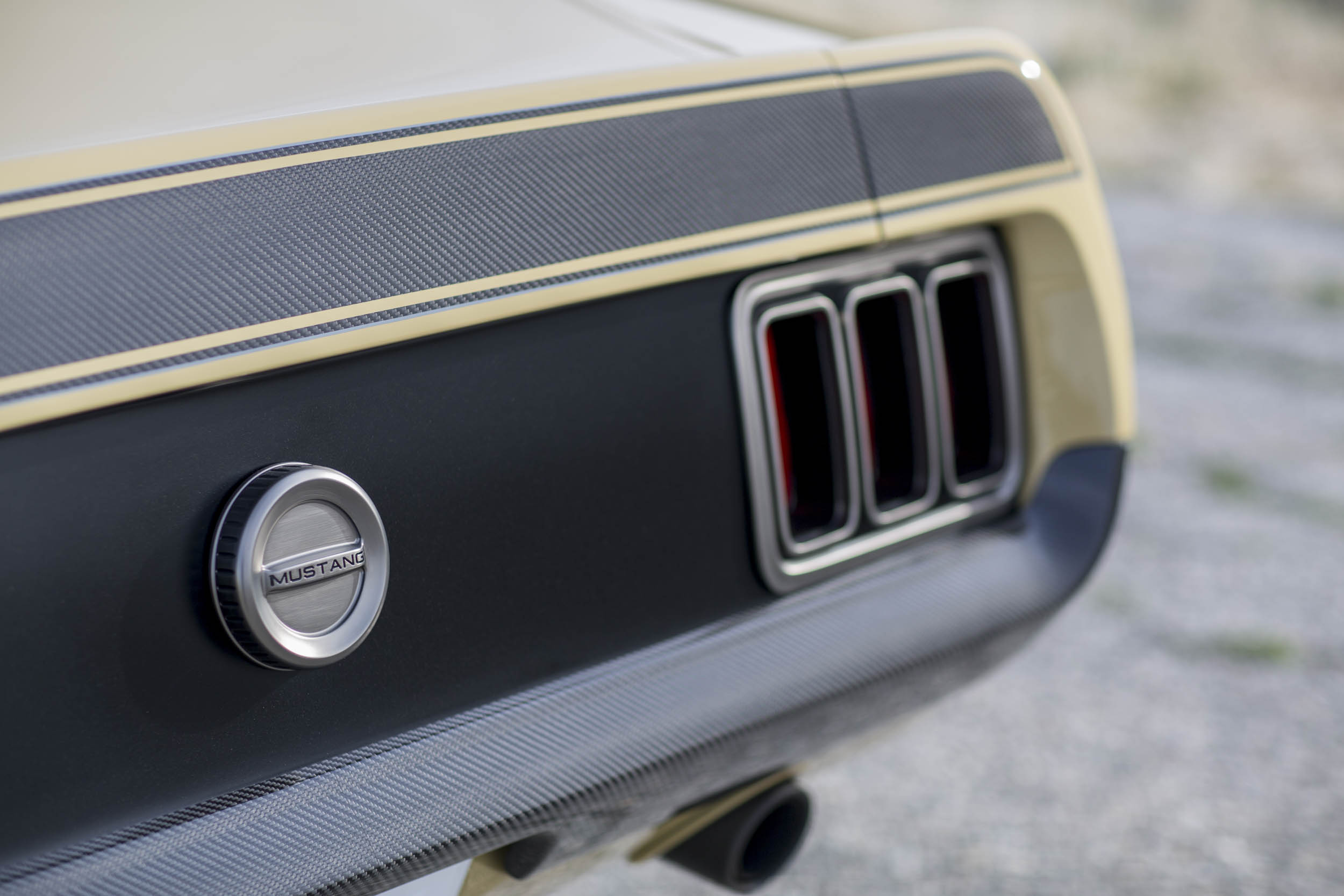 With any luck, we'll be able to catch a glimpse of this high-powered, grand touring restomod in Infinity War. We just hope it fares better than Tony Stark's aforementioned Cobra—it ended up as Iron Man's crash pad.