How the 1990s Chevrolet Impala SS became a classic
Twenty-five years ago this November, at the SEMA Show in Las Vegas, Chevrolet displayed what must have been one of the easiest-ever concept cars to build. Produced by GM's Special Vehicles Group under the direction of Jon Moss, the Impala SS (Super Sport) was long, low, painted all black and looked ready to burn rubber.
The Impala SS was greeted by an overwhelmingly positive response from enthusiasts. Chevy dealers, by placing several thousand orders the following year, ensured that the Impala SS would be produced.
The Impala SS concept was essentially a Caprice 9C1 Police Package, lowered and wearing aftermarket five-spoke 17-inch wheels with big, fat P275/50VR-17 Goodyear tires. The stock Chevy 180-horse 5.7-liter small-block V-8 departed in exchange for the hotter LT1, a swap that was already planned for the 1994 Caprice, Buick Roadmaster, and Cadillac Fleetwood Brougham.
It didn't take a whole lot to transform the somewhat bulbous Caprice into the trimmer-looking four-door Impala SS. The trunk received a low lip spoiler, the rear quarter window benefitted from hint of BMW's "Hofmeister kink," and the de-chromed, full blackout look included the grille, taillight surrounds and other trim. The Impala SS looked mean. As an aside, the Impala name had not been used since 1985, and the last factory muscle Impala was the slow-selling 1967-1969 SS427.
From concept to assembly Line
The Impala SS first rolled off the assembly line in Arlington, Texas in February, 1994, appearing very much like the concept car. The good hardware was all there, although the LT1 used in GM's big rear-drivers was not the same as in the 300-hp Corvette; it had cast iron cylinder heads instead of aluminum, a milder cam and two-bolt main bearing caps (instead of four-bolt). The Impala SS had dual exhausts, but lacked the bellowing growl of a Camaro Z28.
The result was still a healthy 260 hp and 330 lb-ft of torque, channeled through a 4L60-E four-speed automatic transmission with a column shifter. Car and Driver clocked it at 0-60 mph in 6.5 seconds and the quarter mile in 15 seconds at 92 mph, which was not far off some of the early 1960s 409-powered Impala Super Sports.
The Impala SS was equal parts muscle car and sport sedan. The cop-car chassis bits, de Carbon shocks, 17-inch wheels and big BF Goodrich Comp T/As (a change from the concept) made the 4,200-pound sedan a surprisingly agile handler; Car and Driver recorded an impressive 0.86 g on the skidpad. The big four-wheel anti-lock disc brakes also impressed.
The interior was tasteful, with comfortable leather-upholstered front seats and, of course, lots of back seat room. Despite the beefier suspension and low-profile rubber, the Impala SS rode smoothly. It was a lot of car for its $23,000 list price.
Many people wanted an Impala SS, but a wheel supply problem constrained first-year production to 6,303 cars. All 1994s were painted black. For 1995, Dark Cherry Metallic and Dark Green-Gray became available, and production zoomed to 21,434. The 1996 Impala SS finally got a console-mounted floor shifter, and analog gauges replaced the digital panel. Production doubled again to nearly 42,000.
And then it was gone. On December 13, 1996, the last of 69,768 Impala SS sedans built drove out of the factory, which then switched over to build SUVs.
From the start, owners modified the Impala SS for more performance. Stroker kits and superchargers for the LT1 were popular aftermarket choices. One could splurge on the Callaway Supernatural Impala SS, which featured a comprehensive suspension upgrade and used an LT1 stroked to 383 cubic inches and 404 hp. The Callaway conversion doubled the car's $25,000 price.
The everyday classic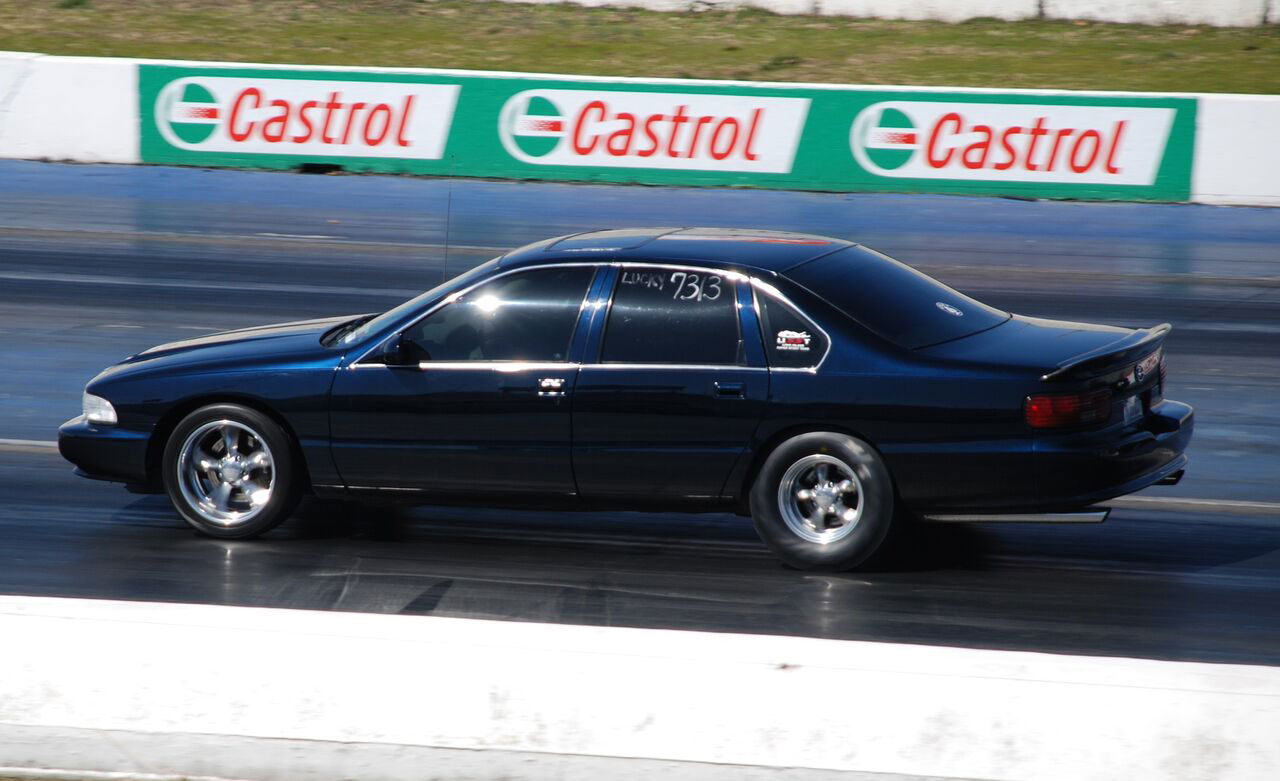 Impala SS owners are still hot-rodding and enjoying their cars. Today, the easiest route to higher power is to swap out the old LT1 for one of Chevy's modern LS motors, says Bill DiBlasio, president of the Impala SS Clubs of America. The club formed in the 1990s specifically for the 1994-96 Impala SS. As membership dropped off from a high of more than 2,000 to about 500 today, the club opened to all Impala models back to 1958, as well as the 1990s Roadmaster and Fleetwood Brougham. Even so, membership remains about 95 percent 1994-96 Impala SS, DiBlasio says.
The club's annual Impala SS Nationals event includes drag racing, road racing, autocross, a car show, and stereo sound-off competition. This year's took place at various tracks and venues in Indianapolis.
"We got about 200 cars from all over country," DiBlasio says.
DiBlasio's first Impala SS, bought new in 1995, served as his wife's daily driver for five years and then became his driver. He's owned eight since, and currently also has a 1996 Impala SS. His first SS became an "accidental" drag racer in 2002.
"One day I took it to track, and someone said I was eligible to run in the car's class," he says. "For my first time racing, out of 65 cars, I came in third. I was hooked."
DiBlasio has been racing his SS ever since. The current setup uses an LT1 bored and stroked to 396 cubic inches, and the car, now with nearly 155,000 miles, runs low 12-second quarter-mile times.
Twenty years ago, some talked about the Impala SS as a future collectible, but the car's cult following, while devoted, is not large.
"Some guys in the club bought them new for $25,000, kept them in garage with low miles, and today they're worth about $25,000," DiBlasio says. The Hagerty Valuation tool backs up that estimate, with an average value ranging from $9,800 to $38,500 for a concours-level Impala SS. Prices have increased steadily over the last three years.
Lasting Influence
Mercury tried to emulate the Impala SS formula with the 2003-2004 Marauder, but it was a sales failure with just 11,000 sold. In 2006, Dodge introduced the four-door Charger, offering an available Hemi V-8. Chevy's 2006-2009 front-wheel drive Impala SS was about as quick as the Hemi Charger, but front-wheel drive and bland styling damped enthusiasm for it. The Charger remains (as does the sibling Chrysler 300), and its selection of three different Hemi engines tops out with the astonishing 707-horsepower, 204-mph Hellcat.
Chevy introduced its ultimate four-door muscle machine, called simply SS, for 2014. This was really the Australian-built Holden Commodore VF; its predecessor had been sold here as the Pontiac G8. The SS went out of production earlier this year, but there are a few left in dealer inventories. Optioned-up versions are about $50,000. Act now if you want a manual-equipped one, which has a good chance of being a future collectible, and very well could be the last naturally aspirated V-8 sport sedan GM builds.