This Ford F-150 Tonka Edition is a real-life bro dozer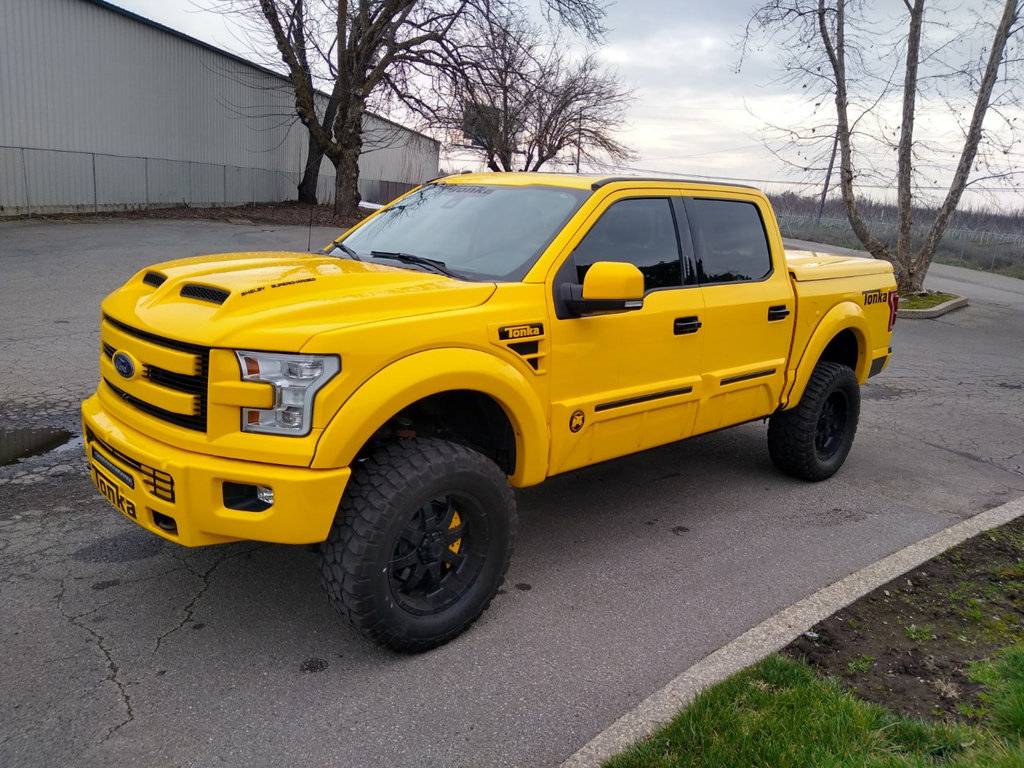 If you're like me, you measure the time you spent in the sandbox playing with Tonka trucks in weeks, not hours. Some of my fondest memories of early childhood involve those toy vehicles and truckloads of sand. That's why yesterday, while scrolling through one of my favorite Facebook pages, Obscure Cars for Sale, I stopped dead when I saw this: A 2016 Ford F-150 Tonka Edition, for sale by Muscle Motors in Chico, California.
It's everything I'd hoped it would be. The oversized black wheels, the screaming yellow paint and custom body cladding, the 700-hp Shelby American upgrade kit that straps a Whipple supercharger atop the V-8 engine. There's nothing subtle about this truck. It's rare, too; a number plate on the center console of this one indicates this is number 105 of just 200. Further clarification from a Tuscany Motor Company representative indicated that 200 builds of the special truck were planned for 2016, but only 128 were actually completed.
The Tonka Edition is the brainchild of the folks at Tuscany Motor Company. Opting for the Tonka package nets you a whole heap of cosmetic upgrades. First, everything from the fender flares to the tonneau cover to the custom hood gets the Tonka yellow treatment. Tuscany slaps great big Tonka logos all over the truck, and installs an integrated LED light bar up front. If a part escapes the yellow paint gun, it doesn't outrun the black one—step rails, tow hooks, bumper inserts, are all black. The interior is similarly adorned—black, yellow, and Tonka badging everywhere.
Mechanically, Tonka trucks ascend six inches skyward courtesy of heavy-duty Tuscany-tuned shocks. The truck's 20-inch black wheels wear knobby BF Goodrich KO2 tires. (This truck has the optional KM2Mud Terrain Tire upgrade.)
The real fun lies under the hood, where buyers have the option to spec the 700-horsepower supercharged Shelby American upgrade for the existing 5.0-liter V-8. The blower and intake manifold are both powder coated in—you guessed it—Tonka yellow. The requisite performance upgrades—injectors, auxiliary cooling fans, and a Shelby-tuned Borla performance exhaust—all come as part of the optional package.
Total cost for the upgraded truck when brand new? An eye-watering $96,304. That price includes a brand-new F-150 chassis sourced by Tuscany directly from Ford, as well as the Tonka package installed by the folks at Tuscany.
Muscle Motors is asking $49,000 for it, which seems like a solid price. Will it be worth more than that someday? According to Hagerty Valuation expert Greg Ingold, there's a decent chance, but don't count on cashing in the near future. "I'm sure [this truck] has collector appeal, sport trucks usually do, but I think we'll have to wait a while before it is worth more than MSRP," says Ingold.
If you're a collector looking to turn a quick buck on a rare truck, this one might not be for you. This truck is more than collector candy—it's meant to take you back to when you were a kid in the sandbox, wasting summer days constructing and destroying castles of sand.
And, as is the case with a lot of cars, that nostalgia makes it worth whatever people are willing to pay for it.