Ford's 1993–95 SVT Lightning is a bargain low-production sport truck
Today's pickup manufacturers are catering to buyers who want a truck that can perform as a daily driver, as well as a sizable niche who want to head off-road and tackle nature head on. With big tires, lots of suspension travel, and extra ground clearance, these burly off-road trucks are built for harsh conditions.
It wasn't long ago, however, that each of the Big Three offered up a sporty pickup with extra horsepower and a decidedly on-road persona. Dodge had Viper-powered SRT10 Rams, as well as the Shelby Dakota before that. General Motors marketed the Chevrolet Silverado SS in both all- and rear-wheel drive, the short-lived Chevy 454 SS, and, of course, the sports car-beating GMC Syclone.
Ford's answer to those early salvos in the sport truck war was a specially tuned regular cab, short-bed F-150 it called Lightning. Developed by Ford's Special Vehicle Team, its in-house performance division, the Lightning debuted in 1993 sporting a 351-cubic-inch Windsor small-block V-8 cribbed from the F-250, along with an E4OD normally found behind a big-block or diesel V-8. The Lightning's engine pumped out 240 horsepower, 20 percent more than the 351 found in the heavy duty trucks, thanks to tubular exhaust manifolds, a new intake, and GT40 cylinder head castings most often used on late-production 302 V-8s.
The Lightning stood out thanks to its color-matched grille and air dam, 17-inch wheels, and neon "Lightning" decal on the bedside. The SVT truck also featured a tuned suspension and was praised at the time for its flat cornering, thanks to stiffer sway bars and springs. Don't expect sports car dynamics—it is a truck, after all—and in the '90s the bar wasn't particularly high. It did prove, however, that a muscle truck could be fun in more than a straight line. Ford sold fewer than 12,000 Lightnings in its three-year run, making it rare, especially considering the volume of regular F-150s that were produced in that same time.
After posting slow and steady gains for the past eight or nine years, values for the sporty muscle truck increased in early 2018 when #3-condition (good) Lightnings moved up 14.4 percent to $10,300. Still an attainable collectible, they don't bring quite as much money as their smaller, turbocharged competitors from GMC or their more direct, big-block-powered competition from Chevrolet, but there are some outliers. A 1995 Lightning in 2- (excellent-minus) condition sold for $28,600 at Barrett-Jackson's 2019 Palm Beach auction, and a 1993 model in 3+ (good-plus) condition went for $25,300 at Mecum's 2018 Kissimmee auction.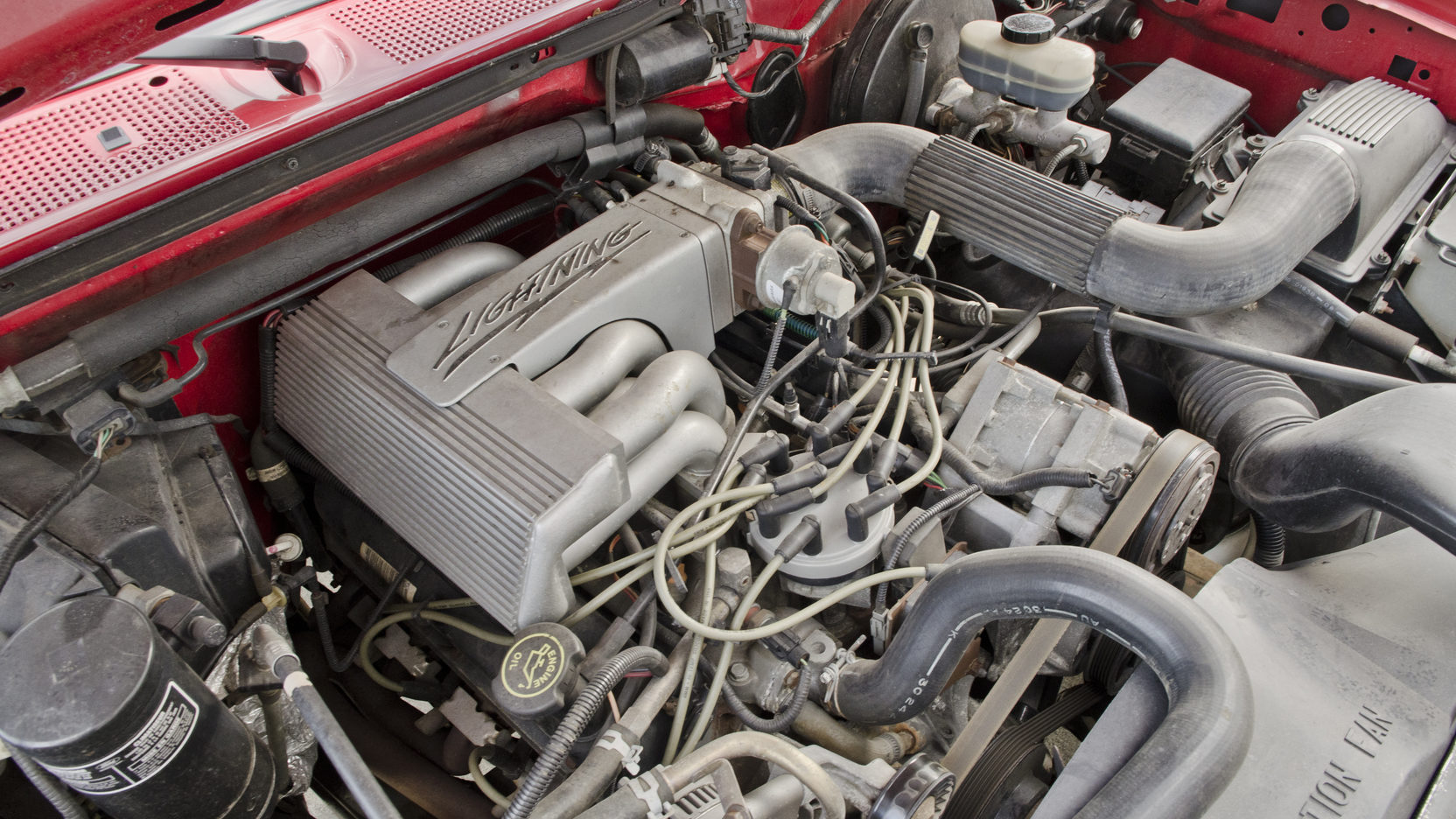 The later, supercharged Lightning, which arrived in 1999, offered more power from its boosted 5.4-liter Modular V-8. It also brought with it the 10th-generation F150's polarizing style that looked as though designers had turned a jellybean Taurus into a pickup, and it lost some of the earlier Lightning's driving dynamics. It was still a hit, tearing up dragstrips and serving as a potent platform for engine modification.
Even though Ford teased the public with concepts, a third-generation Lightning never came to be. Ford did eventually introduce the Tremor, which was equipped with an EcoBoost V-6. It was a fun, powerful pickup, if not quite a true spiritual successor to the Lightning.
The previous steady increase in value and interest comes predominantly from younger buyers. More than 70 percent of quoting activity is from Gen Xers and Millennials, which means that the Lightning will likely continue to be a bright mark, even among the strong performance of the overall truck market. The first generation may not have the brute power of later models, but it remains a bold, fun-to-drive pickup with lasting style. Collectors are beginning to notice.