Driving the Mercedes-Benz and Audi cars built by Porsche
In 1988, Porsche wrapped up production of their 959 supercar and realized that it had a huge problem on its hands. The 959 was a bleeding-edge look at what the future of Porsche could be, with twin turbocharging and all-wheel-drive. As history (and the modern 911 Turbo) would bear out, Porsche had guessed correctly. But, according to the accounting books, the future at Porsche was not a guarantee.
With dark financial clouds gathering, the world was tightening its purse strings and deciding that perhaps slightly quirky German sports cars were an extravagance too far. There simply wasn't enough demand for the 928, 911, and 944 to justify moving any of those models over to the now-shuttered Rössle-Bau line that had built the 959.
Meanwhile, across Stuttgart at the Mercedes-Benz offices, executives frowned to see their fellow Swabians in disarray. Today, Mercedes and Porsche are such close rivals that either company might cheer the other's collapse, but back in the 1980s, there was some camaraderie. Perhaps everyone used to meet up at a central pub in the middle of town to drink beer and make fun of BMW—who knows?
Porsche didn't want a bailout from Mercedes, but they would certainly accept some work. Thus began one of the more unusual partnerships in automotive history, with Porsche and Mercedes shuttling car bodies back and forth like divorced parents hot-potatoing child custody arrangements.
The partnership worked so well that Porsche immediately followed up on its Mercedes collaboration by picking up work for Audi—on a hotrod station wagon of all things. The two resulting cars used to be overlooked, but are now heating up in today's collector market.
The Proto-Panamera: Mercedes-Benz 500E
If negotiations between Stuttgart's two largest car-makers were polite, they still couldn't have been easy. Mercedes-Benz had Porsche over a barrel, and was not about to let their reputation for impeccable luxury be ruined by a bunch of lunatics who were still trying to evolve the Volkswagen Beetle into something that could beat up a Ferrari.
But Mercedes was afraid of something: the Hammer. In 1986, AMG released a W124-chassis E-class with the 5.5-liter V-8 from an S-class retuned and squeezed under the hood. AMG and Mercedes-Benz would grow closer as the years passed, the latter absorbing the former as an in-house skunkworks, but in the mid-1980s, the fastest sedan with a Mercedes badge on the front wasn't sold at a Mercedes dealership.
The Porsche tie-up would fix all that, but it would be complicated. Initially, Mercedes-Benz provided Porsche with strict guidelines about how the project was to proceed. The 5.0-liter V-8 from the SL would be squeezed into the E-class, and the suspension and drivetrain would be reworked to accommodate the power and weight. Unfortunately, this involved widening the front fenders of the 500E, past the point that they would actually fit on Mercedes' own production line.
A game of German supersedan Pong ensued. Mercedes would build the W124 bodies and parts, then ship them across town to Porsche. Porsche's technicians would then hand-finish the adapted chassis, at a rate of eight to twelve cars per day, then ship them back to Mercedes to be painted. Then Mercedes would re-deliver the cars to Porsche for the engine installation and final assembly, and then it was back to the Mercedes' factory for detailing and quality control.
Here's what those eighteen days of shuttling back and forth got you, something like Nick Liem's 1993 500E, finished in blackberry-hued Bornit paint. Liem originally studied mechanical engineering in Stuttgart, living there for ten years, and picked up this German-delivery, Canadian-spec car after a test drive showed the kind of performance that belied the car's austere exterior. He liked it so much, he ended up buying a second one.
With its 32-valve, all-aluminum V-8 putting out 322 hp and 354 lb-ft of torque, the 500E could dispatch a 0-60 mph run in about six seconds. However, this hybridized Porsche-Mercedes wasn't about the sprint, it was about the top end. Torque comes on in an endless surge, always ready to move the speedometer no matter where it's pointing. While the 500E was electronically limited to 155mph, unrestricted versions could brush up against 180mph on the Autobahn.
This is a quarter-century-old car, but it still feels carved from granite. The Porsche-tuned suspension soaking up frost-heaves in the road, and the V8 torque providing an iron fist in a velvet glove. AMGs at the time were a bit wild and woolly, whereas the 500E gives the drive absolute control over the car's prodigious power.
As a bank vault with afterburners, the 500E made for an ideal garage partner to a 911 set up for weekend track duties. It still does today, which is why values for this hand-built rarity have skyrocketed in recent years. A good condition 1993 car like Liem's exceeds $35,000.
Porsche finally built its own four-door in 2009 with the Panamera. That car might not have been as handsomely reserved as the 500E, but it struck a lot of the same notes. Both were comfortable high-speed commuters that blended executive ideals with express-train velocities. The Panamera's success and higher production numbers, though, make the 500E seem all the more special.
Birth of the hot wagon: Audi RS2
Much ink has been spilled about the entry-level Porsche Macan being a small, all-weather-capable crossover. To anyone who can spot the design cues on Rob Stevenson's black 1994 Audi wagon, Porsche's turn to turbocharged hatchbacks wasn't a surprise at all.
With the three-year run of the 500E winding down, Porsche was looking for further special projects. Enter Audi, looking for a way to take its turbocharged S2 coupe to a higher performance level and compete more with the likes of BMW M-cars. Ever since the UrQuattro, turbocharging and all-wheel-drive had been hallmarks of hot Audis, and the 959 proved that Porsche was clearly expert in these areas.
There was only one issue. Porsche was not about to help Audi build a coupe that might steal away sales from its own line of sportscars, especially with the first all-wheel-drive 911 Carrera 4 still fresh in showrooms. The 911 might have been a completely different animal than the front-engined S2, but it was still meant to be a sporting machine with everyday practicality. Perhaps Audi wanted a sedan? Or better yet, a wagon?
Let every dog owner who likes to wear Nomex shoes rejoice: Audi went for the wagon option. Taking the body of the Audi 80 Avant, Porsche reworked the S2's 20-valve inline-five to handle higher boost levels, upgraded the turbocharger, improved fuelling, intercooling, and engine management. The RS2, Audi's first RS-branded vehicle, now made close to 315 hp and 302 lb-ft of torque, nearly 100 more hp and 44 more lb-ft.
With quattro all-wheel-drive to take advantage of all that power, the RS2 had a 0-30 mph holeshot like no other. Even the mighty McLaren F1 couldn't get off the line like the little Audi wagon, and the RS2's 0-60 mph time, reported as low as 4.8 seconds, is still respectable today.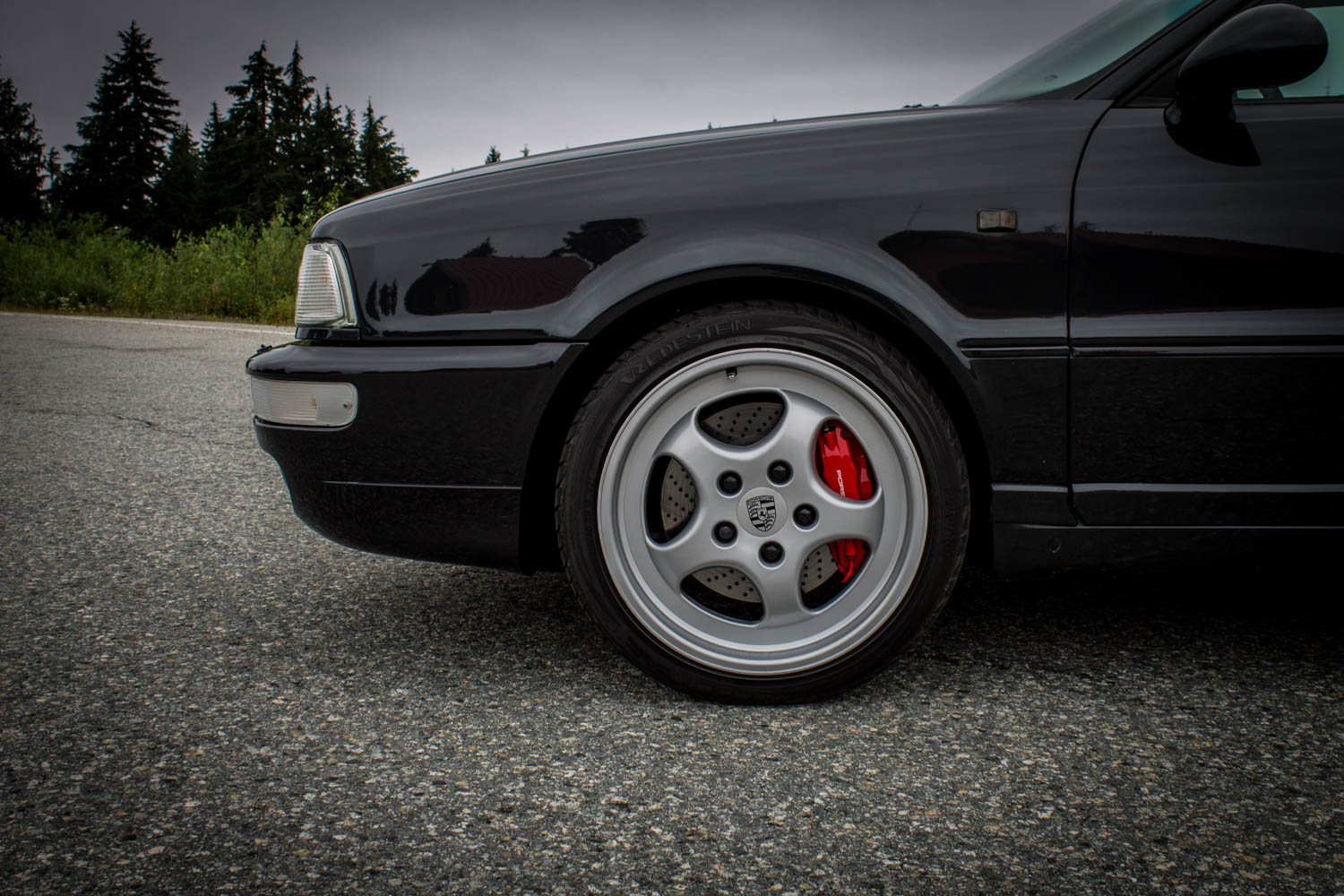 Porsche also redid the RS2's suspension and braking, and went through the design to add all manner of clues to hint at the wolf hiding under the sheep's clothing. The front air dam and rear hatch have cues that match the 911, the wheels are Porsche cup style 17"s, and if you pop the hood, there's a large "Powered by Porsche" script on the intake manifold.
Stevenson, as a longtime Audi fan, is not above making a quip or two about coil pack longevity. The RS2 feels a little more fragile than the 500E, but it's also considerably livelier. Steering is typically Audi-numb, but the turbocharged power is addictive, and nothing else snarls like a rally-bred inline-five. Finished in neutral black, the RS2 is also something of a secret handshake with those who are really into Porsche trivia.
Built only from 1994 to 1995, and just now easy to import into the US as a 25-year-old car, RS2 values are shooting up. There's an obvious appeal for Porsche collectors, but the RS2's status as first-of-breed-RS makes it very attractive to Audi fans as well. Stevenson notes that trim pieces are eye-wateringly expensive, but he still gets his car out for some regular twisty-road exercise, including belting out to Tofino on the far coast of Vancouver Island, British Columbia.
The beauty of the RS2 is its Swiss Army Knife do-everything nature. It's a Porsche-built sporting machine with the capacity of a wagon, and the all-weather capability of an SUV. The likes of the Macan Turbo or GTS are nowhere near as rare or cool, but you can see the philosophical similarities between the RS2 and Porsche's modern sporty crossovers.
Both the Mercedes-Benz 500E and Audi RS2 didn't serve only to keep Porsche afloat in difficult times. Just as the 959 was a glimpse of what a futuristic 911 could be like, the 500E and RS2 showed Porsche that its values and approach to cars could apply to more than just sports cars. While not a direct result, the Cayenne SUV proved that long-term survival depended on a flexible approach to what a Porsche could be. Today, the accountants are happy, there are more than twenty different 911 variants on sale.
If you want to own a piece of unique Porsche history, the 500E and RS2 are both delights to drive and only going to become more valuable. Think of each one as a practical and accessible way to put a little bit of the 959's crystal ball in your driveway.