Driving a 1961 Type 14 Lotus Elite
Look at it, isn't it perfect? Fifty-seven-years old, four owners, and as original as you could ever want, this is a Type 14 Lotus Elite, the world's first fiberglass monocoque production car, one of the rarest and most memorable—if not the most financially successful—of Colin Chapman's creations.
Andrew Mitchell's 1961 example is one of the most original I've ever seen, even the recently installed cage ("I don't want to scrape down the road on my head," he says) is fitted sympathetically around the "slightly foxed" trim, with its frayed edges and time-worn instrument cards. Clamber inside and there are just 96 miles on the odometer, though that is more likely indicating 100,096 miles.
The patina is at the same time moving and overwhelming; the smell is of fuel and gently roasting Rexine and Royalite upholstery, those oil change and AA stickers are captivatingly authentic, and the trim is extraordinary. The desert-warfare green carpet appears to be made of ground-up sheep, and the polished wooden-rim 16-inch diameter steering wheel, while a lovely precision device, seems massive for the unassisted control of those delicate single-laced, 48-spoke, 15-inch wire wheels.
Designed by an accountant, engineered by a maverick, with its aerodynamics tuned by a genius, Lotus built just 1050 or so Elites and it lost almost £100 on every single one. Mitchell's is a perfect little time machine, but before spinning up the 1.2-liter FWE (Featherweight Elite) version of this Coventry Climax fire pump engine on this beautiful summer day, I think about the Great Britain this little car was first launched into more than 60 years ago.
The first Elite was built in 1957 in Edmonton, a Western suburb of London known for its light industrial manufacture. On finding no space at his Hornsey workshop and requiring a modicum of secrecy, Colin Chapman, Lotus' mercurial founder, rented a building from a panel beaters Williams and Pritchard. The same building later became the first workshop for Cosworth Engineering.
Throughout the summer of 1957, a team comprising Chapman, talented amateur stylist (and accountant) Peter Kirwan-Taylor, aerodynamicist Frank Costin, model maker John Frayling, production engineer Ron Hickman, and interior designer Peter Cambridge toiled to create what many credit as Lotus's greatest-ever model. Paul Anka's Diana stayed at No. 1 on the UK charts for nine weeks during that wet and cool summer as the team struggled to create the 60 separate molds that made the first prototype Elite.
Chapman wanted to run a team of Elites at Le Mans in June that year, but even his legendary impatience was tempered with reality as it became clear they'd be lucky to even meet the deadline for the October Earls Court Motor Show. As it happened, the car was painted on the weekend before the show's Tuesday press day and trimmed on Monday as the paint dried, although the windscreen cracked as it was being fitted—Andrew's example also has a cracked screen, so it's in good company. At 6 a.m. Tuesday, a second windscreen was fitted and the car was trailered to Earls Court in time for the 10 a.m. opening. The Elite (which was on the stand with another Lotus debutant, the Seven) was an immediate star.
These days it's hard to imagine its impact in a country where wartime food rationing had only ended three years previously and fuel rationing from the Suez crisis had only been lifted in May 1957. Elsewhere in the show halls, Ford was still selling its 103E Popular model for which turn signal indicators and a carpeted trunk were optional extras. At £1966 including purchase tax (about $5500 at the exchange rates of the time), the first Elite (subsequently dubbed Series I) was expensive, but it was beautiful and fast. A Motor magazine road test in 1960 achieved a maximum speed of 111.8 mph with 0–60 mph in 11.4 seconds, standing quarter in 18.4 sec, and an average gas mileage of 28.4 mpg (U.S.). "Speed, controllability in all conditions and comfort in all its aspects make this compact two-seat coupe an extremely desirable property," concluded the road test of this 75-horsepower, 1484-pound "mettlesome thoroughbred."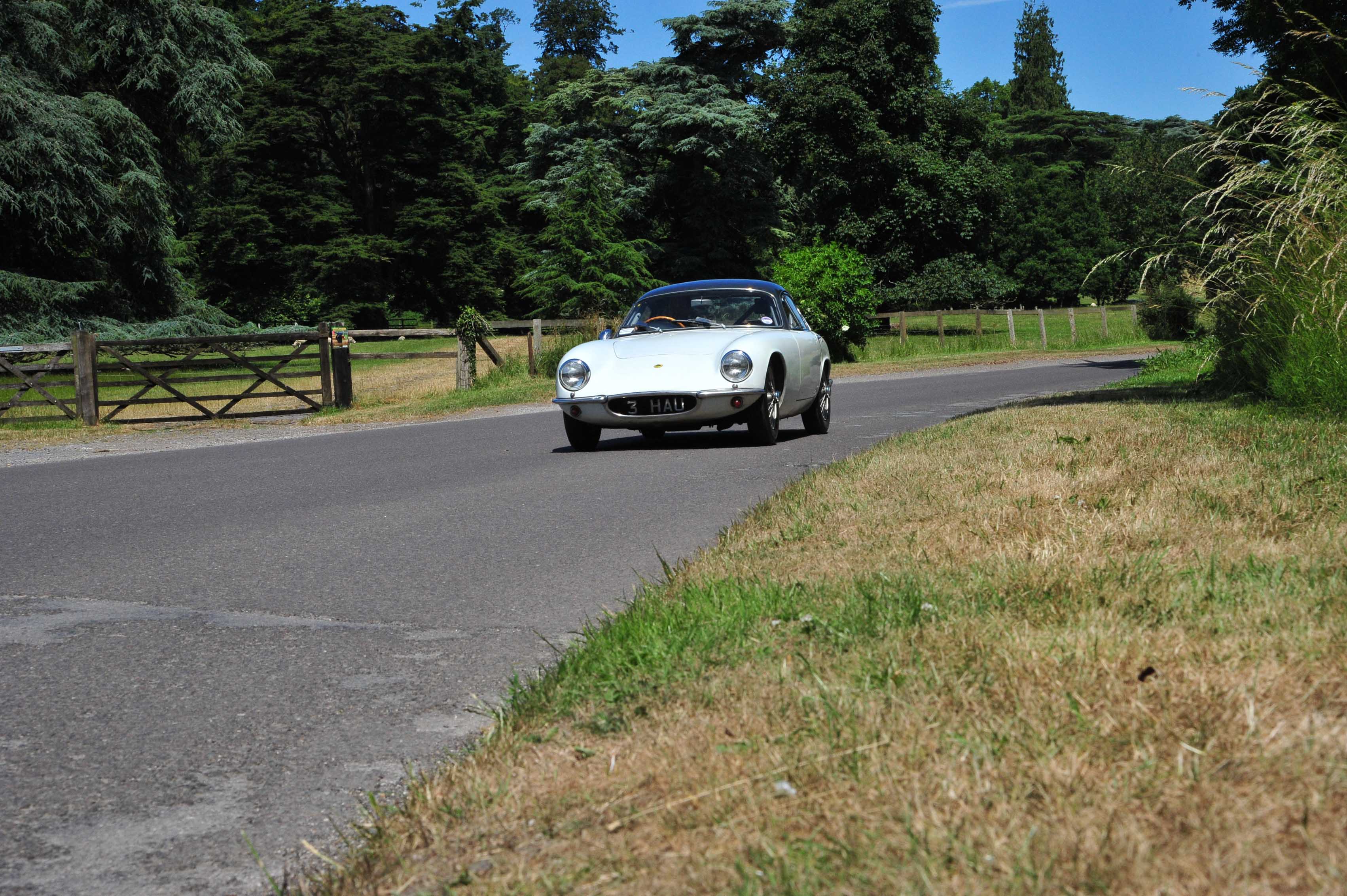 In Richard Heseltine's book A Chequered Life: Graham Warner and The Chequered Flag, he reports that Dunlop calculated that Warner's racing Elite, thanks to considerable weight saving and judicious tuning by Keith Duckworth and Mike Costin of Cosworth, would, at 8200 rpm in top gear, be pulling over 140 mph. That would also be a tribute to Costin's remarkable aerodynamics (the Elite has a coefficient of drag of just 0.29) and even its side windows are carefully curved inwards at the rear.
At first you simply couldn't buy an Elite, mainly because Lotus still hadn't worked out how to make the car. It took a full year before the first production deliveries in December 1958. And those early Edmonton-built cars went to specially-picked buyers, mainly racers such as Ian Scott-Watson of the Border Reivers team which was to field Jim Clark, Sir John Whitmore, band leader and amateur racer Chris Barber, and Graham Warner of The Chequered Flag sports car dealer.
Cynics might reasonably surmise that such an audience would be more interested in the car's performance on the track than its reliability or robustness. Those early cars leaked fuel, the aerodynamics meant rain obscured the side windows, the early Maximar-built bodies melted and suffered sun bleaching, the engines stripped their timing gears, and differentials broke loose from the GRP monocoque. These were not uneventful cars to own. As Anthony Pritchard puts it in his 1990 book Lotus — All The Cars, "For most drivers, however, it provided a nightmare of unreliability and problems, for it was, in the words of Colin Chapman, 'a racing car for the road… And the financial problems that it caused Lotus almost resulted in the company's premature demise…"
One of the first ever Elites went to a lieutenant Merle Robertson, an American serviceman based in Berlin, but it took a bit longer for the Elite to get to the United States, although America proved crucial to its fortunes. Dennis E Ortenburger, in his book The Lotus Elite, documents how Jay Chamberlain of the eponymous workshop forged a friendship with Chapman and took 200 of the first 364 Elites made. It had a starring role in the television series 77 Sunset Strip and was an habitue of West Coast race tracks, though reliability and cost were issues. Initially the Elite cost $4159 plus $65 for a radio and $106 for a heater, though Chapman soon raised the price to $5244, where it was up against more established (and reliable) rivals.
Yet Mitchell, who runs Mitchell Motors, a first-rate historic body shop off the A303 in Wiltshire, admits he's never worked on an Elite, but this example just found its way into his hands. It was originally delivered to The Chequered Flag and after three years was purchased in Guildford by John Renshaw, not a racer in the strictest sense, but from the accounts of his wife Brigitte, a pretty serious driver all the same. The two were courting at the time of the purchase and the little Viking on the dash was a present "and protectorate" from her to him. He drove the car as a company car, taking holidays and continental tours in it, although passenger comfort seemed to take a back seat, as Brigitte writes, "down to Italy, in searing heat of 40 degrees, heater running of course to keep the engine cool, but going over the glacial Gross Glockner, the heater had to be turned off to keep the engine warm!" Renshaw must have been a decent enough engineer though, for he kept 3 HAU for almost 50 years, acquiring a spare engine on the way. Eight years ago it was sold to a friend of Mitchell, who loved the originality and the car's history, but he didn't use it, so after some persuasion, Mitchell enticed it out of his hands last year.
"I rebuilt the brake system, took out the fuel tank and cleaned it and the carburetors," he said. "I want to run it in the Fifties race series, where I'd seen that Elites do really well. They seem very controllable and fast; in fact, the only accidents they get involved with are those they catch up with in the corners, as they're so fast through the turns."
Spin that key and the 1216cc FWE Coventry Climax bursts into cantankerous life and the gear lever buzzes in sympathy. This car fits you like bath water, the red bucket seats curve round the spine and the wheel sits in your lap. The rev counter flutters up and down and the world outside starts to look rather more like a race track than it did five minutes ago. Brigitte Renshaw admits that her husband had many a scrape with the police back in the day, even resorting once to pulling into a side road and draping a blanket over the rear lamps.
Not that we're in that mood today. There's still some work to do on the car and the headgasket is suspect (Renshaw seemed to be often changing it). The axle ratio is high and the engine doesn't do much under 4000 rpm, so you need a foot full of revs to get underway, but once travelling the car gathers speed like a playful wind. That four-speed transmission is a delight and you change just to master the art of the rasping throttle blip. As usual with a Chapman-era Lotus, the ride is uncanny, the Avons breathe over undulations, taking bumps in their stride, and only a slightly sticky steering system impedes the full exploitation of this little car over the hills of Cranbourne Chase. Controllability under braking is supreme and you feel confident enough to barrel through a turn with the knowledge that anything you'll meet this little car will cope with. In the manner of the best road tests, we stop at a pub where Mitchell's car pulls in many admirers.
Chapman tried everything he could to make the Elite as much of a sales success as it was on the track. There were kit versions, marketing campaigns in the States, even sales in Japan and some rather hinky letters of credit to suppliers against future sales, but it was all in vain and in September 1963, after just five years, production was shut down. Road & Track magazine even ran an obituary for the little car.
Just as quickly my drive comes to an end, and the rasping engine, the smells, the thrumming of the glass-fibre body, that out-of-sorts but still great steering, and the feeling of being absolutely at one with a car are the impressions that whizz through my noggin as the engine cools. Mitchell has promised me a go in it when it's all sorted out; I won't need asking twice.