This Dodge Viper GT2 pilot car keeps the "Color Me Gone" drag legacy alive
What qualifies the 1998 Dodge Viper GT2 as a truly exceptional supercar is the fact that only 100 such cars were ever built and sold. Owned by Hagerty members Brian and Laura Willey, the example presented here is further distinguished by the fact it's the first of two pre-production GT2s Dodge constructed.
While the Willeys purchased this GT2 from Ralph and Lynn Ronzello of North Carolina last year, their saga really began in 1963 at the dawn of Chrysler's motorsports heyday. That's when Roger Lindamood, a technician in Chrysler's transmission lab, bucked convention by convincing race teams that the company's Torqueflite automatic was significantly quicker on the drag strip than the four-speed stick-shift alternative.
Lindamood partnered with Dick Branster during his initial racing years. The 36-year-old originally resisted drag racing because he deemed straight-line speed boring and, in his words, "not worth a nickel to watch." Little did he realize his "Color Me Gone" coupes and funny cars would make him one of drag racing's all-time favorite forefathers.
Lindamood's Chrysler allies helped him build a 1963 Plymouth Savoy into a viable Super Stock racer with motivation supplied by a 426-cu-in Stage II Max Wedge rated a conservative 425 hp. The distinctive Color Me Gone trademark was inspired by a pop tune wherein the crooner pined the loss of her boyfriend with the dialogue "Color him gone!"
In 1963 at the NHRA Nationals, Lindamood lost in the championship round to Chrysler's in-house Ramchargers team.  Lindamood mounted a vigorous campaign the following year with a '64 Dodge 330 dubbed Color Me Gone II. This time he won the Top Stock national title against the Ramchargers, an accomplishment he long touted as one of his greatest racing achievements.
Not one to let asphalt stick to his feet, Lindamood was an early adopter of radical car modifications.  He shifted  front and rear axles several inches forward to enhance traction as part of Chrysler's 1965 effort. His 1966 Dodge Charger was one of NHRA's first funny cars. Before hanging up his helmet in the late 1970s, Lindamood built and raced two dozen Color Me Gone drag machines. He died in 2018 at 91.
Ralph Ronzello, a Lindamood admirer from his teenage years, grew up near Detroit. He attended Detroit Dragway events and other nearby strips to cheer for Lindamood and Color Me Gone whenever possible. Years later, Ralph and his wife, Lynn, constructed and campaigned their own "nostalgia" stock and super stock cars before recreating both the 1963 and 1964 Color Me Gone race cars. Their winning formula was Ralph overseeing the vehicle build and Lynn driving it. In 1991, Lindamood endorsed and supported efforts to recreate his successful cars by supplying original parts and his knowledge of the car's special features. This resulted in the most accurate "tribute" Color Me Gone vehicles. Roger, his son, Randy, and the Ronzellos trademarked the Color Me Gone race cars in 1991.
In fact, these recreations were so admired that they enjoyed long careers and won top trophies on the auto show circuit. Plastic scale model kits were made for kids and metal scale models were created for adult collectors. Lindamood did his part by patiently signing autographs at major events such as Detroit's Autorama, the Meadow Brook Concours, and the Chrysler Nationals in Carlisle, Pennsylvania. A stroke of luck was the timing of the Color Me Gone celebrity tour which coincided with the creation of the Walter P. Chrysler Museum in Auburn Hills, Michigan.  Between that facility's groundbreaking in 1996 and its opening in the fall of 1999, negotiations between Chrysler and the Ronzellos began in earnest to provide a permanent home for the 1964 Dodge Color Me Gone.
This is when the Ronzello's son, Dominic, proposed exchanging the 1964 Dodge 330 Color Me Gone replica for a 1998 Viper GT2.  The deal was signed and Color Me Gone became one of the featured cars at the Walter P. Chrysler Museum grand opening. It remains with Chrysler to this day.
The Dodge Viper RT/10 roadster went on sale in 1992 with the Viper GTS coupe following in 1996. The GTS-R race version also began campaigning in '96.  Success throughout the '97  season earned the Dodge Viper the driver and manufacturer championships in the FIA's highly competitive GT2 series.
To celebrate those accomplishments, a street-legal GT2 commemorative edition was proposed by Team Viper and approved by management. The design was frozen in January 1998 and parts were promptly ordered. In April, the special Viper was announced with a price of $85,200 and a production run of exactly 100 cars.  These GT2s were built in sequential order with the last three digits of their VINs beginning with 001 and ending with 100.  The corresponding number was engraved on an ID plate mounted prominently on each car's dash.
The GT2 design scheme copied the winning GTS-Rs with white paint with two wide blue center stripes. Aero touches included a prominent rear wing, front splitter, corner dive planes, and side sills. BBS aluminum wheels, a discrete American flag, and special GTS-R badges also graced the exterior. Inside trim was matching blue with Oreca five-point racing harnesses. Adding a low-restriction air filter and intake ducting under the hood boosted engine output to 460 hp, a gain of 10 hp.
Following the construction of a prototype for testing late in 1997, two pre-volume-production pilot GT2s were built in May 1998, a month ahead of production. The pilot with a VIN ending in 847 was the brochure vehicle, sent to various Chrysler events, and loaned to multiple enthusiast publications and television producers for publicity. The second pilot, VIN 848, was the Viper Team's engineering evaluation vehicle. Production GT2s were delivered to eager owners during the last half of 1998.
By the time the swap between the Ronzellos and the Chrysler Museum got down to brass tacks in 1999, all the production GT2s had been delivered to eager customers. Fortunately, the two pilot cars remained eligible for trade. Papers were drawn up to enable the trade of the GT2 Pilot 847 for the 1964 Color Me Gone. A semi delivered the GT2 to the Ronzellos and they in turn delivered Color Me Gone to the museum. GT2 Pilot 848 went on Museum display and remains in Chrysler's possession.
In a 1998 test, Car and Driver clocked a standard Viper GTS's acceleration to sixty mph in 3.9 seconds. In a run from zero to 150 mph and back to rest the GTS beat an Acura NSX, a Chevy Corvette, and a Porsche 911 Carrera by 4.3 to 13.6 seconds and by 687 to 2428 feet.
Enter Brian Willey, a 1999 Viper ACR owner, and Viper Owners Association (VOA) Regional President of the Capital Vipers. Having little knowledge of the GT2 program and intrigued after a conversation with Herb Helbig (retired Viper Team member known as the Grailkeeper), Willey expressed an interest in knowing more about the "un-numbered" GT2 after seeing a social media post from the July 2018 Carlisle Chrysler Nationals. Willey subsequently heard the GT2's story from Ronzello in August of 2018 during an hour-long phone conversation.
After researching the GT2 with the Viper Team for the better part of a year, Willey purchased the Viper GT2 pilot car from the Ronzellos last August for an undisclosed sum. Hagerty's valuation experts say a best-in-the-world, #1-condition Viper GT2 is easily in the six figures. The car shown here, of course, was driven hard for 9900 miles by Viper engineers and the unforgiving press. That said, its pilot car status and press exposure definitely enhances this car's level of intrigue.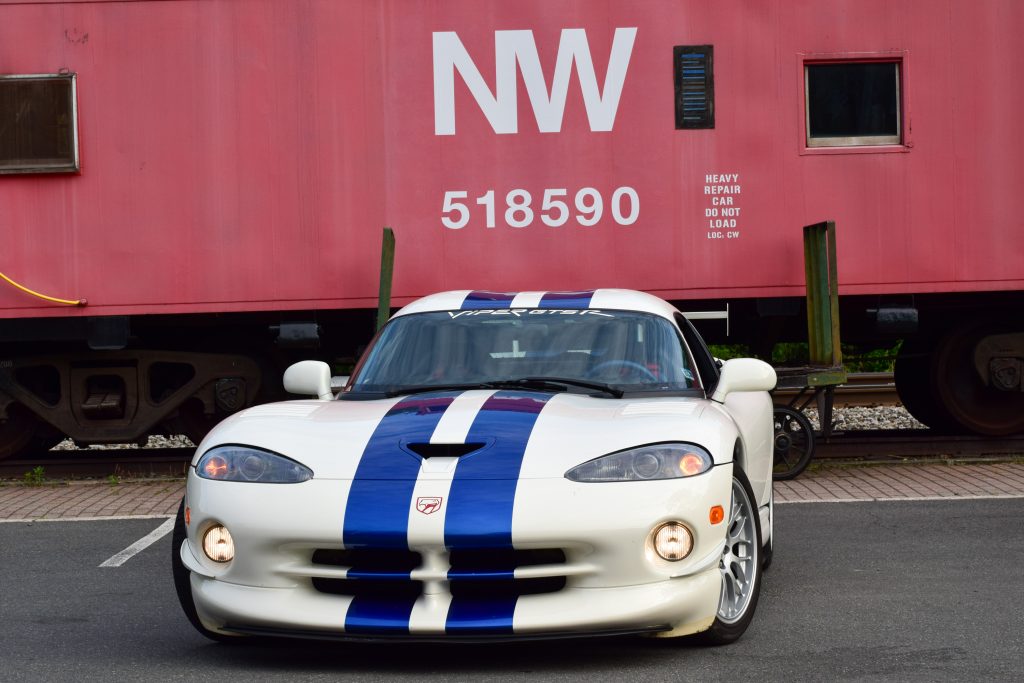 Brian and his wife reside near Fairfax, Virginia, and regularly drive their Viper GT2 to VOA and other events. Its odometer currently reads 11,500 miles. With many of the GT2s stored away in collections, Brian and Laura enjoy sharing their car with others and recounting Roger Lindamood's epic influence on the sport of drag racing.
Asked to explain his fascination with venomous snakes, Willey revealed, "I loved the Viper since I first saw one in 1989 and watched it pace Indy when we attended two years later. It only took 28 years to achieve my dream. I tell every Viper Team member I meet that their sports car was the last great automotive development program that should have never existed and that their creation could have been killed at any moment. This car was engineered under the brilliant leadership of Roy Sjoberg guiding a passionate team. The primal lust the Viper evoked in millions around the globe exists to this day."
We couldn't have said it better.