Your definitive 1967–72 Chevrolet C/K pickup buyer's guide
Trucks are the often-overlooked gateway into classic car ownership, and while interest may have started to pick up over the past five years or so, there are still a number of affordable options out there that have been largely ignored by the auction crowd.
The 1967–72 Chevrolet C/K is one of the most popular, reliable, and easiest-to-drive classic pickups you can find. This particular generation marks the turning point when Chevy realized it could offer truck buyers modern conveniences and comfort options in the same way it did sedan shoppers—a stunningly simple connection to make in retrospect, but one that blew the market wide open during a time when primary rival Ford steadfastly refusing to build anything other than the most utilitarian models for work use.
The end result was a sales phenomenon that would see GM prolong its dominance over the Blue Oval well into the mid-'70s, pushing millions of examples of this generation of truck out of the factories and onto the roads, farm fields, and dusty barns. The 1968–72 C/K proved that you didn't have to suffer a tin can cabin or a kidney-busting ride to get the job done.
Flash-forward to today, and Chevrolet's past progressive attitude has paid significant dividends for collectors. The driver-friendly nature of these trucks stands in stark contrast to both their predecessors and their contemporaries, the enormous production run guarantees no shortage of drivers or restoration candidates (although cream puffs are another story), and their dead-simple mechanicals make them inexpensive to maintain and even easier to update to more modern running gear.
Have we mentioned that it won't cost you much to step onto the C10 tilt-a-whirl? A good driver-quality '67 with a six-cylinder engine trades in the neighborhood of $7500, but if you want a V-8 it's typically only a couple thousand more. Even the best '72 V-8 truck is going to set you back a modest $35,000, and that's for a showroom-quality, completely stock example.
In between, and of course hovering above, are a myriad of customs, restomods, and rat rods beckoning for you to park them in your driveway. Which C/K is the right one for you? What are the pitfalls of pickup ownership, and what do you need to verify before handing over your hard-earned cash? We spoke with several classic Chevy truck owners, collectors, and restoration shops to get the answers.
There are so very, very many to choose from
When this particular generation of C/K appeared towards the tail-end of the 1960s, Chevrolet still considered its pickup program to be a commercial effort, with the vehicles aimed primarily at tradespeople, businesses, and farms. This explains, in part, why there were so many of these trucks built: more than two million half-tons alone, with a sizable number of three-quarter and full-ton heavy-duty trucks on top of that number (models that, like the GMC-branded C1500/K1500, are similar in many ways but which are outside the scope of this buying guide). This abundance of volume has proved a good thing, because as with many working-for-a-living trucks, there's been a significant rate of attrition over the past 50 years or so; examples were driven into the ground by owners who viewed them as no more than means to an end.
In terms of rarity—if such a term can be applied to a vehicle whose assembly line never cranked out fewer than 290,000 examples a year—1967 and 1971 are the least common, and 1969 the most common (with more than 400,000 being built, followed closely by 390,000 in 1972).
However, as mentioned above, 1967 also represented a sea-change in the corporate thinking at Chevrolet when it made a strong play to convince truck buyers that they could outfit their beasts of burden with the kind of comforts required to use them as daily transportation. As a result, the sheer variety and splendor of the C/K is unmatched for its era of pickups, with a startling number of options, drivetrains, and body styles available for mixing and matching. Colors were also sufficiently rainbow-like: 15 different choices in the first year alone, 20 in the second, and nearly 30 in the third, not including two-tone schemes and various sticker packages.
The importance (or unimportance) of originality
The result is that uncommon variants and option combinations of the C/K have attracted the strongest interest from the market. Drawing the most dollars are the short bed variants of the pickup, which are the rarest models from a sales mix that accented longer, task-focused cargo beds. It's a state of affairs that has also spawned a number of imitators.
"C10 short beds are what everyone wants," explains Carl White of White's Auto Service, a custom and restoration shop located in Niagara Falls well versed in Chevy pickups. "But a lot of people, including myself, end up buying long bed trucks cheaper and shortening them down. There are so many options now for replacing chassis components, that it all depends on what the end goal is for the owner."
This where things start to get murky, at least from the perspective of originality. It's not totally clear what value that concept even has in the C/K world.
"Trim models don't really play a huge factor anymore in my mind, as you can order every part new for these trucks and build them as you like, or simply reconstruct the model based on the RPO tag you found in the glove box."
Rob Phillips, owner of PCH Rods (builders of the famed C10R racing truck), agrees.
"Nowadays we're frequently seeing restorations with a custom twist—unique badging, modern drivetrains, suspension upgrades—that reflect the personality of the owner," he says. "This is especially true for those who want to use their trucks on a daily basis, which is extremely common here in southern California. In fact, there's a guy in my neighborhood who pulls a cement pumper behind his C10 to work and back every day. He bought it new, and it's the only truck he's ever owned for his business."
C/K identifying 101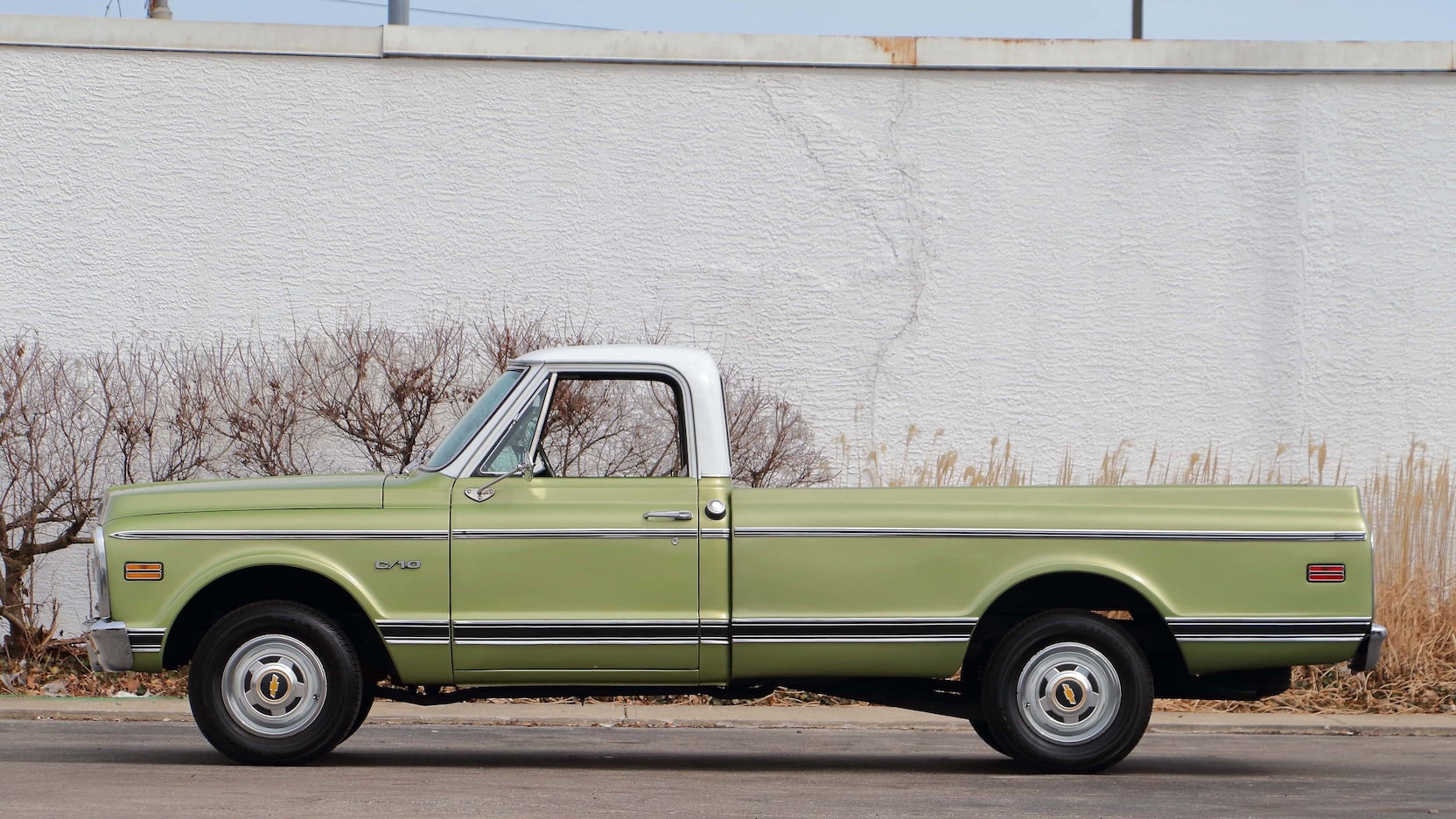 Trims might not matter, and options may be fluid, but it helps to have a grounding '67-'72 C/K basics when shopping for your truck.
Despite being a single "generation" of vehicle, the six-year span saw a number of styling changes and updates made to the pickup, typically in two-year increments. Stay with us if you can:
1967 models are recognizable by their low-angle hoods, rectangular grille openings with the parking lights embedded at either side and the and bowtie logo at the center (as well as on the fender emblems). This is also the only year that a small rear window cab was available versus the larger window found with all other C/Ks.
1968 trucks are very similar, but they added side marker lights front and rear due to federal regulations that went into effect immediately after the pickup's introduction, leaving designers no choice but to tack them on.
1969 saw the introduce of a steeper hood angle, the word CHEVROLET spelled out on a center grille bar, and the Bowtie logo moving to the middle of the hood's leading edge. This was also the first year for the egg crate grille.
1970 is a dead ringer for '69, with the addition of painted vertical grille bars.
1971 goes all-in on the egg crate grille design, pasting the Chevy logo in the middle and banishing the horizontal bar. Parking lights migrate to the bumper, while a black frame is drawn around the grille itself.
1972 deletes the black grille line, but maintains the status quo elsewhere in terms of exterior design.
It's also helpful to understand what, exactly, we mean when we talk about long and short box trucks. The C/K was offered with 6.5-foot and 8-foot cargo beds (as well as a chassis cab version), and while the former rode on a 115-inch wheelbase, the latter was stretched to 127 inches. There were also two different box "styles" available: fleetside, which is the long and smooth look, and stepside, which features bulging external wheel wells. Buyers could choose between wood and steel bed bottoms (both painted body color).
Just like the trend of slicing inches off a long-box to make it a short box, there have also been periods where stepsides became the "it" C/K to own, resulting in many conversions from fleetside models. Wood kits are readily available, which makes it easy to transform a steel bed, too. As with all things from this era of Chevy pickup, the word "original" is hard to police and doesn't necessarily hold the same currency as it does in other collector spheres.
Trim levels for the Chevrolet truck included base, Custom, CST (Custom Sport Truck), Cheyenne, Cheyenne Super, and Cheyenne Highlander. In terms of gear, you can think of them essentially in that order in terms of how many niceties and features were included.
"My truck, a '71, is a Cheyenne Super," says Howard Elmer, classic pickup enthusiast and mastermind behind the Canadian Truck King Challenge. "This means it has a headliner, embossed vinyl throughout the interior, stick-on wood grain on the glove box, all sorts of little things that we laugh at today but which were optional and unheard of back then in a pickup. It's got every option in it that you could buy in 1971, with the exception of air conditioning, which would have been a $500 splurge on top of the $2700 price the original owner paid for the pickup."
A quick rule of thumb is that originally, stepside trucks (being the base model), tended towards the low end of the feature spectrum, as they were typically ordered by fleet managers. Still, most C/K experts caution against reading too much into the trim level of truck you're looking at, given their Lego-like, mix-and-match feature character.
"GM allowed you to add stuff to these trucks that you couldn't necessarily find in a dealership brochure," Rob Phillips explains. "If you knew your way around an order sheet, you could spec them pretty much how you wanted, and I've come across some very unique, one-of-one type combos of features, drivetrains, and colors over the years as a result, with a collection of build sheets and old flyers to match here in my shop."
Combined with the incredible ease with which features can be added or removed from the C/K, the vehicle's Service Parts IDentification (SPID) sticker (originally slapped inside the glove box)  is more of a suggestion at this point in its lifetime. It contains a brief description of the C/K's features, as well as their Regular Production Option or RPO codes, of which there are hundreds describing everything from wheel types to trailer hookups to the tachometers that were available with the vehicle. It is not something you should get too hung up on when buying, as it's better to purchase a truck that has the equipment you want rather obsessing over what it left the factory with.
That options sticker will also include the truck's VIN, which is of course intended to match what's on the door plate (located on the driver's door jamb). But again, if it doesn't, it's not a major problem if the rest of the truck is what you are looking for.
There's also a partial VIN on the upper driver's side frame rail near the transmission, and the last few numbers should echo what's on the VIN plate. This one's not easy to inspect—you might have to remove the cab to get at it—but if there's no VIN plate anywhere else, and you need one to get your truck registered, matching the frame to the existing title could be enough to push you over the edge into legality at your local DMV. One more spot where the VIN shows up is the Protect O Plate (POP), a metal data plate included on the final page of the original warranty booklet that was used to emboss claims through GM's Addressograph device at the dealership.
Where you won't find a VIN? On the engine block, which only includes an ID number telling you what type of motor you're looking at, and when it was built (the same is true of the transmission and rear differential). This means the concept of a "numbers-matching" C/K is somewhat nebulous, because while you can always date-code a motor to the right time period for the example you are inspecting (and match it with what the truck's VIN specifies), you won't be able to verify that it's the original, left-the-factory-with-it motor. Again, this only furthers the "not a big deal if it's not OG" attitude associated with C/K values.
The VIN can definitely tell you a few things about the truck, of course. Each starts with two letters, then five numbers, then a five-digit unique identifier. If the first letter is a 'C' then it's a two-wheel drive truck, and if it's a K, it's four-wheel drive (explaining the C/K moniker). The next letter determines how many cylinders the truck originally had–E for 8, S for 6–while the remaining numbers describe, in this order, gross vehicle weight (2 for all half-tons), wheelbase (07 for short bed, 09 for long bed), and body style (03 for chassis cab, 04 for stepside, 34 for fleetside). If you see any other numbers in those first five, you could be looking at a transplanted VIN plate from a Blazer, Suburban, Panel, or three-quarter/full-ton truck, each of which shares the same format.
Motors and modernization
By now you probably won't be surprised to learn that in addition to the couple of hundred RPO-code options, the C/K was also offered with a long list of engine choices.
First-year Chevrolet trucks were sold with a choice of two straight-sixes, 250 cubic inches and 292 cubic inches, respectively, that would last the entire run while GMC trucks came with  a 305-cu-in V-6 as the base engine. Both trucks were available with 283-cu-in and 327-cu-in small-block V-8s.  The latter was good for roughly 240 horsepower according to the gross rating standards of the day, but '68 buyers in search of more grunt could opt for a 396 big-block that churned out 310 horses and 400 lb-ft of torque while the 283 was replaced by a 307-cu-in V-8.
By 1969 the 327 was replaced by a 350 V-8, which generated 255 horsepower. The 396 soldiered on until '71, when it was punched out to 402 cu in and labeled the 400, producing nearly exactly the same power as it did in 396 guise (despite a consumer-scaring switch to net horsepower ratings in most advertising).
Fun fact: all 396 engines across the Chevy lineup were actually bored 0.30 over in 1969 due to lax emissions standards for engines over 400 cubic inches. In the Chevelle, which had built an entire brand around the 396, Chevrolet kept this hush-hush, but in the pickups, where it was known by the L47 RPO code, it was alternately labeled 396 or 400, confusing gearheads for decades afterwards.
Transmission choices for the C/K included three-speed and four-speed manuals, and two-speed and three-speed automatics. What gearbox was married to which motor is another tangled web that's almost impossible to unweave given the promiscuity with which some buyers approached the RPO process, with unadvertised big block/four-speed combos rising up from the fray here and there, or being created later in life by custom shops.
Of course, as with any SBC-equipped vehicle, it's beyond easy to drop almost any small-block under the hood of a '67–72 C/K and enjoy more power and drivability. This has become an increasingly common upgrade, and you might be surprised to find out that switching to 21st century horsepower doesn't necessarily impact the value of a classic truck.
"The LS engine has become the most common replacement engine in the last 10 years, because of how cheap they are to obtain and how reliable they are," says Phillips.
But that's not the only modification that's popular with these trucks. The C/K's coil spring suspension design (standard on two-wheel drive, with optional rear leafs, while four-wheel drive models had leaf springs at all four corners) lends itself well to modernization. In the same "making it better to drive" vein, the C/K gained front disc brakes in 1971, and it's a popular retrofit.
"Over that same period, owners have been moving towards coilover conversion, because it doesn't just improve handling but it allows custom builders to go low without sacrificing ride quality," continues Philips. "In fact, a lot of what's available for the truck right now on the performance suspension side came out in the wake of what we were accomplishing on the road course with the C10 R that we built."
"We have customers that want that old nostalgia of driving one of these trucks because their dad or grandfather had one," Carl White confirms. "But honestly, most people are modifying them to be more like a daily driver. And that can include adding things like air conditioning to the mix."
"If you're looking to modify the truck (slam it, chop it, etc) get the cheapest straight-six C10 you can."
What to look out for when buying a Chevrolet C/K
Even though the 1967–72 Chevrolet C/K isn't known for being particularly susceptible to the tin worm, there are a few problem areas that should be inspected prior to purchase.
"You'll want to look at wheel wells, cab corners, anywhere dirt and moisture will sit," Elmer says. "There are drain holes at the front of cab, but they're small and get jammed up real easy. Rain gutters on these trucks are also bad for rust. Sometimes you'll find silicon caulking that's been shoved down inside the gutter and then painted over."
Philips concurs.
"The drip rail can be a lot of work to fix, and you may have to find another cab to get the parts. You can also sometimes get rust where the toe board meets the rocker, but that's an easier repair. Of course, I once had a truck where someone had stuck a beer can in the rocker panel and then slapped Bondo over it, so make sure you take a real close look before buying," he says, laughing.
"Condition, condition, condition," White stresses. "Finding a clean truck is key when building or restoring. A clean southern original paint, with the right patina, is worth every dollar because here you know what you are getting without the risk of hidden surprises behind freshly-painted, auction-ready sheet metal."
For the most part, however, almost every single piece for the C/K is reproduced and readily available—including body panels and even frame components. Mechanically, they're stout, with Elmer mentioning bad fuel gauge sensors as one of the most common issues.
"Always remember to replace all the old rubber, too," Elmer says. "I don't care how good it looks. It's old, and micro-cracks in belts, bushings, and hoses are a real thing. Spend the thousand bucks, get rid of it, and have peace of mind."
Buying the right Chevrolet C/K for you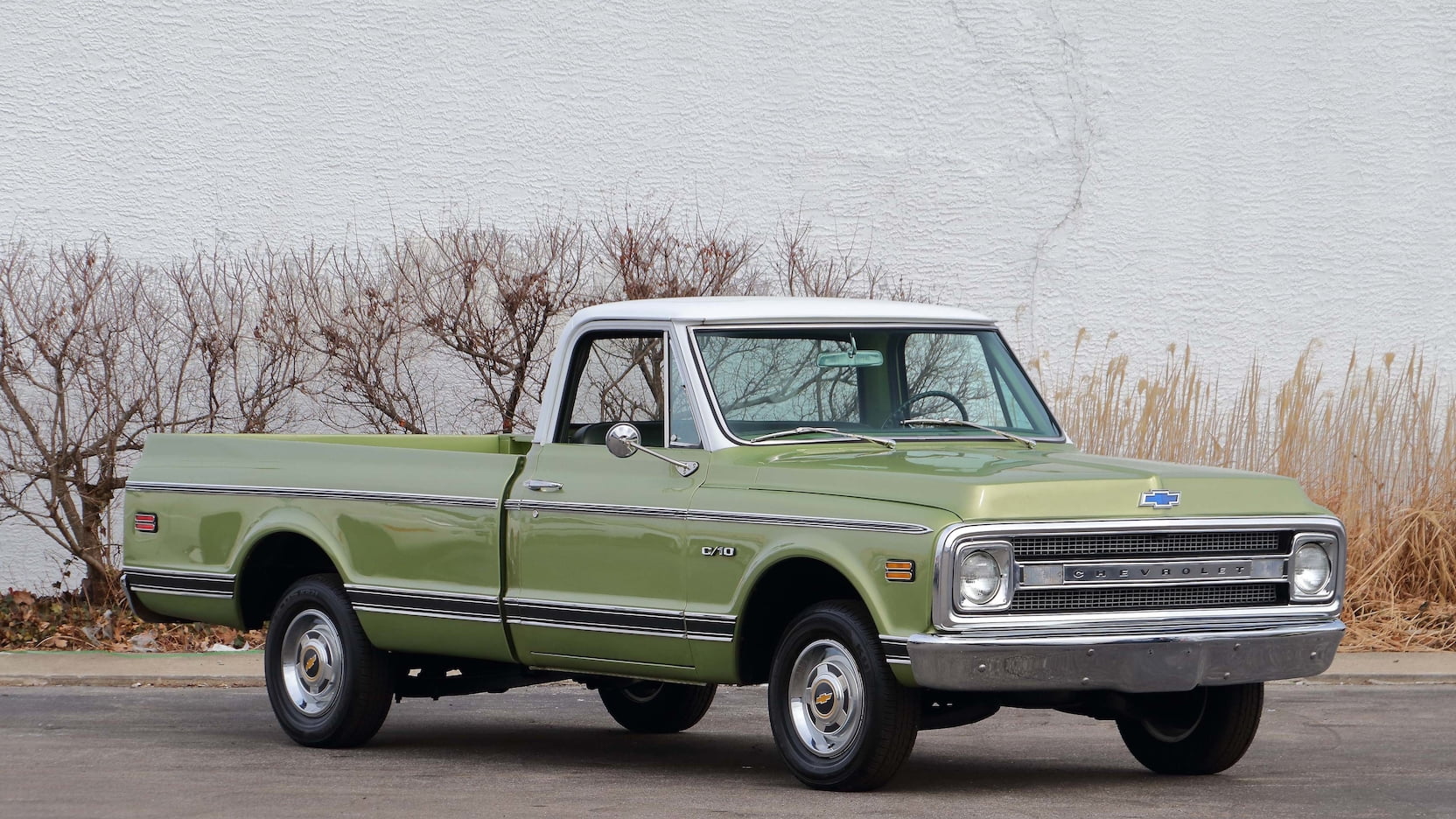 It's hard to think of a more novice-friendly classic vehicle than the 1967–72 Chevrolet C/K. There were so many different versions built that finding, or building, the truck that best meets your needs and desires is relatively easy. The fact that so many of these vehicles have strayed far from their original spec—and that there's no real C/K template for originality as with other collector cars—also means you can largely avoid the purist police should you choose to modernize your pickup for better performance or easier day-to-day use.
Second-generation C/K trucks aren't just an affordable, comfortable, and stylish way to sample the world of classic vehicles, they're also an important pivot point in the world of pickups that represents a clear link between the hyper-lux models available today and the spartan workhorses of old.
Howard Elmer agrees.
"It's fascinating that the market for these more comfortable trucks existed all the way back then, and yet the OEMS—especially Ford, which was stuck with its single-spec Model T mentality—were so slow to wake up to the fact that if they made these driver-friendly options available, people would buy them. It's the exact opposite of the attitude today. And the C/K was the line in the sand."