Your definitive 1968–70 Dodge Charger buyer's guide
Few classic muscle cars have lived as large in the public eye as the second-generation Dodge Charger. Mythologized by the baddies in Bullitt, and then popularized by a pair of cousins never meanin' no harm in Hazzard County, the wicked wedge shape of Chargers built from 1968–70 have become instantly recognizable shorthand for cool, fast, and ferocious.
The second-gen Charger is a car that needs almost no introduction, but there are a few interesting things to note about the origins of this B-body battler. When it arrived for '68, it replaced a more sedately-styled, GT-oriented Charger that had hewed closer to its shared Dodge Coronet roots.
The model had been originally conceived to join the similarly-styled Plymouth Barracuda in a Pentastar bid to beat back the enormously successful Ford Mustang. It wasn't until the Charger traded its long, sloping fastback in favor of more Coke bottle-inspired body-work, however, that it found its audience. Mechanically, there were more similarities than differences, but the new-look coupe was a much bigger hit with buyers and would outsell the 1967 model by a factor of six in its first year alone.
Factor in the glamour, combined with the general fervor for '60s muscle that has gripped the market for at least the last decade, and the price of entry for this model Dodge Charger can vary wildly. Base 1968 small-block V-8 cars run just over $22,000 for a good driver, while a concours-level 1970 Charger R/T with a 426 Hemi can run you close to a quarter of a million dollars—and add another $200k if you're interested in the be-winged NASCAR-special Daytona (which is outside the scope of this buyer's guide).
As with any potential classic car purchase, it pays to look before you leap, especially when considering a 50-year-old Charger that has potentially been exposed to the elements, amateur repair efforts of previous owners, and general automotive entropy. What are the trouble spots to look for and the details you need to know before handing over the cash and snagging the keys to a new-to-you muscle machine? To find out, we spoke with a former Charger owner and Tim Wellborn of the Wellborn Muscle Car Museum. Located in Alexander City, Alabama, the Wellborn is one of the country's most trusted repositories of Mopar mania.
No shortage
As mentioned above, the 1968 Dodge Charger was a revelation in terms of sales for Chrysler; 96,000 were built for that model year alone, which was a huge improvement over the more lackluster movement of the '66–67 editions. Very nearly the same number left the factory in 1969 (89,199), with production halving (46,315) by the third and final year of production (due in large part to the introduction of the Challenger coupe, which soaked up significant muscle sales from Dodge).
With roughly a quarter of a million third-gen Dodge Chargers having once roamed the earth, it's reasonable to assume that there are still a lot of reasonable-condition examples out there, and for the most part this is true. Wellborn explains that for collectors, the heat in the Charger market centers on scarcity—specifically, unique options combinations and rare drivetrains.
"Everyone knows that the Hemi engine commands a big premium, but right behind it, for 1970, is the 440-cubic-inch V-8 with the six-pack carburetor setup," Wellborn says. "It was only available that year. Also, 1970 was the year that Dodge introduced the 'high impact' colors, like Plum Crazy and Panther Pink, so you start adding those into the mix—along with options like the SE Package—and you start to end up with unique and rare cars. For example, I have a '70 Charger with a 440 Six Pack in Panther Pink at the museum, and it's one of two that were built."
Although 1970 is the high point for the Charger fanatics seeking out low-production colors, interiors, and engines, Wellborn points out that in 1969 models like the Charger 500 (built for competition in NASCAR with a flush rear window and a unique grille) are also more desirable for their scarcity. Throw in the fact that only 67 Charger 500s came with the optional Hemi rather than their standard 440, and the "not many left" dance begins anew. The '68 model came with fewest possible option combinations, making it generally the most affordable year for the car.
Identifying marks
All Dodge Charger VINs begin with an X, followed by a letter than identifies their price class in the line-up (S for Special, P for Premium, and X for Fast Top, like the Charger 500 and the Daytona), and then the number 29 to indicate the two-door hardtop coupe body style. The fifth character refers to the vehicle's engine (J for Hemi, H for four-barrel 383-cu-in V-8, for example). The sixth digit reveals the model year, and the seventh letter designates the plant the Charger was built in. A six-digit serial number rounds out the VIN.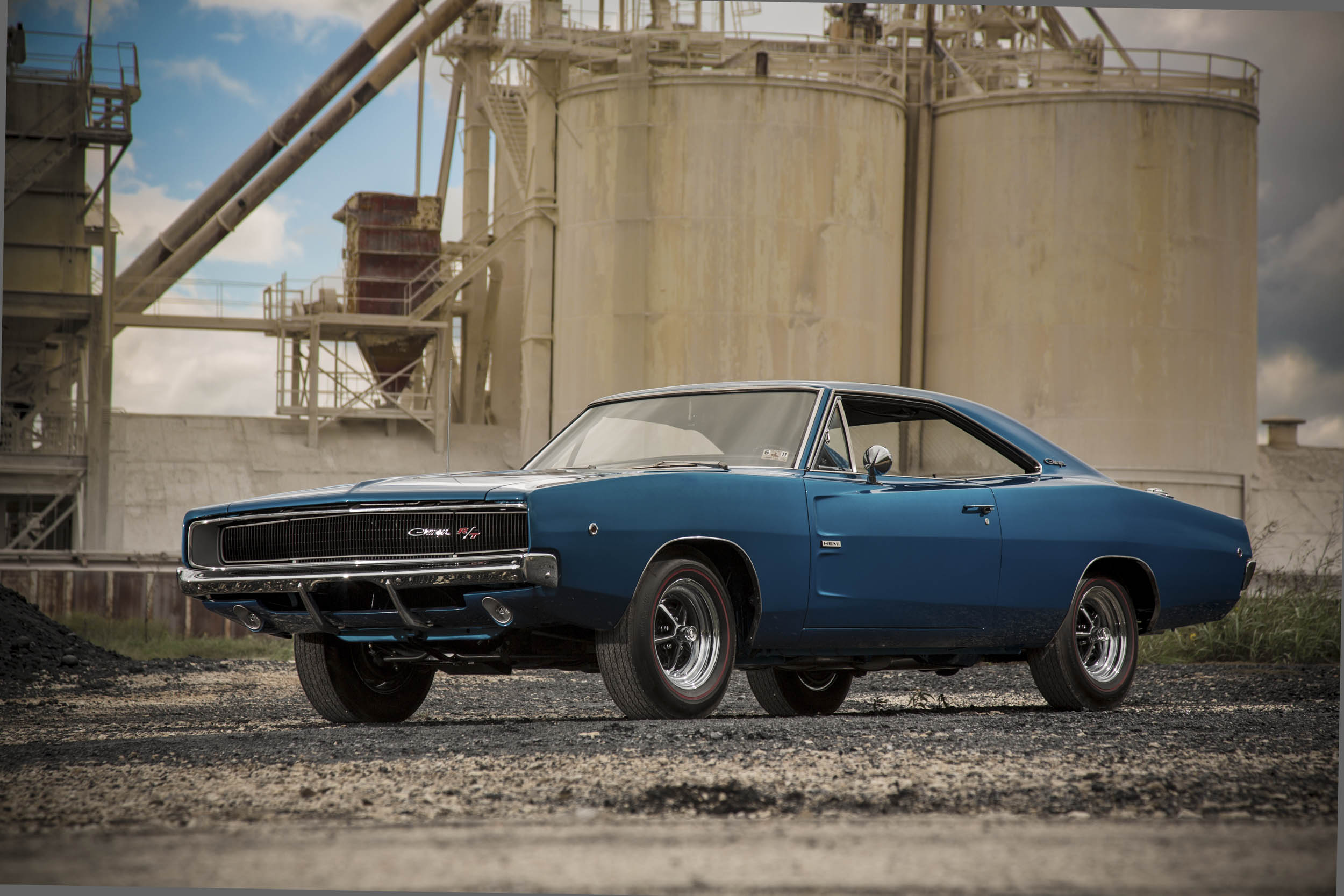 The VIN plate was mounted on the left side of the dashboard's instrument panel for all three years the second-gen Charger was produced. Fender tags are usually on the driver's side of the inner fender, although sometimes you might find them on the right because, well, it was the '60s. The 1968 tags are formatted differently from those in '69 and '70—they show the Vehicle Order Number (VON) from the order sheet rather than the VIN. If you're lucky, you might even dig up the car's build sheet behind the rear seat or under the cushion.
You'll find the VIN's serial number stamped on the passenger side of a Charger's engine block at the same level as the frost plugs, at the front beside where the distributor sits, and on the top or on the side of the transmission housing. Some motors may also show it on the lower right side of above the oil pan or the top rear of the block, and not all stampings will include the full VIN.
For 1968 cars, there's also a serial stamping on the radiator cradle and the trunk lip that will match the fender tag VON on the car, not the VIN number. For 1969 and '70, the body stampings will match the VIN.
Gross power
One thing that's important to remember when talking about the engine options offered with the 1968–70 Dodge Charger is that the cars were advertised based on gross horsepower. That means ratings were derived from motors running on test stands with no accessories, exhaust systems, emissions equipment, intake filters, or transmissions siphoning away output.
They were also corrected to standard atmospheric pressure, which further distorted their accuracy as compared to modern net horsepower ratings. Throw in weird corporate edicts associated with racing, insurance issues, and just plain industry politics, and things get even muddier. All that said, we'll stick with the as-posted original numbers for each particular motor in the interests of simplicity and historical continuity.
Surprisingly, the 1968–70 Dodge Charger wasn't big-block only, which means that a number of the more affordable models can be found with either a modest 318-cu-in V-8 rated at 230 hp and 320 lb-ft of torque (initially the base motor) or (starting in mid-1968) a rarer slant-six that displaced 225 cubic inches and offered up 145 horses and 215 lb-ft.
Common across all three years is a 383-cu-in V-8, which in '68 generated either 290 horses and 390 lb-ft of torque in two-barrel form, or 330/425 with a four-barrel installed at the factory. A later 383 Magnum version of this engine added five extra ponies. A 440-cu-in Magnum V-8 was also available right out of the gate (375 hp, 480 lb-ft of torque or 390/490 with the six-pack carbs), as was the famous 426-cu-in Hemi (425 hp/490 lb-ft).
Transmission choices include three- and four-speed manuals, as well as a three-speed automatic (with all four-speed R/T cars featuring a Hurst shifter). Several different rear end gears were on offer, too, including factory lockers as high as 3.55:1.
Tim Wellborn points out that, like the six pack for the 440, any Charger with a four-speed manual transmission is going to command a premium. "The most desirable combination is, of course, the four-speed and the Hemi," he says. "But in 1970 they added a pistol-grip shifter as an option, and Mopar collectors flock to that particular setup."
Taste the rainbow
When first introduced, the 1968 Dodge Charger was sold in just two models, base and R/T, with the latter scooping up nearly 20 percent of sales. Opting for the R/T added the 440 Magnum and cleared the way for the Hemi to fit under the hood, too. It also included wrap-around stripes on the rear fenders and trunk deck, upgraded suspension, dual exhaust, and a standard three-speed automatic.
You could add front disc brakes to your R/T, too, which is something former owner Bradley Iger highly recommends retrofitting if the model you're looking at doesn't have this feature. "B-body drum brakes are kind of terrifying in modern traffic," he says. "It's a must if you plan to drive your Charger regularly."
In addition to the unique race-ready aero and Coronet fascia found on the Charger 500 (that appeared as a '69 model), the second-year cars are identifiable by their split grille and full-deck tail lights that stood in for the round units available in '68. A tape deck and cruise control represented the car's optional creature comforts (along with a tachometer), while the Special Edition (SE) option package added a wood steering wheel, a spiffy gauge cluster, leather bucket seats, unique wheel covers, and turn signals mounted on the hood.
The 1970 Dodge Charger is almost identical in appearance to its predecessor, but measures one inch longer thanks to a new front bumper (and again, taillights were revised). It loses the tail stripe, but gains faux air intakes set into the doors just behind the front fenders. The Charger 500 saw itself morph from NASCAR entry to mid-tier trim level, but the R/T remained available, as did the SE package, largely mimicking the equipment that was offered previously.
"You could get a sunroof, too, as an option with the Charger, but it's extremely rare—especially with the Hemi engine," Wellborn says. "There are less than 14 Hemi-powered anythings with a sunroof in the entire world, let alone Chargers, so they are highly coveted."
As Wellborn mentioned earlier, the craziest Mopar colors splashed their way on to the scene for 1970, with names as colorful as their pigmentation: Go Mango, Sublime, Butterscotch, Panther Pink, Top Banana, Green Go, Plum Crazy, and, of course, Hemi Orange. Interestingly, these colors weren't exclusive to the Charger—anyone willing to plunk down an extra $15 bucks ($98 in today's money) could have almost any Chrysler sprayed according to their tastes (although names varied depending on whether you ordered a Dodge or a Plymouth/Chrysler product).
Unlike today, even the standard paint palette for the Charger ranged far and wide, with almost every shade imaginable available at ordering time. Production numbers for more common colors are extremely difficult to pin down, as Chrysler wasn't particularly interested in keeping records at that stage in its corporate evolution, but Wellborn says values are often directly tied to something he calls "eye snap."
"It's not just the outside, but the inside that counts here, too," he says. "You look at a '70 purple Charger R/T with a white interior, and that's another premium when it comes time to buy. Any time you see a white interior on any of these cars, it adds an extra 15–20 percent. People love the white interiors."
Upholstery on the roof was popular as well, with a full three-quarters of 1968 Chargers coming with vinyl tops. Over the lifespan of the model, available roof shades included tan, black, green, and white.
As always, rust
There's good news and bad news when it comes to those seeking either a restoration candidate or a driver-quality car.
First, the good. Mechanically, the Charger is very reliable. The engines and transmissions are dead simple, the running gear is stout, and there aren't all that many vehicle systems that punched above their weight in terms of late-'60s design.
"There's a vacuum reservoir canister that the car uses to operate the headlight covers," Iger says. "The seals on it are prone to failure. I had some trouble locating a NOS canister when I needed to replace mine, but parts availability is much better now than it was when I had to do the repair."
Wellborn agrees. "Almost everything you'll need to repair on the car has been reproduced, including all the sheet metal."
That helps mitigate some of the bad news, which is the typical B-body rust that plagues almost every Dodge Charger at some stage in its life.
"The most common spots are the trunk floor and floor pans, which are notorious on even an 'almost not rusty' car," Wellborn says. "This is because all of the windshields on the '68 Charger especially, and also the back window under the chrome, leaked. Rubber mats also trapped moisture in the trunk."
Other problem areas are immediately around the hood hinges, where bubbling can indicate serious corrosion that's lurking, sight-unseen, as well as the rear quarter panels, which Wellborn says is the No. 1 spot to check for amateur repairs from a previous owner.
Don't fixate on originality
As always, with any classic car it makes the most sense to buy the best example you can afford rather than try to finish someone else's project or get deep into a high end restoration of your own.
"If you're buying a 383 or 440 car, you'll be upside-down real quick if you try to do a restoration," Wellborn says, laying down the economic truth. "If you do buy a previously-restored car, make sure there's a name attached to the work that's been done, one that's recognized in the industry, and you'll always come out ahead. The only real exception to this rule would be finding a rough-condition Hemi or a six-pack car in a barn and paying a very reasonable price for it—you might be able to recoup your restoration costs in that case."
So much of the focus in the world of muscle car collecting revolves around the concept of a "numbers-matching original" car (that is to say a vehicle that still features the motor and transmission it left the factory with). Surprisingly, despite being a self-described purist, Wellborn feels that there are more important things to focus on when shopping for a Charger.
"The three main factors that drive value for a second-gen Charger are color, engine, and options," he says. "Let's say you've got a beautiful 1970 Plum Crazy Hemi Charger with a four-speed and a motor it wasn't born with. Now, if it has the correct date-range block in it, the color and the options really come in to play here. It's not like you can go out and order a new '70 Charger anywhere, so there's a strong chance a car like that will bring almost as much money as the 'real deal.'"
Once again, it all comes down to the eye snap—and getting the car that's right for you.
"A lot of people get tied up with 'Well, it ain't the original motor.' Well, you know what? We all would like to have it, but we can't always have it, and when you've got a beautiful machine and it's a true six pack or 440 or Hemi, buy it! It's still going to bring practically the same money when you've got the exact right options and colors on it for a buyer. With a white vinyl top, white interior, and a white butt stripe on a purple car… Wow, you've got all the eye snap in the world."