What Drives You: The need for speed and back again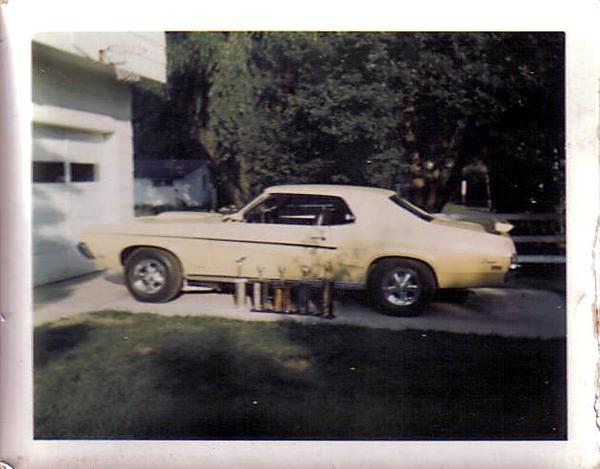 Of the 100,085 1969 Mercury Cougars produced, 66,351 were hardtops, and 510 of those came with the Ram Air 428SCJ-4V engine. Automatic transmissions were installed in 304 of the 510. From there, 162 were equipped with the Eliminator Package, of which 61 were painted bright yellow, and 53 featured Black Hi-Back Bucket Seats. Next, 17 were ordered with a Super Cobra Jet Engine, 10 of which had Drag Paks with 3.91 Traction-Lok rear axles. Then, three were equipped with hood pins. Only one had clear glass. This is Loren Baldwin's Cougar.
The story begins in 1969, when Loren's dad, Dave Baldwin, was 20 years old and preparing to leave for Army basic training. He was visiting with his friends at the Gene Crane Lincoln-Mercury dealership in Ironton, Ohio, and sitting disassembled in their shop was a brand new yellow 1969 Mercury Cougar Eliminator, originally purchased by Mr. Crane, the owner of the shop, to use as a racing and demonstration vehicle.
The Eliminator had only 60 miles on the odometer when it spun a main bearing, and the mechanics in the service department had disassembled the engine and installed a new crank shaft and bearings. When it was reassembled, it shook horribly, and the engine was disassembled a second time to determine why, but no clear explanation was found. As the car sat in the service bay, Dave left for the Army.
A factory representative dropped by for a thorough inspection and discovered the wrong crankshaft had been installed; they'd used a 1UB Cobra Jet crank instead of the correct 1UA Super crankshaft. From there, the mechanics referenced the original crankshaft and ordered the correct one. In August, the crankshaft arrived and the entire rotating assembly was sent out to be balanced, completely diminishing the pronounced shake. Yet, it still sat when Dave returned from his training in December.
When visiting friends back at the dealership, Dave couldn't help but notice the Eliminator was still parked in the service bay, so he asked why the car hadn't been sold. "Everyone's afraid of it because the engine has been taken apart," Mr. Crane said. "Would you like to go for a ride?" They drove around to the back; the polyglas tires laid down rubber as Dave was pinned back into the seat. "How much would you take for it?" Dave asked. The car came home on Dec. 31, 1969. As you can imagine, winter went by very slowly that year.
Springtime rolled around, and the addiction to horsepower continued at the drag strip. Dave's fastest time was 13.11 seconds on slicks, but there was potential for greater speed. Dave was close friends with Roger Gustin, owner of Gustin Brothers Racing and a world-renowned Jet Drag-racer, and after numerous discussions Dave knew what needed to be done. The car received medium-rise cylinder heads, a dual-point distributor, an aluminum riser intake and a 427 hydraulic cam — valve springs were also replaced to fix a valve float issue. With all of that and a new set of Jardine competition-only headers installed, Dave hit the track.
The Eliminator was then in the low-12 second range, but it still wasn't fast enough. For better weight transfer, the 90/10 shocks were installed. Next, the stock fuel pump was replaced with an electric one, and an aftermarket timing chain was added. To optimize exhaust flow, the header collector was modified, and a 4.30 Detroit Trac-Lock out of a brand new 1970 Mercury Cyclone was used in place of the original. The final touch was to re-jet the Holley carb.
Dave shot down the strip in 11.70 seconds — sweet success. The Eliminator beat out most cars that were up to a challenge, and gave the remainder a run for their money. By late-1972, the car had approximately 19,000 miles on the odometer, and Dave was helping Roger receive a sponsorship with a Pro Stock Maverick. Dave made the difficult decision to trade the Mercury Eliminator for a Ford Grand Torino Sport. The Eliminator was promptly purchased and taken out to California, leaving an empty feeling in Dave's heart.
For years, son Loren wondered what had become of the Eliminator: Had it gone to car heaven, or perhaps to a museum? Loren, longing to find the car and purchase it as a surprise birthday present for his dad, ordered a vehicle report in an attempt to track it. Three days later, Loren received a call stating that the car owner had been found, and they gave the current owner Loren's contact information. Coincidentally, Dave was also in the car, and Loren was understandably unable to hold back his excitement. Needless to say, it was still a big surprise for Dave.
A half-hour later, the owner called. Arrangements were made to see the car, by then located in Georgia. Dave and Loren could barely contain themselves.
"After years of hearing stories, sitting in the car for the first time was just amazing," said Loren. While they were there, the owner shared more history on the car: It was one of four — even rarer than Loren or Dave anticipated — and he had found it in rough condition. Photos revealed the state it was in when found, along with the restoration work that had been done while in the new owner's care. "It was a pleasure meeting him and we thanked him profusely for saving the car from oblivion," said Loren.
Upon their return home, the car report papers were delivered. They opened the envelope, staring blankly at the words in front of them. The car was a one of one.
A year went by without much contact from the owner until October 2007, when Loren received what he thought was a spam email. Two days later, he received the same email and opened it. The owner of the Eliminator was ready to sell. "I immediately called my dad and told him he better sit down because I have news that will blow his socks off. I was right; he practically fell out of his chair," Loren said.
Two weeks later, the car was in their driveway, back home after a 38-year hiatus. The restoration will be a long and painstaking process; the entire car will be lovingly taken apart and documented, and re-assembled back to her former glory — perhaps even better.