Collectible Classic: 1959-60 Chevrolet El Camino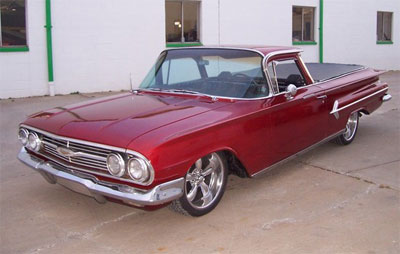 In the mid-1950s, the notion of a luxury truck was an oxymoron. Back then, trucks were strictly blue-collar functional machines. Power windows, air conditioning, even hubcaps were unheard of in cargo haulers of the era. The first tentative steps toward today's mega trucks were made by Chevrolet with the 1955 introduction of the Cameo Carrier, a pickup that incorporated such niceties as two-tone paint, loads of chrome, power steering and brakes, automatic transmission and the new small block V-8.
Though not a sales success, Chevy's gussied-up truck apparently made a big impression with Ford product planners who countered with the Ranchero in 1957. It was a true car-based pickup with a low stance and all the styling elements of Ford's passenger cars of the era, except that a pickup bed began just aft of the front doors. Unlike the Cameo, the pickup bed was integral to the body, giving a smooth, sleek look.
It was just a matter of time before Chevy soon fired back with its own pickup car, the El Camino. Launched in 1959, the year of Chevy's infamous gullwing rear treatment; it featured a flat roof, wrap-around windshield and super thin pillars and the radical horizontal nostril-topped grill. The look was more akin to a space vehicle than a truck. As sputnik orbited, Chevy's kooky hauler turned heads. The fun continued in 1960 with all the same styling mods as Chevy's full sized cars; the front end was toned down a bit, the horizontal fins continued but the strange and spooky horizontal taillights were replaced with more modest round ones nestled under the fin flaps.
The same powertrain choices that could be had in the Chevy passenger cars were available in El Camino. These ranged from the "stove bolt" six to the reliable 283 V-8 and the big block 348. These cars, er, trucks were titanic in dimension, as befits a conveyance with interstellar overtones. At 17½ feet in length, these were longer than Cadillacs but the load bed was only 5' 8". Some sport, some utility but not a lot of either; the look is, nonetheless, enduring.
It's difficult today to find a '59 or '60 El Camino that hasn't been customized in some way. Street rodders favor replacing the rear lights with '59 Cadillac rocket lenses, giving them black paint treatments, usually in conjunction with some street-scraping lowering. The result can make an already radical design even more sinister and otherworldly.
If the idea of a car that's a truck appeals to you, the first generation El Camino is the one to get. It's a crazy ride that'll scare the neighbors. If that's not utility, what is?
WHAT TO PAY: $10,000–$19,000. If you can find one, you'll pay a substantial premium for a 348 equipped with solid lifters.
BODY STYLES: Two-door, three-passenger pickup
PRODUCTION FIGURES: 36,409
WATCH OUT FOR: rust in the pickup bed, metal fatigue
READ MORE:Chevy El Camino and SS, 1959-1987 by R.M. Clarke (Brooklands Books); Chevrolet El Camino: Photo History: Including GMC Sprint & Caballero by Monty Montgomery
CLUBS: El Camino Classics Club, Everett , WA , www.elcaminoclassics.com; National El Camino Owners Association, elcaminocentral.com.
SPARES: Classic Performance Products, Buena Park , CA , 714-522-2000 , www.classicperform.com; C.A.R.S. Inc., Berkley , MI , 248-398-7100 , www.carsinc.com; Frank Botte, BaldwinNY , www.chevychevy.com
– Bob Merlis