The majestic Citroën SM celebrates its 50th anniversary in Paris
If you remember Citroën's last executive car, the C6 built between 2005–2012, you know the French company isn't afraid of putting the lines of a daring concept pretty much straight into production. As a result, Citroën might be back to making cheap and cheerful machines positioned under Peugeot's lineup for now—however, with PSA's premium brand DS also trying to find its way, another high-end model carrying that magical Citroën DNA might just have a chance. However, it's unlikely for a future product to wow the crowds as universally as the SM did in 1970—and in the fifty years since.
Known initially as "Project S," the SM started out as Citroën engineering boss Jacques Né's 24 Hours of Le Mans initiative, which managing director Pierre Bercot quickly turned into the development of a luxury grand tourer, positioned above its aging DS.
To save costs, the team of Jean Giret and Jacques Charreton had to come up with a car that could be based on the DS chassis and assembled on the same lines at the Quai de Javel in Paris. Somewhat inconveniently, the stamping and fitting of the bodies had to be performed separately, in the Chausson de Gennevilliers factory. In 1968, Citroen also bought troubled Maserati so that the French company's new flagship could have a fitting engine.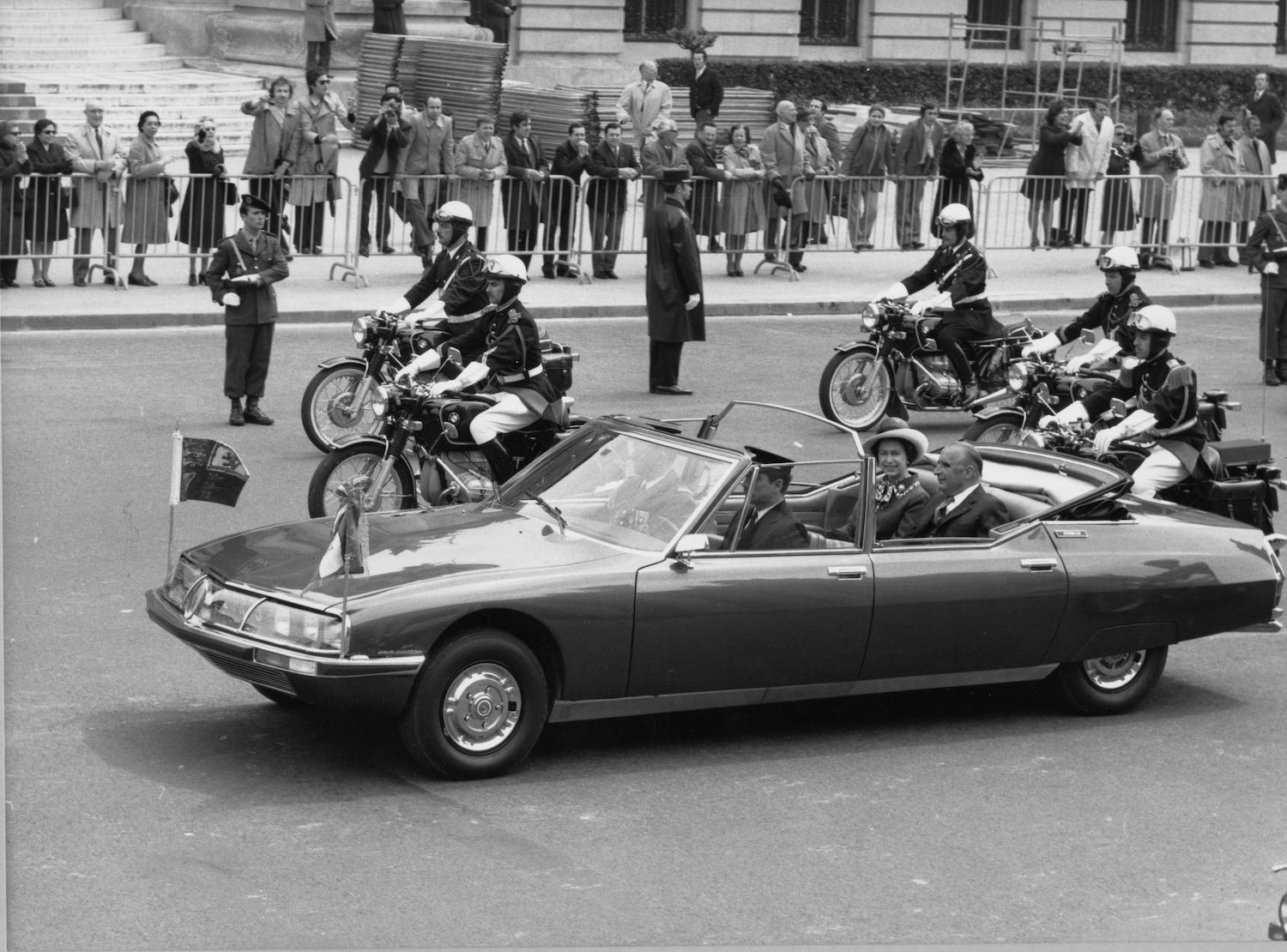 Following the creation of a 1:1 scale model in the Rue du Théâtre workshops, Citroën launched the SM at the 1970 Geneva Motor Show. With its green LHM hydraulic fluid-fed suspension that generated faster traction thanks to its tie-rod front axle—as well as inboard disc brakes, variable power steering and compact Italian V-6—it was a French dream car like none since the war. Under its clean yet dominant bodywork, it also featured such advances as automatic windshield wipers and self-leveling lights that swiveled with the steering (except in the United States, where that solution was deemed illegal). The steering system itself was called DIRAVI, for DIrection à RAppel asserVI, or memory power-assisted steering. It was tuned to be very light and direct in town and more stable at high speeds, due to the hardening of a hydraulic governor mounted at the end of the gearbox.
Maserati's 90-degree DOHC V-6 had to start out as a 2670cc unit due to the French tax system, producing 170 horsepower with its Weber carburettors, or 178 with Bosch's electronic fuel-injection. Later on, customers could also go for a 2965cc version producing 190 hp. For transmissions, the two options were a five-speed manual, and a three-speed automatic once the car reached American shores.
Those headlights the U.S. government just couldn't get onboard with were a pair of rotating external long-range ones, part of the six halogen-bulb set designed by Cibié and paired with plates that automatically adjusted their height according to the car's attitude.
In its heyday, the SM's comfort, presence, and power attracted customers like Leonid Brezhnev, the Shah of Iran, Haïlé Sélassié, Burt Reynolds, John Williams, Johan Cruyff, Bernard Pivot, and Line Renaud. If you're still unconvinced, just ring up happy SM club member Jay Leno.
A very special SM even went racing at Bonneville, and in order to get people familiar with other variants on the SM's 50th anniversary, DS will to display a trio of them at the Retromobile Show in Paris, next to its asymmetric X E-TENSE concept. Should be quite the sight.
Still, before you'd head there, DS would also like to help you out with the following SM trivia:
The first new model from the Robert Opron era after the death of Flaminio Bertoni, the SM was also the last creation designed at the Rue du Théâtre in Paris, before the style department moved to Vélizy.
At the time of marketing in June 1970, the price for the SM was 46,000 FF (French Francs, and equivalent to €46,400, or about $51,000, today). The SM Injection was sold for 84,000 FF in April 1975 (equivalent to €54,000, or roughly $59,500, today).
The colour Brun scarabée (Beetle Brown) was the best-selling shade. Feuille dorée (Gold Leaf) and Sable métallisé (Metallic Sand) also marked the beginning of the SM's career.
12,920 cars were produced at the Quai de Javel plant in Paris between 1970–75.
Henri Chapron Bodywork built seven Mylords (convertible), two Elysées (convertible for official ceremonies), and seven Operas (four-door). Heuliez designed two SM Espaces.