The 1987 Chevrolet Sprint Turbo was a boosted blast for under $8000
The Ferrari F40 may have stunned the world in 1987, but Maranello made North America wait for another two years before sending over just 180 of those turbocharged supercars. As you'd expect, local General Motors was much more generous with its own boosted vehicles. In 1987, Chevy buyers could choose between two affordable performance models: the spacious and almost subtle Spectrum Turbo, and the king of all econoboxes, the fierce Sprint Turbo.
I guess the most interesting fact about the Isuzu I-Mark-based Chevrolet Spectrum is that its original design came from Giorgetto Giugiaro, father of the Isuzu Gemini. However, since GM requested major changes from the Japanese side without any of them ringing up the master, Giugiaro ended up denying his involvement and breaking all ties with Isuzu.
The best version of this car had to be the Isuzu Gemini Irmscher with its NACA duct on the hood, but Chevy's Spectrum Turbo wasn't far behind in looks. Yours for $9700 in 1987, the Spectrum Turbo came in a metallic charcoal with orange accents to let everybody know about that turbocharged four-cylinder, which produced 105-horsepower—some 40 percent more than the standard 1.5-liter in the base model.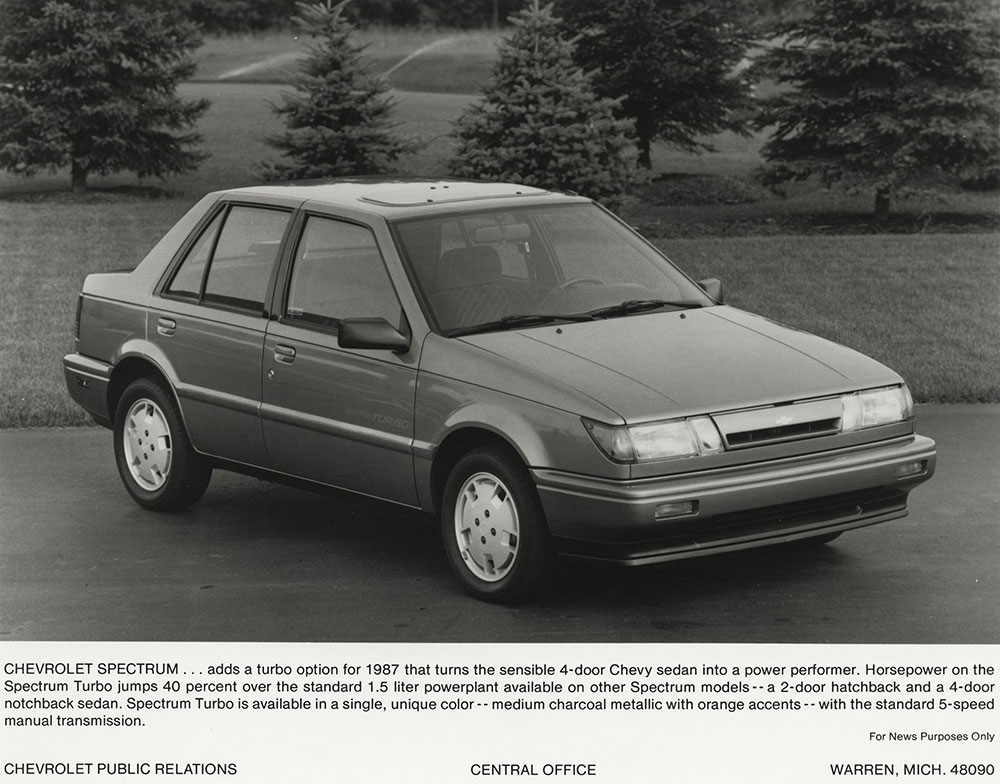 However, $9700 was quite a hefty sum compared to the Chevy Sprint Turbo's base price of $7690. And precisely what would GM offer for that budget price? The Sprint was a Suzuki Swift-shaped hatchback measuring 144.5 inches long, 70 inches wide and 53 inches tall over an 88-inch wheelbase. These numbers translated to a small turning radius and easy parking. GM made use of turbo technology here, too. For 1987, the Sprint's alloy SOHC three-cylinder got L-Jetronic fuel injection and a turbocharger with an air-to-air intercooler, resulting in a whopping 70 horsepower and 79 lb-ft of torque, plus the greatest air intake trim at any price range.
Still weighing just 1633 pounds, the Chevy Sprint Turbo could "blast" to 60 mph in 9.5 seconds, (or 8.7 seconds if you were as good as the folks over at Car and Driver). This car would also rush to the quarter mile in 17.2 seconds, while top speed came close to 104 mph. Those numbers apply more to those examples whose five-speed wouldn't blow up from the torque, and the Sprint Turbo owners who put enough trust into the car's "ground effects package" to compensate for the standard suspension—a system clearly not designed for such high velocities.
For the best thing shy of your own Sprint/Spectrum experience, sit back with a fizzy drink and enjoy MotorWeek's blast to the turbo past: