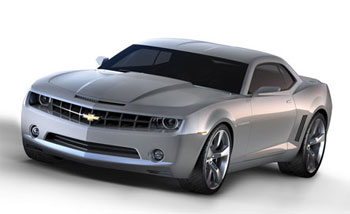 Chevrolet has announced the revival of a great American muscle car will be based in Canada. The new Camaro – due to arrive in late 2008 – will be built at a Canadian auto factory in Oshawa. The automaker said it plans to spend $740 million Canadian dollars converting the factory to a system that will allow it to make a wide variety of models on the same assembly line.
As a niche car, the Camaro is expected to sell about 100,000 units a year. The use of a "flexible production line" is a way to make production of the Camaro a cost-efficient operation. To keep production affordable, the Camaro will use a new rear-wheel-drive platform that will be shared with other GM brands.
A prototype of the Camaro with a 400-hp V-8 was introduced at the Detroit auto show in January. GM has not said what engine will power the production version, although it promises to offer both eight- and six-cylinder options. Rising gas prices could influence any power train choices.
The last series Camaros and their Pontiac Firebird cousins were produced at a GM plant north of Montreal until being discontinued in 2002. Another factory in Wilmington, Delaware was considered for production of the revived Camaro, but the lower costs of making cars in Canada won out.
John "Gunner" Gunnell is the automotive books editor at Krause Publications in Iola, Wis., and former editor of Old Cars Weekly and Old Cars Price Guide.