The Callaway C8 made the Camaro a supercar
Imagine having had the opportunity to buy a few Baldwin-Motion or Yenko Camaros back in the 1970s, when those big-block monsters were mere used muscle cars that appealed to a small group of enthusiasts who understood their provenance.
Anthony Kalil, a boat designer in Florida, sees the Callaway C8 that way now. He owns five of them—a significant number, given that Callaway Cars built just 18 of the 400-plus horsepower Camaros wrapped in the striking CamAerobody designed by Paul Deutschman. Kalil also owns two of the three dozen or so SuperNatural Camaros that Reeves Callaway built. They share the C8's engine but didn't get the super-sleek body. His brother Craig owns three SuperNaturals.
Kalil was born in 1970 and grew up in a veritable automotive Disneyland. His father's collection included vintage and modern Ferrari and Porsche race cars. They restored a 1969 Yenko Camaro in 1989, and Kalil occasionally drove his father's Callaway Twin Turbo Corvettes. Dad introduced him to the C8, the fire-breathing fourth-generation Camaros that Callaway built from 1994 through 1997.
"Around 2000, my father found one of the C8s," Kalil says. "I didn't pay much attention until I drove it. It was more exhilarating than even the twin turbos, because there was no lag and it had all the torque down low. It was just brute power."
Kalil decided he had to have one. He found a SuperNatural convertible in the same Polo Green as his father's coupe (which he also owns) and bought it from the former Ford engineer who'd acquired it new. "That car had never seen rain, so I decided not to use it as a driver and looked for another one," he says.
And then he just kept looking.
"I found the very first production C8, a red convertible," says Kalil, who has spoken at length with Reeves Callaway about the car. He even compiled a sheaf of documentation about the car, including notes of the discussions Callaway had with the original owner regarding the C8's development. The car features bespoke machined aluminum valve covers and a handmade Callaway "Honker" intake, a part the company started blow molding.
Kalil picked up two damaged C8s and had them restored. His companies, Barracuda Boats and Biltmore Marine, helped out with the fiberglass work.
Kalil's stable includes a teal 1994 C8 convertible, one of just two 1994 drop-tops built. One of his 1995 C8 coupes was originally built for Berger Chevrolet, and another has the 450-horsepower engine. A third uses a supercharged engine instead of the SuperNatural, a tweak that hinted at the path Callaway Cars would later follow in the Corvettes, Camaros, Cadillacs, and SUVs it builds today.
From baby BMW to monster Vettes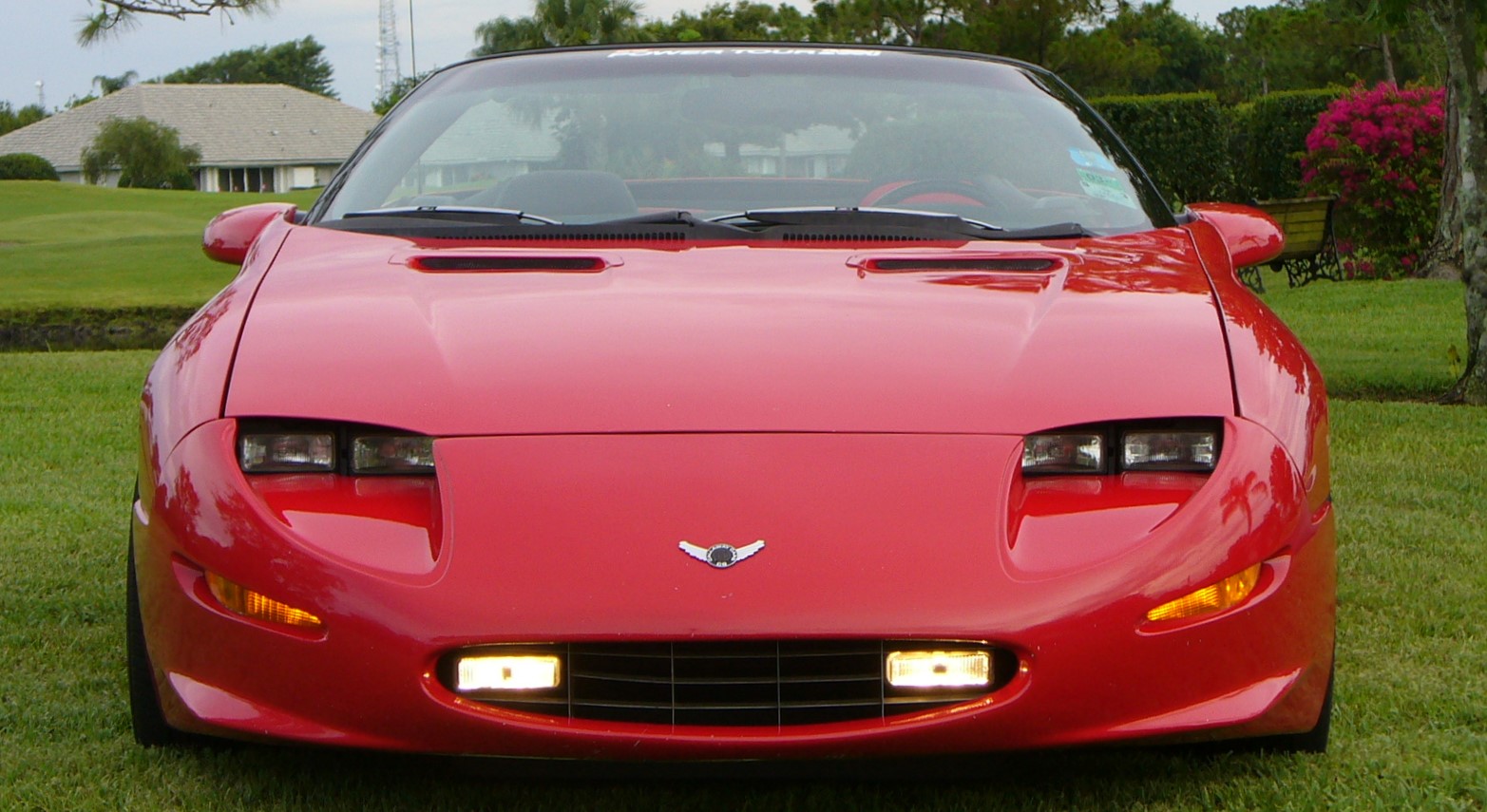 These super Camaros trace their lineage to a BMW, of all things. In the late 1970s, Reeves Callaway developed a turbocharger for the BMW 320i, pushing the 2.0-liter four-cylinder from 110 horsepower to about 160. A favorable review in Car and Driver triggered sudden demand, and Callaway was in business.
By the 1980s, computer-controlled fuel injection not only revived factory performance, but also reopened a door once thought permanently shut for independent tuners: EPA approval.
In 1985, Alfa Romeo's U.S. operation hired Callaway to juice up its GTV-6 with twin turbos. The conversion turned a sprightly $17,000 sport coupe into a $24,000 Corvette chaser that got GM's attention. Callaway landed an unprecedented contract to develop a twin-turbo Corvette engine that Chevrolet offered as a regular production option with a factory warranty.
The 1987 RPO B2K Callaway Twin Turbo conversion bumped the Vette to 345 horsepower, a 100-horsepower boost over L98 5.7-liter V-8. It also added about $26,000 to the $28,000 base price, although that was still far cheaper than an exotic with comparable performance. Power climbed over the years to 382 horsepower and, finally, 403 hp and 575 lb-ft of torque by 1991, the option's final year. The one-of-a-kind 900-horsepower Callaway Sledgehammer marked the ultimate development of the package and in October 1988 set a top speed record for a street-legal car at 254.76 mph.
Believe in the SuperNatural
The arrival of the ZR-1 Corvette for 1990 and the Gen II LT1 in 1992 set Callaway on a new course. He ditched the turbos for proven small block Chevy hot-rodding techniques, including stroking the new 350 (5.7 liters) to 383 cubic inches (6.3 liters). The increased displacement along with Callaway's intake system and other mods bumped output to 404 horsepower. He called these naturally aspirated engines "SuperNatural." Since the fourth-gen Camaro Z28 also used the LT1, the conversion seemed ideal for that car, too.
"The C8 was the intersection of enthusiasm and logic," Reeves Callaway says. "We needed to expand our reach beyond the Corvette, and the next logical car was the Camaro, which was a new-generation model at that point. And there were years and years of enthusiasm built up for the Camaro."
The SuperNatural's stout bottom used 4-bolt main bearing caps, a forged crankshaft and forged connecting rods. The CNC-ported cylinder heads used billet roller rockers. Later, customers could send their cars back for 425-, 435-, or 450-hp upgrades. Opting for the CamAerobody made the car a C8, and the F40's Brembo brakes were an option.
They really called it CamAerobody
Callaway tapped Deutschman – who designed the Aerobody conversion for Callaway's Twin Turbo Corvettes – to enhance the Camaro's aerodynamics for higher speeds. He gave the Camaro a longer, lower nose with stabilizing fins, along with a lower-body makeover using fiberglass door skins and rocker panels, plus a smoother rear fascia.
Gills behind wheels mimicked classic Ferraris. On the other hand, the 1996 Ferrari 550 Maranello seemed to draw some inspiration from the C8's front end. More recently, Deutschman designed the Callaway Corvette GT3 race car and the AeroWagon conversion.
"The original design brief for the C8 was to give the Camaro a distinctive Callaway flavor," Deutschman says. "I think the design accomplished that successfully. If I had the chance to redo it, I'd change very little."
Callaway highlights the relationship with the designer as integral to the marque's heritage.
"One of the great sources of pride for us is the work we've done with Paul," he says. "It's rare for a specialist carmaker like us to get to use the same designer for every project, now over 35 years. Even big car companies don't get to do that. You can see the lineage in all the cars. They all have Paul's signature to them."
Kalil likens the C8's functional design to that of the 1970 Plymouth Superbird, also a car designed around a specific aerodynamic mission.
Motor Trend called the C8 "the world's baddest Camaro" on the cover of its March 1994 issue. The silver coupe was the prototype, purchased new by John Kyle, who collects Callaway Corvette Le Mans and GT3 race cars. That same car also appeared at SEMA as well as the Chicago and Los Angeles auto shows.
Kyle's car, showing about 1100 original miles today, featured headlight covers that didn't appear on production models. It originally came with Bridgestone run-flat wheels and tires. Kyle agreed to a change to OZ Monte Carlo wheels, and the car was featured in the wheelmaker's advertising.
The $56,000, 170-mph Camaro
When new, Kalil's 1994 C8 convertible cost $56,000: $24,000 for the optioned-up Z28 and $32,000 for the C8 conversion. Some owners shipped their new or slightly used Z28s to Callaway for the conversion, according to Kalil, while others ordered new cars through Mystic Chevrolet in Mystic, Connecticut.
"I have several cars that were originally delivered to different Chevy dealers all over the country, but they were drop-shipped or procured through Mystic Chevrolet," says Kalil.
Customers could buy their car in stages. Some started with the engine package and added the chassis bits and CamAerobody later. A few bought only the body package, but those are not badged or considered C8s. "The car has to have both the SuperNatural engine and the Aerobody to be called a C8," Kalil says.
The C8 lasted until 1997. Callaway later built two C8 Commemorative Editions with LS-based engines. Kalil says collector interest in the C8s is still a little soft, but he's confident the car has three key ingredients for increasing collector interest: high horsepower, Callaway's pedigree, and distinctive design.
"I think the closest things you could compare them to are the Baldwin-Motion Phase III Camaros and Corvettes," Kalil says. "The audacity of the design is what lends them that character."