The BMW 850Ci and BMW 2002 span the breadth of Bimmer brilliance
BMW's legacy in the United States traces its roots to the 2002, the car that defined the sport sedan segment in the 1970s and spawned a host of imitators. Light, nimble, and with just enough spunk from its 2.0-liter four-cylinder engine, the 2002 mastered the balance between basic conveyance and driving pleasure. Even today, its simple engineering and tasteful styling have proven both enduring and timeless.
It boggles the mind, then, to think that only 18 years separate this humble, white 1975 BMW 2002 from this black 1993 850Ci, a range-topping grand tourer that makes your jaw drop as much for its dramatic wedge shape as its stupendously overcomplicated V-12 engine. These cars live at positively opposite ends of the classic BMW spectrum, and yet the way they were each engineered for their respective purposes is an invisible thread that connects them across two decades.
And so they can be enjoyed as intended today, audio giant Clarion breathed new life into both as part of its Clarion Builds restoration program. Clarion's aim with the Builds program is to highlight the process and product of a classic car restoration, showcase its audio and infotainment treatments, and ultimately auction off the car for charity. The first Clarion Builds car, launched in 2015, was a blue 1974 BMW 2002 that was so beloved the company couldn't resist once again overhauling a 2002 when the chance came along with a '75.
This 1975 2002 received a complete ground-up restoration, so it retains its M10 2.0-liter four-cylinder engine, albeit with an upgraded cam, rocker arms, heads, valves, exhaust, and a Weber carburetor. It also boasts an electronic ignition, electric fuel pump, electric fan, silicone cooling hoses, as well as a modern alternator and radiator, all for better reliability. Clarion went with a five-speed transmission with short shift kit and a lightened factory flywheel, along with a rebuilt 3.91 differential. The car rides on an all-new suspension with upgraded springs, shocks, sway bars, and brakes.
The look of the car is just right, as well, down to the Euro-style bumpers and Hella headlights. Get behind the wheel and you're treated to sultry chocolate-colored Nappa leather, and Nardi-supplied steering wheel, shift knob, and parking brake handle.
But once you fire up the engine, it all gets distilled down into the simple joy of a wood-rimmed steering wheel in your hands, that faint smell of carbureted gasoline, and a lightning-fast throttle response at your foot's command. The 2002 is easy to drive and rewarding to beat on, with an extremely rev-happy motor and magnificent steering precision through corners. The whole experience, despite all of the modern upgrades underneath, still very much strikes that elusive vintage-car chord. At the end of the day, it's an honest car that despite performing better than it ever could have from the factory, stays true to the tenets that made the 2002 such a sensation and effectively built the foundation for BMW here in the U.S.
And then there's the 850Ci. Sinister in black and gorgeous in pillarless silhouette, the 8 Series is from a time when BMW was coming into the peak of its powers in the early 1990s. Coming off of the huge success of the E30-generation BMW 3 Series beginning in the mid-1980s, itself a direct descendant of the 2002, Munich wanted to flex its engineering and technological muscles with a halo car that would put the high-end luxury grand touring class on notice.
In addition to being stunning to the eye, the V-12-powered 850i that launched for the 1990 model year was one of the first vehicles to feature a drive-by-wire throttle among other then-advanced computer systems. Famously (or maybe infamously, for owners) the 5.0-liter V-12 engine is more or less two straight-sixes fused together at the crank. Apparently, according to BMW spokesperson Thomas Plucinsky, it was designed this way because at the time there was no suitable modern fuel-injection system for V-12 engines. So there you have it.
Clarion found this 1993 BMW 850Ci in a tired, worn-out state, as many 8 Series are when repair costs mount and owners throw up their hands. So began a massive restoration project, along with a rather large handful of upgrades to address some of the less-than-perfect behaviors and characteristics of the original design. The entire car was overhauled to factory specifications at Coast Motor Werk in Huntington Beach, California, which also assisted installing Stoptech brakes, a new Bilstein front and rear suspension with Eibach lowering springs alongside OEM sway bars, control arms, and urethane bushings from the top-dog 850 CSi. The CSi also lent its front and rear diffuser to complete the look, all balanced out with 18-inch BMW M Parallel 37 wheels and Michelin Pilot Super Sport tires.
This 850Ci also originally had an automatic transmission, which Clarion swapped out in favor of a six-speed manual—a rarity on U.S.-spec cars. I was initially wary of this decision after reading Car and Driver's 1991 road test of the 850i, where the stick-equipped car frustrated editor Rich Ceppos with its erratic jumpiness off the line compared to smoother automatic models. Nevertheless, the Clarion 850Ci fires up its V-12 with a delicious boom from its custom exhaust and sets off from a stop like a gentle cloud moving off toward the horizon. This baby was properly dialed in with a custom ECU tuning. The car is incredibly easy to drive for something 25 years old, and although it is far from a barn-burning rocket ship unless you're wailing on it as hard as you can, there is a lovely elegance and sophistication to its effortless motivation down the road.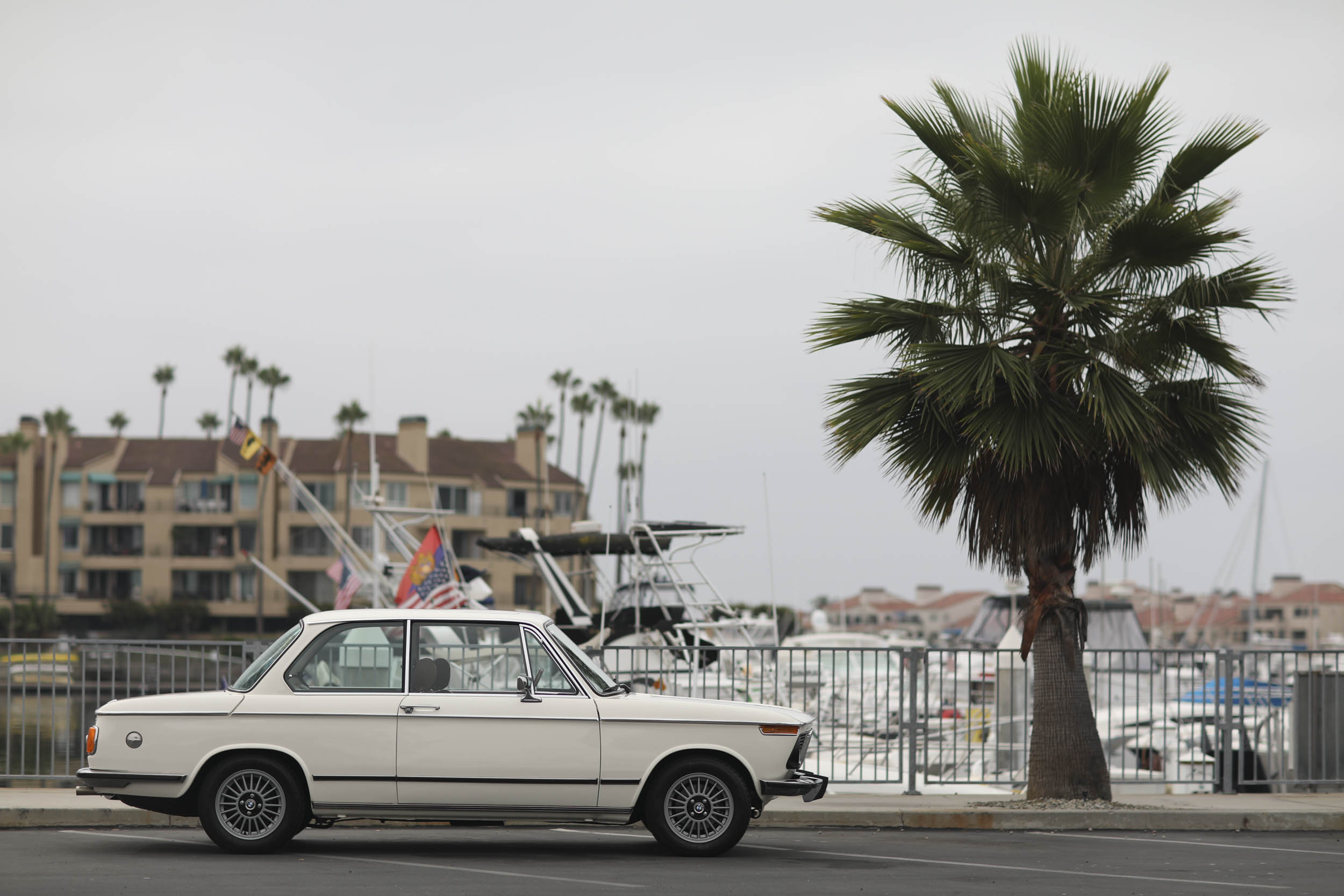 In keeping with its goal to maintain each car's essence while simultaneously improving its performance and usability, Clarion's efforts to upgrade the audio systems in each car are integrated seamlessly. The '75 2002 is all about harmony and simplicity, and so the clean and unobtrusive M508 receiver is a well-executed fit in the BMW cabin. Its single DIN setup fit right into the factory center console with only minor cuts to the housing, and it comes with the benefit of Bluetooth connectivity so you can pump tunes through the front and rear Clarion speakers.
Given that the 850Ci was meant to be all about luxury, convenience, and technology, the more comprehensive infotainment setup including there is a natural fit. The hardware is an NX807 seven-inch touchscreen with Apple CarPlay, complete with a user-controlled fully digital sound system (which you can tinker with near the armrest), and a digital subwoofer custom installed between the rear seats. Was any of this available in 1993? No. But you can bet if you were paying top-dollar for an 8 Series back then you would have been all about that backup camera.
Of the two, there's no doubt the 2002 is the more satisfying, delightful classic car experience. But the 850Ci is not without its strong points, which would much more likely reveal themselves over long distances where its thundering V-12 and marvelous seats really seal the deal. Either way, roundel-lovers can sleep easier knowing these two cars are out there being driven hard and put away wet. As for us, we just can't wait to see what Clarion Builds brings to life next.