Your definitive 1984–91 Jeep Grand Wagoneer buyer's guide
One of the last wood-paneled (OK, vinyl-enabled) vehicles sold in America, the Jeep Grand Wagoneer was a living fossil. As late as the 1990s it served as a link to the rugged off-road brand's original 1960s Kaiser roots. Riding on a platform that was essentially unchanged for decades, the Brooks Stevens-penned sport-utility nevertheless offered many modern luxuries and became the favorite family hauler for billionaires on the Vineyard seeking less-than-ostentatious transportation.
Today, interest in the Grand Wagoneer—which was the final generation of the long-running full-size Jeep or FSJ chassis—has begun to creep upwards. The days of finding a decent driver at bargain basement prices are now in the rearview mirror, with final-year 1991 models commanding more than $40,000 in Excellent (#2) condition and first-year 1984 editions not that far behind.
There are many compelling aspects of the Grand Wagoneer experience, including a spacious and comfortable cabin, a capable four-wheel drive system, and styling that stands head and shoulders above the more anonymous SUV trends of the moment.
Looking to get on the full-size Jeep train before the price of a ticket becomes prohibitively expensive? We've put together this buyers guide that explains the ins, the outs, and the hidden gotchas you need to be aware of when shopping for this classic truck, with the help of GK Kerr, owner of Jeep specialist Grand Wagoneer by Classic Gentleman.
Decades of arrested development
The Jeep Grand Wagoneer officially hit dealerships in 1984 during a period of change for parent company AMC. Gone was the full-size Cherokee (replaced by the smaller and equally-iconic XJ Cherokee), and in its place was a much more richly-featured version of the four-door Wagoneer that would add the term "Grand" to its nameplate while removing the previous "Limited" designation from the order sheet.
Despite the new nomenclature, the full-size Jeep's fundamental platform remained largely true to its 25-year-old roots. All versions of the Grand Wagoneer came with the same general characteristics: four doors, four-wheel drive, and vinyl wood-paneling stickers along the sides and across the tailgate (with the exception of an unpopular, short-run wood-free option for 1984 alone).
There would be styling and equipment changes scattered throughout its eight-year run, with 1986 adding a redesigned interior and a front and rear refresh on the outside, and 1989 continuing to refine the cabin and equipment list. Chrysler's purchase of Jeep technically puts '87-and-up models under the Pentastar, but the company largely left things status quo as the SUV lumbered towards the '90s.
In total, 101,637 examples of the Grand Wagoneer were built. As with most vehicles, the first model year is the most common, with 20,000 sold, and the final one the hardest to find. In 1991, Jeep built 4253 "Final Edition" trucks that offered an optional plaque on the dashboard denoting their status, and low-mileage examples of these vehicles are both desirable and expensive to source.
Decoding your Grand Wagoneer
How can you figure out what version of the Grand Wagoneer you're looking at? The easiest way is via the VIN tag, which is found on the firewall under the hood on the upper part of the driver's side, as well as a sticker on the driver's side door jamb, and of course on a metal plate that can be seen through the windshield on the driver's side of the dashboard.
There are 17 digits in a Grand Wagoneer VIN number. For 1984–86 models, the first denotes the country of manufacture (1 for the United States), the second the company that built it (J for Jeep), and the third the vehicle type (C for multi-purpose vehicle). Next up is the engine type (C for six-cylinder, N for V-8), followed by transmission and transfer case (J for automatic transmission with column shift, part time or full-time transfer case), the body style (15 for four-door Wagoneer), and the gross vehicle weight rating (U for 6200 pounds). The ninth character is a check digit, followed by a letter from E (1984) to N (1991), then the plant it was built at (T for Toledo), and then a 6-digit serial number.
For '87–90 models, there are no changes aside from adding H (1987), J (1988), L (1989), M (1990) to the year range. 1991 model year trucks are another story: the third character swaps to a 4 (multi-purpose vehicle), fourth digit becomes gross vehicle weight (G for 5001 lbs to 6000 lbs), 5th is "Line" body type (S for Grand Wagoneer), and sixth is "Series" body type (5 for Grand). The seventh character is yet another body style tag (8 for 4-door SUV), while the eighth is engine type (7 for the 5.9-liter V-8). After the check digit (in the ninth spot), there's year (M for 1991) followed by plant (P for Toledo #2), and then the six-digit serial number.
Surprisingly, color choice—both inside and out—plays a large role in the value of a Grand Wagoneer on the modern market, and Jeep offered a fairly wide range of hues for its big SUV.
"The vast majority of our buyers are looking for a tan or sand-colored interior," explains GK Kerr, describing the two lightest Jeep cabin choices. "They produced more of the dark burgundy interiors because that's what our parents loved, but by and large they are harder to move."
Exterior colors also show a definite trend.
"Blues, greens, and whites are the most sought-after shades," Kerr says. "Burgundy, tan, and the brown families were big in the '80s but not so much today, and they're typically worth less on the secondary market as a result. You can do a full body color change to something like a Hunter Green or a Spinnaker Blue if you want, and if you spend the money to do it right, you'll come out OK."
Dead-simple mechanicals
There are two engine choices to be found in the Jeep Grand Wagoneer. From 1984–86, the standard power plant was a 4.2-liter straight six that produced just over 110 horsepower and 210 lb-ft of torque. An optional 5.9-liter V-8 (140 hp, 280 lb-ft of torque) was available throughout the entire run and became the only mill from 1987–91.
Each of these engines was matched with a three-speed 727 automatic transmission sourced from Chrysler, and paired with Selec-Trac four-wheel drive, which used either the NP228 (open center differential) or NP229 (viscous coupling) transfer cases, depending on the year. Dana 44 axles are found front and rear.
The Grand Wagoneer is known neither for being fleet of foot nor frugal at the fuel pump, and you can expect single-digit fuel mileage in city driving and perhaps a dozen mpg during highway cruising from the V-8. Six-cylinder engines are a little less thirsty but also that much slower than their already churlish eight-cylinder siblings.
"The engines are such simple designs," Kerr says. "The transmission shifts very smoothly, and some trucks might need a few more feet to get the shift-on-the-fly four-wheel drive to engage. You can also expect low-range to grind, but transfer cases, transmissions, and differentials are all inexpensive to rebuild. If you found an otherwise-good truck with a bad transmission, it's maximum $2000 to fix that issue."
Mechanically, the Grand Wagoneer was a hodgepodge of different OEM systems scrounged from wherever AMC could find affordable parts. Common problems with the V-8 (which is your most likely Grand Wagoneer entry point) include oil leaks (particularly the rear main seal, which costs between $500 and $1000 to fix), ignition system woes (typically caused by the Motorcraft system), and low oil pressure. There's also a fairly complex vacuum system snaking its way under the hood, a product of both the emissions control climate of the time and the decision to stick with a carburetor throughout the truck's entire production run.
"That carburetor is the source of about 40 percent of any and all headaches you'll have with these Jeeps," Kerr says. "AMC and Chrysler were coal mines filled with dead canaries in the mid-'80s, and they had no money to replace it with a fuel injection system. Swapping in EFI will cost you about $2000 in parts and potentially as much as another $1000 in labor, but it's especially important if you're dealing with elevation changes or live in a particularly hot area."
Save your nickels and dimes
Grand Wagoneers maintained a cohesive styling language through the SUV's lifespan, but there are a number of subtle changes to the vehicle that separate early models from later ones. In 1986 the truck gained a hood ornament, new grille, and fresh headlights, as well as a variation in how the wood trim outlines were applied to the side of the vehicle. Clear-coat paint arrived in '88, while an optional wiper for the rear window followed in '89. The latter's functionality is problematic at best, and it is not considered a desirable feature.
Inside, 1986 also brought with it a new dashboard, steering wheel, switchgear, and a better heater and A/C system. Door panels were updated in '87, the stereo got louder in '88 (and was joined by an optional sunroof), and '89 models benefited from an overhead console with map lights and keyless entry.
The Grand Wagoneer is particularly good at nickel and diming its owners to death with small, recurrent problems. Window flex tracks often snap and cause glass to drop in the door or freeze in the upright position, window switches and power door lock switches frequently fail, and the rear window switch—needed to lower the glass so that the interior handle for the tailgate can be grasped—is another often DOA item. Sagging headliners and door panels gnarled by exposure to moisture are par for the course, and air conditioning components can be expensive to repair.
"I remind my customers that in some ways, these Jeeps were terrible even when they were new," Kerr says with a laugh. "You've gotta be honest about what you're looking at here in terms of build quality."
The biggest issue affecting the vehicle, however, is rust. The Jeep is so susceptible to the predatory effects of road salt that Grand Wagoneer by Classic Gentleman won't purchase any examples from any parts of the country where corrosive calcium chloride is used to keep the roads clear.
"Fortunately, these Jeeps are young enough to pop up on Carfax and Autocheck reports, so you can get a decent, if not necessarily complete, idea of where they've spent most of their lives," Kerr explains. "The first thing to do when looking at a potential purchase is to lift up the front carpet and look at the floor pans. If they're still original, and in one piece, that tells you a lot about where the truck came from and how it was cared for. Water often channels to this area of the truck and then sits there, which is a recipe for corrosion."
You'll also want to check for rust where the gas tank meets the body, the underbody, and chassis of the Jeep, and the front fenders near the parking lamp, which is particularly problematic because unlike rear quarter panels (often rusty, but easy to address), those panels are no longer available for the Grand Wagoneer. Other parts that are increasingly difficult to find? Bumpers, power mirror switches, and exterior chrome trim.
"Companies like Team Grand Wagoneer and BJs Off Road provide good parts support for the Jeep," Kerr says. "But about 20 percent of what you'll need you're going to have to turn to a salvage yard to find."
Values keep climbing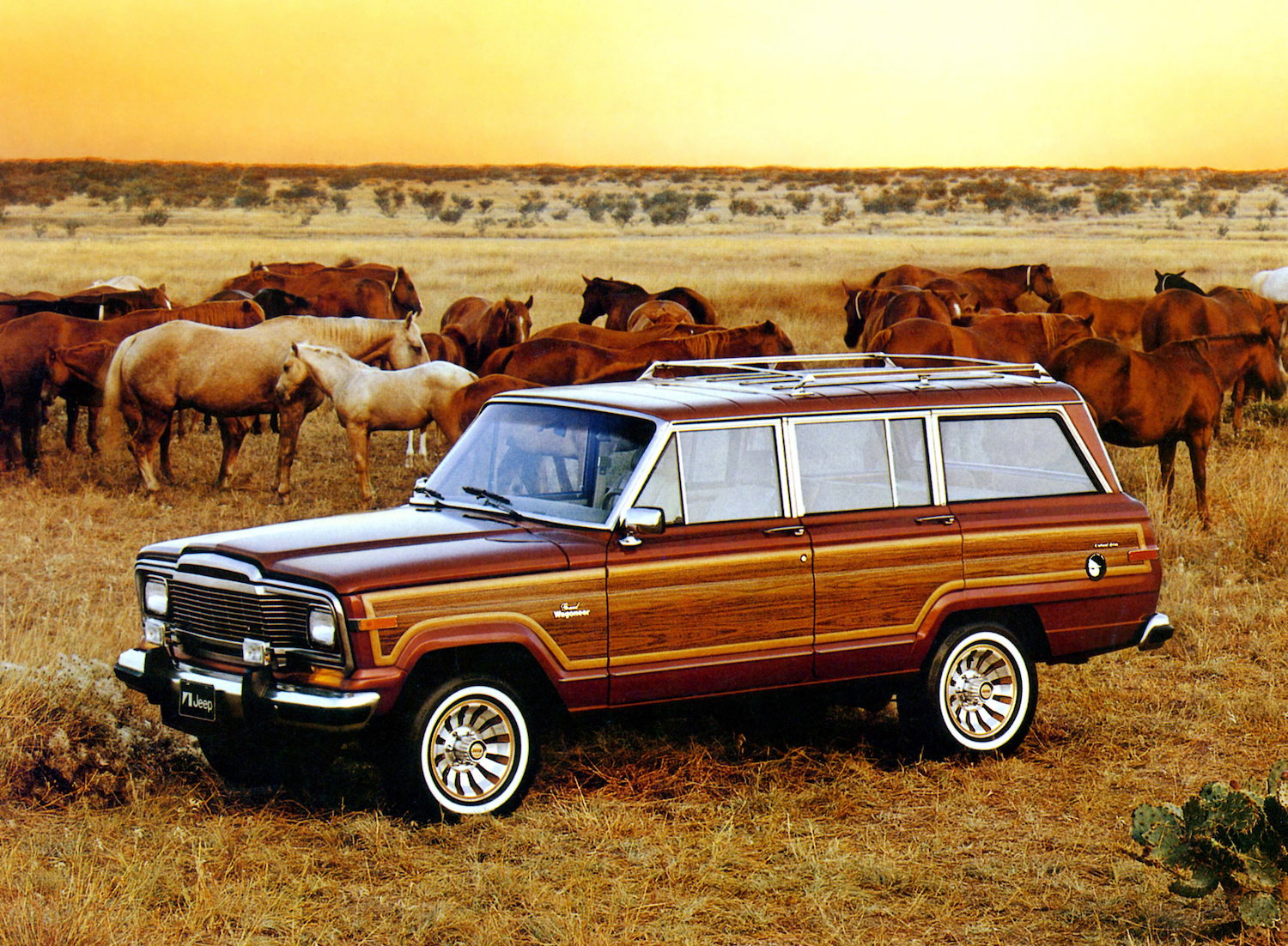 One of the most appealing aspects of 1984–91 Jeep Grand Wagoneer is that values continue to climb. If you play your cards right when selecting your particular vehicle, this can make owning one of these SUVs for a few years virtually "free" in terms of overall cost.
"If we're talking about a buyer who doesn't want to get hurt, money-wise, a low-mileage example is an absolute must," Kerr says. "If you can stay under 100K, as far as return on investment, you're going to do better than even a meticulously-maintained, higher-mileage Jeep. You can easily get your money back on a Grand Wagoneer if you keep this in mind."
Whether you're looking for a practical and stylish driver or an investment-grade weekend ride, the Jeep Grand Wagoneer is currently offering a spectrum of relatively affordable ways to hop on the classic SUV wave for anyone who's been priced out of first-gen Broncos, K5 Blazers, or early Land Cruisers. None of which, we might add, feature wood paneling.