Buyers Guide: Alfa Romeo 2600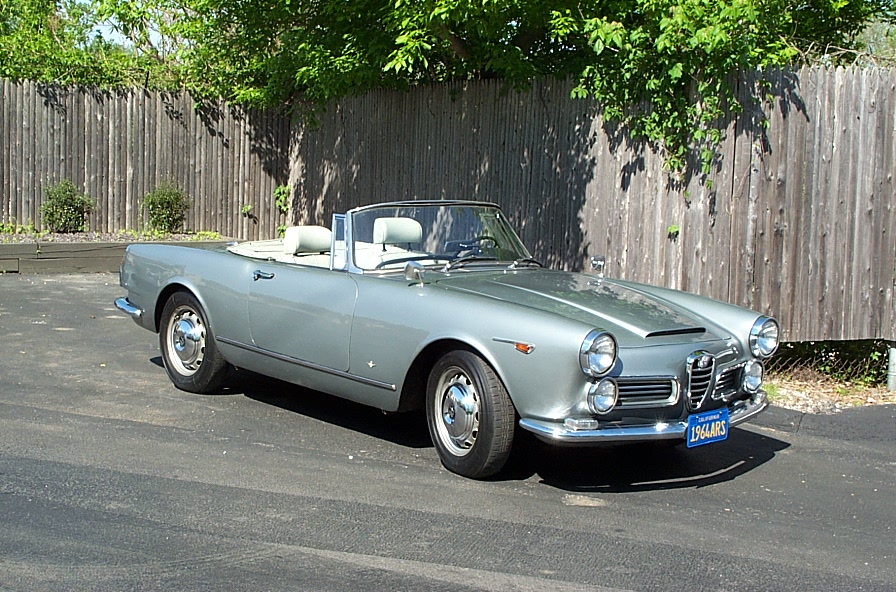 Alfa Romeo introduced its 2600 model range at the 1962 Geneva Motor Show. The cars succeeded the popular 2000 series, and were offered as a four-door Berlina sedan, a two-door Sprint coupe, and an open two-door Spider.
Berlinas were designed and built in-house by Alfa, while Sprints were designed by Bertone but built by OSI, and Spiders were designed and built by Touring of Milan.
The 2600 utilizes a 2,584-cc aluminum inline-six cylinder engine with cast-iron liners, a cross-flow head and hemispherical combustion chambers. This was a departure from the iron-block four-cylinders used in the 2000, although the Giulietta series used an all-alloy four, which had been the norm in previous post-war Alfas. In the Berlina, the engine is fitted with two Solex carburetors to develop 130 horsepower, while Sprints and Spiders feature three carbs and put out 145 hp.
These engines are pretty robust, though many cars suffered from head gasket issues, which likely have been addressed in any car offered today, but make sure to ask the seller when looking. Also, the original Solex carbs proved problematic, particularly in the triple setup, but when properly rebuilt and synchronized they should be fine. Many cars have been converted to Webers. In the buying process, it will be a matter of originality vs. functionality, and while the switch back is easy enough for a good Alfa mechanic, it sure helps if the seller has held on to the Solexes.
All 2600s used a five-speed manual transmission with synchromesh on all gears, although in the Berlina a column shift was used instead of the floor-mounted gearshift found on the Sprints and Spiders.
Early cars feature front Girling disc brakes and rear drums, though eventually discs were made standard all around. Suspension is courtesy of front double A-arms with coil springs and a sway bar, and a solid rear axle with longitudinal radius arms and coil springs.
Sprints are perhaps the most versatile offering, as they feature seating for four in an attractive grand touring body, with amenities like available leather seating, electric windows, rear demister, and two-speed wipers — all of which can and do add to the car's value against a bone stock example in similar condition.
Spiders are technically a 2+2 roadster, though the rear seats aren't really functional for adults. The cars were a departure for Touring, as they were made of steel — like the Berlinas and Sprints — rather than aluminum. Steel, of course, is prone to rust, and Italian steel often seems especially plagued, so you want to make sure any car you're considering hasn't been invaded by the tin worm. This goes not only for body panels, but for the chassis, trunks and floors as well. You'll also want to be on the lookout for poor repair jobs in these areas.
More than 11,000 2600 models were produced in all, with just over 100 Sprints special-bodied by Zagato — known as the 2600 SZ — and half as many Berlinas bodied by OSI as De Luxe models. In the scope of automobile production, that figure is a mere blip, so replacement parts can be difficult to source, with new old stock virtually unobtainable. Consider it exponentially more difficult to find body bits for the Zagato cars, where your best bet will be to have new parts fabricated, a costly endeavor.
While powerful enough — just — the six-cylinder is a bit heavy over the front wheels, which detracts from handling. This can be compensated for with aftermarket pieces if regular driving is in the cards; just make sure to hold on to everything you take off.
Today, the 2600 series is largely overshadowed by many of Alfa's previous and subsequent offerings, but each variant offers its own unique charms, and the driving and ownership experience is pure Alfa Romeo.
As with any classic, a pre-purchase inspection from an experienced, reputable Alfa garage is a must. They'll tell you all you need to know — and more — before you drop any cash on the 2600 of your dreams. 
Before you begin the buying process, check out the Alfa Romeo Owners Club (aroc-usa.org). It's a huge, passionate group that loves its cars, and you'll find plenty of useful tips and advice there. They'll also point you to that reputable local garage.
Finally, don't pay too much. Really understand the condition of the car you're interested in — and what costs await you after ownership — and then spend accordingly. The best place to check up on values is at Hagerty Valuation Tools, where you'll find accurate, up-to-date pricing for all 2600 models in conditions ranging from truly rough to concours quality.
In short, do your homework, have fun during the purchasing process and then enjoy your Alfa.