7 monster Mopar race cars from the Todd Werner collection
The mother lode of Hemi-powered Mopar race cars is going up for sale at Mecum's 2019 Harrisburg sale when the Todd Werner collection hits the auction block July 31–August 3.
Werner's collection contains some of the most iconic muscle cars ever built, from all sorts of manufacturers, but for now we'll focus on his 7 selections from his amazing collection of historic drag and NASCAR racers, which were used in competition by some of the most well-known figures in motorsports. Don't bother stifling your drool—I'm working on a nice puddle here.
Estimate: $1M–$1.5M
This is the car that Richard Petty drove to the checkered flag in the 1971 Daytona 500. Petty would rack up 20 more wins that season and take his third NASCAR Championship with the 426-Hemi-powered car. We know a certain Mopar collector who's fond of Dodge version of the 1971 B-body; perhaps he'll be taking a close look at this wonderful example.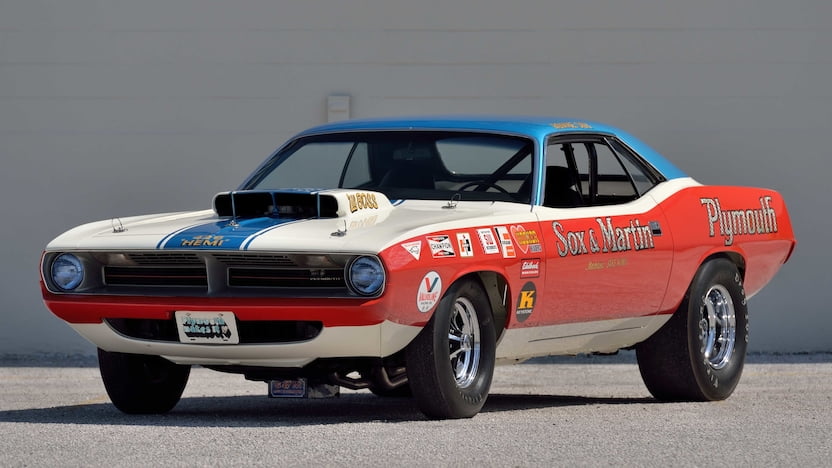 Estimate: $1.5M–$2M
The only Sox & Martin E-body with a factory Hemi VIN, this American Hot Rod Association champion also has a unique engine. Its 426 Hemi V-8 is topped with an experimental Chrysler intake manifold that has each port lead directly from the cylinder head to one of the throttle bores. Essentially it's an individual runner intake despite the fact that it uses twin Holley Dominator four barrels. Driven by Ronnie Sox and Herb McCandless, this specimen is unique among high-end drag racing teams and is sure to draw lots of attention.
1964 Dodge 330
Estimate: $350,000–$400,000
With aluminum fenders, hood, scoop, doors, front bumper, and grille, and a trunk-mounted battery, Dodge gave its lightweight 330s all the help that it could to get it down the quarter-mile strip as quickly as possible. Not that the 426-cu-in Hemi V-8 with its aluminum cross-ram intake needed it. The 12.5:1 compression, solid-lifter race Hemi in this particular 330 was race-prepped and dyno tested by none other than Dick Landy and was raced in the 1964 and '65 seasons. It has since been restored to its as-purchased condition to represent the best in early 426 Hemi performance from the factory.
Call for estimate
Plymouth built the winged and streamlined Superbird with the express purpose of winning Richard Petty back from rival Ford. It worked. In his long, championship-filled NASCAR career, perhaps no single car is more associated with the King than the Petty-blue wing car that he used in the 1970 season. Although Petty didn't win the championship in 1970, he did claim 18 victories, nearly half of the 40 races he competed in that season. This car was restored by Petty Enterprises, and the engine was rebuilt by long-time crew chief Maurice Petty and his son Timmy.
Estimate: $800,000–$1,000,000
In wonderful red, white, and blue livery, this drag-strip beauty is the only surviving altered wheelbase car from Sox & Martin's 1965 fleet and the earliest surviving Sox & Martin factory Hemi car. It's equipped with mechanical fuel injection, headers, Keystone Klassic wheels, and four-speed manual transmission—as if Ronnie Sox would have it any other way.
1964 Dodge 330
Estimate: $400,000–$600,000
Dick Landy was a match-racing legend and the father of altered wheelbase cars. This 1964 330 was among the earliest Hemi cars produced, and Landy used it to capture the 426 Hemi's first drag race win at a sanctioned event by claiming victory in the A/Modified Production class at the Hot Rod Magazine race in Riverside on June 12, 1964. Soon after, Landy swapped in a Dodge van's solid front axle, moving the front wheels forward in the process. Moving the rear wheels up to match created what would be known as the world's first funny car, months before the factory altered wheelbase cars were built. A hallmark of '60s innovation, this car is a significant piece of drag racing history.
1968 Dodge Dart Super Stock
Estimate: $800,000–$1,000,000
Only around 80 1968 Dodge Darts were equipped with 426 Hemi engines, each with drag racing in mind. This example is one of two used by Dick Landy as part of his factory-backed drag racing and performance clinics and the only one with a four-speed transmission. Campaigned form 1968–70 in various livery and trim, it has been restored to match its appearance in 1968–69.