Turbo Time: 5 carbureted turbocharged classics
Before fuel-injected turbocharged engines found their way into everything from full-size pickup trucks to everyday commuter mobiles, automakers made carburetors and turbochargers work together using a draw-through approach, with the carburetor ahead of the turbocharger. The air-fuel mixture was pressurized on its way through the turbocharger and into the engine.
An exhaust-driven hot-side turbine and wastegate housing, in close proximity to a carburetor full of gasoline that fed its fuel and air mix through a 100,000-rpm cold-side turbine, might seem completely bonkers today. But it worked well enough to propel these five carbureted turbocharged production cars from the '60s and '70s right into the '80s.
1962-63 Oldsmobile Jetfire F-85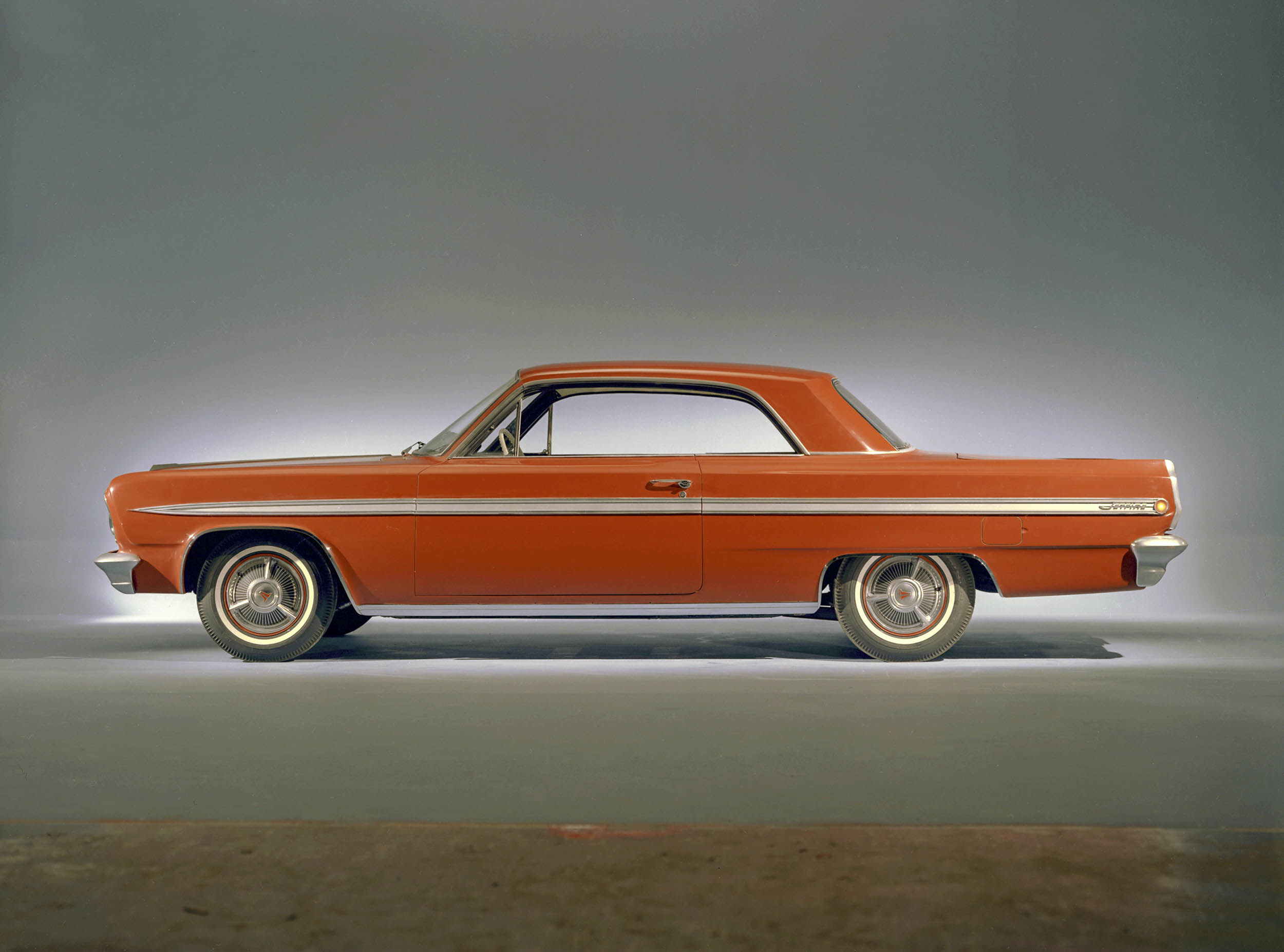 Peak Jet Age design and WWII supercharged piston-engine fighter aircraft technology intersected when Oldsmobile engineers brought a carburetor, turbocharger, water-methanol injection and an all-aluminum high-compression V-8 engine together in the 1962 Jetfire F-85. The concept was to use a turbocharger, high-compression pistons, and anti-detonation water-methanol injection together for punchy on-throttle performance and improved part throttle highway fuel economy, compared to the conventional low-compression turbocharged engine. It worked. The first production turbocharged and water-methanol injected V-8 produced one horsepower per cubic inch.
With a single AiResearch turbocharger, one-barrel sidedraft Rochester carburetor, special pistons, and unique exhaust the 215-cubic-inch Oldsmobile V-8 made 215 horsepower at 4600 RPM and 301 lb-ft of torque at 3200 RPM. Valves and floats automatically metered the Turbo-Rocket anti-detonate fluid from 1 psi up to the 5 psi wastegate bypass limit. One gallon of the water-alcohol-inhibitor mix was good for a maximum 8000 highway miles, or 750 miles of lead-foot motoring. A light on the turbo gauge went on when it was time to pour in the sauce before the 1 psi low boost fail safe mode was activated. Dealer service was recommended.
1965-66 Corvair Turbo-Charged
After a rocky first generation, the rear-engine sports car from Chevrolet drove into its second generation with improved suspension, modern style, and a larger 164-cubic-inch flat-six available in two high-performance trims. The quad carburetor Turbo-Air made 140 naturally aspirated horsepower. The Turbo-Charged version boosted performance to 180 horsepower with super-alloy exhaust valves, a turbo-spec camshaft, and single carburetor draw through setup for a 30 horsepower bump over the first-generation turbocharged Corvair. Chevrolet moved just over 7200 Corvair Turbos in 1965 and just under 2000 in 1966.
The turbocharged Corvair might have stood a better chance at success if not for confusing turbo product nomenclature throughout the 1965-66 Chevrolet lineup. The factory-supercharged Turbo-Charged 164 went up against its own Turbo-Air engine, the Turbo-Jet 396-cubic-inch big-block V-8, and Turbo-Fire 327-cubic-inch small-block V-8. Compact competition from the Ford Mustang and Falcon, Plymouth Valiants and Barracudas, and econo-sibling Chevy II Nova compact didn't help. Sadly the Corvair and Camaro could not exist in the same timeline. The Turbo-Charged 164 was dropped for 1967 and Chevrolet pulled the oil drain plug on its compact air-cooled rear-engine performer for 1969.
1978 Buick Regal Sport Coupe turbo 3.8 liter V6
Buick celebrated its 75th anniversary with turbocharged V-6 power for its all-new second-generation intermediate lineup. The 3.8-liter turbocharged V-6 was a production version of the specially-prepared 300-plus horsepower turbocharged 3.8-liter V-6 that powered the 1976 Buick Century Indy 500 pace car. The two-barrel carburetor version was good for 150 hp. The four-barrel turbo V-6 made 165 hp for a 20-hp performance bump over the base GM 305 V-8. Electronic spark control was an industry first with automatic anti-detonation spark retardation and advance from the aptly-named Turbo Control Center.
The 1978 Regal Sport Coupe was factory equipped with the turbocharged V-6 backed up by a turbo-calibrated automatic transmission and high-performance ride-and-handling package with stiffer springs, shocks, and oversize steel belted radial-ply tires. A domed hood emblazoned with Turbo 3.8-litre badging called out turbocharged power. An abundance of crushed velour upholstery, cut pile carpet, and wood accents brought luxury and high performance together in the cabin. Buick's late Seventies entrance into production turbocharged V-6 performance prepped the track for the fuel-injected turbo future and 300-hp 1987 Buick Grand National GNX.
1979-81 Ford Mustang
The American V-8 engine was not feeling very well in the late '70s, and Ford turned to turbocharging and its overhead camshaft 2.3-liter four-cylinder for the all-new 1979 Mustang. With an AiResearch turbocharger the 2.3-liter was good for 140 hp and could propel the Mustang from zero to the nationwide 55-mph speed limit in just over eight seconds. The 1979 Mustang Cobra came standard with the 2.3-liter turbo and an unfortunate ornamental hood scoop with TURBO badging. The available 5.0-liter V-8 made 140 hp with twice the cylinders and displacement. Things got worse for 1980-81 when the 5.0-liter was dropped and the 255 V-8 wheezed out 118 hp.
Special Turbo instrumentation included an 8000-rpm tachometer and dual-function warning light and buzzer system with audible overboost warning, as well as a red light if things pushed beyond six psi. Fox-body platform versatility and forward performance thinking meant the turbocharged 2.3-liter was also available in the 1979-81 Mercury Capri and 1980 Ford Fairmont and Mercury Zephyr because the Futura was now. The draw through turbocharger setup was not without problems and got shelved after 1981. Fuel injection brought the 2.3-liter turbocharged performance formula back with the 1984 SVO Mustang, and present-day 2.3-liter EcoBoost (turbo) Mustangs kick out 310 horsepower.
1980-81 Pontiac Turbo Trans-Am
The second-generation Pontiac Trans-Am nailed it with race-inspired yet functional aerodynamic style and big-block V-8 performance for 1970. The 455 V-8 was relegated to history as America celebrated its Bicentennial and its 400-cubic-inch relative held on until 1980 when the Pontiac 301 and GM 305 V-8 were the largest available Firebird Trans-Am engines.
All was not lost. With a Garrett turbocharger and four-barrel carburetor the 301-cu-in 4.9-liter Pontiac V-8 kicked out 210 hp at 4000 rpm and 345 lb-ft of torque at a loafy 2000 rpm. Pontiac rolled out the Turbo Trans-Am as the official pace car of the 1980 Indianapolis 500 and the turbo propelled the second-generation Trans-Am through 1981.
The turbocharged 4.9-liter engine was factory equipped with a high-pressure oil pump, special crankshaft, forged pistons and knock-sensing Electronic Spark Controller for a substantial bump in performance over the 140 hp and 240 lb-ft of torque of the aspirated base 301 V-8. The multi-winged bird decal or screaming chicken was specially designed with slimmer wings to wrap around the asymmetrical hood scoop that was outfitted with driver-facing three-light boost indicator for '80s-perfect turbo style. Pontiac produced over 23,000 Turbo Trans-Am for 1980 and just under 16,500 for 1981. Cast aluminum alloy Turbo wheels were standard equipment on the 1980-81 Turbo Trans-Am because Eighties, and of course Turbo wheels.