Despite epic trials and tribulations, 30 years with my Alfa Romeo Milano has been worth every moment
The decision to keep my Alfa Romeo Milano 3.0 Verde came October 13, 2010, as I pushed its alloy 3.0-liter V-6 to its full 185 hp en route to a SWAT situation with a wanted killer in my hometown. I'd had my angular black sedan since new, the Memorial Day 1988 purchase taking me to hundreds of stories as a newspaper reporter in Jacksonville, Florida. But speeding to this deadly situation at 80 mph on an interstate nine years ago, my car was vibrating a bit, feeling its then-22 years of age, not pushed this hard in years.
When all was over, the suspect dead after an armed standoff, I got back into my Milano.
The paint was faded, dotted with pinpricks of primer from a coating of soot blown down upon my shipment at its U.S. port of entry, I'd been told. It was just plain worn down inside and out, leaking spots of various fluids, needing lots of trips for fixes. Second-gear synchro had always crunched, and that odd basket handle-shaped parking brake handle was pulling higher from cable stretch, or worse. There were various creaking noises—or was that its owner? And at that point, Alfa's return to the U.S. after its 1993 departure was rumor.
I bought my Milano new from a local VW dealer nicknamed "Super Rabbit," which had the Alfa franchise then. I knew more about my Milano than his very young salesman did, due to copious research in enthusiast magazines. Plus, I had borrowed a 2.5-liter Platinum with striped suede seats for a road test on a local TV station where I was morning anchor. I knew how historic the Alfa name was, and how Enzo Ferrari worked there as its racing history blossomed.
Falling for the Milano
I joined the Alfa club before buying the car, seeking to learn more. Then came that Memorial Day weekend, when I learned a black 3.0 Verde had come in. Still smeared in delivery wax, I drove it with my wife, and we were hooked. It was 10 p.m. before the last of the paperwork was done and the Alfa was mine.
It was the last new car I would ever buy, a quite distinctive Italian executive sedan, they said, designed by Ermanno Cressoni at Centro Stile Alfa Romeo in Italy. As an Alfa video says, it was "born of 75 years of high-quality, high-performance motor car production," which is why it was originally named the Alfa Romeo 75.
The classic V-shaped grille is there, smaller, with that decade's version of the marque's classic snake and cross emblem. American models got big ugly gray bumpers under square headlights, a definite '80s look. The 3.0 features pronounced fender flares, wider lower sills, and extended front and rear bumper skirts, very much a period GT look. The alloy wheels are smooth silver discs pierced with 19 holes each, best cleaned by hand with a toothbrush. A gray accent line runs along the flanks, slightly curves along the front fenders, then arrows straight under the windows before executing a sharp upward rise to become a small spoiler on the high, boxy rear end. I joke that it looked like it had backed into something, but the geometric styling was an Italian thing of the day—look at Lancias, Alfas, and even some Ferraris of the 1980s.
Inside, the gauge package is perfect: clear 140-mph speedo and 8000-Rpm tach, flanked by buttons for cruise control, defrost, warning flashers, and front and rear fog lights. A classic three-spoke, stitched leather-clad steering wheel manually tilts and telescopes. High center sits the bane of the car's existence then and now—the Alfa Control Center. Its rows of idiot lights always flash at me, most times just because they're vindictive. A drawer-like ashtray hides below.
It gets more strange.
Controls for the a/c are well placed just ahead of the gear shifter, but my AM/FM cassette deck is out of the way at the base of the center stack. There's a big package shelf in front of the passenger, with a knee pad that's actually the glovebox drawer, which went unnoticed by my first salesman, as well as one major car magazine of the day.
The tall five-speed manual gearbox is easily within reach. Then you spy that square handle, the much-maligned parking brake, where one barks knuckles on the hard center console if not careful. The center armrest houses the power mirror control, then two rocker switches under your elbow for the rear power window controls, which even after 31 years of ownership, I still accidentally tap with my right elbow. Where are the front window controls? In a nifty overhead console, with sunroof and power window lock-out controls. The pièce de résistance is the pair of Recaro front bucket seats, low and very supportive, the driver's boasting some wimpy heating element at some point in the car's life.
I loved the angular body's looks even before I bought it, and still gaze back at its lines when I walk away. Then there's the engine bay.
To this day, the aluminum 3.0-liter V-6, with ribbed air box on top and cast alloy rocker covers, may be the prettiest I've seen on a sedan. With torque down low, coupled with a snarl under power and 27 mpg on the highway all day long, it's my favorite for long hauls. Even though it leans a bit in turns, a precise and well-weighted power steering rack and near 50/50 weight distribution make the car a joy to play with on Florida's few curving roads.
No autocrossing, though. With a rear transaxle-mounted gearbox and inboard disc brakes next to that, I stay mindful of the danger of messing up doughnuts connecting parts of the driveshaft, which turns at engine speed.
A theme emerges
But three days after I bought it, the Alfa was back at the dealer when the power sunroof stuck open, and a power door lock wasn't working. That began almost monthly visits for years.
I got to know the Alfa Romeo Distributors of North America warranty guy really well, often standing with him under my car on the lift to, ummm, debate my latest issue and ensure it was fixed for free. The ARDONA rep and I saw each other every few months, starting when a mechanic claimed I hadn't put that blessed basket handle parking brake down all the way and a rear disc brake looked like a badly played 45-Rpm record.
I got it replaced.
Or the time we looked at the mushy black rubber hockey puck atop my complicated De Dion rear end, a feature of 3.0-liter Alfas that kept the metal rear transmission from pounding through the bottom of the back seat. They wouldn't replace it. I persuaded them to reconsider. Or the leaking power steering pumps that were replaced three times in the first year, although the last one worked for the next 29 years!
I'd been smart to do a 10-year extended warranty on the car, because it needed work more and more. And I soon learned more quirks.
If you did any work at the engine's front end and removed the timing belt, you always replaced it no matter how new it was. That wasn't written in the rules, but it was just a suggestion most Alfa mechanics knew. I'd been shown a V-6 with splayed valves and dented pistons following a split belt. Also, just to get to the front of the engine meant removing everything including radiator. And the 1988 Milano bumper basher test conducted by a certain consumer magazine showed its weakness to the merest tap, causing endless damage to lots of the plastic and rubber parts. Unfortunately, I know how accurate that test was.
Whew!
All that said, this V-6 still has the sweetest snarl, even better with the Stebro exhaust I added. The best bucket seats I've sat in, ever, make up for the awkward pedal position. And nobody, and I mean nobody, knows what it is, which makes it a great conversation starter with car geeks. So I kept it despite regular issues that left it dead many times. Once, in rush hour, with all windows up, it died and I had to push it uphill around a corner to get it off the road.
Restoration is a generous term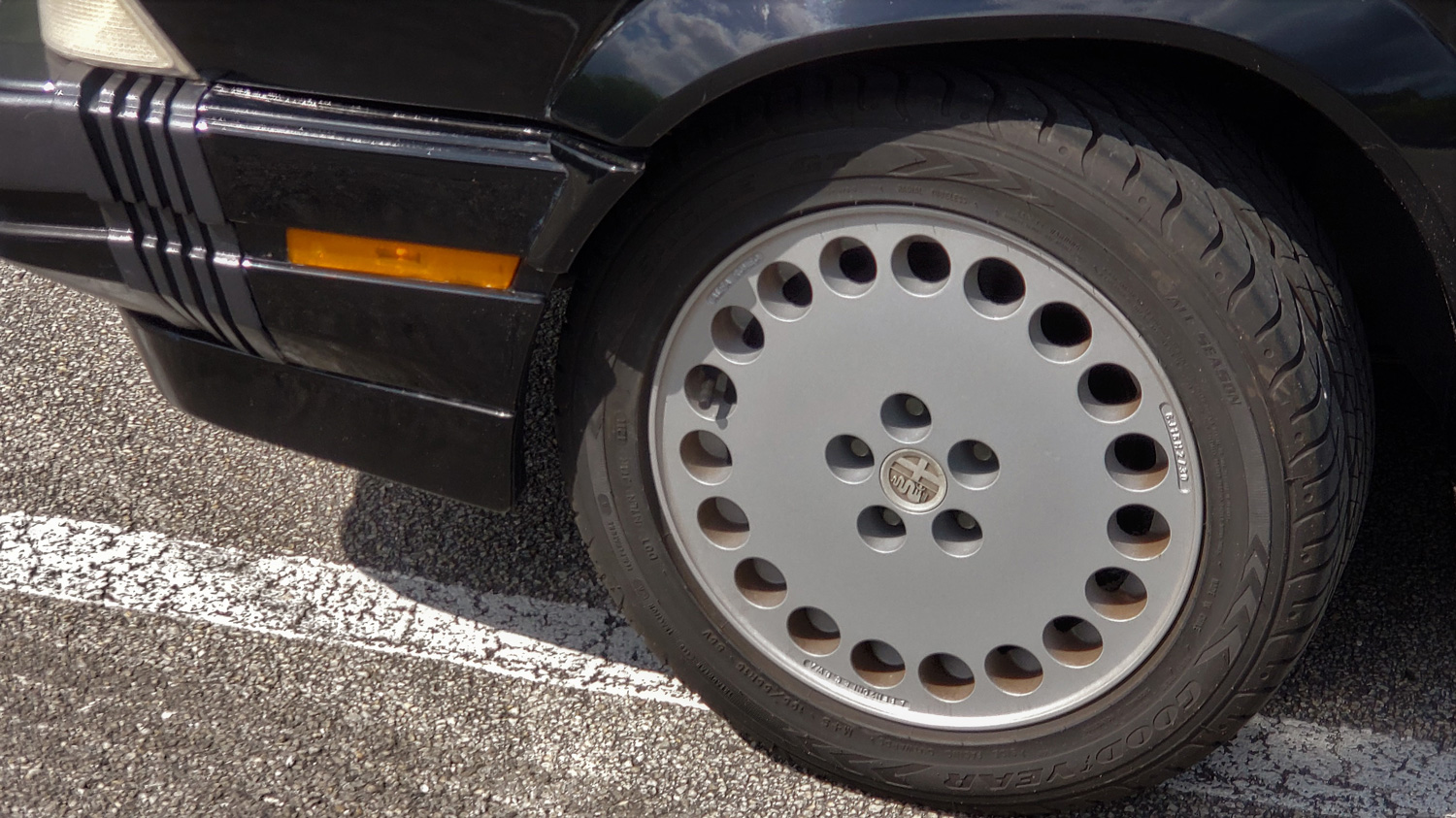 You'd be justified asking what I was thinking when I tell you I spent $15,000 and about three years very poorly restoring a car that was so still grounded with issues when I wrenched it back from the brink. On top of that, you might scratch your head wondering why I'd then keep it for two more years as dusty garage art when it just refused—potentially as a suggestion to just put it out of its misery, already—to even start any more?
The first "restoration" left me without cash to fix the problems. My Alfa resolved that situation a few months back.
I came home one day to find it whizzing gas from a fuel line leak. Emergency repair attempts led to a fuel line rupture and a steady dribble down the driveway. My car was pleading: "Fix me, or let me go."
That's when I thought about selling it. I'd forgotten the joy of driving it. I had it towed to the house of a friend who had once employed a mechanic who actually worked on my Alfa at the dealership, and we could get him on the phone if needed.
It was another $3800-plus hit to my finances, and two months gone. But I managed to source the necessary unobtanium, and a few weeks ago, I snuggled back into my Recaro driver's seat, twisted the key, and that sweet snarl arose from the V-6 on first crank. I drove it home, marveling at how quick it felt once warmed up. I could reel off a 0-60 mph in eight seconds back then, and the Milano still feels fairly quick now. I still love driving it.
Sticking around
As far as I know, this is the only Milano left in my area in Florida. So now begins its next chapter. Drives will be with training wheels for now, trips to car shows and the like. I still have to address the poor paint job from the "restoration." I've got a little oil leak somewhere, the shocks and tires are rock-hard, and I'd like to recharge the A/C with summer coming.
But now I long to tell folks that the green four-leaf clover on the trunk is a classic quadrifoglio badge dating back to 1920, when Ugo Sivocci was hired to drive Alfas in three-man works team, a badge that remains on the marque to this day. I'll have to also find that autographed photo of Danny Sullivan's very uncompetitive 1991 Patrick Racing Alfa Romeo IndyCar, where he wrote "Good luck with your Alfa." I needed it.
I know there are hardly any Milanos left, out of more than 386,000-plus made between 1985 and 1992 around the world. Only weeks ago, a collector car expert told me I was smart to keep mine because "they have rusted out or been 24 Hours of Lemons-raced to hell." I am glad now that my Alfa remains in my care.
Oh, I do own a few more Milanos – all 1:43, 1:18 and 1:25-scale models that don't drip oil. I don't mind pushing them around, either.