1981–87 Alfa Romeo GTV-6 prices are up, but the Italian swagger is as cool as ever
Want a rear-wheel drive Italian coupe with sharp lines, an overhead-cam V-6 that sounds like heaven, a five-speed transaxle with inboard brakes, and a leather interior? It sounds like the kind of car that should have five zeroes in the price tag—six, even. One little car, however, can get you all that for somewhere in the mid-teens: the Alfa Romeo GTV-6.
The last exciting Alfa coupe in this country until we got the 4C a few years ago, the GTV-6 has its quirks and its issues like any flavorful Italian car does, and finding a good one isn't easy, but it's lovely to drive. Even though it has gotten pricier over the past couple of years, it still offers tons of cool per dollar.
The basic platform of the GTV-6 goes back to 1974, when Alfa debuted the four-cylinder Alfetta GT. Designed by Giorgetto Giugiaro at Italdesign, the four-seater fastback coupe got various twin-cam fours and quickly gained a reputation for lively handling thanks to its double wishbones and torsion bars up front, plus a De Dion tube, five-speed transaxle, and inboard disc brakes at the rear. Reasonably comfortable room for four and ample luggage space only added to the appeal. Then, in late 1980, Alfa made things more interesting by squeezing in a 2.5-liter, SOHC V-6 borrowed from the Alfa 6, a luxury sedan America never got. That V-6 was certainly adequate for a 3300-pound four-door, but in a 2700-pound coupe, it made for bristling performance. The engine also did away with Dell'Orto carbs in favor of fuel injection in the GTV-6. And to the delight of many a '70s Alfa owner, it wasn't a SPICA system but Bosch L-Jetronic.
In U.S. trim, the aluminum head and block 60-degree V-6 makes 154 horsepower and 157 pound-feet of torque. And to clear the top of the intake, the hood on a GTV-6 has an angular bulge topped by a piece of plastic to distinguish it from four-cylinder versions. If the bulge in the hood doesn't make you notice the car, the sound of the engine underneath will. At full song, it makes amazing sounds, the "great Italian ripping-raw-fabric sounds," as Road & Track put it in a 1985 test.
Alfa Romeo advertised the GTV-6 as "the car you can test drive for the rest of your life," and it wasted no time in getting Alfa some much-needed street cred. It won the British Touring Car Championship in 1983, and a Group A GTV-6 won its class four times in a row (1982–86) at the Tour de Corse (Corsica) round of the World Rally Championship. The GTV-6 also won the European Touring Car Championship four times in a row from 1982–85, and a special 3.0-liter version took on the BMW 535i in circuit racing in South Africa. The GTV-6 even made it big in the movies, as Roger Moore leads German police on a brief but exciting car chase after stealing a woman's gray GTV-6 in the 1983's Octopussy.
In the U.S. market, customers were treated to two special limited editions of the GTV-6, both of them cosmetic. First was the Balocco edition, named after Alfa Romeo's test track. The run of 350 examples added a leather-wrapped steering wheel, red piping on black leather seats, Balocco badges, and a special plaque on the glove box. All were painted red with a black body stripe. The 150 Maratona edition is slightly rarer; these cars feature a body kit, Speedline wheels, wood-rim steering wheel, and wooden shift knob. All were finished in silver over black leather.
The ultimate version of the car came from an unlikely source—Reeves Callaway. Before he became a household name in the Corvette community for turbocharging America's sports car, he worked with Alfa Romeo's U.S. importer and developed a twin-turbo version of the GTV-6. Called the Callaway C3, the car features improved suspension and brakes along with two IHI turbochargers, two air-to-air intercoolers, and a solid-state fuel injection control system. The result was 230 hp, a 50-percent increase over stock, and 245 lb-ft of torque, enough to "keep even the most skilled driving-with-a-capital-D enthusiast entertained for as long as his license lasts," according to Road & Track. The twin-turbo GTV-6 started at about $27,000 (about 65 grand in 2019 dollars), which was way more than the standard car, and only about three-dozen were built.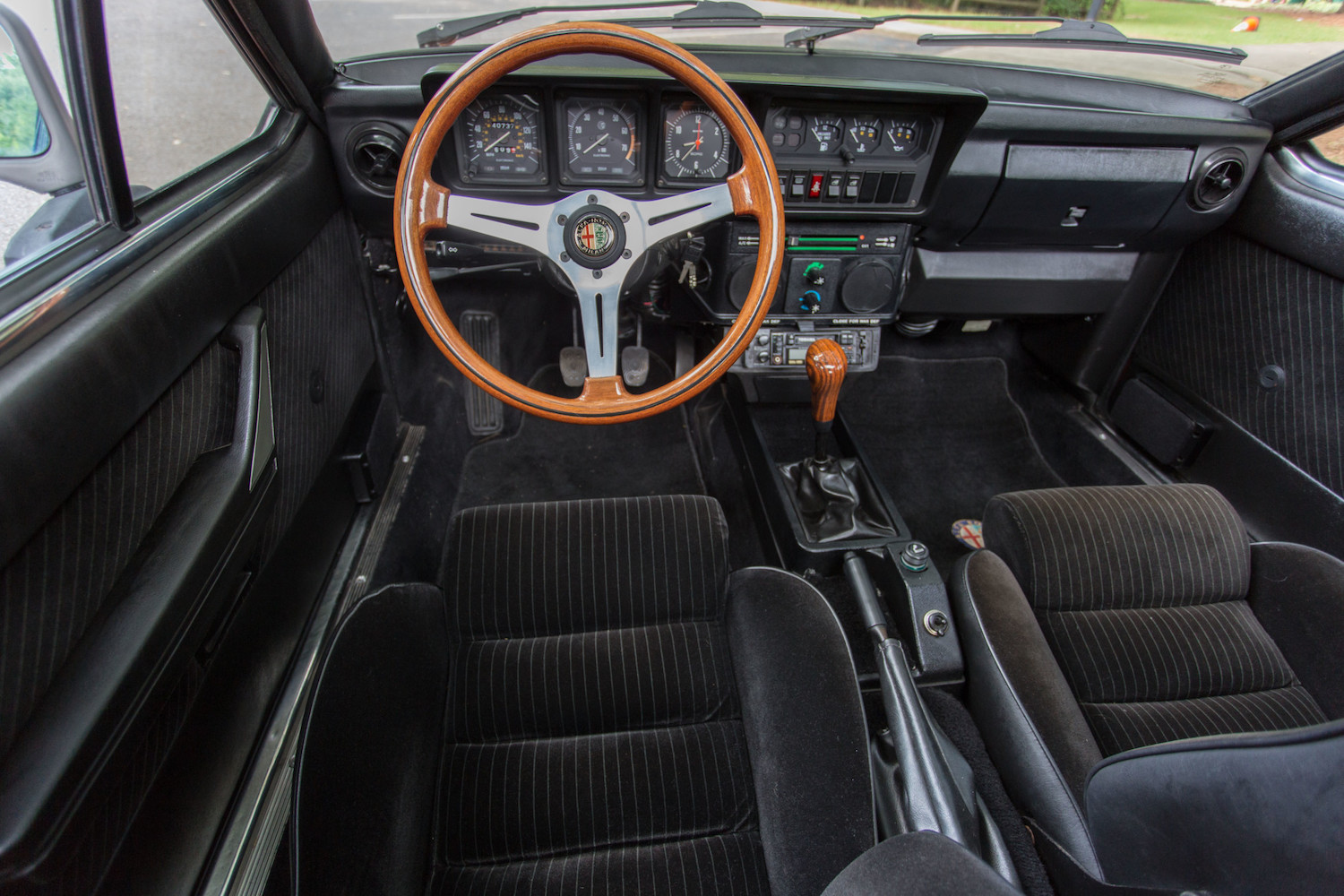 Alfa built about 22,000 GTV-6s from 1981–87, and less than 5000 are thought to have come to the States. Thanks to age, neglect, and above all rust, not many are left. And of the ones that are left, few are very good. These have been cheap cars for years, so it hasn't made sense for most owners to invest tons of money in their GTV-6. Plus, being an '80s Alfa, GTV-6s weren't screwed together all that tightly, even when sitting new on dealer lots. If you're patiently waiting for that perfect low-mile, rust-free, time-warp car to pop up, you'll probably never own a GTV-6.
These cars certainly have their quirks. Alfa Romeo wasn't on sound financial footing in the 1980s and became a part of Fiat in 1986, so build quality and dealer support weren't great. Rust is their biggest enemy, but other common issues include cracked dashboards and worn synchros on the lower gears. The rubber donut couplings in the driveshaft also tend to disintegrate. The V-6 is pretty robust, but it's an interference engine, so the belts must be changed on time. It's not unusual to find a car with a later 3.0-liter swapped in from the 164 sedan.
Assuming you do find a clean GTV-6, it won't be the screaming deal it used to be, but, in a world of $33,000 Honda CRXs, GTV-6s still seem undervalued. Over the last three years, average condition #2 (excellent) values for GTV-6s are up 22 percent. Things held steadier over the past year, however, with an increase of just 2 percent, and GTV-6s are still solidly in the entry-level category with a #2 value of $13,100 for earlier cars and $18,200 for more desirable later examples. Naturally, the Callaway twin-turbo versions are worth even more; given their rarity, however, an exact value can be hard to pin down. (We assign #2 condition twin-turbo cars a value of $26,700 in our Hagerty Price Guide.) A couple have popped up on eBay over the past few years, but neither met their reserves.
Back to the normal production versions, though. You can expect to pay a bit more for a Balocco or a Maratona edition example, but beggars can't be choosers when it comes to a nice, minimal-rust GTV-6 and it's smarter to buy a solid base car than a grubby special edition. A few really nice GTV-6s have brought above-market prices on Bring a Trailer, including a very clean Balocco edition for $27,000, but the average sale price on the online auction platform over the past three years has been just 13 grand. As it stands now, the nicest GTV-6 in the world will set you back the kind of money that will buy you a ratty #4 (fair) condition example of its predecessor, the Giulia-based GTV of the 1960s and '70s.
Despite being affordable, and despite being cars of the '80s, GTV-6s are most popular among Baby Boomers, as measured by insurance quoting activity. Boomers make up 48 percent of GTV-6 quotes even though they make up 39 percent of the market. Buyer interest is up across the board regardless, though, with the number of quotes for GTV-6s up 13 percent over the past year.
The GTV-6 has gotten pricier, as have most cool cars from the 1980s; but as BMWs, Mercedes-Benzes, Porsches, and even front-wheel drive VWs and Hondas have soared, gains for Alfas have been more modest. Let's hope it stays that way, because a rare race-winning package with great looks and an awesome Italian soundtrack for the price of a used family sedan is something we don't see enough of in this hobby.