Pontiac Can Am: One for the faithful
Start with a Pontiac LeMans coupe and add a 400-cubic-inch V-8 with four-barrel carburetor, beefy automatic transmission, handling suspension, hood scoop, and unique appearance features. Then add Pontiac marketing icon Jim Wangers into the mix, and what do you have?
In 1967, it would be the Pontiac GTO, which sold nearly 82,000 units. In 1977, three years after the GTO had been dropped, a similar formula produced the Can Am, a limited-edition option on the LeMans Sport, with less than 1400 made. The Can Am, introduced amid a wave of "sticker package" cars of the 1970s, was a well-thought out, well-rounded performance package.
More than four decades later, perhaps less than one quarter of Can Ams remain, according to auction company Russo & Steele, which sold a Can Am at its Scottsdale auction in January for $18,150. Barrett-Jackson also sold a Can Am in Scottsdale for $26,400.
Is this another 1970s Poncho to watch?
Remember the Goat!
Pontiac had no problem leveraging its GTO heritage to market the Can Am, and therefore approved an ad headline, "Remember the Goat!" The message was clear: the Can Am was not a GTO but the two were certainly related.
"We all grew up calling the GTO 'The Goat,' and people knew exactly what you were talking about," says Verne Howard, who owns two Can Ams. "But that term never appeared in any Pontiac ads until the Can Am."
Howard, a director in the Pontiac Oakland Club International, bought his Can Ams nearly 20 years ago. One is an older restoration that he drives to cruise nights, and the other is a trailer queen for shows. Since the early 1980s, he has owned several other Can Ams, as well.
"I liked their uniqueness. They weren't common," Howard says, adding that the cars draw considerable attention wherever he shows them.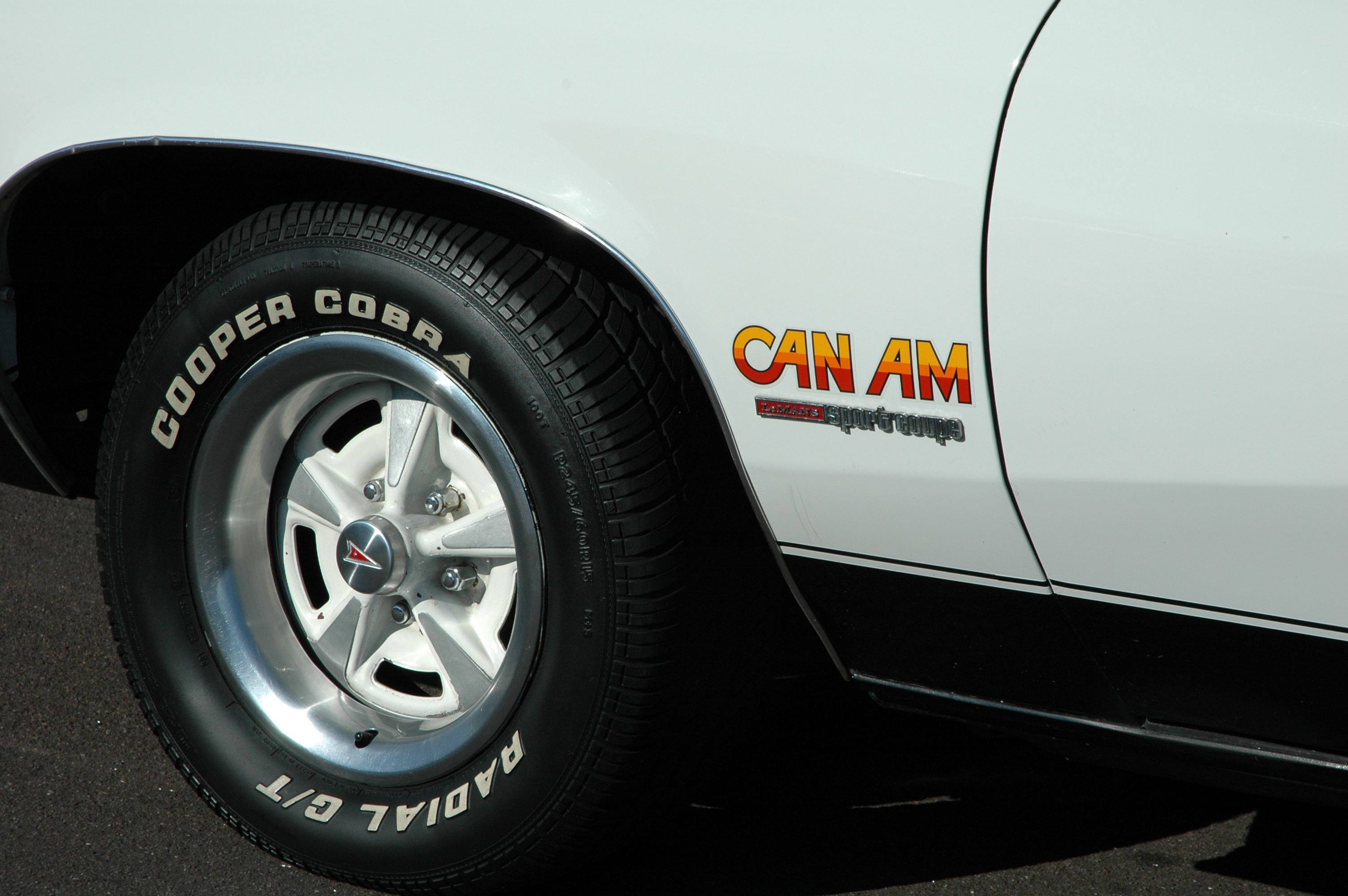 The GTO's sales collapse in 1971 sent Pontiac exploring new concepts. A budget-muscle Ventura-based GTO in 1974 was a one-year model before the Division sent its muscle car into retirement. Hope that the LeMans-based 1973–75 Grand Am might fill the GTO's niche with a Euro-type luxury GT faded when that model tanked after a promising debut.
The muscle car and the Godfather
The Goat was dead, and LeMans sales badly trailed its midsize GM cousins. Yet surging Firebird Trans Am sales in the mid-1970s confirmed that Pontiac's muscle car persona remained intact. When Wangers offered to make a proposal for a LeMans-based performance package, Pontiac General Manager Alex Mair was ready to listen.
Often called "the godfather of the GTO," Wangers had managed Pontiac's ad account at MacManus, John & Adams and had been instrumental in the GTO's marketing. In the '70s, working with Motortown Corporation, Wangers created special editions for Detroit carmakers, which evoked muscle cars but offered no additional performance. The most successful was the Mustang Cobra II, and others included the Plymouth Volare Road Runner, Dodge Aspen R/T, and AMC Hornet AMX.
For Pontiac, Wangers reached back to the GTO's glory years for inspiration, but Pontiac rejected his idea to create a new Judge model, named for the famous 1969–71 GTO option. With support from Pontiac product planner Ben Harrison, who had a long history with the GTO, Wangers and Motortown presented a more contemporary concept. The centerpiece for the car was a W72 200-horsepower 400-cu-in V-8 named "T/A 6.6," which replaced the departed 455 as the Trans Am's top engine option for 1977.
The concept was based on a Cameo White LeMans Sport coupe, which featured louvered quarter windows. A ducktail rear spoiler came from the Grand Am All-American, an earlier show car Pontiac had considered as an American Bicentennial tribute. Adding a shaker hood scoop from the Trans Am created an instant link to the hot-selling sport coupe, while tri-tone orange, yellow, and gold accent striping and white-painted Rally II wheels added a dash of 1969-style flash. Harrison, following Pontiac's practice of borrowing names from motorsports, named the car Can Am after the SCCA racing series that had been revived for 1977, though Pontiac had no connection to it.
Bringing it all together
The Can Am debuted at the Detroit Auto Show in January 1977 and was in production by spring. Pontiac and Motortown planned for 2500 cars, although Wangers has said dealer orders were perhaps double that.
The Can Am began as a Cameo White LeMans Sport coupe equipped with the RPO WW3 Can Am Option Package that cost $1214 (about $5142 today): T/A 6.6, Turbo-Hydramatic 400 transmission, 3.23:1 axle ratio, variable-ratio power steering, power front disc brakes, Grand Prix instrument panel, "Sport" mirrors, blacked-out grille, and Radial Tuned Suspension with GR70x15 tires. The Safe-T-Track axle and cast aluminum "snowflake" wheels were among available options, along with amenities offered in the LeMans.
The cars were shipped to Motortown, which installed the appearance items, including the ducktail spoiler, shaker hood scoop, tri-tone Can Am decals and matching accent stripes, plus black-painted rocker panels and blackout window trim. As on the Trans Am, the shaker shook but didn't inhale.
"Motortown cut the hole in the hood and installed the shaker scoop," explains Howard. "They had to add the trim ring around the opening to give it a finished look and also to cover the sharp edges."
Can Ams built for California and high-altitude areas gave up the Poncho engine for the 185-horsepower Oldsmobile 403 V-8, a lighter small-block engine teamed with a Turbo-hydramatic 350 transmission and 2.41 axle ratio. On Pontiac-powered models, which were the majority, the shaker scoop was lettered "T/A" 6.6" while Olds-powered Can Ams were lettered "6.6 Litre." Completed Can Ams were returned to Pontiac for shipment to dealers.
Not Quite A Goat
In its March 1977 issue, Hot Rod lamented that it could not put the Can Am through instrumented testing, due to snow and rain. Instead, the magazine published Pontiac's dubious claims of a 3558-pound curb weight and 15.88-second quarter-mile at 88 mph.
Car and Driver instrumented the Can Am for its May issue, reporting a more realistic 4125-pound weight, but also a lackluster 17.1-second quarter-mile at 79.7 mph. Those numbers seemed more realistic, since the magazine had also tested a 1977 Trans Am with the same engine equipped with a four-speed manual transmission and had recorded a 16.9-second quarter-mile at 82 mph. Like the 1973–75 Grand Am, the Can Am offered a more sophisticated balance of handling and ride comfort than the GTO.
"It's a very nice riding car. It drives very smoothly," Howard says, a point that echoed automotive media in 1977.
Early demise
After some 1300 Can Ams were built, production came to a halt when Motortown's tool for making the rear spoiler broke. Rather than ship cars without spoilers and rely on dealers to install them later, Pontiac chose to cancel the Can Am. A key reason, Wangers told High Performance Pontiac magazine in a 2008 interview, was that some in Pontiac management had fought against the Can Am from the start. Because the Can Am used the Grand Prix dashboard, it was seen as cutting production of the Grand Prix, which was on track for a record year of 288,000 cars, versus 80,000 for the LeMans.
LeMans Sport coupes built with Can Am equipment but not the appearance features were still sold, but how many is unclear. Howard says he has documented two such cars for the Can Am Registry, and acknowledges speculation that dealers sent some back to Motortown for later conversion. He says the widely accepted number for final Can Am production is 1377.
In retrospect, Pontiac didn't need the Can Am. The downsized 1978 A-body was arriving that fall, and the Trans Am would soar even higher. The Can Am was, in the end, a gift to the GTO faithful.