10 vintage American vans that will steal the show at Mecum's Las Vegas auction
Mecum's upcoming Las Vegas auction is kicking off once more, complete with its usual gearhead-recommended dosage of classic muscle cars, vintage boulevard cruisers, hot rods, and exotic performance. There are also 10 custom vans. Absurd, garish, outlandish, positively mouth-watering American vans. That's Barry Lefroy's handiwork.
"This is only half my collection," Lefroy says. "And I never built anything with the intention of selling it. You play with toys for a while, and then you move on to something new. I'll keep expressing my creativity on others."
For a van lover in the market for something eye catching, Barry's collection is an embarrassment of riches. They're funky, with a clear sense for vintage flavor, but with modern amenities and functionality that make for easy regular use. And compared to the old Volkswagen buses and Vanagons that have taken off in popularity, Barry's vans are reliable, affordable, and combine comforts like air-conditioning with accessible V-8 power.
"You used to find an old beater van on somebody's lawn and they'd pay you $50 just to take it away," Lefroy says. "Now an old one is $2,000–$3,000." One of his modern conversions, he says, costs on average about $60,000.
Lefroy started collecting around 1978, when he was 17 years old. "Vanning life is about something free-spirited," he says, "and it's great to see some younger people appreciating how therapeutic that can be." Let's follow the doctor's orders and dive into some van-based therapy.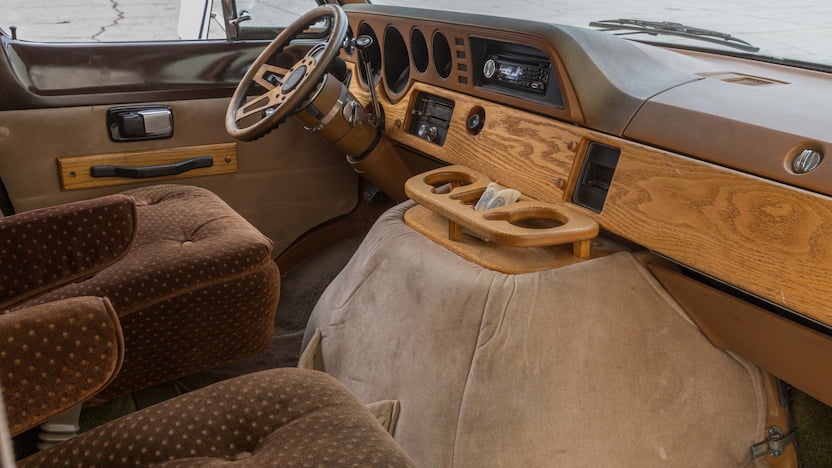 By Lefroy's standards, this Dodge B200 is tame. It's one of the more honest vintage examples on offer in Las Vegas, but notable for its characteristic '70s brown paint and wood-finished interior. It has a rebuilt 440-cubic-inch V-8 engine, aluminum intake, four-barrel carburetor, and three-speed automatic, as well as power steering and brakes.
The splashes of color on this early '90s Ford van, packed with a 5.0-liter V-8 with electronic fuel-injection, represents a great example of Lefroy's collaboration with local artists. He credits a lot of the airbrushing artists nearby, about 75 miles north of San Diego, with his vans' stunning looks. While the gauges and controls on this van are factory, the entire interior has been outfitted with new upholstery, which is most striking on the inside of the rear barn doors.
No, that spoiler isn't functional. But hey, the LEDs, flat screen TV, and fully stocked bar sure are. No doubt this rig turns heads with its metallic maroon paint, too. Power comes from a 350-cu-in V-8.
Hope you like orange, because there's a lot of it both inside and out. Between the green stripes and crazy graphics, it definitely won't be confused with anything else in the Home Depot parking lot. Notable upgrades include air suspension and shaved door handles. 3.7-liter V-6 under the hood.
The Denimachine. This replica sure doesn't have a lusty Coke bottle shape, but inside the boxy brute is an Americana-overloaded shrine to Coca-Cola and Levis. The van boasts a rebuilt driveline, air conditioning, dual-flatscreens, and heavily cushioned patriotism throughout. Don't forget the butt pockets on the rear doors, either.
When you can't decide between pirate ship and '80s panel van, this is where you end up. Where to even begin—the custom-airbrushed nautical scenes? The kraken on the rear doors? The tiny painted skulls you can only see up close? The superbly finished captain's chairs? The bed/bar combo in the cargo area? This is perhaps Lefroy's strangest and yet most alluring example.
Patina, patina, patina. As Lefroy tells us, some vans have such a fantastic original, vintage look that it's better to leave them as-is. With that being said, this aged wonder is rather lived-in. That's a plus for some and a minus for others, but we love it just the way it is. No bells, no whistles. Just a 350-cu-in V-8, four-barrel carburetor, and plenty of 1970s charm to go around.
If the airbrushed galloping knight, dragon, castle, and wizard weren't enough, this thing has six wheels. And to say nothing of the 360-cu-in V-8 with new headers, aluminum intake, and side pipes, the interior is jaw-dropping. Whether it's to your taste or not matters neither here nor there—the transformation is impressive. There are LEDs, fiber optic lights, two flat screens, and upgraded sound system, a bar, and coffee-colored upholstery with yellowpiping. Lefroy says that of the vans in this auction, this six-wheeler might turn the most heads.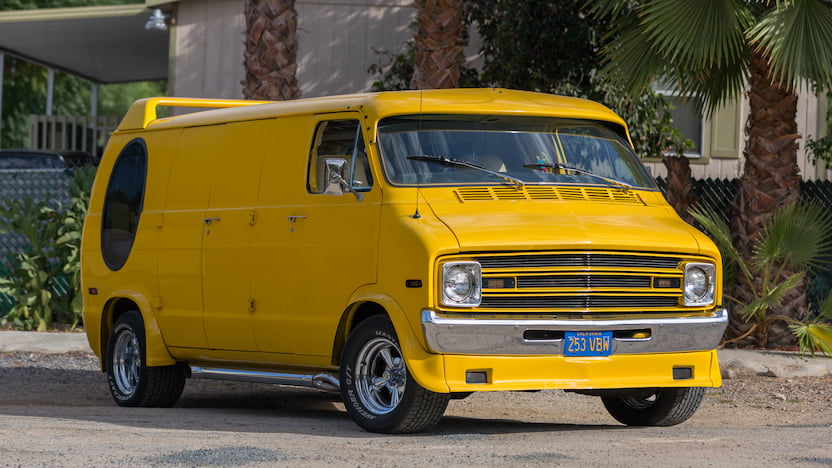 Beach, anybody? Take this baby home and there's a good chance you'll be smiling as wide as the banana mascot embroidered into the front headrests, riding a wave in his board shorts. The completely overhauled interior has all the bells and whistles you'd want for your hangout spot by the ocean. Beats sleeping in a tent, that's for sure.
Another survivor. Worn paint and a dent here and there do little to spoil the appeal, and who could be mad about the 460 under the hood? A 7.5-liter hunk of Detroit iron is indeed a blast from the past, as is the van's all-original interior, gauges, and "Trailer Special" badging.