What's the deal with Toyota pickups lately?
Recent auctions have proven that imports are on their way up. Since a rising tide lifts all boats, not just the sporty coupes are seeing an increase in value. At the same venue where an Acura Integra Type-R sold for record money, three Toyota pickups went for eye-opening prices as well, including one for $55 grand.
Toyota pickups have traditionally commanded a premium over their utilitarian counterparts, no doubt due in part their owners' ongoing love affair with these hardworking and durable smaller trucks. Compared to domestic competitors of the era, many of these Toyotas look as if they were built three-quarter scale. But history shows they were no less capable, as proven by many farmers and on television shows since they were introduced.
With three different trucks selling for serious money at the recent Barrett-Jackson Las Vegas sale, could it be that the time has finally come for these little trucks? Hagerty Valuation Editor Andrew Newton says it depends.
"As is the case with '90s tuner cars, the old Toyota pickups could really take a beating and many of them did, so a truly nice one is a lot rarer than the production numbers would lead you to believe. Playing a supporting role in a massive film Back to the Future doesn't hurt, either."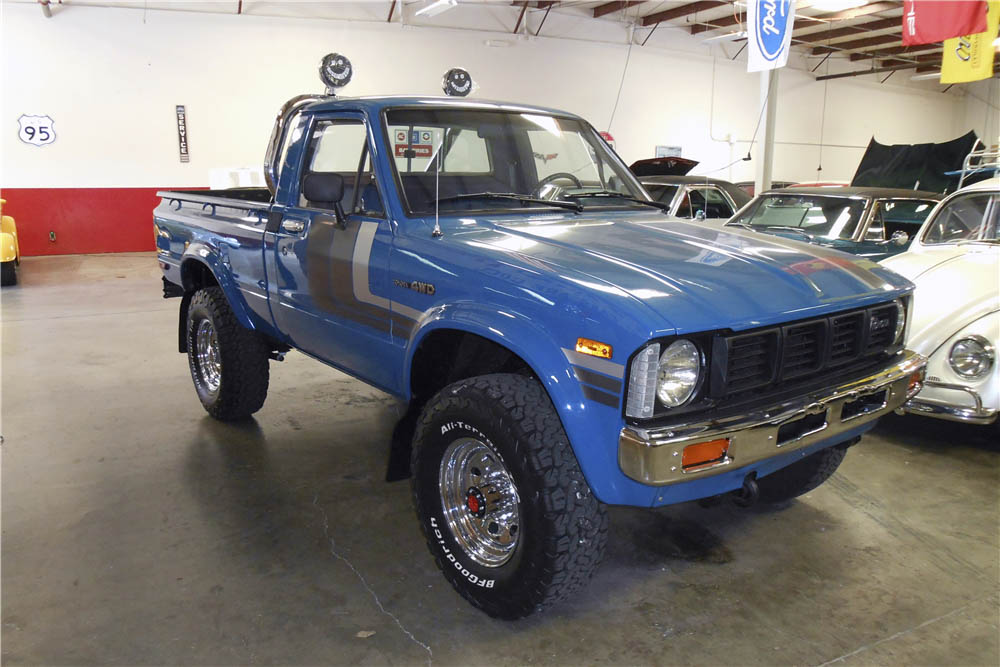 Even lacking its stock wheels and tires, this 1986 Toyota 4×4 brought more than $20,000, likely due to its 44,000 miles and immaculate interior. "For pickups that are bringing the highest prices, off-road-oriented mods don't seem to matter as long as they're tasteful, and the truck has to be in remarkably good condition, be it a thorough restoration or a pampered original," Newton says.
This 1980 Short-bed 4×4 underwent a full restoration prior to rolling through the auction block and sports a 2.2-liter four-cylinder 20R engine connected to a four-speed manual transmission. New 31-inch tires with Cragar wheels match quite nicely with the chrome roll bar in the bed. When bidding closed, it realized over $26,000.
The Toyota that really stopped us in our tracks was a 1983 Toyota SR5 4×4, which came equipped with the more desirable combination of larger 22R 2.4-liter four-cylinder and five-speed manual. Even with multiple modifications completed during its restoration, this truck found a new owner to the tune of $55,000.
Trucks and SUVs have been trending up for some time now, but the market seemed to have a focus on domestic and European models along with older Land Cruisers. These sales don't make a market, but they certainly signify that the import trucks are no longer being ignored by collectors.