The unsolved history of the Bronco Hunter by Holman and Moody/Stroppe
It started as a trip to Central Phoenix to buy a used set of factory alloy wheels that I'd found on Craigslist for my 1989 Bronco. But soon I was not only the owner of those wheels but also the long-lost, one-of-one 1969 Bronco known as the "Bronco Hunter," originally built by legendary dream team of Holman-Moody-Stroppe.
Here's the backstory. When I replied to the CL ad for those wheels it turns out I knew the seller, a Bronco-crazy fellow named Randy who happens to own a really cool Bronco-only shop, parts store, and salvage yard in Phoenix. I'd been there before, and even bought another cool old early Bronco from Randy a few years prior. So any concerns of being stabbed to death in a Phoenix alley trying to buy a $200 set of wheels were quickly laid to rest, and I headed out to do the deal.
When I got there I asked the standard question that any car hunter does: "Anything cool around here I should take a look at?" Randy walked me over to a row of project Broncos all deemed to be worth saving. He pointed me to a one that had clearly seen better days; it had faded red paint and shredded interior, and it was listing on a set of tires mismatched by both size and brand. "This one has a story. Pop the driver's door open." And there it was, a Holman-Moody VIN tag stamped with "BRONCO HUNTER" and the number "HM9028-S." Which, when broken down, translates to "HM" for Holman-Moody, "9" for 1969, "028" as the sequential build number, and I believe "S" for Stroppe.
Whoa.
Randy didn't know much more than that, although he did order a Marti report using the hidden VIN on the frame, which came back showing the truck was originally delivered to Ford Engineering and built with some unique options. Given that its visible Ford VIN and data tags were long gone, my hunch was that it was a "Dollar Car." One that was "sold" to Holman-Moody-Stroppe (HMS) for $1 as Ford (and others) did to many of their back door-sponsored race teams in the day.
But the big question was not whether or not HMS built this Bronco or if it were something special. It clearly was both. The question was, why was it built? And for what purpose? It had many features of the later 1971–75 Stroppe Baja Broncos, the roll bar, power steering, thick Stroppe rubberized steering wheel, fender flares. The HM VIN tag was clearly legit. The Ford VIN on the frame confirmed it was ordered and delivered internally within Ford as something special. But exactly what was a mystery. Could it have been a Baja Bronco prototype? A support vehicle for the HMS race team? What meaning does the name "Bronco Hunter" hold?
Yet the far more pressing question for me was did I want to roll the dice and buy it? The answer was yes. No matter what, it was a HMS-built Bronco and that alone made it an incredible find and certainly cemented its place at the top of the early Bronco hierarchy. And, in spite of it being as rough as a cob it was worthy of a proper restoration. I wanted to dig in, try to figure out its history, and bring it back to life. So a deal was struck and my journey with the Bronco Hunter began.
Once home, we tore into it. Body off the frame, truck disassembled down to pieces. It needed everything. In the meantime I shook a lot of trees to find info about the truck's history. Hired "old time" 4×4 guys who were around HMS in the late 1960s and early '70s. Sent a fellow to interview Lee Holman. Talked to old Stroppe guys. Hired a "car detective" who did (and still is) scouring DMV records and chasing leads. The closest we came were Lee Holman saying it was built at Stroppe's shop in California, and a few people that vaguely remembered the truck but not the finer points. We also found that it was sold at an auction in North Carolina in the early '80s, and we located a fellow involved who remembered it as a Holman-Moody "hunting truck."
Short on info, I decided that searching for clues during the restoration was my best hope. Slowly and carefully we stripped off the nasty red repaint to see what was under it. Knowing the truck was originally Wimbledon White when built by Ford, I needed to see what may have come after that. And under a few other obviously later layers we found a very workmanlike layer of orange paint over the factory white, including inside the engine compartment and interior. Based on the quality, and thoroughness, I was reasonably confident this color change was part of the truck's original conversion into the "Bronco Hunter" at Stroppe. So the decision was made to duplicate this during the restoration and make the body of the truck orange again, with the new paint being color matched to what we found. The truck also needed a fair amount of metal repair and replacement, including rust in the hardtop and hood—the kind of top-down corrosion you see in coastal vehicles. Was it used in Baja as a chase or support vehicle? I'd love to know.
Then, midway through the restoration of the Bronco Hunter, the long-lost Kar Kraft-built "Boss Bronco" surfaced. And while I wanted to own both a Holman-Moody Bronco and the Kar Kraft Bronco I decided to sell the Bronco Hunter to a friend, who made it no secret he wanted a special Bronco of his own. The sale helped fund my purchase of the Boss Bronco, and I agreed to finish the restoration of the Bronco Hunter for my friend. These are the things car-hunting addicts will do to fuel their disease.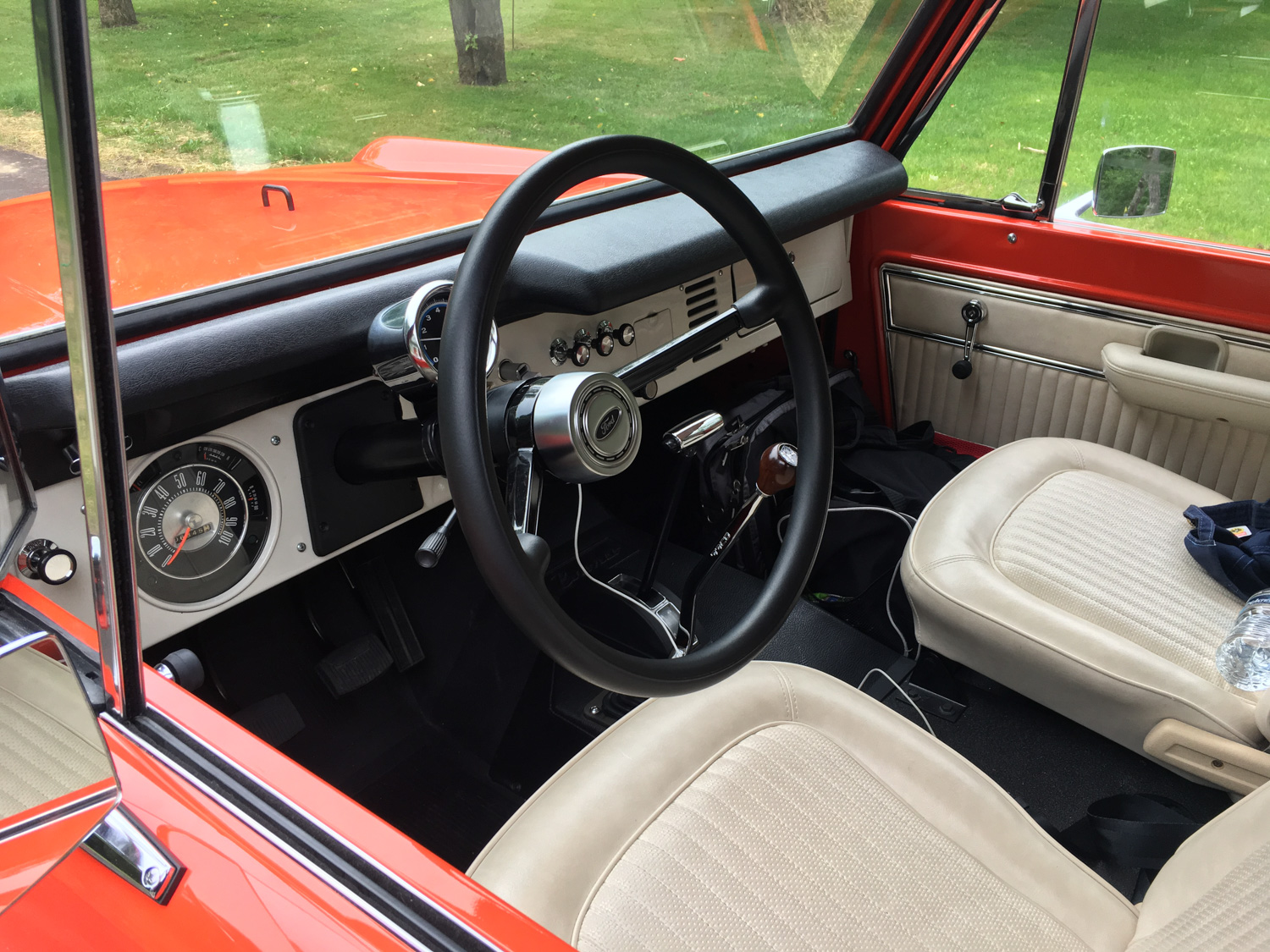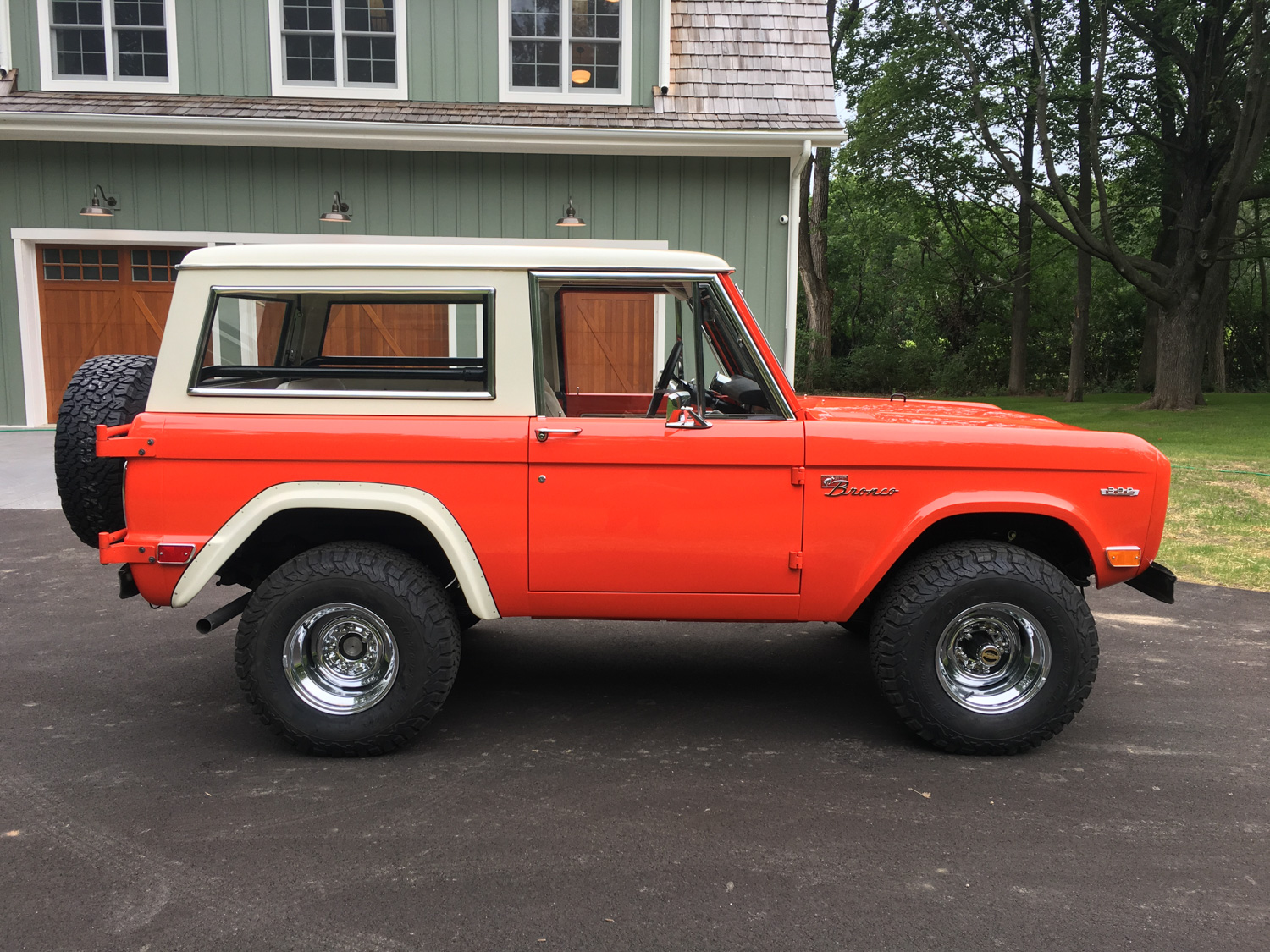 During the completion of the Bronco Hunter, my friend asked for a few subtle upgrades to make using it more enjoyable. Custom "soft ride" springs and Bilstein shocks, plus a front anti-sway bar were added, along with a period-correct floor shift conversion for the three-speed manual transmission. A hidden USB port to stream music from mobile devices was tucked behind the dash. And we brought the 302 V-8 up a notch during its rebuild by adding an aluminum intake, four-barrel carburetor, and a performance camshaft. The finished product is a blast to drive.
As for the history, I'm still not giving up hope that all of the feelers I put out there will someday net a "hit" with some good info telling us just why the Bronco Hunter was built and how it lived the 47 years between then and when I found it. But for now it is the most perplexing cold case file I've had because I haven't been able to crack it. Yet. So for now the Bronco Hunter simply is what it is: A Holman-Moody-Stroppe 1969 Bronco, serialized with a Holman-Moody VIN and some undeniably cool original build features.
Recently, my friend found something else that caught his eye and demanded the garage space the Bronco sat in. So he consigned this HMS-built Bronco to the Gooding & Company auction in Pebble Beach. At no reserve, no less. Gooding's pre-sale estimate was $180,000–$220,000, making it an expensive Bronco, for sure, but one with really nothing to compare it to outside of perhaps the factory Stroppe-built Baja Broncos of 1971–75. Around 500 of them were built, and the most recent sales have been in the $100,000–$145,000 range at auction.
Unfortunately for my friend, the Bronco Hunter didn't fare well at Gooding. It was the third lot of the sale, so it sold early in the day, not to mention being out of place in a sale that centered around multi-million dollar exotics and full classics, like the Duesenberg SSJ that sold for $22M and the Ferrari 250 TDF that sold for $6.6M. I'm not really sure that the same demographic that buys these types of cars rushes to the sale in the morning to buy a bright orange 1969 Bronco. As a result, and selling without a reserve, this piece of Bronco history hammered sold for just $121,000 including the buyer's premium. As the guy who restored it, I can tell you that doesn't even cover the labor on a restoration of this level, let alone the parts or the actual truck itself.
This price was an incredible bargain on what is certainly one of the coolest Broncos of all time. And if some illustrious history for it surfaces, it's going to look like even more of a bargain. In the meantime, I'm still looking for clues.