Snag these 11 hot classics under $30K
Though we enjoy ogling high-dollar auction stars and dreaming of dollar-draining project exotics, the car hobby isn't much fun without real-world options. Luckily, after digging into our wealth of data, we've identified 11 hot cars you can snag for under $30K. In fact, with two exceptions, you can likely score any of these cars for under $20K.
We selected these cars according to their Hagerty Vehicle Rating (HVR). If you need a refresher, the following breaks down the HVR, how it's calculated, and how to interpret the scores:
The Hagerty Vehicle Rating, based on a 0–100 scale, combines insurance quoting activity and the number of new insurance policies, along with sales data, auction activity, and other metrics, to rank vehicles compared to the overall collector car market. A vehicle with a score of 50 is keeping pace with the collector market. More popular vehicles score above 50; vehicles with a sub-50-point rating are lagging behind the rest of the market. The HVR is not an indicator of future collectibility, but it says a lot about what's trending hot and what's not.
With a minimum HVR of 88, the sedans, trucks, and coupes that comprise this list are on the upper echelons of positive market trends. Vehicles hailing from the '80s and '90s showed strongest, but regardless of decade, full-size German luxury sedans comprise the hottest genre. Though a back-roads-carving coupe may top your dream list, only two made the list under the $30K criteria. Sleepers are, apparently, in style.
If you're curious about the outright hottest top 25 models, presented without a price cap, hop on over to this article. But if you're shopping for an accessible summer buy, read on.
We noted in January that Mercury Marauder values kicked off 2020 with the biggest jump the model's ever seen. The median #3-condition (Good) value for these cars has climbed to $17,400—a pretty penny for a '00s Ford without a pony badge, some might think. However, those critics appear to fall increasingly in the market minority; the Marauder is on a tear right now. Its practical back seats aren't the only point of pride for this sedan. It's also among Ford's last rear-wheel-drive sedans, and with a total production run of 11,052, its undramatic sales numbers are now boosting its appeal. After dropping in a 302-hp, 4.6-liter V-8, Ford made only subtle styling changes from the Grand Marquis, including a 140-mph speedometer and twin fog lamps. Among those who enjoy understated, daily-drivable sedans with a decent dose of oomph, the Marauder is finding favor.
1996–2003 Mercedes-Benz W210 (88)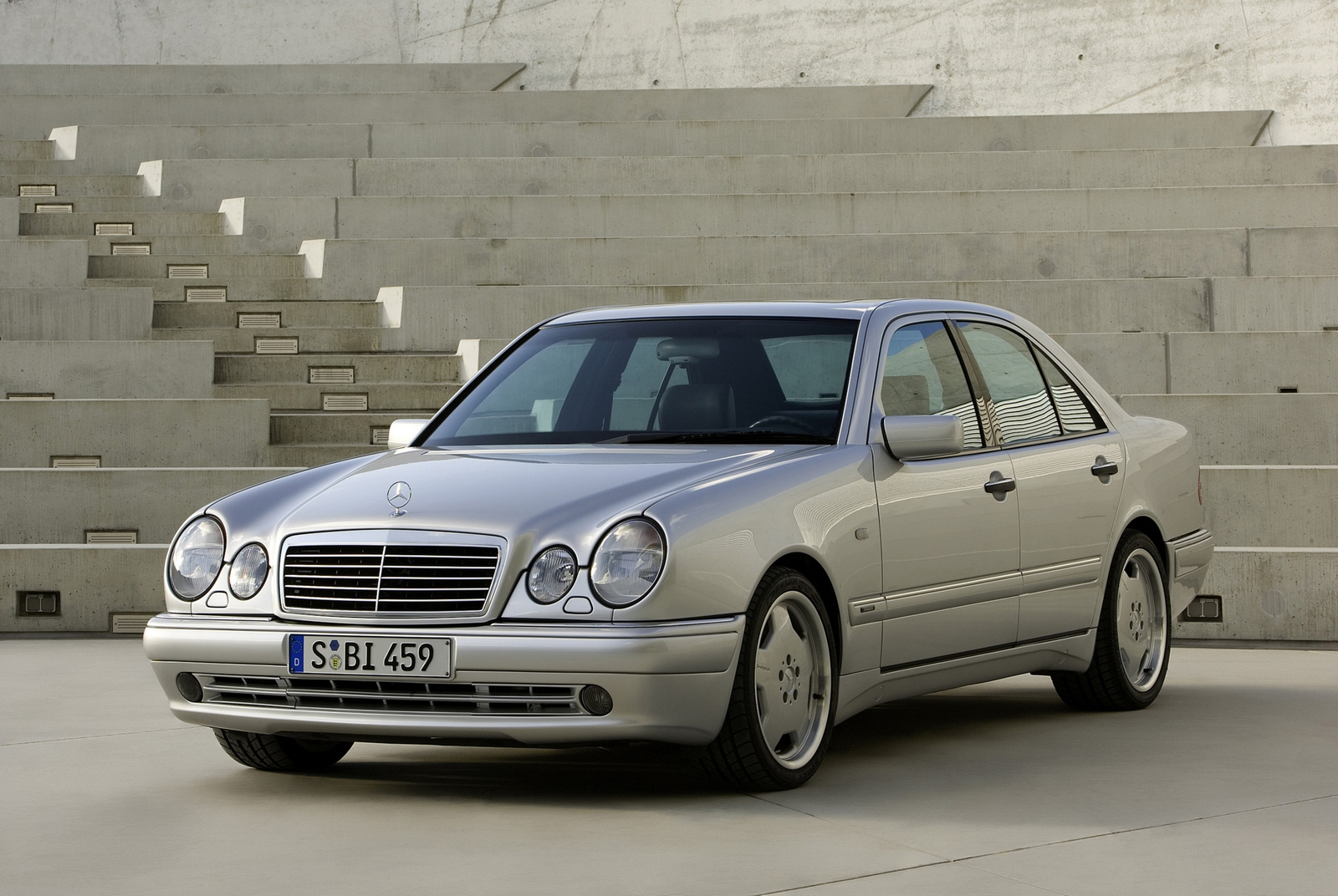 You've got quite the range of Benzes among this list: '60s-era midrange sedans and their later counterparts, the first-gen C-Class. If you'd prefer something a bit newer and larger, and with luxe tech options, check out this turn-of-the-century E-Class. On 1998-and-newer models, you'll get standard AC and side airbags and, if you hunt around, you could score an example equipped with the optional navigation system and ventilated and heated seats (both of which appeared in the 1999 model year).
You'll need to love—or ignore—those twin headlights on either side, but you'll also have the option of a wagon or saloon body style. Mercedes-Benz offered straight-six, V-6, and V-8 gasoline powerplants in North America, plus a naturally aspirated and turbocharged diesel inline-six; the supercharged diesel Kompressor models stayed in Europe. Hunting for a manual wagon with a little cush and a turbodiesel? Look for 1998 and newer models, and an E-Class might be your perfect buy.
1977–1989 BMW 6 Series and 7 Series (88)
The modern BMW's 6 Series lineup ballooned—both figuratively and literally—to satisfy the increasingly niche tastes of luxury buyers. However, when the 6 Series first arrived in 1977 alongside the 7 Series, the boundaries of each line were clear. The 6 Series was based on the 5 Series platform and was the largest, most luxe two-door in BMW's lineup. The 7 Series rode on its own platform and wore the crown of flagship sedan.
Though the median #3 value of these handsome Bavarians is $8700, that number will vary based on the model. At the peak of luxo-meter sit the L6 and L7, but these cars didn't necessarily get the top-trim engines. Ironically, the M6 didn't run away with the performance crown, either. While most 6 Series and 7 Series got variants of BMW's well-seasoned M30 straight-six, the M635CSi revealed in 1984 got a detuned version of the M1's M88 engine, which didn't cross the pond to America. What the U.S. got two years later was the S38-equipped M6. U.S. buyers shopping for a four-door stared longingly at Europe's turbocharged 745i model.
These clean-lined GT cars are relatively new to our under $30K list. Avoid the '77–79 cars, if you can; BMW choked these engines to meet U.S. emissions regulations, and decreased performance isn't the worst of your concerns. The exhaust gas recirculation system and thermal reactors conspired to crack these early cars' cylinder heads. Keep an eye out for 198-and-later cars, which received oxygen sensors and catalytic converters that remedied the heat problems.
1959–1972 Mercedes-Benz W108, W109, W111 (88)
Mercedes-Benz built a plethora of cars on the W111 platform (1959–73)—including sedans, coupes, and cabriolets—but, for the most part, only the four-door S-Class models fall beneath the $30K price ceiling. Though the W111 coupe's median #3 value is only $34,100, the comparable value of the cabriolet jumps to $77,700. Should you possess a V-8 equipped model (only available 1969–71) in either coupe or cabriolet configuration, you're well into the six-figure range. Hold that Benz close.
The distinguishing feature of the earlier W111 sedans are their tailfins, which look somewhat anachronistic on a vintage Benz and, indeed, didn't stick around long in period. The sharp-edged fins melted back into the rear fenders by the mid-'60s, when the W111 chassis was joined by another platform: the W108. Debuting at the Frankfurt Auto Show in 1965, the W108 chassis first undergird the 250 series cars, starting with the carbureted 250 S and fuel-injected 250 SE. Both models came with a 2.5-liter straight-six.
The W109 chassis was an extended-wheelbase version of the W108 and first underpinned the 300SEL. Mid-series refreshes, in the late '60s, introduced Mercedes' 2778-cc straight-six engine to both the W108 and W109 cars which, confusingly, both received 280 series nomenclature. Following the monster 6.3-liter V-8 shoehorned into the W109 chassis, both W108 and W109 got smaller V-8 engines in 1969 and until the end of their run.
Whichever flavor of '60s Benz you prefer—and there are plenty—here's a refreshingly straightforward stat: the median #3 condition value for these W108/109 and W111 cars sits right at $14,600.
If you're a fan of the understated lines of '90s German luxury, the first generation C-Class may be up your alley. True to Benz form, you have quite the range of engine options. The C-Class debuted with three four-pots (though only one was available stateside) in the C180, C200, and C220, respectively, with the C280 carrying the sole straight-six engine. Naturally there were multiple diesel options, carried over from the C-Class's predecessor, the 190: four- and five- cylinder units. The four-cylinder diesel was blessed with a supercharger in the C230 Kompressor, and the five-cylinder diesel also appeared with a turbocharger. Keep your radar up if you're shopping for diesel models 1996 and after; Mercedes-Benz dropped the output of the both 2.2-liter turbodiesel and the supercharged four.
Your best performance bang among the lineup are the AMG models. The six-cylinder C36 AMG and the V-8-powered C43 AMG are, for now, four-figure bruisers with sleeper-level styling. The C36 carries a median #3 value of $10,000 and its bigger V-8 brother rings in around $11,200.
Like boxy pickup trucks, you say? The previous generation Chevy trucks still retained some '60s-era curves, but these third-gen C/K trucks have you covered. If you've got roughly $10,600 to spare, you can shop the many-named trim lines and engine levels in these squared-off, oh-so-American pickups. This generation was the first to offer the Silverado package, which in 1976 topped the Custom Deluxe and Cheyenne trims as the top-tier trim.
Towards the end of the run, terminology got convoluted; Chevy wanted to produce the C/K trucks side by side with their replacement models, the R- and V-series trucks. (C- and R-series trucks were the rear-wheel-drive variants; K- and V-series trucks got all-wheel drive.) After the third-gen trucks were completely phased out of production, Chevy dropped the K/V nomenclature and simply marketed the replacement models as fourth-gen C/Ks.
Once you've decided between the six-cylinder 105-hp engine and a V-8, you'll also have a choice of diesel or gasoline. But really, who doesn't want a 454 big-block vintage truck?
The only other coupe on this list besides the NC-generation Miata is another Japanese champion of twisty roads. No, it's not another Miata; it's the final generation of Mazda's RX-7. With a median #3 price of $27,000, this RX-7 also climbs the closest to our $30K maximum price. However, for a fabulously '90s coupe with a generous dose of brilliant, eccentric engineering, the FD RX-7 is a steal. Pick your preferred degree of luxury or sport: the plusher Touring cars came with leather seats, a sunroof, and a rear wiper. The sportier trim levels went by different names over the years (R1 for 1993 and R2 for '94 and '95) and added Bilstein shocks, a strut bar, and a rear wing.
If you're prepping for a serious hunt, check out our RX-7 FD buyer's guide.
Jeep offered trim levels galore on the two-door version of its 1974–83 (SJ) Cherokee, which rode on the Grand Wagoneer platform. The various customization options—Golden Eagle, Sport, Golden Hawk, Cherokee Chief, and Pioneer, to name a few—helped Jeep pitch this smaller truck to single buyers or young couples who didn't need the family-oriented, four-door Wagoneer. (The Cherokee did evolve two of its own rear doors eventually, in 1977, after Cherokee sales picked up. Clearly, though, those were for camping supplies, not kids.)
Jeep offered two AMC engines in the Cherokee: a 110-hp, 258-cubic-inch straight-six or a 360-cu-in V-8. You could either get that V-8 in 175-hp trim, with a two-barrel carburetor, or opt for the 195-hp, four-barrel engine. Constrain yourself to pre-1979 model years, and you might even score a 401-equipped model.
This slice of 4×4 American goodness has a median #3 price of $10,300. It's a completely reasonable entry into the vintage offroader market and—dare we say—is miles more stylish than current interpretations.
Though the Miata family would grow to four generations of charming, accessible driving fun, in 1999 the NB Miata was a rare bird: a sequel that did the original proud. It shared the 1.8-liter four with the first generation but with a reworked aluminum head that brought seven more horsepower to the party, paired with a delightfully flickable six-speed. 2001 and later cars added variable valve timing and a smidge better compression ratio, which bumped output 15 hp for a total of 155. Go the turbocharged Mazdaspeed route (available 2004–2005), and you got a slightly lower redline (6500 vs 7000) but 36 extra horses to play with. If the sharper styling and fixed headlights don't bother you, there's little to dislike. The fun-loving Miata was as rewarding then as it is today, down to this second-gen's $7350 median #3 price.
In the mid-'90s, Cadillac decided to make an uncommon switch: it took the Fleetwood model off its 1985–92 front-wheel-drive C-body platform and put it instead on the rear-wheel-drive D-body.
Pair that with the LT1 borrowed from the Corvette and standard antilock brakes—and what more could you want? Well, styling, but we'll leave that aside.
Depending on your tastes, you'll be glad to know that this paragon of American luxury also came with a Brougham option. The vinyl-top option slapped on handfuls of badges and installed fancy memory seats. There was also a 7000 pound V4P towing package, which added a beefed-up cooling fan and a larger radiator with upgraded suspension and 3.42 rear gearing. You know, in case you want to haul a G-Wagen. Or your average blue whale calf.
This too can be yours, with a median #3 price of only $7350.
In the last two months, American trucks have ruled the affordable truck space, but Toyota's FJ60 (and its four-door brother, the FJ62) is making a serious move. These trusty trucks are great, accessible ways to get into the boxy off-roader space. We need only point to the FJ40 to remember how red-hot that particular market has been in recent years, and the FJ60 certainly isn't immune.
While its median #3 (Good) condition value of $20,400 isn't eye-watering, the FJ60 ranks just behind the 1993–2002 Mazda RX-7 as the most expensive vehicle on this sub-$30K list. It keeps some odd company (a '90s Cadillac Fleetwood and an NC Miata, of all things) as the atop this list, but the FJ60s temperature change didn't catch us by surprise.
Enjoy some unhurried highway cruising and the option of dipping into the dirt? The 4246-pound truck holds its own on the trail, but its 135-hp, 4.2-liter inline-six won't provide any onramp adrenaline rushes.
Like this article? Check out Hagerty Insider, our e-magazine devoted to tracking trends in the collector car market.