Selling everything I own wouldn't cover the cost of this Ferrari 275 P
Like a kid who just saw his dream bicycle for sale and is trying to come up with some fast cash before it slips through his fingers, I'm trying to figure what I need to do to own this majestic beauty from Maranello. Mow the neighbor's lawn? Clean the garage? Open a lemonade stand? Oh, if only it was that easy.
In order to buy the eye-popping 1963 Ferrari 275 P that RM Sotheby's just listed, I'd have to sell my house, my neighbors' houses, and pretty much every house in the surrounding area. And I still might come up short. I'm not even sure selling one of my kidneys in some back alley would make a dent.
This is a (practically) priceless Ferrari. The car has it all: stunning good looks, proven performance, rarity, and provenance. What it needs now is a new owner—one who doesn't care that it isn't street legal.
Listed through RM's Private Sales division—since some RM clients prefer to keep their transactions on the down-low—the race car won the 24 Hours of Le Mans in back-to-back years, 1963 and '64, and holds the distinction of being the very last Scuderia Ferrari entry to win the most famous of all auto races. (Another Ferrari won in 1965, but that car was campaigned by the North American Racing Team.)
With a victory in the 12 Hours of Sebring in March 1964, as well, it's no wonder that #0816 carries the serious-inquiries-only designation of "Price Upon Request."
Hagerty auction editor Andrew Newton is hesitant to guess the owner's asking price, but he says the closest recent comparison may be the 1957 Ferrari 335 Sport Scaglietti that sold for a world-record $35,730,510 at Artcurial Motorcars' Rétromobile 2016 in Paris.
"With two Le Mans wins—and Ferrari's last two there, to boot—plus a win at Sebring, it's among the most valuable Ferraris of them all," Newton says. "The fact that it's not street-legal does limit the appeal somewhat, but given its successful race history, it seems more desirable than the 335 that sold at Rétromobile. It might not be worth as much as the best of the 250 GTOs, but it's probably in the same ballpark."
The right-hand-drive 275 P is powered by a mid-mounted 3286cc V-12 engine with six Weber carburetors generating just over 300 horsepower. Hubba hubba.
The car has resided in France's Mas du Clos Collection for 48 years. According to Barchetta, which carries detailed history of many Ferrari race cars, #0816 was headed to auction earlier this year at Rétromobile 2018 but was "withdrawn over estate issues." Months later, it made its way to RM Sotheby's.
One of only four Scuderia Ferrari cars built to compete for the 1963 World Sports Car Championship, #0816 won its very first time out—at Le Mans, of all places—with Ludovico Scarfiotti and Lorenzo Bandini at the wheel… but few people knew #0816 was the winning car. According to detailed documentation provided by Ferrari Classiche, RM recently revealed that #0816 had secretly replaced #0814, which was damaged during practice and was under repair during Le Mans. Not wanting to file new paperwork, Ferrari simply entered #0816 as #0814.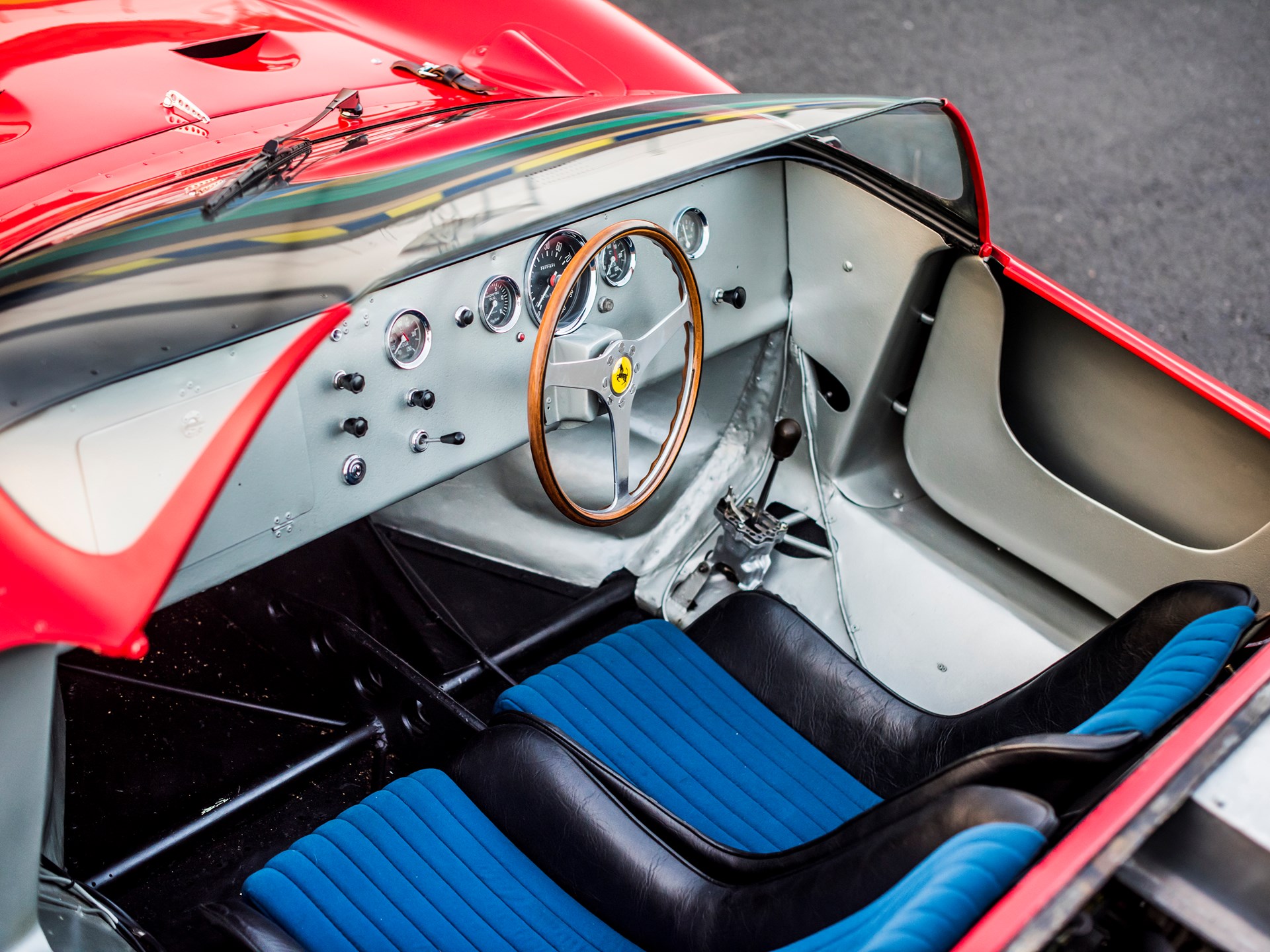 After winning Le Mans in '63, #0816 competed twice the following year and won both races—at Sebring (driven by Michael Parks and Umberto Maglioli) and again at Le Mans (Jean Guichet and Nino Varccarella). The only other back-to-back Le Mans winners were a Bentley Speed Six in 1929–30 and Ford GT40 #1075 in 1968–69.
Following its Scuderia Ferrari racing career, the 275 P was sold in August 1964 to Luigi Chinetti, who campaigned the car a number of times in the United States, although it never won again. French collector Pierre Bardinon added it to his famed Mas du Clos Collection in 1970.
"Even with only one Le Mans win, the car would be one of the most desirable Ferrari race cars in the world, so the recent revelations about its victory at the '63 race are just icing on an already very big cake," Newton says. "It's in a league of its own."
So is its price tag. Anyone looking to buy a house?